Today we're going to be sharing with you ten meaningful and beautiful sympathy gifts for loss of a brother.
To lose a brother, whether in old age or tragically young, is a terribly hard thing. For a loss like this, sometimes giving their grieving siblings a gift shows that you care more than mere words ever could.
In this article, we have sympathy gift ideas for young and old, for sisters and brothers. So no matter who you need to find that perfect gift for, we're here to help.
Let's look together.
Loss of Brother Sympathy Gifts
Our website is supported by our users. We sometimes earn a commission when you click through the affiliate links on our website. Learn more here.
1. Personalized Memorial Plaque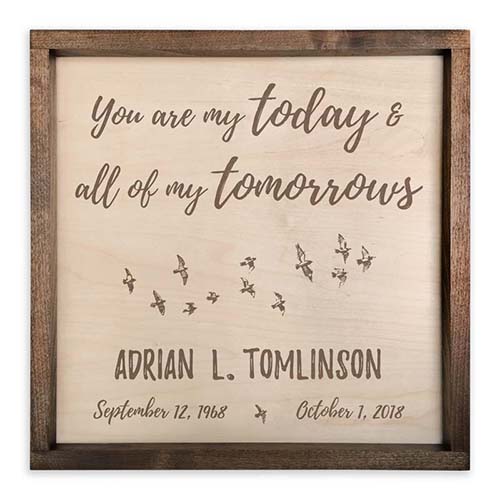 Ideal for everyone
When it comes to sympathy gifts, memorial plaques are perfect because they're long lasting, meaningful, and stay out of the way (being up on the wall). But not all are equal.
This memorial plaque from Northwest Gifts, reading "You are my today and all my tomorrows," captures the sentiment of hope found in grief quite perfectly.
And it's not just any wood plaque that you can get anywhere. It's made right here in the USA of quality stained alder wood and birch ply. Best of all, it comes personalized with the name and dates of your loved one's late brother. This is a beautiful sympathy gift they will treasure forever.
Here is another gorgeous memorial plaque that reads, "If love could have saved you, you would have lived forever."
2. Hidden Message Morse Code Bracelet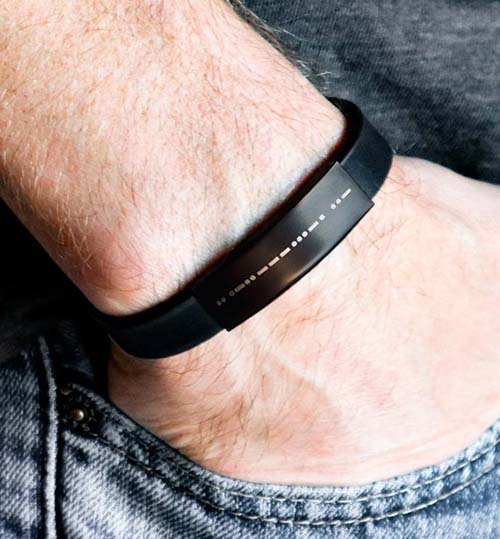 Ideal for brothers
A hidden message, just between brothers. Captured in Morse code, a traditionally "secret" language that only those in the "know" can understand. It's the perfect gift for a grieving brother who still needs to feel connected to his sibling.
This minimalist-style men's bracelet is stainless steel and your choice of leather/faux leather/silicone band. It's customizable and will feature the Morse code message of your choosing.
Need a Morse code bracelet for a sister instead? Check out this delicate beaded one.
3. Memorial Tree with Trees for a Change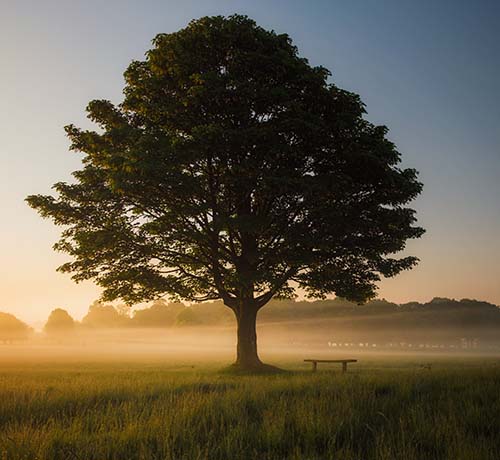 Ideal for adult siblings
Gifts for loss of a brother come in all shapes and sizes. If the person you are needing a gift for wouldn't necessarily like or need a tangible item, there are other options out there.
One of those options is Trees for a Change. This organization will plant a memorial tree, in honor of a deceased loved one, in a U.S. National Forest that's previously been ravaged by wildfire. It's a wonderful gesture to send to an adult sibling.
4. Memorial Rings Urn Pendant
Ideal for family members
This beautiful memorial pendant is truly unique and special. The interlocking rings carry meaningful messages, and the heart at the center is actually a tiny urn in which you can place a small amount of your loved ones ashes. Made of durable stainless steel that is brought to a lovely polish.
Mourning pendants or memorial pendants have been around for centuries, maybe even longer. Though their appearance has changed significantly over the past century, the desire to have a part of that special someone close to your heart remains the same.
5. Memory Candle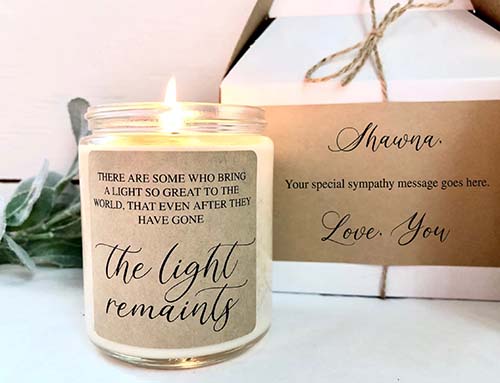 Ideal for sisters
Candles have been used (and given to others) in memory of the dearly departed for centuries. These days, with so many styles and scent options available, you can pretty much custom-make any candle you'd like, for anyone, for any occasion.
A memory candle like this one is the perfect sympathy gift for the loss of a brother. It consists of soy wax and comes in the scent of your choosing. Every time they light it, it will simply and sweetly remind your loved one that their brother will always be in their heart.
6. Letters to my Brother in Heaven Journal
You might still have so many things you want to tell him and share with him… In that case, this wonderful, leather journal is perfect for keeping all of those thoughts and stories in one spot. Beautifully embossed and decorated, it is also refillable so you can keep writing for years and years to come.
Grief journaling has proven to be one of the most effective mourning tools to help process the feelings and emotions we go through after a significant loss. It provides a type of therapy by allowing the mourner to understand both themselves and their grief, and reconnect with the world around them.
7. "Raise a Glass" Bottle Opener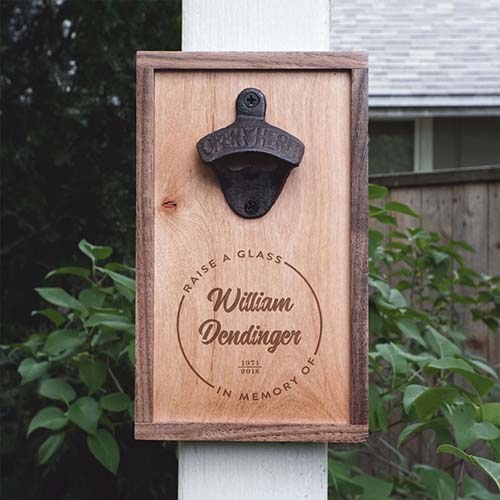 Ideal for 'bros' and buddies
No matter if your loved one has experienced the death of their brother recently, or is still feeling the pang of loss from long ago, this thoughtful sympathy gift is sure to lift their spirits.
Handmade in the USA from sturdy walnut and maple wood, this wall-mounted bottle opener is made to last. It comes personalized with your loved one's late brother's name (and dates too, if you want). While it can go on a wall inside or outside – an extra screw comes with your order – it can also serve as a portable/standalone opener.
If you like this bottle opener, here is a similar one with a slightly different design.
8. Always By My Side Wind Chime
Ideal for anyone
Wind chimes, often called "wind catchers," are one of the most beloved items given in remembrance of a lost friend or loved one. There is something truly wonderful about hearing their sweet melodies singing in the breeze, or soft songs whispering cherished remembrances in your ears.
These memorial wind chimes are so special. A wonderful condolence gift, the pendant is beautifully engraved with a touching sentiment, and is so elegant and timeless. The sturdy beech wood is stained to a lovely finish and will withstand the elements for years to come.
9. Here for You Care Package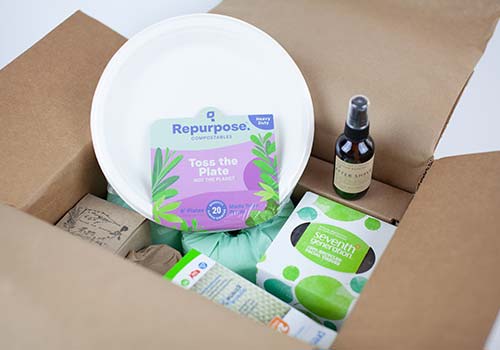 Ideal for someone who was especially close to their brother
You know someone bereaved over the death of their brother. You want to give them something really nice to show that you're thinking of them, but don't want to give them too much. In this case, a gift basket/care package is the way to go.
This care package can be customized to fit the person you will be gifting it too. So while there's items like bath bombs, soaks, and other pampering stuff, there's also the option of Body Box – For Men. Think nature-scented cologne, aftershave, and body butter. Add-on items are also available.
10. Engraved Memorial Clock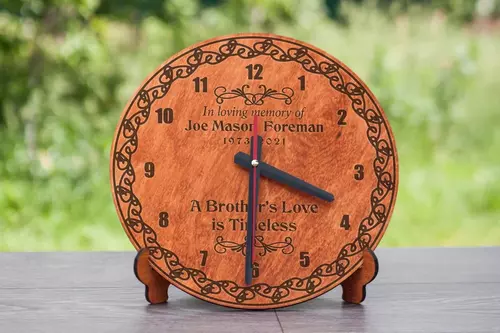 Ideal for family members
How special is this engraved wooden clock? Perfect for a family member, memorial clocks make wonderful bereavement gifts. Even in the most difficult times, having small reminders like this in sight in their home can help tremendously.
Beautifully crafted from wood and engraved with one of 6 designs of your choice, it is sure to become a focal point in their common room. Personalize it with his name and details, and you will have a unique memorial to honor his life and time spent here on earth.
11. "Goodbyes Are Not Forever" Photo Memory Sign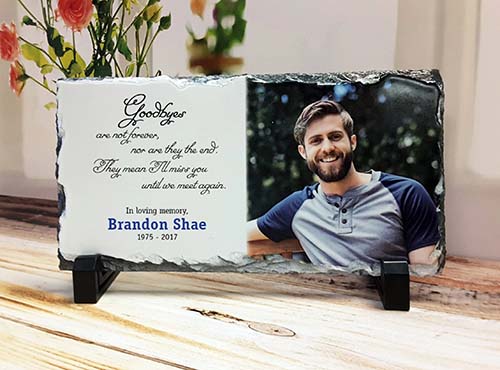 Ideal for a coworker who lost their brother
Photographs are no longer just paper memories to gather into albums and hide away. Now you can have a favorite photo printed on just about anything and given as a loving gift. In this case, to your friend who is mourning their brother's passing.
For a sympathy gift that will be treasured forever, have his photo printed onto this beautiful piece of slate, along with his name and dates. The quote as well will serve to remind your loved one that they'll see their brother again one day.
Here are some other alternative photo gift ideas:
12. Remembrance Ornament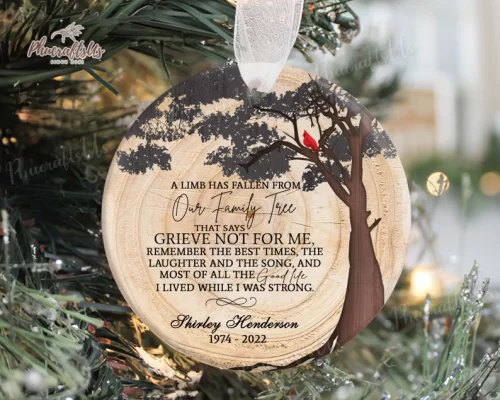 Ideal for parents or siblings
This stunning ornament certainly deserves the place of honor on the Christmas tree. Small pieces like ornaments make wonderful condolence gifts. Often times, it is around the holidays that we miss those special loved ones more than ever, so it can be nice having something to serve as a reminder of their presence.
Available in either ceramic or engraved wooden varieties, you can have this pretty memorial customized with his name and details. The design is not holiday specific either, so you could keep this neat remembrance gift hung all year round.
13. Etched Glass Memorial Frame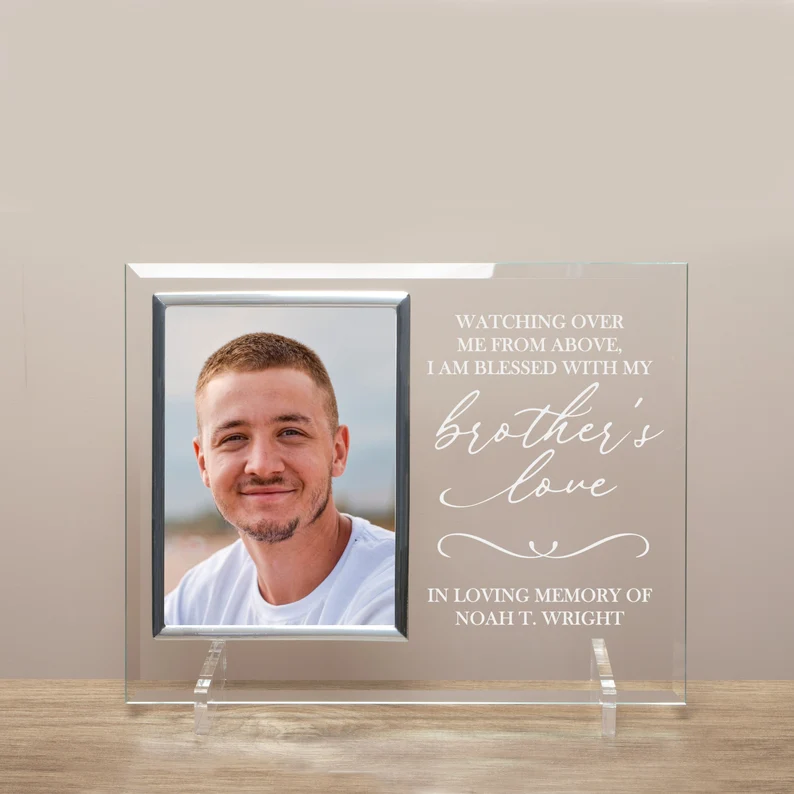 Ideal for a friend
Such a unique and lovely memorial frame. Clean, modern lines and a timeless feel, this frame stands out from the rest with its beautiful engraving and silver accents. A perfect focal piece for table table, mantle or bookcase.
A more understated choice, memorial frames are a thoughtful and meaningful option when it comes to remembrance gifts. Not too over the top, but just enough to let them know how much you care with this tasteful piece.
14. Personalized Memorial Bird Feeder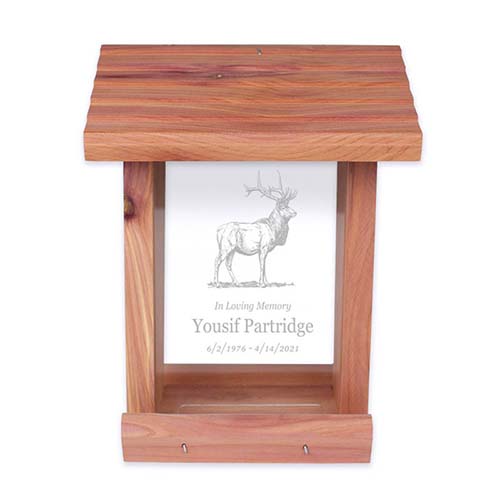 Ideal for outdoorsy types and homeowners
A bird feeder makes a wonderful gift for any occasion, but perhaps more so in memory of someone who's died. For your friend who is grieving the loss of his or her beloved brother, it may be just what they need to bring a sense of peace back into their life.
This charming bird feeder is handmade in the USA from strong cedar wood. The front and back acrylic panels can be personalized with the name and dates of your friend's late brother. And besides the elk theme you see here, there are countless other design and theme options available.
15. DIY Memory Album
Ideal for crafty types
Gifts for loss of brother best are best served from the heart. Sometimes, this means not necessarily spending a lot of money on a gift, but rather putting in the time and thoughtfulness to make it yourself.
If you have a lot of photos of your friend and their brother (and you too), you can put them all together to create a scrapbook-style memory album. Start with the album shown above, and here are some unique DIY photo book ideas that you can create or adapt to suit.
16. Memorial Photo Lamp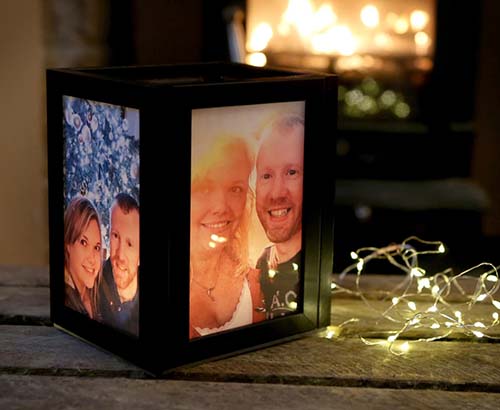 Ideal for sentimental types with a sweet disposition
Lamp + photo = uniquely customized memorial gift your friend will adore.
This memorial photo tea lamp takes the same concept as a memory candle but utilizes the power of electricity instead of flame. Whenever your friends turns on their tea lamp, their brother's smiling face will light up the room once again.
This lamp features four photos which are bathed in a sepia-style filter, casting a comforting and nostalgic glow.
---
We know that sometimes ten gift ideas just aren't enough. So here are ten more sympathy gift options for men (the very best, in our humble opinion) to help keep you on track. And if that's not enough, here are twenty-nine more.
Read Next: 101 Condolence Messages to write in your sympathy gift note.