Prayer cards are small printed cards given out at funerals and other memorials in memory of the deceased.
Often featuring an attractive design, funeral prayer cards will generally have the person's name and dates on the front, along with a photograph and religious/sentimental artwork, with a prayer or inspirational message printed on the back.
In this article, we'll cover everything you need to know about prayer cards for funerals and other memorial services. From the choice of prayers to printing, from design options to card uses, this is your guide to easily and quickly checking off "prayer cards" from your to-do list.
Prayer Cards for Funerals
Our website is supported by our users. We sometimes earn a commission when you click through the affiliate links on our website. Learn more here.
Jump to:
What Are Prayer Cards?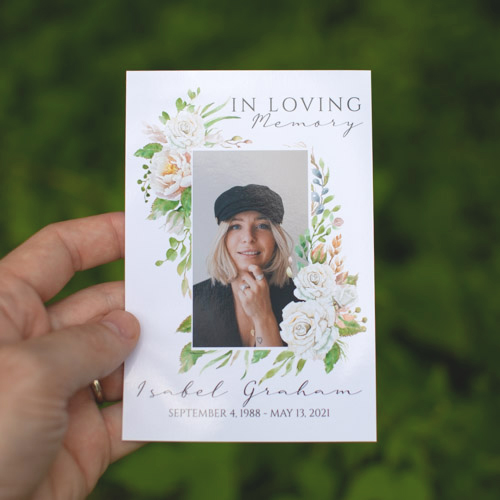 Prayer cards are given to funeral or memorial service attendees as a token keepsake in memory of the deceased.
Mourners can use them as a bookmark, place them in their Bible or prayer book, use a magnet to attach to the refrigerator, or set them up at their desk or in their vehicle.
The card provides a prayer to pray when you have no words of your own, and encourages you to pray or think about the decedent as you honor their memory.
Commonly given out at funerals, they are also passed out at other services and gatherings such as a wake, visitation, scattering of ashes, celebration of life, or reception.
These are also sometimes known as funeral cards, and can feature a poem, inspirational quote, or personal tribute in place of the typical prayer. (We have examples of both below.)
Learn about the different types of funeral services and memorial gatherings here.
What Do You Put on a Prayer Card?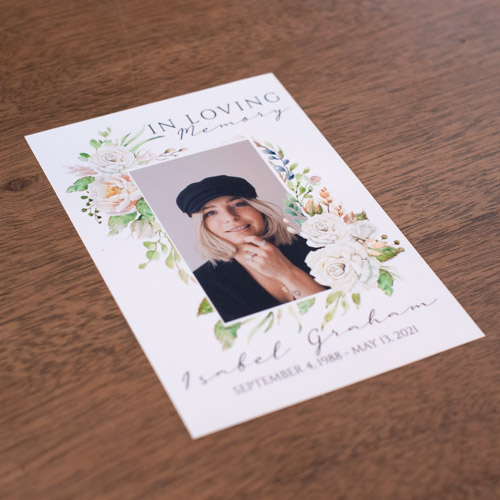 What you're able to fit onto a funeral prayer card will depend on the size. Most prayer cards are generally small, from wallet-friendly (and tiny) credit-card-sized, up to a spacious 4×6.
The idea is to keep them small enough to be accessible and transportable. Yet you also want them large enough to be readable and not be easily lost. We recommend 3.5×5″ or 4×6″ as the ideal size.
No matter the size, you'll want to include on your loved one's prayer cards the following:
Personal details
An attractive design
A prayer, blessing, poem, or quote
1. Personal Details
At the very least, you want to personalize the card with the decedent's name. The card will typically read something like:
In Loving Memory
Jerrod Jeffrey Charleston
December 12, 1951 – April 21, 2020
Many families also choose to include the individual's photograph.
2. Attractive Design
Often, the card will have a photograph or artwork along with your loved one's name and dates on the front, then the prayer on the back side.
Your prayer card can be as simple or as ornate as you like. See the end of this article for ideas and inspiration.
Single-sided printing is less expensive and also easier to print yourself. If you are looking for an economical option, choose a one-sided prayer card. Most designs and templates have the front and back, and that is the most common layout.
3. A Written Prayer, Memorial Poem, or Inspirational Message
Prayer cards were designed to honor your loved one and remind attendees to lift them up in their private prayers.
While they are still most commonly used for prayers or blessings, the tradition of giving them out at funerals has expanded to include both religious and non-religious poems, sayings, tributes, and inspirational messages.
Next, let's look as some popular, classic, and contemporary prayers.
Prayers for Funeral Prayer Cards
The main question is, what prayer should you use? This can vary depending on your background and religious association and convictions.
Below, we will provide a few popular prayers for funeral prayer cards.
Short Prayers
Rest eternal grant to him, O Lord:
And let light perpetual shine upon him.
May his soul, and the souls of all the departed,
Through the mercy of God, rest in peace. Amen.
The Lord bless you and keep you;
the Lord make his face to shine upon you and be gracious to you;
the Lord lift up his countenance upon you and give you peace.
Numbers 6:24-26
"I am the resurrection and the life. The one who believes in me will live, even though they die; and whoever lives by believing in me will never die."
Jesus, in John 11:25-26
Blessed are the dead who die in the Lord;
even so says the Spirit, for they rest from their labors.
O Lord, you have said that to be absent from the body is to be present with you.
We thank you that you have accepted James into your presence by the blood of Jesus.
Help us to remember him well, even as we look forward to the day we shall be reunited in your presence.
Amen.
Into your hands, O Lord, we humbly entrust
Our sister [name] for her eternal rest.
In this life you embraced her with the love of Christ;
Carry her home, we pray, into your everlasting peace.
Today we remember [name]
and commit his/her spirit into Your hands.
Father, we thank you for the life of [name].
Today, as we honor him/her in death,
We celebrate the great life and legacy he/she left behind.
O Lord, we thank you for all you have done in [name's] life.
Help us to celebrate their life and honor their memory today as one of your beloved children.
O Great God, we rejoice in your victory over sin, death, and the grave. We thank you that in the cross, death has lost its sting and the grave has been robbed of its victory, through the glorious death and resurrection of our savior Jesus Christ, in whose name we pray. Amen.
God is our refuge and strength,
Our portion in the land of the living.
Carry our dear friend into heavenly rest,
Until that day we meet again.
More Prayers for Funeral Prayer Cards
Psalm 23
The Lord is my shepherd; I shall not want.
He maketh me to lie down in green pastures:
He leadeth me beside the still waters.
He restoreth my soul:
He leadeth me in the paths of righteousness for his name's sake.
Yea, though I walk through the valley of the shadow of death,
I will fear no evil:
For thou art with me;
Thy rod and thy staff they comfort me.
Thou preparest a table before me in the presence of mine enemies:
Thou anointest my head with oil;
My cup runneth over.
Surely goodness and mercy shall follow me all the days of my life:
And I will dwell in the house of the Lord for ever.
Traditional Irish Funeral Prayer
May the road rise to meet you.
May the wind be always at your back.
May the sun shine warm upon your face.
May the rains fall upon your fields.
And until we meet again,
May God hold you in the hollow of His hand.
We Have a Savior
We have a Savior who lived with us, healed us, taught us, and forgave us.
We have a Savior who wept with us, and
We have a Savior who died for us.
We have a Savior who rose again for us, and has given all that he has won to us.
Hallelujah, what a Savior!
Walk in Sunshine
May you always walk in sunshine,
and God's around you flow.
For the happiness you gave us,
No one will ever know.
It broke our hearts to lose you,
But you did not go alone.
A part of us went with you
The day God called you home.
A million times we needed you
A million times we cried.
If love could only have saved you
You would've never died.
The Lord be with you and may you rest in peace.
Funeral Prayer Based on II Timothy 2:11-13
O Lord, your saying is trustworthy:
Those who have died with Christ shall also live with him;
Those who persevere in Christ shall also reign with him.
Those who deny him, he will also deny.
But – O blessed grace! – even if we are unfaithful,
Jesus remains faithful,
For he cannot deny himself.
Thank you for your tender care for our departed [name].
He/She has died in Christ and now lives gloriously in your presence,
Where there is joy forevermore.
In the Company of Jesus
Eternal God and Father,
we praise you that you have made people
to share life together
and to reflect your glory in the world.
We thank you now for [Name],
for all that we saw of your goodness and love in his/her life
and for all that he/she means to each one of us.
As we too journey towards death
may we do so in the company of Jesus,
who came to share our life
that we might share the life of eternity.
To him be glory with you and the Holy Spirit
for ever and ever.
Amen.
A Prayer for Comfort
O Lord, we pray that you would be our strength in this time of loss,
Our hope in this time of mourning,
Our joy in this time of sorrow,
And our perfect peace in the turmoil that our hearts are feeling.
A Prayer for the Dead (Book of Common Prayer)
I am Resurrection and I am Life, says the Lord.
Whoever has faith in me shall have life,
even though he die.
And everyone who has life,
and has committed himself to me in faith,
shall not die for ever.
As for me, I know that my Redeemer lives
and that at the last he will stand upon the earth.
After my awaking, he will raise me up;
and in my body I shall see God.
I myself shall see, and my eyes behold him
who is my friend and not a stranger.
For none of us has life in himself,
and none becomes his own master when he dies.
For if we have life, we are alive in the Lord,
and if we die, we die in the Lord.
So, then, whether we live or die,
we are the Lord's possession.
Blessed Are Those Who Die in the Lord (Revelation 14:13)
Almighty God, the who breathes life into all flesh,
who by a voice from heaven proclaimed,
Blessed are the dead who die in the Lord:
We pray that you would multiply to those who rest in Jesus
the manifold blessings of your love.
We ask that the good work which you began in them
may perfected at the day of Jesus Christ.
And of your great mercy, O heavenly Father, grant that we,
who remain here on earth, may at the last day, together with them,
be partakers of the inheritance of the saints in light.
We ask this for the sake of your Son Jesus Christ our Lord.
Amen.
Find more inspiration here:
More Tributes & Quotes for Prayer Cards
Here are some other (meaning, mostly non-religious) quotes and inspirational messages to put on your memorial cards.
Personal Tributes
Our David was an incredible husband, father, grandfather, and friend.
We would be honored if you remember him in your prayers.
Albert Einstein said, "There are only two ways to live your life. One is as though nothing is a miracle. The other is as though everything is a miracle." Janet lived fully in the realization that every breath was a miracle. Her faith and strength is an inspiration to us all. Let us remember her, honor her memory, and lift up her soul in our prayers.
The Puritan Thomas Watson said, "Prayer delights God's ear; it melts His heart." Let us, together, reach God's ear and heart with our prayers for our beloved Elliot.
As you remember Bethany in your prayers, remember too that yesterday is a memory, tomorrow is a mystery, and today is a gift.
Farewell to our dear friend until that moment we meet again.
As we say goodbye to a very dear friend, remember that our separation is temporary. One day we will all be together in paradise. Until then, let us remember Jim in our prayers.
Memorial Poems
You are not forgotten, loved one;
Nor will you ever be.
As long as life and memory last,
We will remember thee.
---
May time heal our sorrows
May friends ease our pain
May peace replace heartache
While memories of you remain.
---
Gone, yet not forgotten;
Although we are apart,
Your spirit lives within me,
Forever in my heart.
---
May the winds of heaven blow softly
And whisper in your ear
How much we love and miss you
And wish that you were here.
---
Your presence we miss,
Your memory we treasure,
Loving you always,
Forgetting you never.
---
It is sad to walk the road alone,
Instead of side by side.
But to all there comes a moment
When the ways of life divide.

You gave us years of happiness;
Then came sorrow and tears.
But you left us beautiful memories
We will treasure through the years.
Inspirational Quotes for Funeral Cards
In the end, it's not the years in your life that count. It's the life in your years.
– Abraham Lincoln
Prayers outlive the lives of those who uttered them;
outlive a generation, outlive an age, outlive a world.
– E.M Bounds
Every man's life ends the same way.
It is only the details of how he lived
and how he died that distinguish
one man from another.
– Ernest Hemingway
Life is what you celebrate. All of it. Even its end.
– Joanne Harris
Prayer is not overcoming God's reluctance, but laying hold of His willingness.
– Martin Luther
A death is not the extinguishing of a light,
but the putting out of the lamp
because the dawn has come.
– Rabindranath Tagore
What we once enjoyed and deeply loved
We can never lose,
For all that we love deeply
Becomes a part of us.
– Helen Keller
Say not in grief that he is no more
but say in thankfulness that he was.
– Hebrew Proverb
Designing & Printing Your Prayer Cards
You have many options to design and print the prayer cards.
Full DIY – Find a free template online, or make your own, then print yourself on card stock.
Partial DIY – Design your own card (from a template or from scratch) then have it printed locally or by a reliable online printer.
Full Service – Order the design and printing online, at a local print shop, or even at many funeral homes.
Some people prefer to set up the design themselves, while others want to be completely hands-off. We've found that most families want something in the middle: An attractive design that is easy to edit themselves (while still looking nice), then printed professionally (or at home, to save a little).
Here's the ideal solution – beautiful prayer card templates that you can easily customize yourself and have a print-ready file in mere minutes.
Prayer Card Templates
Our prayer cards use a simple, easy-to-use online editing tool so that you can pick the template and personalize it in minutes. You can even try it before you buy!
Once you customize and verify that everything is accurate, you'll be able to instantly download a printable file which you can print at home, take to a local printer, or have it printed and shipped to you via an online print service.
1. Vintage Floral Frame Funeral Prayer Card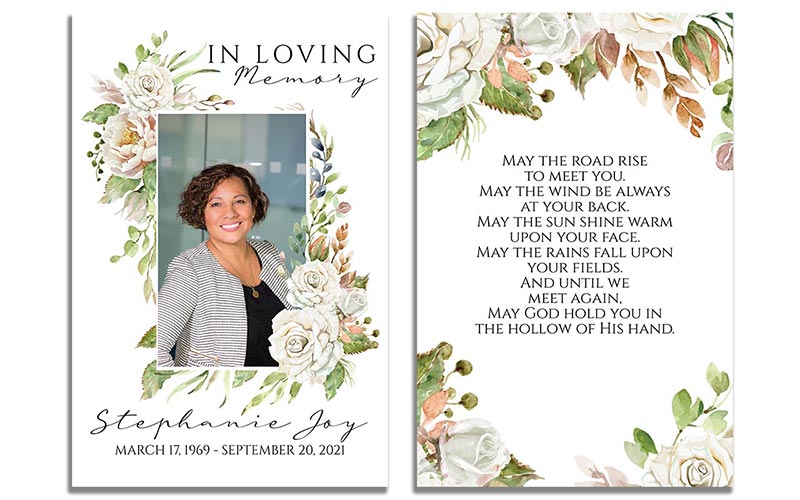 Our most popular design. In this elegant funeral prayer card, your beloved's photograph is framed with vintage-style art flowers and foliage. The front is further customized with an "In Loving Memory" inscription, and the back side features plenty of space for the prayer of your choice.
Matching funeral programs, welcome signs, and more are available for all of these designs in our template store.
2. Timeless Green Funeral Prayer Card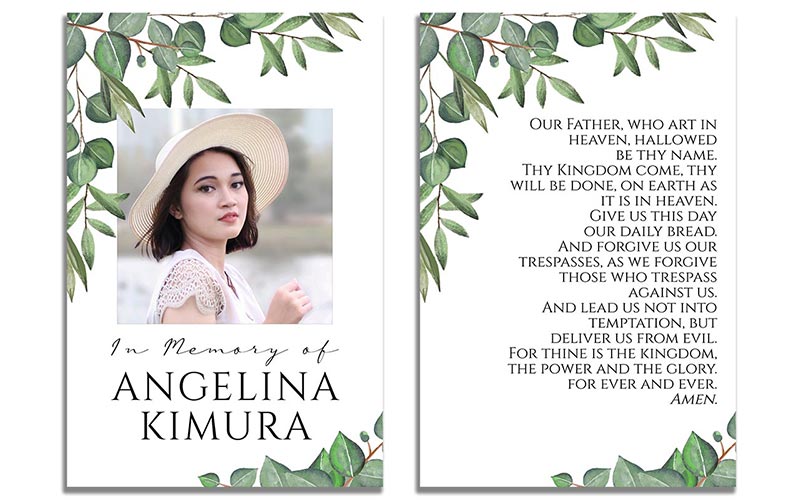 If you're looking for a prayer card that has a contemporary look but will never go out of style, this is it. The "Timeless Green" funeral card employs white space contrasted with green for clean, fresh look.
Use the Lord's Prayer as shown, or customize it with your own. All of our memorial templates are easy to personalize, and you can have a gorgeous, print-ready file within minutes.
3. Pink Watercolors Funeral Prayer Card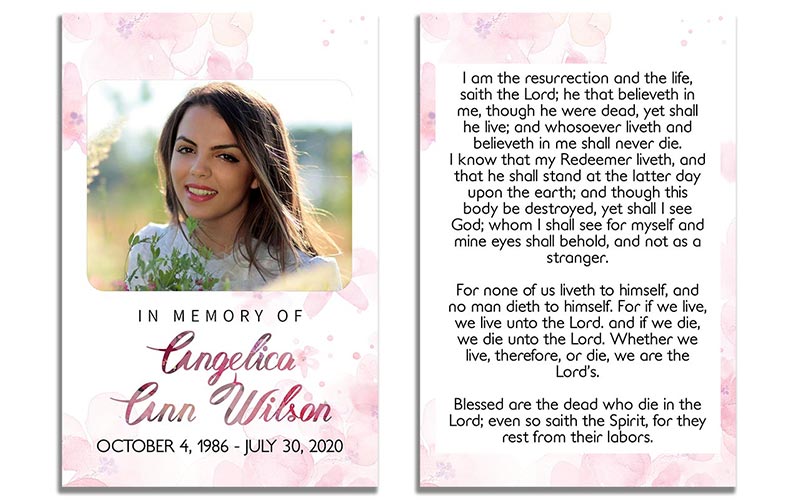 For some people, pink is the only way to go. Honor your loved one with a special prayer card in delicate pink watercolors.
4. Geometric Elegance Funeral Prayer Card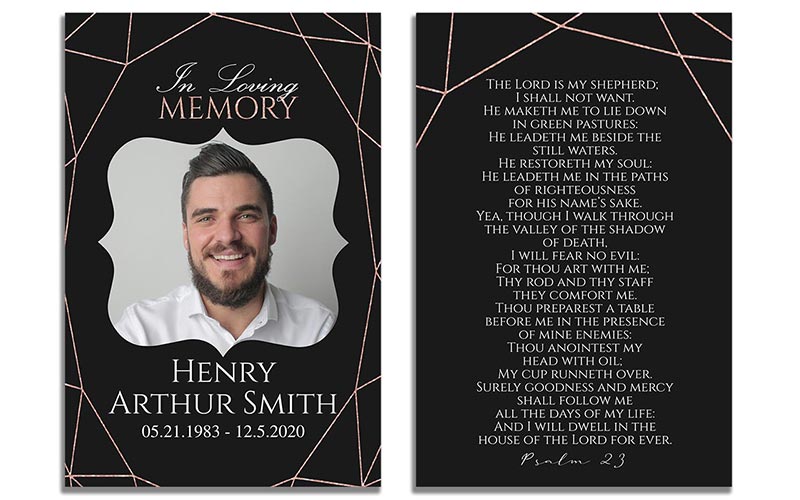 Shown here with Psalm 23, you can adapt this modern-looking prayer card to any prayer, Scripture, or poem you like.
Personalize it with a photograph, plus name and dates so that all who attend the funeral can keep remembering your loved one in their prayers.
5. Gentle Florals Life Celebration Prayer Card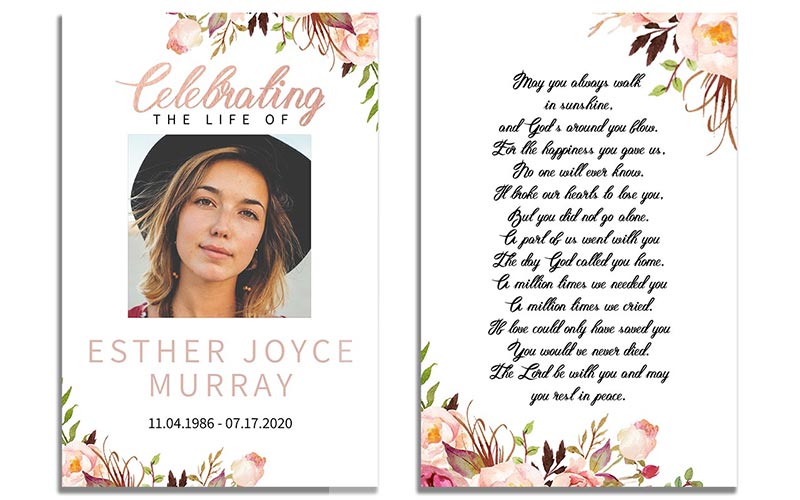 For a beautiful soul, you'll want to create an equally beautiful memorial card. This one includes their portrait, name, and dates, plus truly lovely floral accents and a beautiful prayer (which you can edit or change as desired).
Encourage attendees at the service to slip this into their Bibles and "pray without ceasing, in everything give thanks" for your loved one's life and faith.
Related: Our Favorite Funeral Poster Ideas for Celebration of Life
6. Celtic Cross Funeral Prayer Card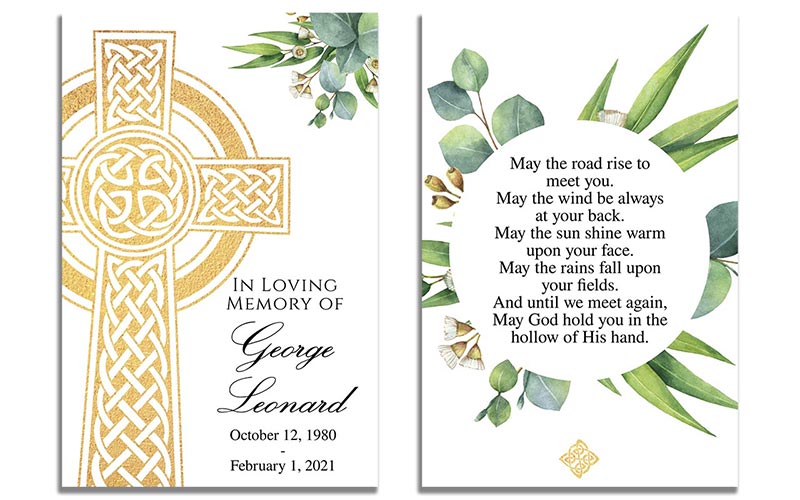 The Celtic Cross Prayer Card pairs a bold Celtic cross with the classic Irish funeral prayer in loving memory of your dearest departed.
7. Blue & Gold Branches Funeral Prayer Card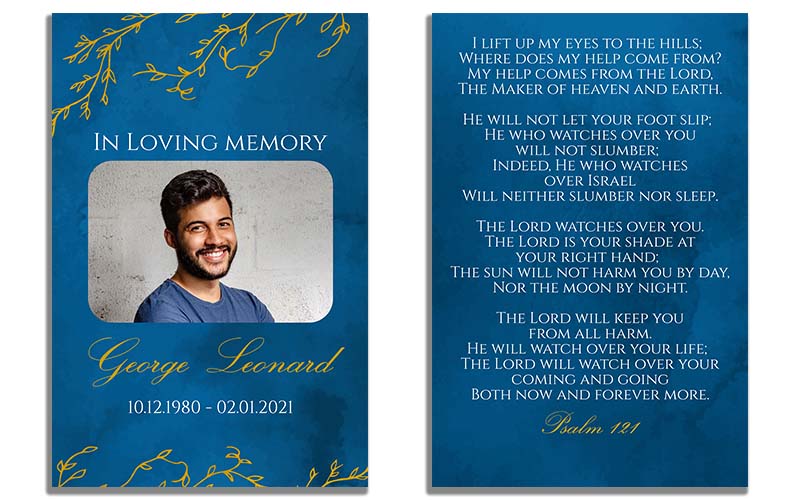 This funeral prayer card template works for anyone, but was designed with men in mind. Lush marbled blue provides the backdrop for rich gold and pristine white text and decorative overlays.
Use Psalm 121 as shown, or edit to suit the prayer of your own choosing. Includes space for your loved one's picture along with a traditional inscription of name and dates.
8. Evergreen Trees Funeral Prayer Card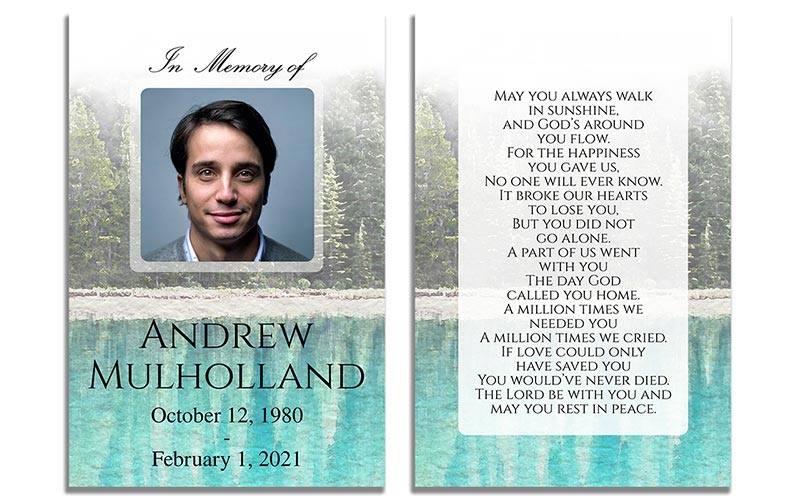 A watercolor take on the evergreen trees and stunningly blue lakes of the Pacific Northwest. If that's your home territory (it is for us and our parent company!) then this prayer card will be the perfect way to celebrate and pray for your loved one.
---
Find additional prayer card designs, memorial bookmarks, funeral programs, and other printables in our funeral template store.
Pin It