Losing a daughter — no matter their age — is one of the worst pains imaginable. And yet, very sadly, it does still happen.
When this type of pain is experienced by your friend or loved one, it's so difficult not knowing what to say to help ease their burden. Or perhaps you are experiencing this pain yourself and you're looking for some meaningful quotes to soothe your own heart.
Whatever the circumstance, daughters are so very, very precious and hold an irreplaceable spot in our hearts. While easing the pain of her loss may not be a simple undertaking, it certainly is a worthy one. Planning out something lovely to say or put in a sympathy card takes some effort and thought, but your support will be felt and appreciated.
If you're struggling to find the right words, or simply searching for comfort, here are 101 loss of daughter quotes to help you express what's in your heart.
Meaningful Loss of Daughter Quotes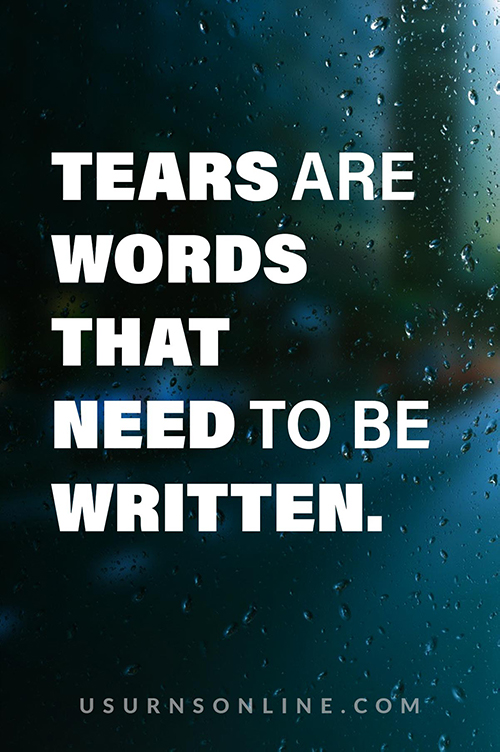 1. Tears are words that need to be written.
2. Our hearts grieve with yours in this tragic time.
3. Losing your daughter leaves me with no words.
4. I am so very sorry for the loss of your daughter.
5. Praying that the memories sustain you in this difficult time.
6. There is no pain like that of losing your daughter. My heart grieves with you at her loss.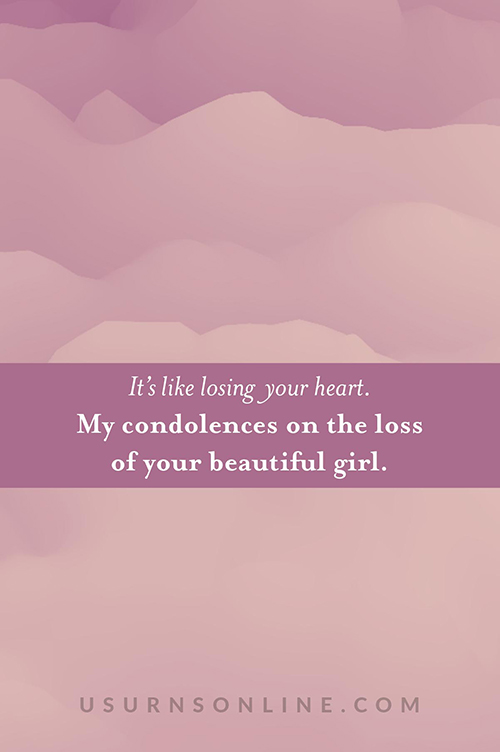 7. It's like losing your heart. My condolences on the loss of your beautiful girl.
8. She was special to so many. We will miss your daughter greatly.
9. The memories are all we have left now: so grateful your daughter left behind so many wonderful ones.
10. Take all the time you need and know that we are praying for God to heal your broken heart.
Related: Memorial Gifts for Loss of Daughter
Comforting Words for a Mother Who Lost Her Daughter
11. There is no pain like losing the child you carried.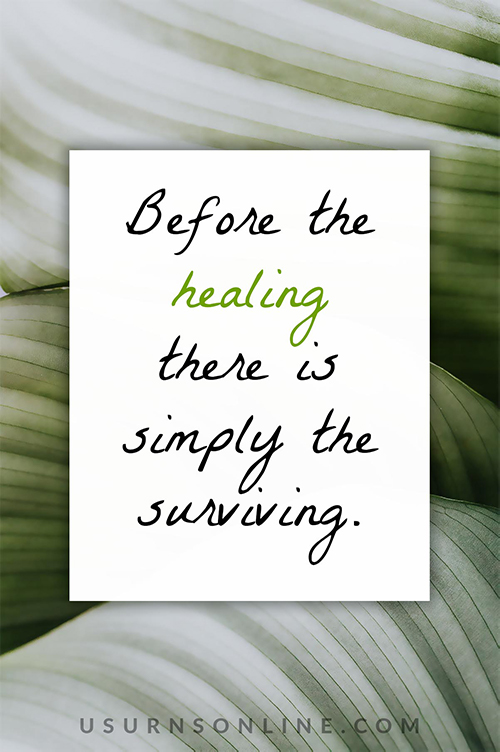 12. Before the healing, there is simply the surviving.
13. Memories of my sweet daughter are all that I have left: I will smile through the tears.
14. However long it takes, we are all going to surround each other with the love she left behind.
15. "Any woman who'd ever lost a child knew of the hollowness that remained within the soul."
― Brittainy C. Cherry, Disgrace
16. "Memories saturate my heart and the story of you spills from my eyes." — Grace Andren
17. I will hold you while you cry for as long as it takes.
18. This pain is unimaginable. I can only get through with the love of my family.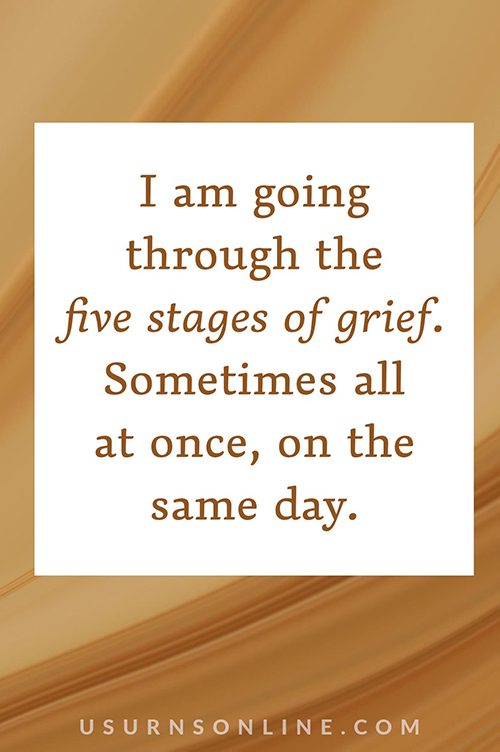 19. I am going through the five stages of grief. Sometimes all at once, on the same day.
20. To watch you suffer has been the hardest part of my life. Thankful that you are at peace now, sweet daughter.
Father Grieving Loss of Daughter Quotes
21. To my little girl: I will see you again someday in the clouds.
22. My life will never be the same without you in it.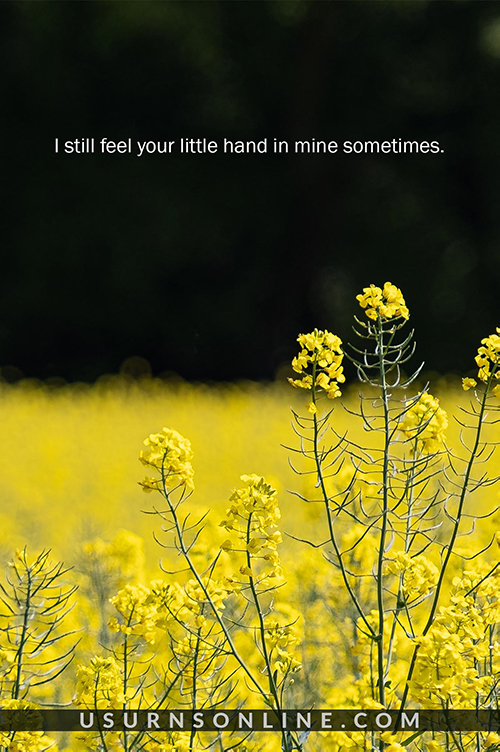 23. I still feel your little hand in mine sometimes.
24. The only thing keeping me going now is all of the precious memories I have with you.
25. Being your father was the best job I ever had.
26. Trying to see the rainbow through the rain.
27. You taught me how to be a dad. I will always love you.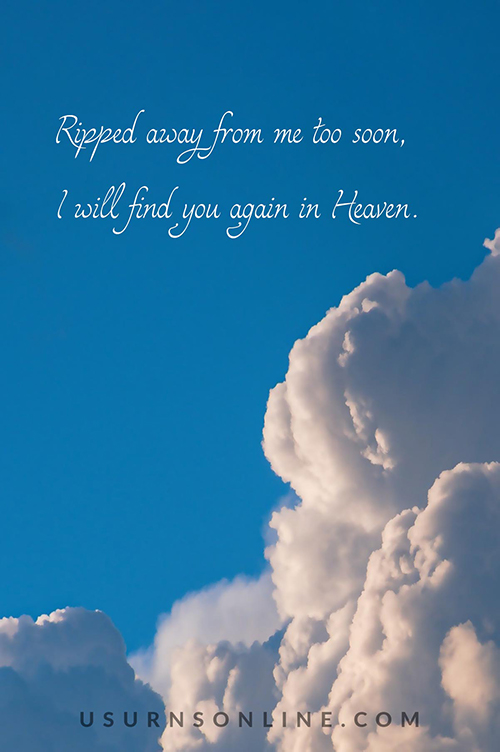 28. Ripped away from me too soon, I will find you again in Heaven.
29. When I see the sun burst through the clouds, I know you are watching over me.
30. You were a wonderful father to a beautiful girl: I am so sorry for your loss.
Related: Sympathy Messages for Loss of a Child
Short Memorial Quotes
31. "Life is the only thing which can never be replaced when lost."
― Lailah Gifty Akita, Pearls of Wisdom: Great mind
32. "Grief is love with no place to go."
― Karen Gibbs, A Gallery of Scrapbook Creations
33. "We cannot think our way out of grief. We must feel our way out of grief."
― Angie Corbett-Kuiper
34. "Grieving is intense and it is non-stop intense. Even if things are quiet, and you're sitting there in your chair, kind of staring off into space, inside, the intensity is raging."
― Nathalie Himmelrich, Grieving Parents: Surviving Loss as a Couple
35. "There are words like 'orphan', 'widow' and 'widower' in all languages. But there is no word in any language to describe a parent who loses a child. How does one describe the pain of 'ultimate bereavement?'"
― Neena Verma, A Mother's Cry… A Mother's Celebration
36. "Only through the significant loss of my loved ones have I truly begun to live. When their eyes closed, mine were opened."
― Angie Corbett-Kuiper
37. You were the best part of my life and I cannot believe you are truly gone, leaving me with only memories.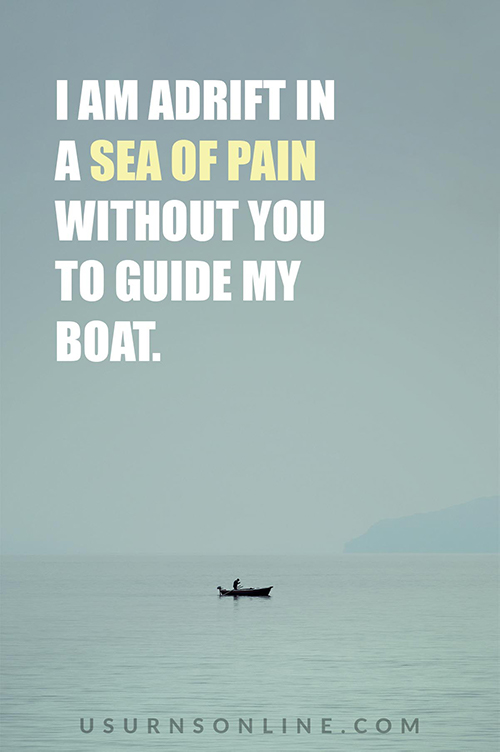 38. I am adrift in a sea of pain without you to guide my boat.
39. You will live on in our hearts and we will speak of you often and with much love.
40. Plain and simple, you will never be forgotten.
41. I remember you with every sunbeam, flower, the scent of autumn leaves, and the sound of children's laughter.
42. You are in every happy memory I own.
43. What a life you led! Thank you for blessing us.
44. Your time on earth was too short, but we will treasure each and every memory you left behind.
45. We live on for your sake.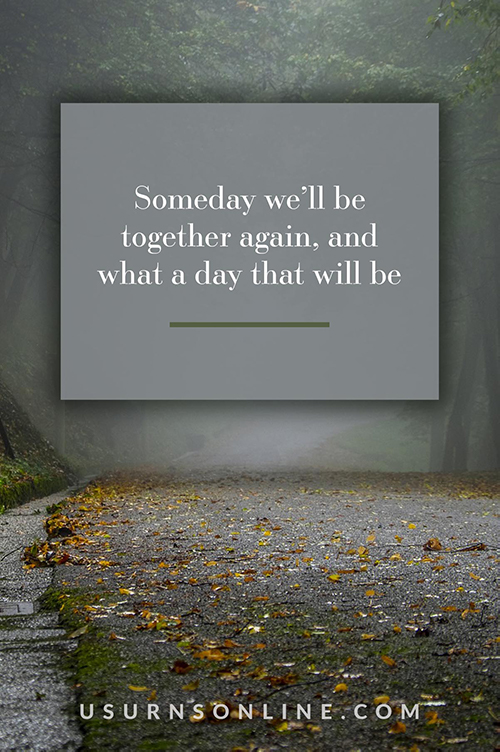 46. Someday we'll be together again, and what a day that will be!
47. The most beautiful life has come to an end, and we will never forget the wonderful woman we knew and loved.
48. In a few short years, you changed us all for the better.
49. The light has left our life with the loss of you.
50. We grieve for the great loss, but rejoice that she is dancing with the angels now.
In Memory of My Daughter Quotes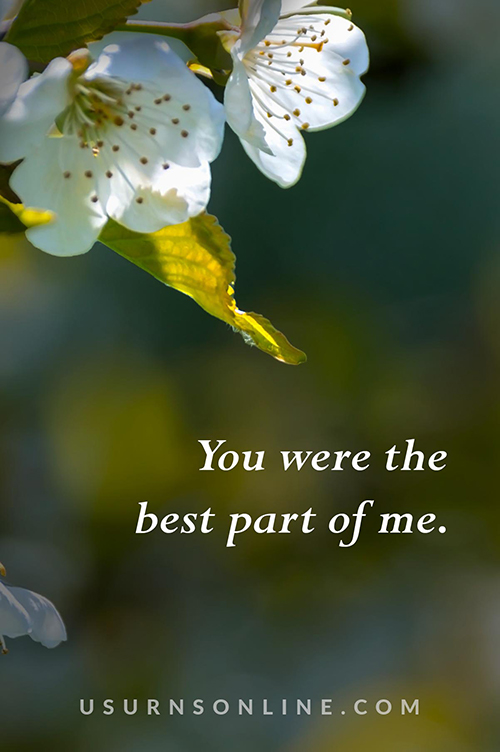 51. You were the best part of me.
52. "You will lose someone you can't live without, and your heart will be badly broken, and the bad news is that you will never completely get over the loss of your beloved. But this is also the good news. They live forever in your broken heart that doesn't seal back up. And you come through. It's like having a broken leg that never heals perfectly — that still hurts when the weather gets cold, but you learn to dance with the limp."
― Anne Lamott
53. "You care so much you feel as though you will bleed to death with the pain of it."
― J.K. Rowling, Harry Potter and the Order of the Phoenix
54. In memory of the best girl in the world. My daughter.
55. In memory of the brightest star in the night sky, the girl who loved and was loved in return.
56. Shine on, sweet girl.
57. It was the joy of my life to be your mother/father.
58. Your time on earth was too short. I am greedy for more of you than I was allowed.
59. In memory of one who brought so much joy to our lives.
60. Gone but never forgotten — not even for a day.
Loss of a Daughter Prayers
61. I am praying to the One who knows your loss vividly and personally.
62. Lord, please soothe my broken heart and keep my daughter safe at Your side until I can get there, too.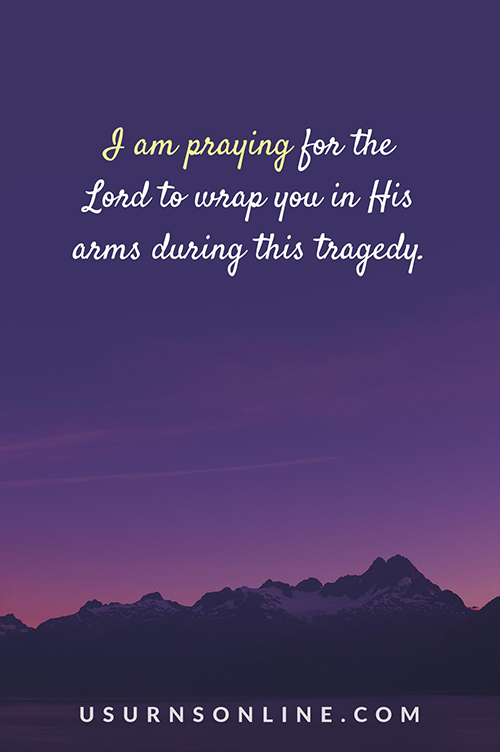 63. I am praying for the Lord to wrap you in His arms during this time of tragedy.
64. Praying to hurt less and less as time goes on. He can heal all wounds.
65. He knows your pain and suffering because He went through it, too! Praying for comfort.
Related: Comforting Sympathy Prayers
Bible Verses for Loss of Daughter
66.1 Thessalonians 4:14 "For since we believe that Jesus died and rose again, even so, through Jesus, God will bring with him those who have fallen asleep."
67. John 11:26 "And everyone who lives and believes in me shall never die. Do you believe this?"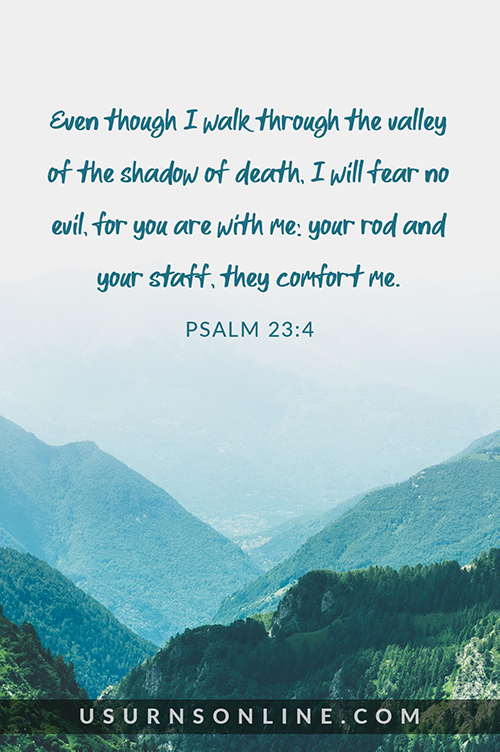 68. Psalm 23:4 "Even though I walk through the valley of the shadow of death, I will fear no evil, for you are with me; your rod and your staff, they comfort me."
69. Revelation 21:4 "He will wipe away every tear from their eyes, and death shall be no more, neither shall there be mourning, nor crying, nor pain anymore, for the former things have passed away."
70. Luke 23:43 "And he said to him, 'Truly, I say to you, today you will be with me in Paradise.'"
Death Anniversary Quotes
71. Remembering her today (and all days), and grieving with you.
72. Today I set aside all thoughts of sadness and only remember the wonderful times with you.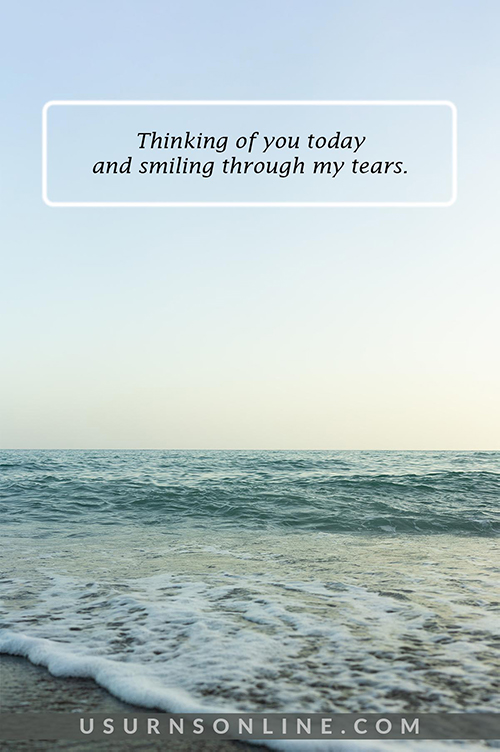 73. Thinking of you today and smiling through my tears.
74. It is a day I dread, and yet strangely find comforting as I think of you.
75. How can it be that I lived yet another year that you did not?
Loss of a Stepdaughter Quotes
76. The loss of a daughter, biological or not, is tragic.
77. My heart is with you as yours breaks at the loss of your stepdaughter.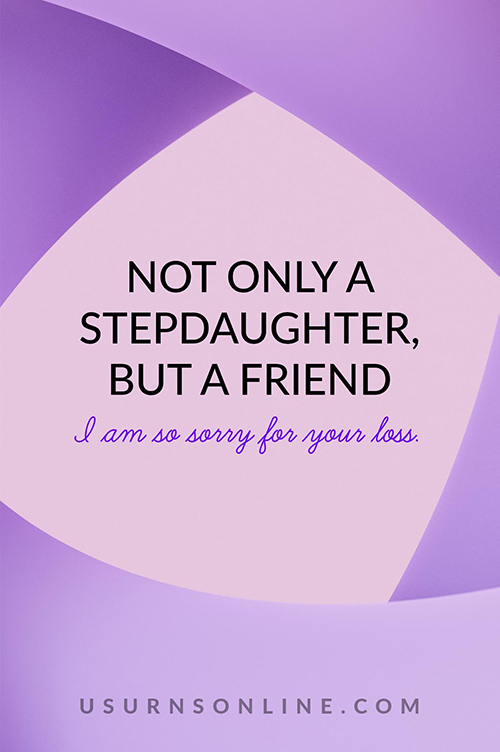 78. Not only a stepdaughter, but a friend. I am so sorry for your loss.
79. My condolences for the tragic loss of your beautiful stepdaughter. She was a joy to all who knew her.
80. You were not only my stepdaughter, but my confidant, mini me, sister of my heart, and best friend. I will miss you forever.
Healing After a Loss Quotes
81. "They say time heals all wounds, but that presumes the source of the grief is finite."
― Cassandra Clare, Clockwork Prince
82. "No one ever told me that grief felt so like fear."
― C.S. Lewis, A Grief Observed
83. "Only people who are capable of loving strongly can also suffer great sorrow, but this same necessity of loving serves to counteract their grief and heals them."
― Leo Tolstoy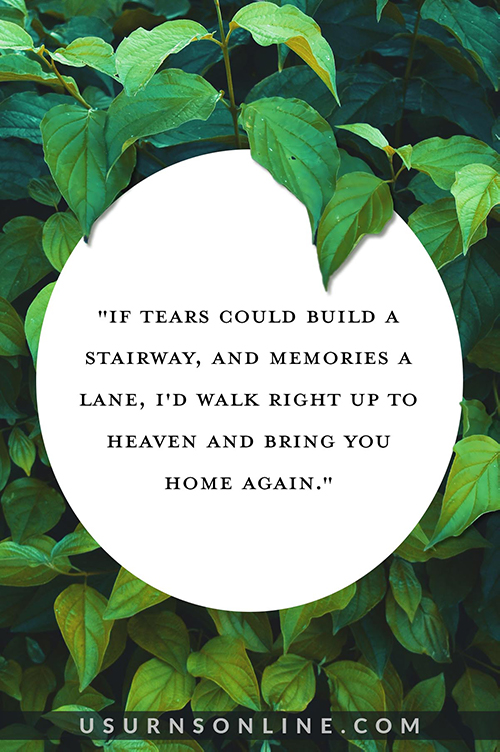 84. "If tears could build a stairway, and memories a lane, I'd walk right up to Heaven and bring you home again." — Unknown
85. "The risk of love is loss, and the price of loss is grief — But the pain of grief is only a shadow when compared with the pain of never risking love." — Hillary Stanton Zunin
86. They say time heals all wounds, but they never lost a child.
87. A time of healing will come, I promise. And I will be here for you.
88. When the sun comes through the rain clouds, I feel like perhaps there will be healing.
89. Praying you feel the joy through the sorrow with the memories you have.
90. This pain may feel like it will kill you — but it won't.
What Do You Say to Someone Who Lost Their Daughter?
Sometimes it is best to say very little, especially if you don't understand from experience the pain they are going through. Holding them for as long as it takes can speak often better than words.
When you do speak, talk of memories you have of their daughter. Go through photographs to see if you have any to share that they may not have themselves. Share their grief and pain and allow them to vent or cry. Try to stay away from platitudes or insisting that she is in a better place (especially if they are not religious).
Finally, don't abandon them or expect them to get over it quickly. Everyone processes grief at a different pace. Check in frequently and with kindness and patience.
Sympathy Messages for Loss of Daughter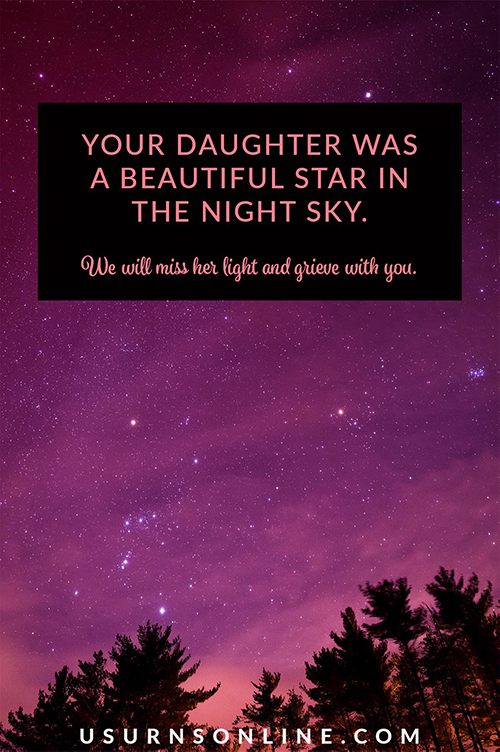 91. Your daughter was a beautiful star in the night sky. We will miss her light and grieve with you.
92. What a wonderful human you brought into this world! She will be sorely missed.
93. All of our love and deepest sympathies to you, dear Mama/Papa.
94. Our condolences on the loss of your shining star — your daughter.
95. I know I can never understand the depth of your pain, but I am here for you in whatever capacity you need.
96. I wish I could hug you right now. My heart breaks for you.
97. Watching you be a mother/father was a gift to me.
98. She was lovely, kind, sweet, funny, and sassy! We will miss your daughter so very much.
99. I know you will never fully heal, but I am praying for peace.
100. I hope you know how much she was loved and adored by all of us.
101. She was the best of the best, and she left her mark on this world!
Read Next: 101 Meaningful Condolence Messages