Today we'll be sharing with you 10 keepsake memorial gifts for the loss of a beloved daughter.
Understandably, there are no words comforting enough for a loved one who is dealing with the pain of losing a child. Sometimes the only thing you can do to provide a little bit of peace is to offer your friend a sympathy gift along with your condolences.
That task may be a little daunting. So we've come up with 10 beautiful memorial gifts for loss of daughter. Keep reading 'til the end, and you'll find some grief etiquette tips for your reference.
Let's begin.
10 Memorial Gifts for Loss of Daughter
Our website is supported by our users. We sometimes earn a commission when you click through the affiliate links on our website. Learn more here.
1. Personalized Memorial Bird Feeder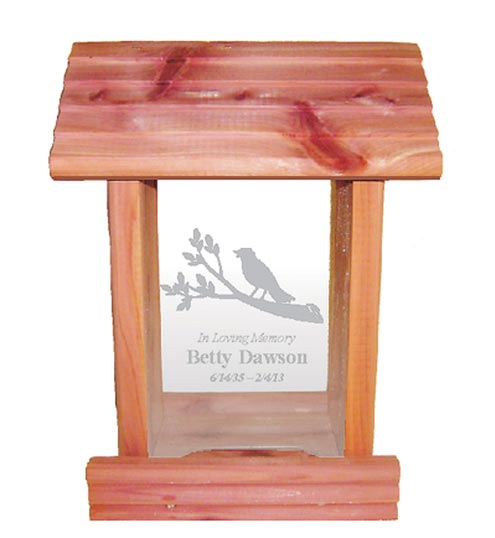 First on our list of memorial gifts for loss of daughter is this personalized "Bird on a Branch" memorial bird feeder.
Handmade by Urns Northwest of sturdy cedar wood, this bird feeder is meant to bring a little bit of peace to the heart of someone in the depths of mourning.
When your loved one who is grieving the loss of their daughter sees this bird feeder, with their child's name and dates engraved on the front panel, they will be reminded of her in the gentlest of ways.
This feeder measures 7″ x 4.75″ x 10.5″ and is crafted in the USA. Back side engraving is optional.
2. "With Sympathy" Willow Tree
Willow Trees are very popular among collectors and lay gift-givers alike. They make excellent gifts for any occasion, but perhaps especially as memorial gifts.
The sculpted With Sympathy Willow Tree figure (seen above) is a hand-painted cast of the original piece created by artist Susan Lordi. The girl holds a dove in her hand, the universal symbol for peace. It stands 9″ tall and is suitable to be placed on a shelf, table, mantle, or any other place of honor in the home.
Whenever your loved one sees her Willow Tree, she'll remember her daughter and the fact that she is now at peace.
More: The 10 Best Willow Tree Sympathy Gifts
3. Personalized Memorial Wind Chime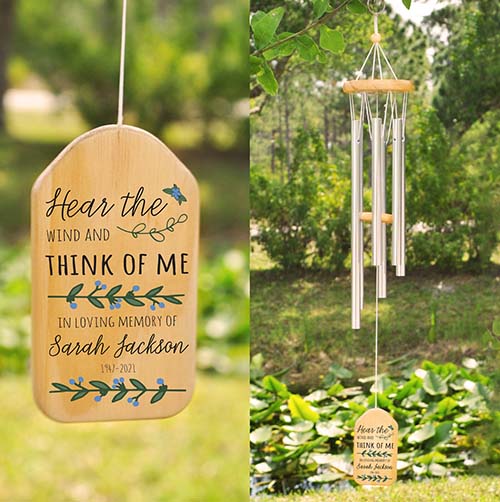 Similar to the bird feeder we shared with you in idea #1, this elegant windchime will serve to call your loved one's attention to the beautiful world outside of the house. It won't remove their sadness over the loss of their daughter, but it will send a comforting message and sing a gentle song in her memory.
The wood windcatcher reads "Hear the wind and think of me," along with a personalized inscription of name and dates.
4. Floral Heart Memorial Plaque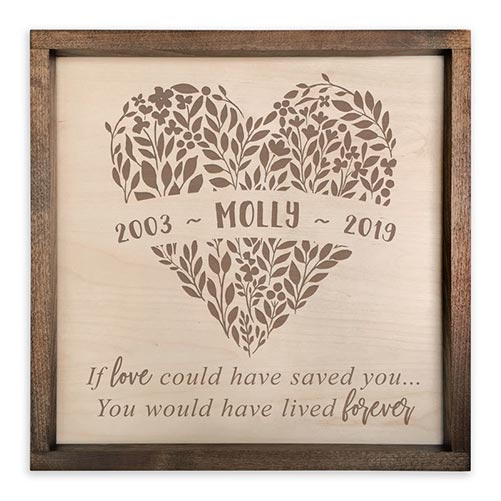 "If loved could have saved you, you would have loved forever." So reads this sentimental memorial plaque from Northwest Gifts.
An original from the Pacific Crest series, this plaque is decorated with a heart-shaped floral design, and also comes personalized with your friend's daughter's name and dates.
This plaque is made by hand in the United States from stained alder wood and birch ply. It's available in two sizes: 12″ x 12″ or 18″ x 18″.
5. Custom Angel Wings Watercolor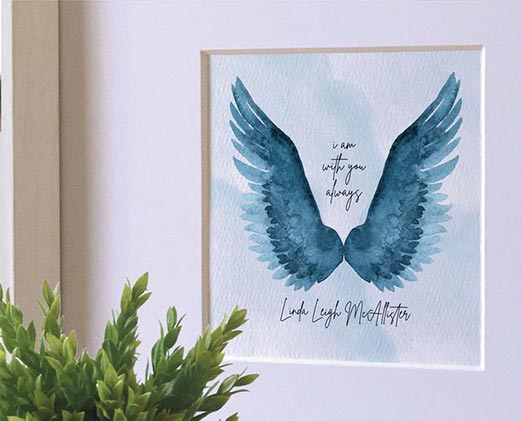 Art, no matter its form, has a way of touching us deep down and providing us with a sense of validation where we need it the most.
So needless to say, art makes a wonderful sympathy gift, especially when someone you know is grieving the loss of their child. If you want to give your loved one a piece of keepsake art, in memory of their late daughter, consider giving them this absolutely gorgeous custom angel wings watercolor.
The 5″ typograph painting nestles in a 10″ frame, in the color of your choice. Optional add-ons include name, dates, and even a windchime.
6. Handwritten Recipe Cutting Board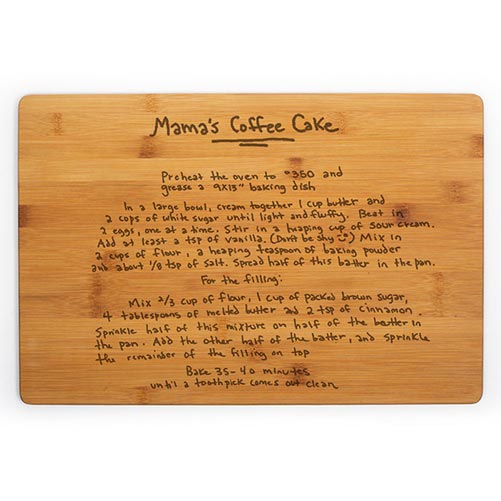 Handwriting, like thumbprints, is unique to each and every individual. It can highly recognizable, making it a wonderful way to memorialize a person long after they're gone.
Northwest Gifts' handwritten recipe cutting board will serve as a meaningful memorial gift for your loved one who is processing the loss of their adult daughter. Or it can be set up as a memorial, a piece of priceless décor in their kitchen.
In any case, just seeing their daughter's handwriting (and it doesn't have to be a recipe like is pictured above), will bring your loved one a sense of peace over her loss.
To order, simply upload an image of the handwriting you would like featured. The board measures 18″ x 12″ and is crafted from high-quality bamboo wood.
7. Memorial Family Photo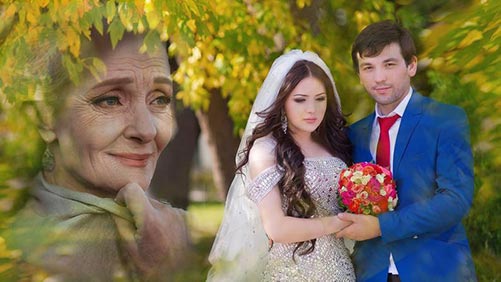 When a loved one passes away, especially a beloved daughter, life is never the same. But what grieving families sometimes don't realize right away, is the fact that their loved one will never again be in family photos with them.
Now, with a little help from artistic technology, you can make that happen once more… in a way.
Helena Elena Art will take a photo of your loved one's daughter, along with a family portrait, and add her photo in to make it appear as though she is right there alongside her family once more.
Imagine the look on your loved one's face when they see their daughter once again in the photo, right next to them or watching over them; bittersweet tears will flow.
8. Sympathy Flower Bouquet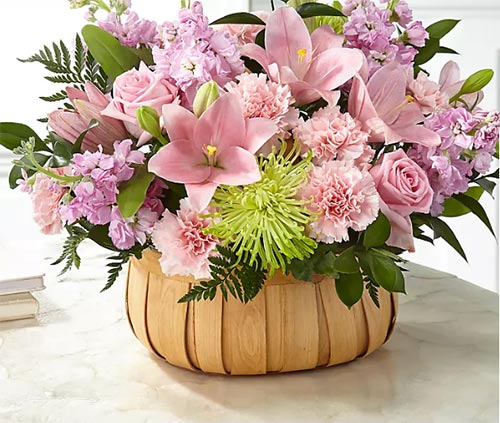 It may be cliché, but flowers always have and always will make wonderful sympathy gifts. For their bright colors and soft scents, they are especially nice as memorial gifts for someone who has lost a daughter.
9. Memorial Bracelet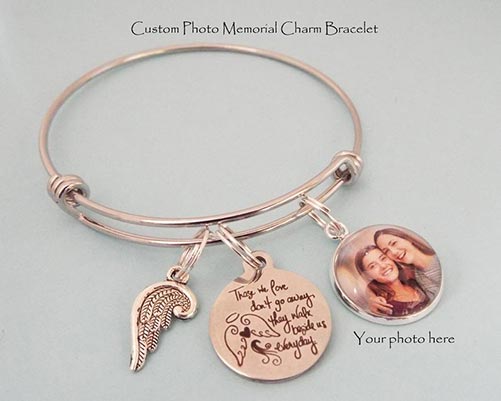 For the mother who is mourning the loss of her daughter, the grief will never quite go away. But as we all know, photos are a wonderful way to memorialize forever our loved ones who now live in heaven, and in our hearts.
Jewelry also makes an excellent keepsake gift. Combine the two (jewelry and a photo) and you have a beautiful idea like this personalized memorial bracelet. Your loved one will be able to keep her daughter's memory close to her at all times with this bracelet, which can be worn casually or with any event or outfit.
This stainless-steel bracelet will come with a finish of silver or gold tones. The photo charm will come in a bezel with a dome. Other charms include a sentimental quote and an angel wing.
Related: 50+ Best Bereavement Gift Ideas
10. DIY Memory Jar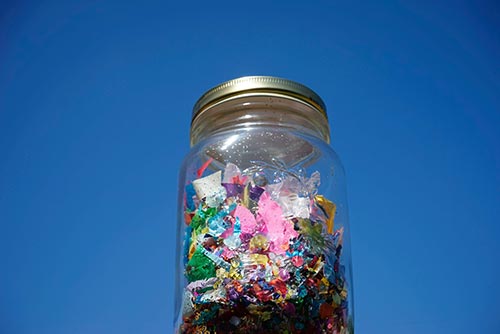 Last on our list of memorial gifts for loss of daughter is a DIY option: a memory jar.
To make a memory jar in honor of your loved one's daughter, all you need is a Mason jar or other see-through receptacle, several pieces of paper (colorful or white), glitter and/or anything decorative you'd like to add in the jar, and a ribbon to wrap around the lid if so desired.
Once you have all these "ingredients," now comes the creative part. On each slip of paper, write down a special memory you have of your friend's daughter, or of them with their daughter during happier times. You can draw pictures or write messages, or both.
When they're ready to, your loved one can open the lid and read these precious messages… and let the cherished memories come flooding back to them once more.
Read more: Making a Memory Jar for a Loved One
Memorial Gift Etiquette Tips
When it comes to giving your sympathy gift to your loved one, it can be helpful to keep in mind a few tried-and-true etiquette tips.
Tip #1: Don't be afraid to cry right along with your loved one. You may be feeling a little apprehension about seeing your friend for the first time since they've lost their daughter. This is normal. If you worry that you're going to get emotional in their presence, stop worrying and just let it happen. There will be no judgment from anyone.
Tip #2: Do write a heartfelt sympathy message to go with the gift you will be giving them. The written word is often easier to compose than the spoken word is in the moment. Say what you are feeling, and do not avoid saying their daughter's name in your message. For some help in figuring out what to say in your message, see here.
Tip #3: Don't take offense if your loved one does not respond to your calls or texts. Take it as a sign that he or she is totally in grief right now; allow them the time and space to mourn their child.
Tip #4: Do let them know that you are available at the drop of a hat. Offer an ear or a shoulder cry on, but let your friend come to you with their needs. Do not call or ask them every single hour how they are doing or what you can do for them. That said, do keep an eye on them. Depression is an easy hole to fall into when it comes to coping with an extremely difficult loss.
Read Next: Loss of Daughter Quotes and Messages