What do you call the container for ashes after cremation? Do you even need one? Is an urn container the same thing as a cremation container?
If you're new to this whole cremation / urn / ashes / cremains thing, read on. We'll explain what you need to know.
Our website is supported by our users. We sometimes earn a commission when you click through the affiliate links on our website. Learn more here.
What do you call the container for ashes?
A container designed to hold the ashes or "remains" after cremation is called an urn. Specifically, a cremation urn (to distinguish it from other types, such as an urn planter or a coffee urn).
Cremation urns come in many shapes, styles, designs, and materials. In the most basic sense, there are three broad types of urns for the three main uses.
Display – Attractive, decorative urns meant for display at home or in a niche (here are 12 of our most popular)
Burial – Often simpler urns intended to be buried in the ground at a cemetery
Scattering – Urns with easily accessible openings to make the pouring or scattering of ashes as simple as possible
Learn more: 8 Things You Need to Know About Cremation Urns
What other types of containers are there?
There are other kinds of containers involved in cremation and the disposition of cremated remains. These terms all sound very similar and can be a bit confusing at first!
Let's break it down.
Container for ashes
= an urn
As discussed above, this is a cremation urn. It's best to use "cremation urn" or simply "urn" to avoid confusion with the next two terms.
Another one you might hear is cremains container. This, too, is another phrase that refers to a cremation urn.
Urn container
= a burial vault
This isn't a technical term in the industry, so it can be a bit vague. But typically, what people mean is a cremation urn burial vault. The burial vault is a container for the cremation urn – hence why some people might say "urn container".
This burial vault is a sturdy polymer, fiberglass, steel, or other type of container into which the cremation urn is placed for burial. The vault houses and protects the urn, but more importantly (from the cemetery's perspective), it protects the landscape and keeps it from caving in a creating a divot as the urn erodes over time.
So when people say "urn container", they are most often referring to a "container for the urn." In other words, a vault.
However, sometimes urn container is used as a sort of redundant synonym. Think, an "urn (you know, a) container" or "urn/container." In this case, the person means a "cremation urn."
Because of this imprecise and confusing dual meaning, it's best to avoid the term. Instead, the industry typically uses the terms "urn" (cremation urn, funeral urn, urn for ashes, etc) for the container that holds the ashes, and "vault" (urn vault, burial vault, cremation vault, etc) for the container that holds the urn.
Cremation container
= a disposable casket in which the body is cremated
You'd think this was another word for "urn", but you'd be wrong. The cremation container is the container in which a body is cremated. In other words, it's a full-body casket meant to go into the cremation chamber.
Most of the time this a low-cost cardboard casket. Some families choose to have the individual cremated in a wooden casket, sometimes even a very nice one, but typically when a person is cremated the funeral home will rent a nice casket for the funeral service, then transfer the decedent into the cremation container for the actual cremation.
Read more: The Cremation Process – How does cremation work?
Do I need a container for the ashes?
After the cremation is complete, the crematorium or funeral home will give the ashes to you in a temporary urn. This is a plastic or sometimes cardboard container, inside of which is a plastic bag that securely holds the remains.
Even though they call it a "temporary" urn, remember our definition above? An urn is just a container for the ashes. This means that, if you want, the temporary urn can be a permanent urn.
So, do you need a container for the ashes? Well, yes, you need to have the ashes in something. But you can use the container it comes in, or DIY your own (see below for some examples). So no, you don't need to purchase an additional urn, the so-called "temporary" one works just fine, or you can make or re-purpose your own container.
Still, many families want to honor their loved one with a beautiful and fitting cremation urn. It's up to you to choose exactly what you want.
Related:
10 Lovely Containers for Ashes
Often, it's best to simply show a visual. So here are 10 examples of containers for ashes, from DIY options to the most stunning fine art cremation urns on the market.
1. DIY Urn: Coffee Tin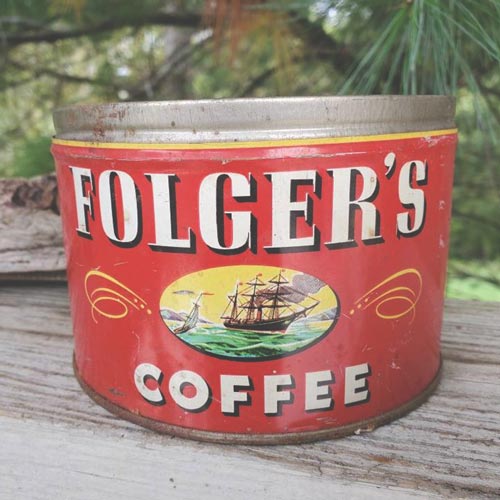 Is it stereotypical? Probably.
Is it cheap, or pretty much free? Yes.
Is it cool, in a resist-the-commercial-system sort of way? Absolutely.
If this is something up your alley, or that your loved one would want, then you don't really need any further comment from us. You know what to do. Grab an old coffee or tea tin and put the ashes in it.
For more ideas, check out our article –Everyday Items You Can Use as a Cremation Urn
2. Wood Cremation Urn with 3-Dimensional Inlay Art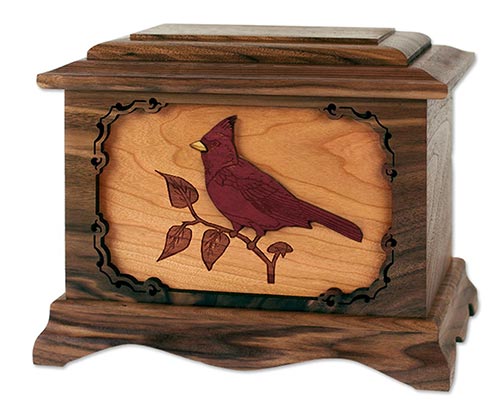 Here's a gorgeous cremation urn. Hand crafted in Oregon by talented artisans, this type of urn is a wonderful and timeless memorial to your loved one.
The scene on the front is made from different pieces of wood in their natural colors. Each piece is cut out, laser-etched for detail, and layered together to create a lifelike 3-dimensional effect.
At Urns Northwest, we offer these urns in many designs including horses, lighthouses, golfing, farming, wolves, flowers, and much more. Browse the collection here.
3. Memorial Plaque Cremation Urn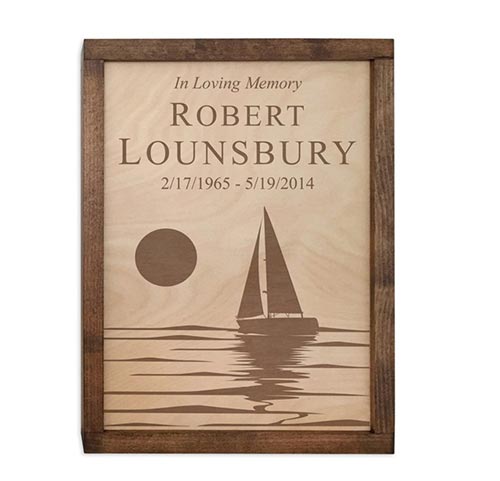 Here is a container for ashes that doesn't look like an urn. An Urns Northwest Original, we created a gorgeous wall-mounted memorial plaque and turned it into a cremation urn.
Sometimes, visitors or even family members can be a little squeamish knowing that your loved one's ashes are nearby. No one need ever know with this unique urn.
Our Pacific Crest Memorial Plaque Urn series are individually handcrafted in Oregon from solid wood. They're available in several sizes with a wide selection of laser-etched artwork and scene options. Each includes personalized etching of your loved one's name and dates.
4. Granite Urn with Photo Etching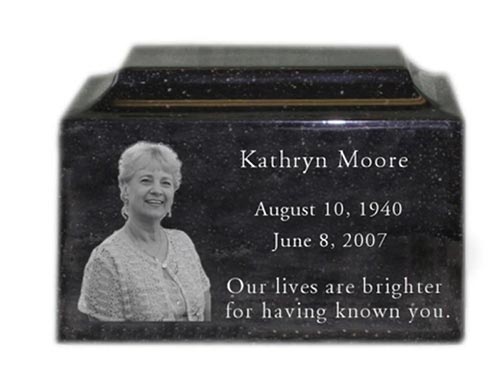 Granite is a wonderful choice for the material because it will not biodegrade over time. If you're going to bury the urn, this one won't need a protective outer burial vault, helping you save on funeral expenses.
Plus, this urn includes the personalized inscription and a beautifully rendered photo of your loved one.
Explore similar items: The Stone Urn Collection
5. DIY Scattering Urn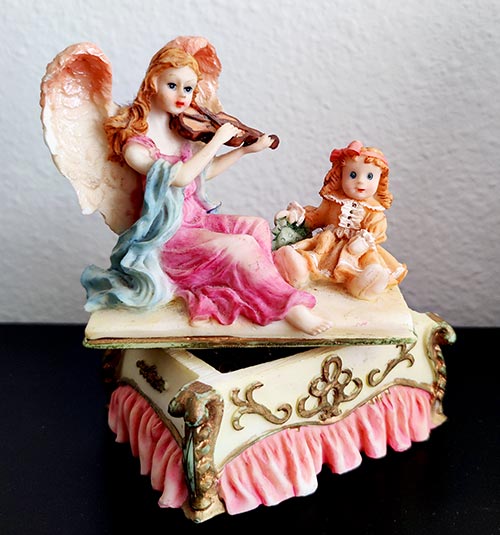 As we've discussed, containers for the ashes can be literally any container. From plastic bags to fine glass art urns (see next), from coffee tins to fishing tackle boxes, anything goes when you want to be creative.
Related: 16 DIY Options for Scattering Ashes
6. Glass Art Cremation Urn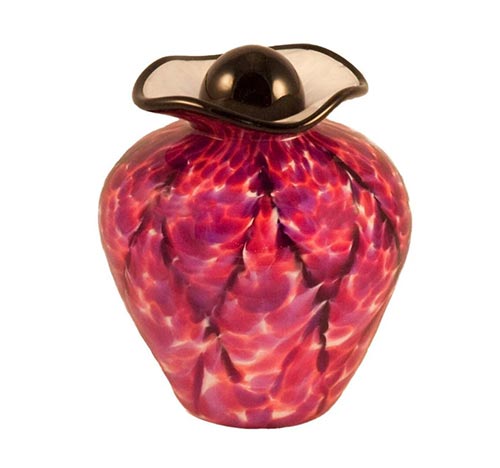 Some people prefer the simple, affordable DIY container option mentioned above. For others, only the best is good enough for their beloved.
If you're looking for a premium urn that says something about how beautiful your loved one's life and legacy is even now, this is the way to go. Browse our collection of hand-blown glass art cremation urns and you just may discover the ideal memorial.
7. Wings of Hope Butterfly Urn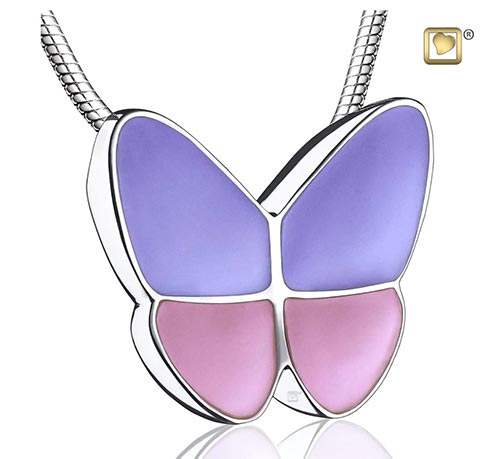 Urns come in all shapes and sizes. The most popular shapes are generally the traditional "vase" shape of most metal, ceramic, and glass urns, along with the "box" designs of many wood and stone urns.
The Wings of Hope Butterfly Urn breaks the mold, and does so without breaking the bank. When you consider that most uniquely shaped urns can cost thousands of dollars, this is a stunning, original, and relatively affordable tribute.
Explore similar items: The Love Urns Collection
8. Cremation Jewelry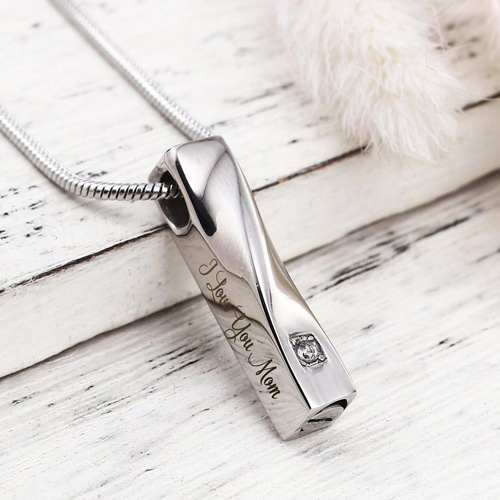 Here is another type of container for the ashes after cremation: A keepsake jewelry urn.
Cremation jewelry comes in all types and styles. You can find necklaces, bracelets, rings, even earrings. Most people who are drawn to this idea prefer necklaces as a way to keep their loved one close to their heart.
The one shown above includes custom etching on the pendant. Browse 50 more of our favorite cremation jewelry pieces here.
9. Aromatic Cedar Wood Cremation Urn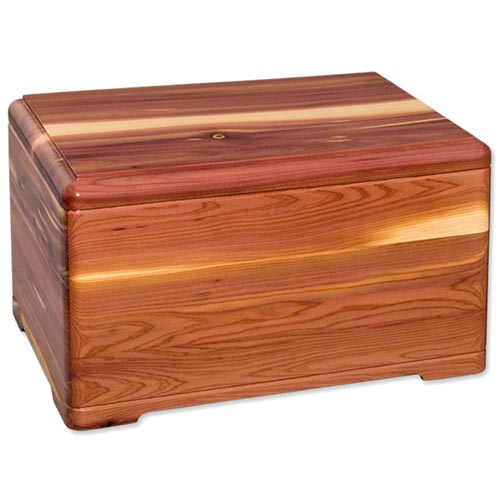 A simple yet completely gorgeous urn. Crafted in Oregon from premium, aromatic cedar wood from eastern Tennessee, this has been a best seller of ours for many years and it's easy to see why.
Available here, and you can also get it laser-etched with a personalized inscription carved deep into the wood.
10. Urn to Plant Ashes & Grow a Tree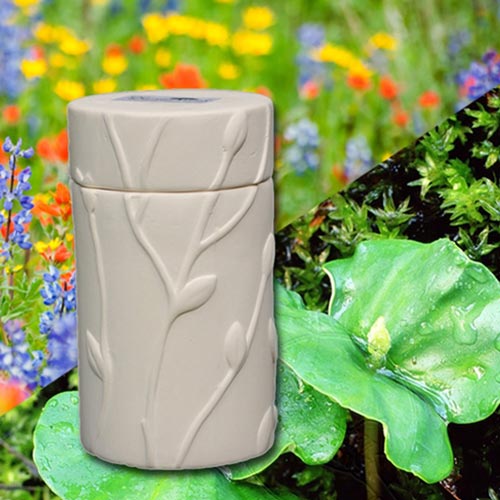 You've probably heard of this idea somewhere before; we've been offering memorial tree urns for nearly a decade now, so the concept is far more mainstream than those early days.
This urn is biodegradable and contains "plant food" that will help nourish and grow a memorial tree. The unique twist is that the growth of the tree incorporates your loved one's ashes. The idea is that their cremated remains turn into a "living memorial" that goes back to the earth while standing tall in their memory.
Learn more: Plant a Tree from Your Loved One's Remains
Next Steps
Now that you know all about containers for the ashes after cremation, what's next?
If you have more questions or want to do further research, here are some helpful resources:
Our FAQ page – Hundreds of popular questions about cremation, urns, funerals, and more.
Urn Sizes – Everything you need to know to help you choose the right size.
How to Open an Urn – Something most people want to know about ahead of time.
If you're ready to shop for the urn, here are some good starting places:
Read Next: What You Should Know About Companion Urns