Today we're sharing with you 10 thoughtful ideas for sympathy gifts for loss of sister.
Losing a sibling is one of life's most difficult experiences, especially if that sibling was a beloved sister. Sometimes, when words fail, the best way to offer comfort to someone dealing with such a loss is to offer a gift. We're here to help you find that perfect gift.
Let's take a look together.
Heartwarming Sympathy Gifts for Loss of Sister
Our website is supported by our users. We sometimes earn a commission when you click through the affiliate links on our website. Learn more here.
1. If Love Could Have Saved You Memorial Plaque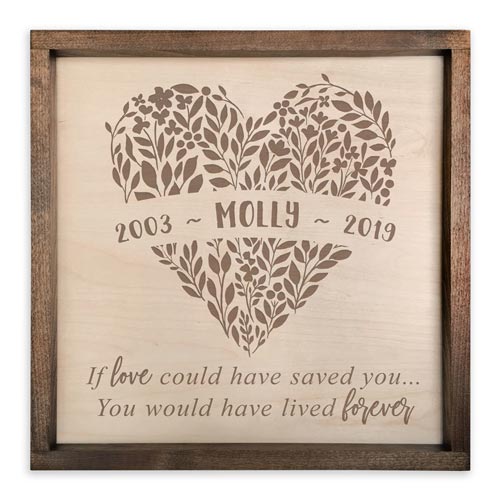 A beautiful memorial plaque for someone who was beautiful inside and out. This piece of decor, handcrafted in the USA by Northwest Gifts and hailing from their Pacific Crest series, is much more than a pretty wall hanging. It's a fitting memorial to a precious sister who will never be forgotten.
This plaque is available in two different sizes. It's constructed of contrasting birch ply and stained alder wood, and comes personalized with name and dates.
2. Custom Digital Portrait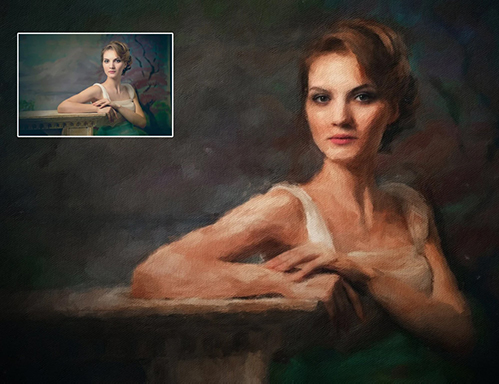 When mourning a loved one who has passed on, comfort can be found in the gentle reminder that they are now in a better place.
This custom digital painting (which you will receive as a print or canvas; it is not a digital download) will serve to remind your grieving friend that their sister lives on, even if only in loving memory. The artist simply takes a photo of the loved one and turns them into a beautiful work of art, complete with angel wings.
Available on print or canvas print, and in several different sizes.
3. Here for You Compassion Package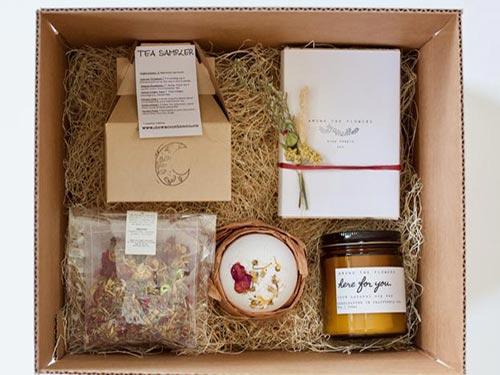 Care packages are a wonderful way to show someone who's grieving that you're thinking of them and wishing them the best.
Here for You provides curated care packages containing items intended to initiate rest. Depending on the package you choose, these items can include bath soaks, body oil, or things for the home. Choose from five different box sets, including one just for men. A typed or handwritten note is included, and add-on items are also optional.
You can also create your own memorial care package, or gift basket, for your friend if you want. All you need is a box or basket, some cellophane, a bow, a sympathy card, and some ideas as to what you can put in it:
4. Memorial Photo Blanket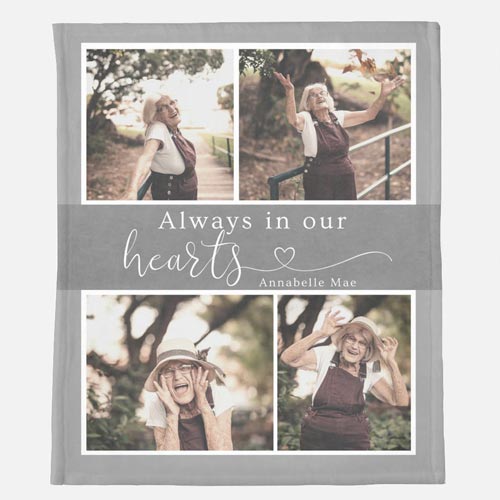 Photos come in all shapes and sizes these days. Whether you know someone grieving over the recent loss of their sister, or they are about to mark the anniversary of her death, a gift like this memorial photo blanket can make their day a little more bearable.
This blanket is available in several different sizes as well as fabric: minky, sherpa, sweatshirt or soft woven. In addition to the photos featured, it can be further customized with a phrase and the name of the deceased.
5. Bamboo Wood Cutting Board Sympathy Gift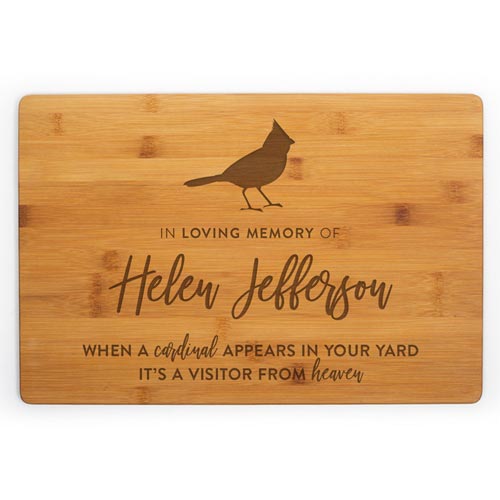 It goes without saying, if there's anything that can get your mind off of something when you're sad, it's doing something that brings you joy.
If you know someone who's feeling down about his or her sister's passing, you're naturally inclined to want to cheer them up. It's only human! Perhaps something that brings them joy is cooking or baking away the day in the kitchen. But maybe they haven't been in the kitchen in a long, long time.
Help your loved one rediscover their joy by surprising them with this gorgeous bamboo wood cutting board. It can be engraved "In Loving Memory" of their sister, personalized with her name and a sweet saying regarding cardinal visitors. Measures a roomy 18″ x 12″.
More: 17 Best Cardinal Lover Gift Ideas
6. Paper Flowers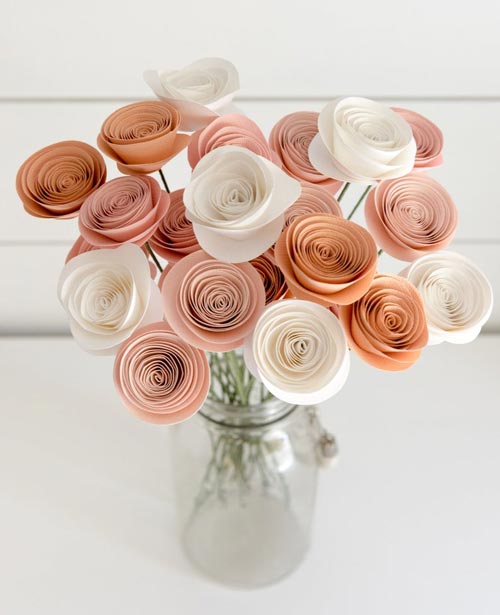 Flowers have always made a wonderful sympathy gift. They're bright and cheery and smell lovely; they represent the exact opposite of death.
But something about real bouquets that people don't like to think about – they wilt and die.
The good news is that you can side-step real florals while still giving your friend "flowers" in memory of their late sister. And no, we're not talking about fabric flowers. We're talking about beautiful paper flower bouquets, which won't fade over time.
7. Willow Tree Figure – "Chrysalis"
Willow Tree figures are tried-and-true when it comes to beautiful sympathy gifts for loss of sister. They make wonderful gifts for anyone and any occasion, really. Personally, I love Willow Trees, and have been collecting them for years. So I know first-hand just how beautiful and high-quality they are.
This Willow Tree figure, called "Chrysalis", represents a love that will never be let go. The hand-painted resin figure is a cast of artist Susan Lordi's original sculpture. It stands 9" tall.
Here are some other Willow Trees that would also make beautiful sympathy gifts for loss of sister:
Related: The 10 Best Willow Tree Sympathy Gifts
8. A Grief Observed by C.S. Lewis
C.S. Lewis was a literary genius and led a storied life, but he was often stricken with deep sorrow. "A Grief Observed" features Lewis' honest and intense musings on losing the love of his life.
If your friend is a reader, and is trying to work through the loss of his or her sister while clinging to the hope of Christ, they may appreciate this short, intimate work by the famous writer.
To help your loved one keep their thoughts organized while reading this book, also consider gifting them a nice journal and some pens and you'll have a lovely little gift package.
9. DIY Gardening Kit (with seeds of her favorite flower)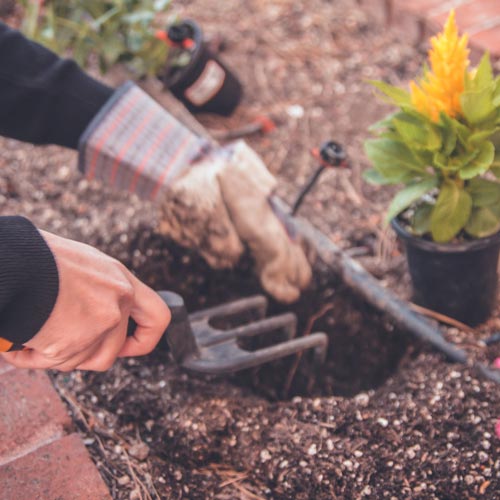 This one is pretty self-explanatory. Honor the memory of your friend's late sister by gifting them something that brings her memory back to life, at least in a sense: through her favorite flowers.
Create a gardening kit that includes the seeds to what was her favorite bloom: perhaps carnation, rose, baby's breath, or passion flower. You can also include gardening tools if they don't already have their own: a hand shovel and trowel, some gardening gloves, a watering can, and maybe some potting soil.
Put everything into a basket and wrap it up, or use the garden can as the basket and put a bow on top. Easy and thoughtful!
10. Trees for a Change Memorial Planting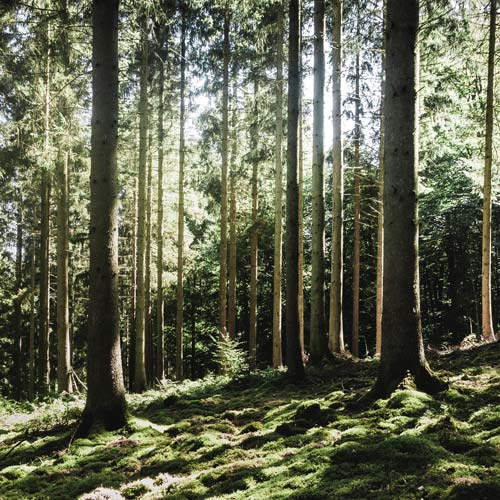 You know your loved one, and whether or not they'd really appreciate receiving a sympathy gift in honor of their sister who's passed. If you know it will be an awkward transaction, or if they're not usually comfortable with the attention a gift brings, here's another option that's just as meaningful:
Have a tree planted in their sister's memory.
Trees for a Change makes it easy to do through the power of the Internet. You order the memorial tree gift for your loved one, and Trees for a Change will see that it's planted in a forest area previously devastated by wildfires.
Your loved one will not only receive a certificate, but will also be able to see photos of their late sister's tree growing over time, doing its part to restore the earth back to it's former beauty.
---
Our list ends here, but not your sympathy gift options. Check out the links below for even more meaningful gift ideas and inspiration:
Pin It