Finding ways to comfort someone who is experiencing a loss can be difficult. Knowing what to do or say even more so. A well written sympathy card or letter is always a good and appropriate idea, but you may want to offer them something… more. That's when bereavement gifts become a fitting choice.
While a home cooked meal or flowers are often appreciated, picking out a gift for them can be another wonderful way to show someone just how deeply you care. A tasteful memorial gift can go a long way in expressing your support and love for a grieving friend in their time of need.
But how do you choose a fitting bereavement gift? Not many of us are as experienced in this area as we are in other gift-giving scenarios, and having a helpful guide and list of ideas is certainly appreciated.
So we made one! Listed below is a compilation of our 65 best bereavement gifts to show your love and support to your grieving friends or family.
Hopefully you find this to be a valuable source on your search for the best bereavement gift.
Our website is supported by our users. We sometimes earn a commission when you click through the affiliate links on our website. Learn more here.
Best Bereavement Gifts
1. Grief Journal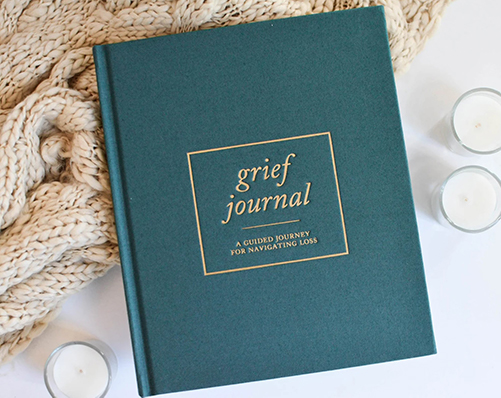 This beautiful grief journal is specifically designed to help the mourner walk through their grief while also documenting and reminiscing on fond memories. Grief journaling has been around for a very long time, and was around long before it had an official name or designation.
Writing down one's feelings surrounding the death of a loved one helps us process them in a physical manner. This beautifully crafted journal takes this into consideration, and provides ample room for writing as well as prompts and questions to help the mourner on their processing journey.
2. Plant a Memorial Tree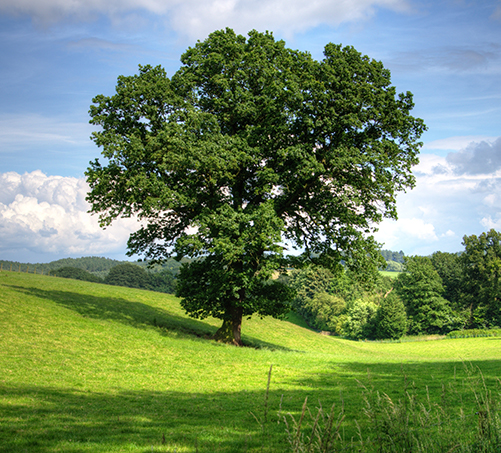 A wonderful tribute for a wonderful cause. Whether you decide to purchase and dedicate a single tree or an entire grove, they will certainly be touched by such a meaningful sentiment. Each purchase equals one tree planted in a US National Forest in need of reforestation.
These are memorial gifts that live on for generations, and include pictures and the geographical location along with a memorial certificate that can be kept or framed. Such a meaningful tribute.
3. Engraved Memorial Candle Holder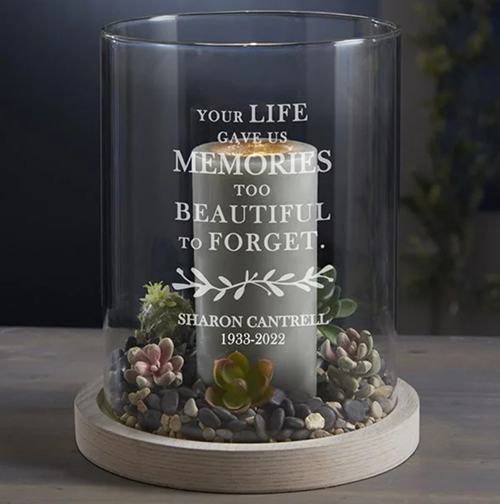 This beautiful glass hurricane can be inscribed with two lines of personal text below your chosen quote. This pretty piece of home decor can be filled with whatever they choose, whether that's candles, memorial stones, plants, potpourri… Really anything they wish.
A pretty reminder of the one they've lost that can be placed in view in their home.
4. Memorial Lantern Picture Frame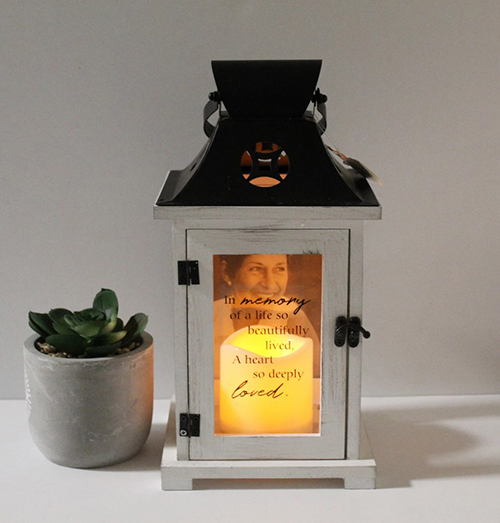 A unique and thoughtful memorial gift for their home, these pretty lanterns will make a wonderful centerpiece.
Each lantern has a picture frame behind the included candle where they can put that favorite photo of their loved one. It also has a heartwarming sentiment on the front glass panel.
5. Raise a Glass in Memory Of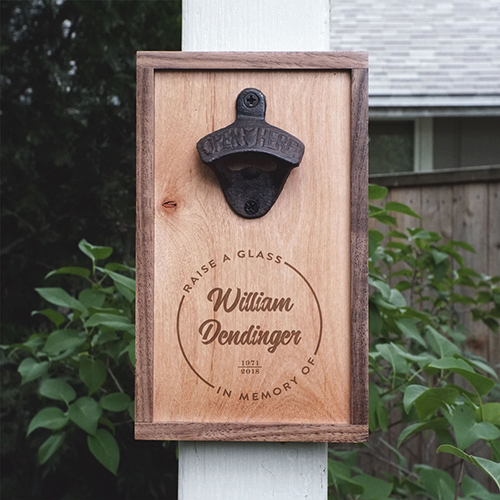 These personalized, wall-mounted bottle openers are a fitting tribute to anyone who loved to "crack open a cold one." Handcrafted here in the good ole USA of solid hardwoods, these neat openers are perfect for mounting near the bar or the barbecue.
6. "In Memory of " Feather Ornament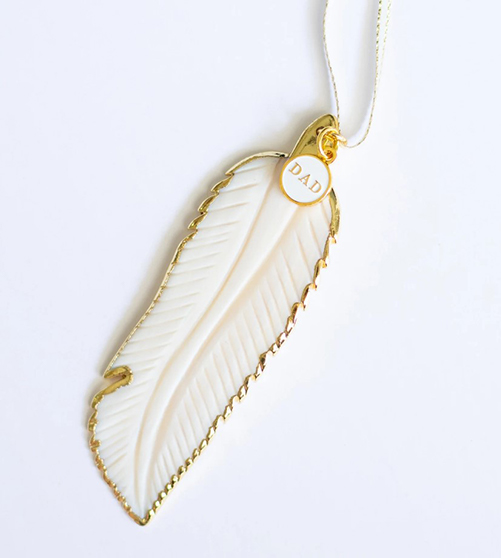 These stunning memorial feathers make a wonderful bereavement gift. Each feather is hand carved from the mother-of-pearl of abalone shells, and the initial charms are white enamel with gold.
Feathers are often seen as a symbol of everlasting connection, and carry deep meaning in many cultures. Such a delicate and beautiful keepsake.
Related: Best Memorial Ornaments
7. Personalized Mini Heart Keepsakes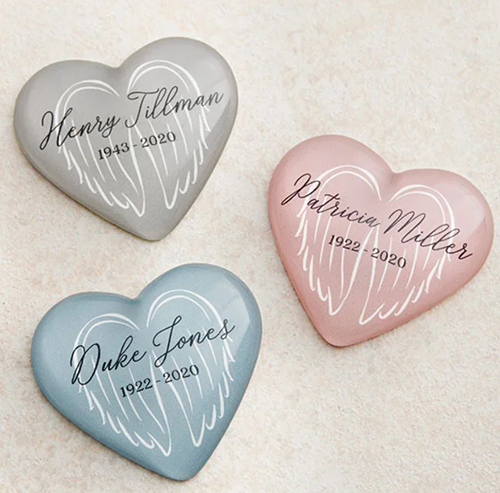 A lovely little memento that they can carry with them, or place around their home. These pretty heart keepsakes can be customized with their loved one's name and dates, and there are three soft colors to choose from.
How wonderful to have something so meaningful that fits in the palm of their hand.
8. Book of Remembrance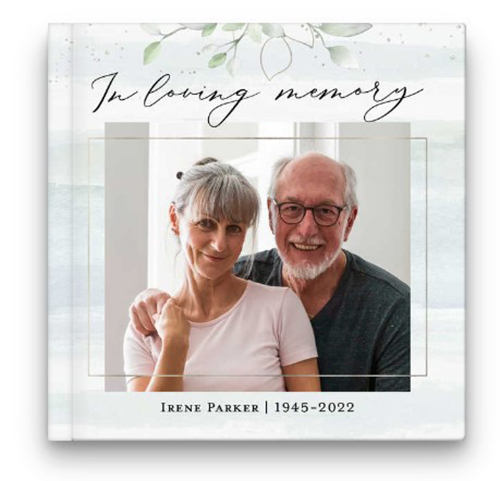 Create a one-of-a-kind, watercolor book of remembrance with Mixbook Photo Company. These wonderful memorials are so special and each one is a unique work of art. Certainly a keepsake that will be cherished and passed down from generation to generation.
9. Positive Thoughts a Day
This "positive thoughts" jar is such a great idea. Sometimes we struggle to keep a positive mindset, especially when we've recently experienced a loss. These 31 little notes of sunshine can help remind us that even when days seem dark and bleak, there is still so much beauty and joy in life to experience.
That is certainly what our loved ones would want, after all.
10. Memorial Handwriting Pillow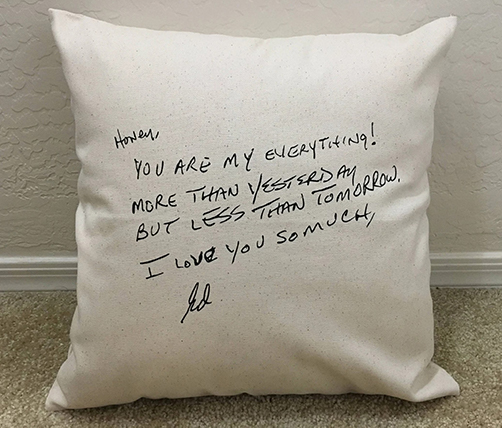 These memorial handwriting pillows are so sweet and special. Turn a sample or a note of their loved one's handwriting into a pretty pillow for their bed, couch or any place they spend a lot of time. These neat covers are handmade and come with their own pillow form so they are ready for gifting upon arrival.
Sympathy Basket Bereavement Gifts
Grief & Affirmation Sympathy Basket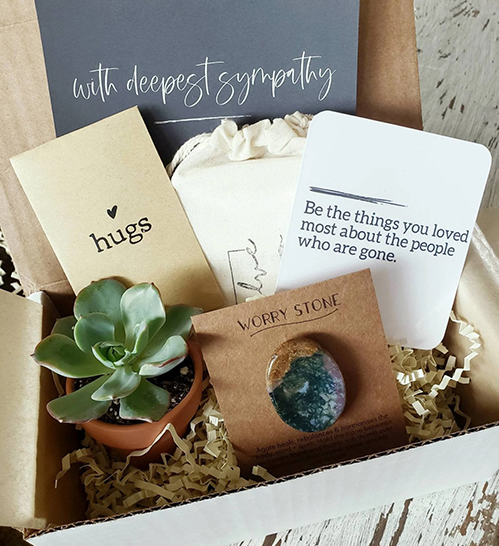 These beautiful sympathy baskets take the guesswork out of what to give to your friend or loved one in their time of loss. Lovingly composed of various items of comfort and finished off with a handwritten card expressing your personal condolences.
This is a wonderful option if you happen to not be near the person who is grieving, and need to send rather than personally gift your items.
Here are some more great ideas:
Memorial Jewelry
Memorial Thumbprint Ring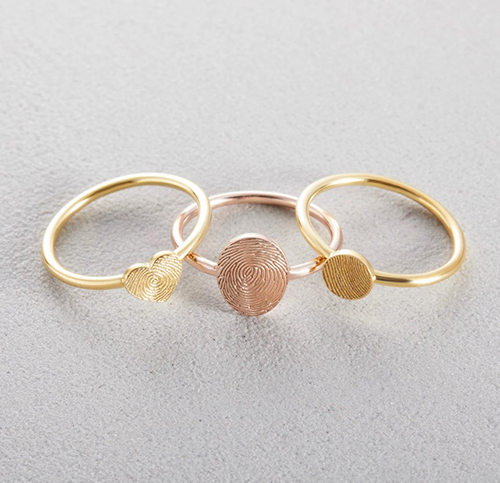 They will be so touched by this truly unique gift. So sweet and beautifully crafted, each ring features the loved one's fingerprint front and center as its focal point. These pretty rings are available in sterling silver, 18k gold plated, and 18k rose gold plated. Such a meaningful keepsake.
Here are some more great ideas:
Memorial Plants
A Life So Beautiful Dish Garden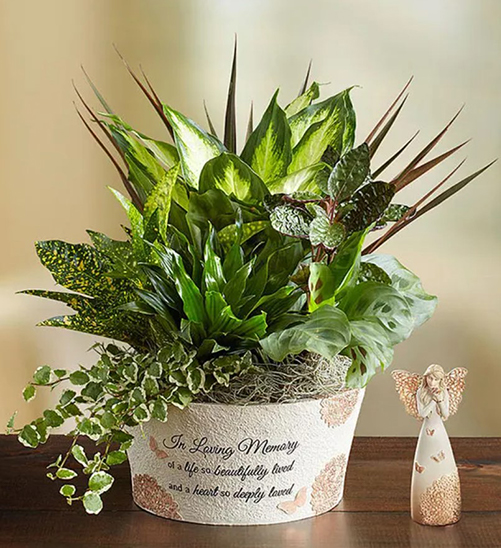 This lush, vibrant dish garden will bring to mind their vibrant life lived to its fullest.
Such a beautiful arrangement of green flora is supported by the sturdy container which is beautifully crafted and bears the sentiment "In loving memory of a life so beautifully lived, and a heart so deeply loved." A pretty memorial angel figurine is also included.
Here are some more great ideas:
Sympathy Flowers
Heartfelt Memories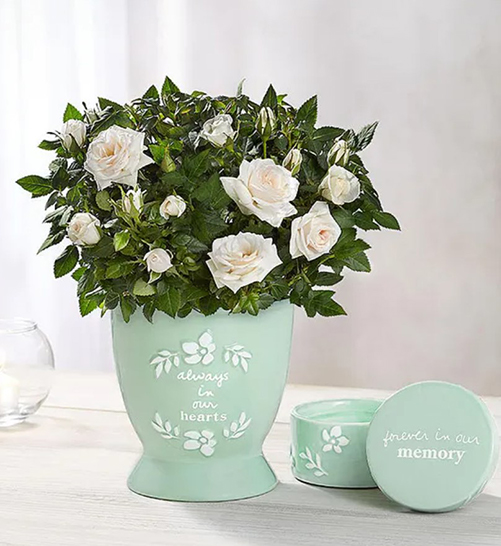 This beautiful, white rose plant is a perfect alternative for cut flowers that will wilt and fade with time. Potted in a lovely container that says "always in our hearts," it is accompanied by a sweet memorial dish that bears the same sentiment.
This pretty plant can be maintained in its original pot, then transplanted into their garden or a larger pot when necessary. A lasting tribute to their loved one.
Here are some more great ideas:
Memorial Wind Chime Gifts
Hummingbird Memorial Ornament Chime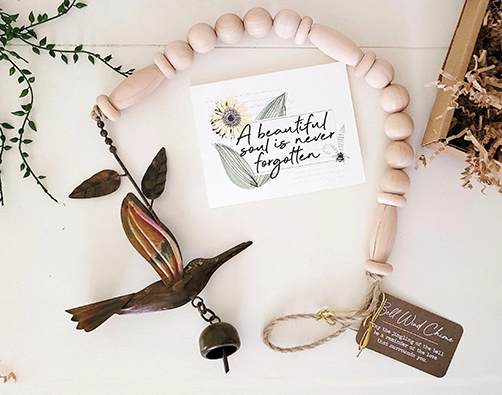 Rustic and beautifully, these hummingbird chimes are so sweet. The hummingbird is a metal, hand crafted chime and is accompanied by a tag which reads "May the jingling of a bell remind you of the love that surrounds you." Each chime gift comes with a custom watercolor card, as well, for an extra meaningful touch.
Here are some more great ideas:
Memorial Plaque Bereavement Gifts
We Shall Meet Again Engraved Glass Frame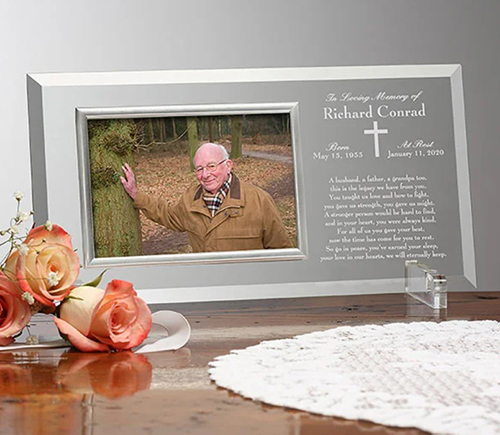 This memorial frame is so personal and special. Each frame is etched with the loved one's name, date and poem. You can choose from five poem options, or draft your own. Made from beautiful, sturdy etched glass, this is a meaningful keepsake that will be cherished for years.
Here are some more great ideas:
Memorial Shirts
Flying Dove Memorial Shirt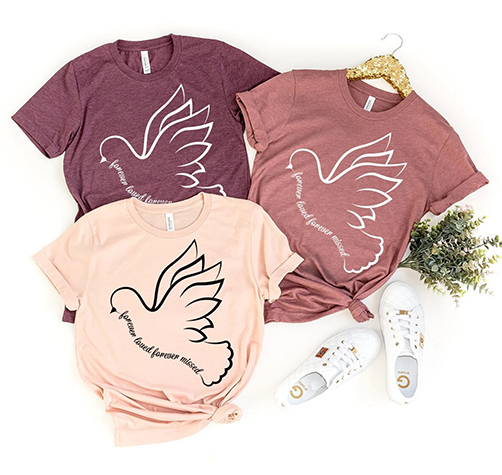 These neat memorial tees are perfect for the individual or for the whole family. Prettily designed with a dove and the sentiment "forever loved, forever missed," these shirts are available in many different styles, colors and sizes to suit each individual's needs.
Here are some more great ideas:
Bereavement Gifts for Parents
46. In Loving Memory Bird Feeder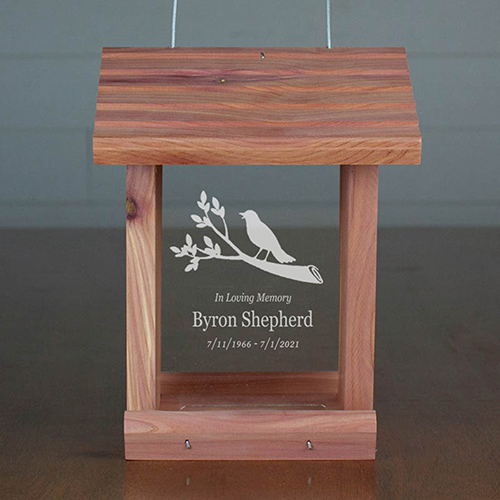 These handcrafted memorial feeders are suitable for just about anyone, but especially those who loved nature, birds, or the outdoors.
Beautifully handcrafted in the USA of quality materials, each feeder is engraved to your personalization specifics. Large enough to hold a good amount of feed for our feathered friends, and sturdy enough to withstand the elements for years to come.
47. Fingerprint & Handwriting Necklace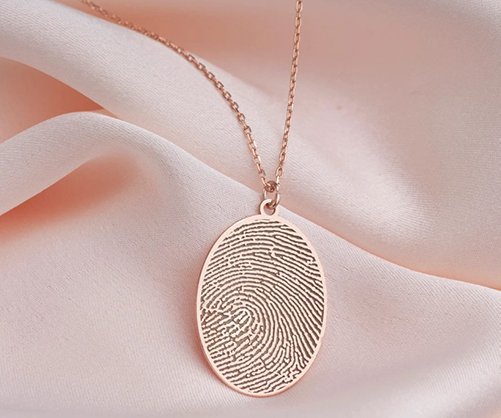 A meaningful gift for a friend or family member, these handcrafted fingerprint pendants are so beautiful. Available in one or two sided options and a variety of finishes and chain lengths, these special pieces will keep their loved ones close to their heart at all times.
48. Grief Affirmation Cards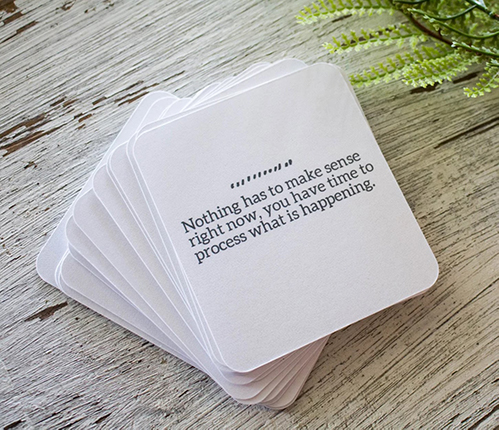 This beautiful grief affirmation card set is perfect for when you don't know quite what to say. This set includes 20 cards stating various daily affirmations for the mourning, reminding them of the comfort and support available from those they love.
Wonderfully and carefully crafted, these cards are a tastefully personal choice for bereavement gifts.
49. Goodbye Memorial Suncatcher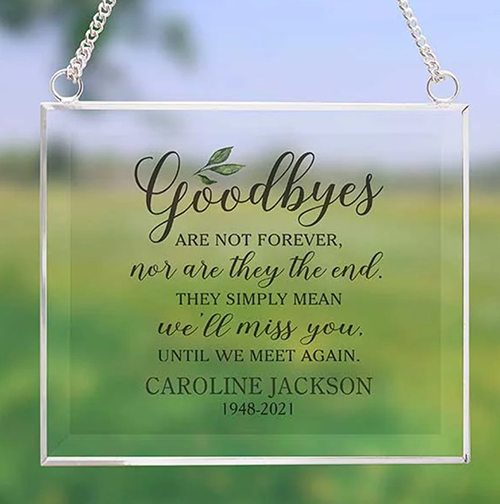 Such a pretty suncatcher will look wonderful in their window or hanging on the porch. The quality beveled glass is printed with a lovely sentiment and is customizable with their loved one's name and dates. They'll love seeing it gleaming in the sunshine, reminding them of the one they've lost.
50. Fly a Little Higher
Sometimes what can best comfort someone in their grief is seeing the hope offered by someone else's story. Fly a Little Higher is a touching true story of a young man's battle with cancer, and his mother's prayer that his short life be used to touch millions. Heartfelt and honest, this is one story that can bring tremendous comfort.
Bereavement Gifts for Children
51. Memorial 3D Portrait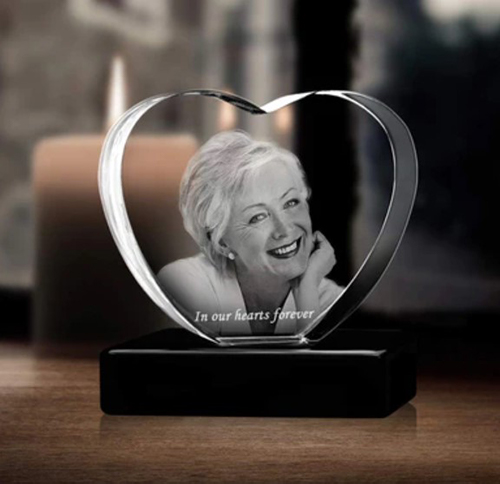 These 3D crystal memorials are so special and so timeless. Capture their loved one just as they were with these specially crafted, laser engraved keepsakes.
Each crystal memorial portrait is fully customizable and is available in a variety of shapes, sizes, styles and base options. They will love having such a pretty piece in their home.
52. Embroidered Afghan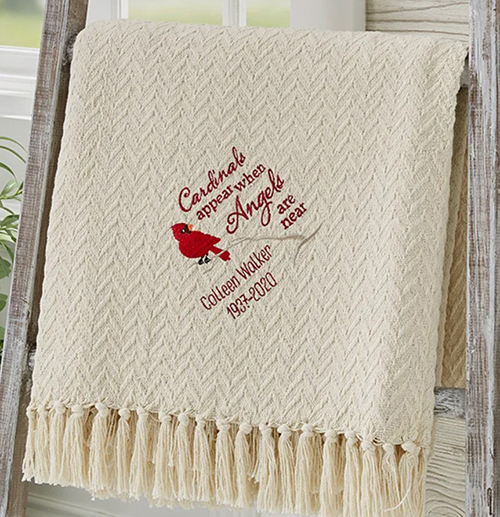 Cardinals have long been recognized as symbols of those who have passed before us; pretty little visitors reminding us that they are always nearby. This beautiful, embroidered Afghan is a wonderful gift for children, and can be customized with names and dates if you so choose.
Such a comforting throw for little kids to cuddle up with.
53. Grief Journal for Kids
Kids often struggle with processing grief, especially if it is the first time they've experienced a loss. This Grief Journal is specially designed to walk children through the grieving process, and help them realize that loss and sorrow are normal parts of life that they can learn and grow from.
Related: Sympathy Gifts for Grieving Children
54. Giving Bear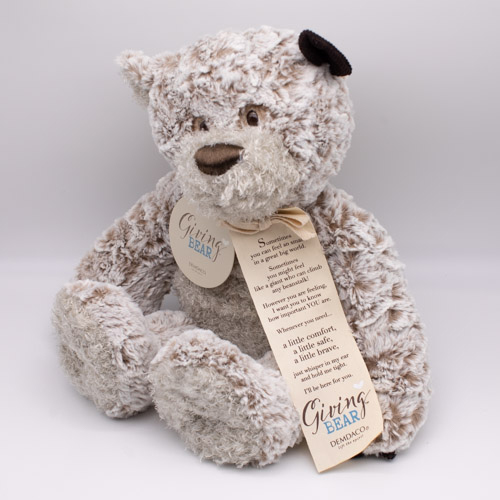 This sweet giving bear is perfect for anyone, but especially children, who may need a comforting reminder that a friend is always near. These super soft, plush bears are just precious and are for a good cause, too! Each bear purchase goes to support the Children's Mercy Hospital.
55. I Miss You
It's a simple truth that every child has to experience at some point. The feeling of "I miss you," can leave children feeling lost and confused. This small, easily graspable book is meant for a child's first look at loss and how to process the feelings that accompany it.
Related: 60 Comforting Sympathy Messages for Loss of a Child
Bereavement Gifts for Loss of Husband
56. Monogram Birth Flower Necklace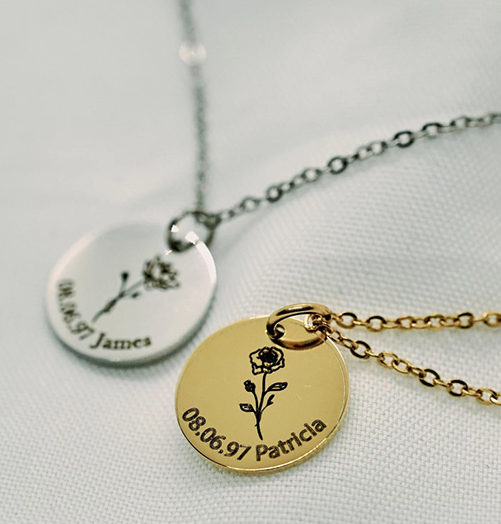 This sweet, memorial pendant features their loved one's birth flower and monogram to create a meaningful keepsake that they can wear each and every day.
Beautifully handcrafted, you can choose from either yellow or rose gold, as well as one or two-sided engraving, to make it personal and unique.
57. Letters to My Husband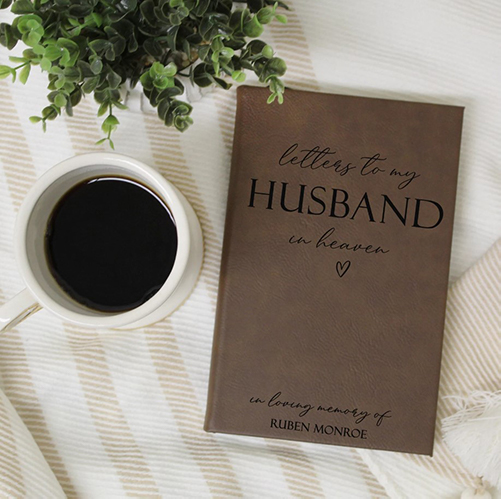 There were so many things that needed to be said, so many stories experienced, and adventures lived through. This meaningful journal is meant for "letters to my husband in heaven."
Whether it's daily chronicles, weekly or monthly entries, or even just for special occasions like birthdays or anniversaries, this journal gives them a place to put all their most special writings and prayers.
Related: Sympathy Gifts for Loss of Husband
58. Digital Photo Frame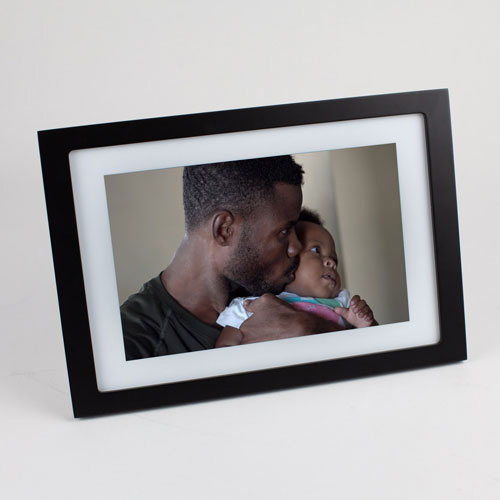 Help them keep all of their favorite memories in constant view with a neat digital photo frame.
Perfect for their home or the office, they (or you) can upload as many photos as they wish to remind them of all of those wonderfully happy times with the one they've lost. A thoughtful and sentimental idea among bereavement gifts.
59. In Loving Memory Photo Jewelry Box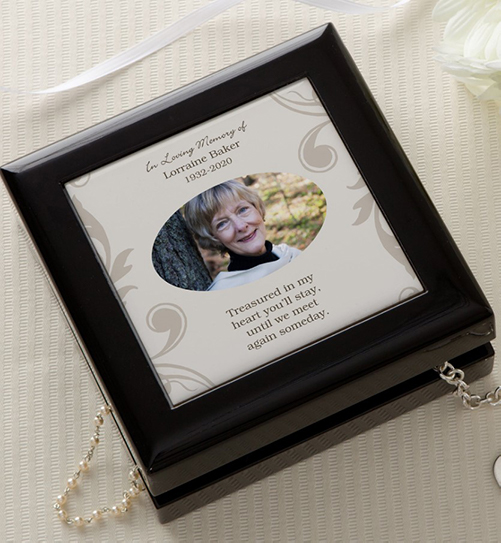 This personalized photo memory jewelry box is so neat and special. They'll love being reminded daily of that special someone each and every time they put on or remove their jewelry. It can be personalized with a text of choice and, of course, their favorite photo.
60. The Widow's Journal
The loss of a spouse, especially a husband, can turn a life upside down. Life planning can be difficult on your own, and certainly isn't aided by the grieving process.
This helpful "Widow's Journal" tackles some of the difficult obstacles encountered once your life partner has passed. Full of comforting words and helpful advice, this journal is a wonderful companion for any new widow.
Bereavement Gifts for Loss of Wife
61. Personalized Bud Vase Plaque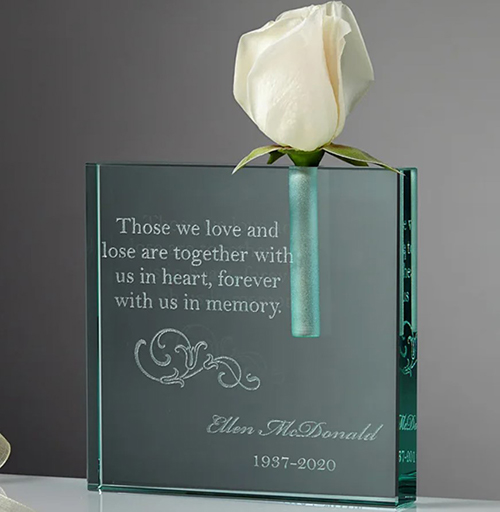 This stunning crystal bud vase is a fitting tribute for any beloved wife. Beautifully crafted and engraved, keep this bud vase filled with fresh cut flowers from her garden, or simply use it as a plaque for your desk or side table. It's as pretty as she was.
Related: Sympathy Gifts for Loss of Wife
62. Now She Flies with Hummingbirds Tumbler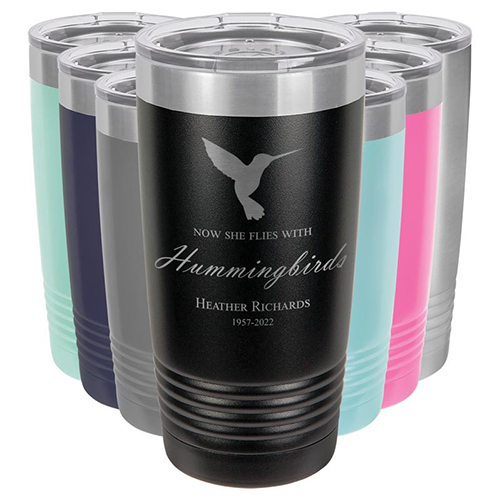 This thoughtful tumbler will be a constant reminder in her memory.
This quality tumbler is perfect for the man on the road, or for those long hours at the office where hot coffee is a necessity. Or use it for cold beverages to stay hydrated while trekking her favorite hiking trail.
63. Forget Me Not Garden Stone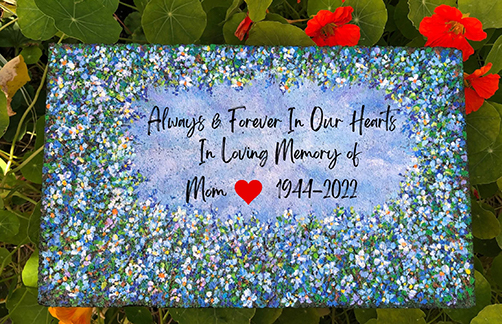 Her beautiful flower garden may seem not as bright as it once was, but this beautiful, hand painted garden stone can help return some of its brightness and cheer.
The forget-me-nots are a fitting choice for bereavement gifts, but these stones are available with many, many flower options so you can pick her personal favorite.
64. It's Okay That You're Not Okay
Sometimes when we experience grief, we find it hard to move on as quickly as others seem to. While this may or may not be the case, our culture definitely doesn't handle grief in a very… extended manner. Sometimes we need more time than what is often deemed "necessary" and that's okay.
This comforting book reminds the reader that it's okay if we need more time to grieve someone who meant so much to us.
65. Name a Memorial Star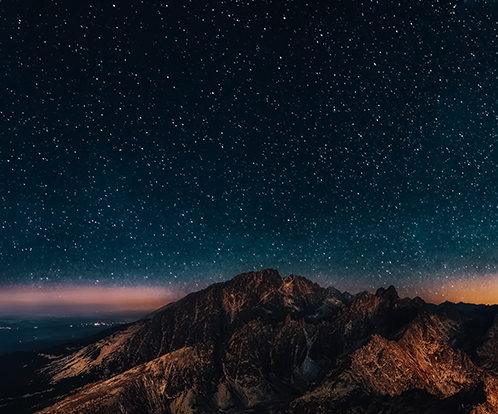 She was a shining star in your life, so it's only fitting that she also be one after she's passed. This beautiful star naming service allows you to purchase her very own star. It comes with a star map and a certificate, as well as a downloadable app so you can easily locate her star in the night sky.
Read Next: Sympathy Gifts for Someone Grieving a Loss