Your wedding day is a time to share your happiness and love. Without a doubt, you'll want to include all of your loved ones.
But what if one of the most influential people isn't there to participate? How can you include them? How do you remember them, along with reminding everyone else?
Here are some heartfelt tributes to revere that special someone that is no longer with you. We've selected 50 wedding memorial table ideas that honor your loved one in unique and creative ways.
Our website is supported by our users. We sometimes earn a commission when you click through the affiliate links on our website. Learn more here.
How to Remember Loved Ones at Your Wedding
Your wedding is one of the most significant moments of your life. Many people dream of this day from the time they were children. But when you plan on someone being there that is no longer with you, there is no true way to replace their presence.
While they won't be present with you, there are still plenty of ways we can share this beautiful day with our missing loved ones by honoring them through photos, a dedicated spot, or even a beautiful poem.
This might include:
Memorial tables
Plaques and photos
Memory books
Lanterns
Candles
Reserved chairs
A poem, toast, or moment of silence
Let's take a look at some of the best and most popular ideas.
Wedding Memorial Table Ideas
One of the best remembrances is to set up a table for your memorial tributes. Here's what you can put on it, plus variations that go beyond the table.
Interesting: How Weddings and Funerals Are Surprisingly Similar
Wedding Memorial Signs
Memorial signs are one of the best ways to dedicate a particular spot for your loved ones. Below are some lovely examples of plaques, signs, and etchings to honor someone you wish could be there.
1. With candles, put a sign that says, "This Candle Burns for… Who are/is Forever Present in Our Hearts"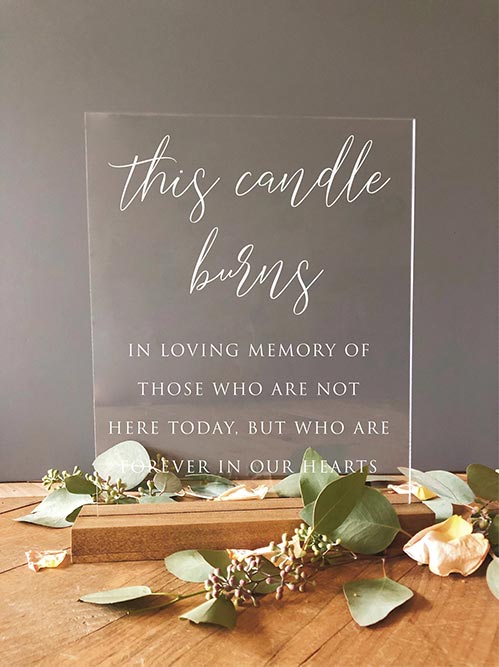 This hand-made acrylic sign is a sentimental way to honor your loved ones. Let everyone know that your loved one might be gone, but they are never forgotten.
This memory table sign comes in three sizes with four shades of stain to choose from.
2. "In Loving Memory of…"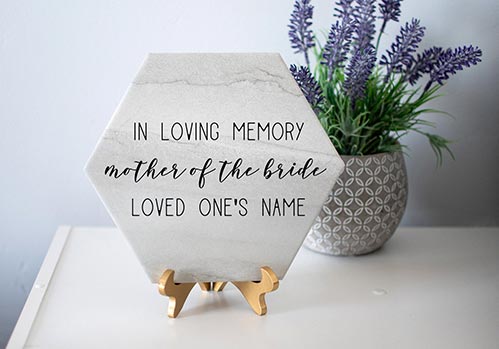 Remember your loved one on your special day with this stylish hexagon tile. Display on a wooden easel for the wedding, and hang on the wall after the big day.
This hand-made tile comes in four styles and is made with high-quality Oracal 651 Vinyl. Each tile is custom-made to order.
3. "You Are My Today…" Personalized Plaque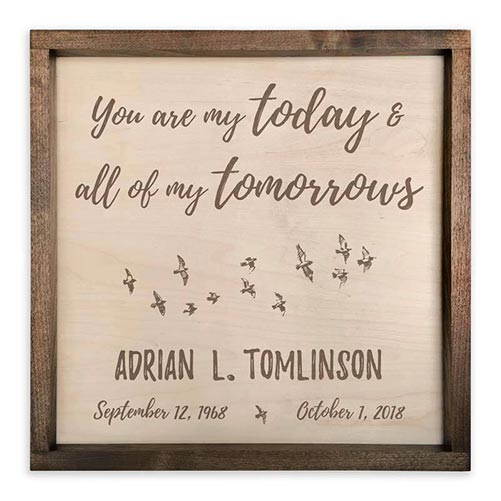 Our rustic "You are my today" plaque is customized with your loved one's name and dates. There are two sizes to pick from, and they will fit perfectly on any wedding table.
This is a charming way to remind everyone that someone exceptional is missed.
4. "To Those Who Could Not Be Here Today, We Remember You in Our Hearts"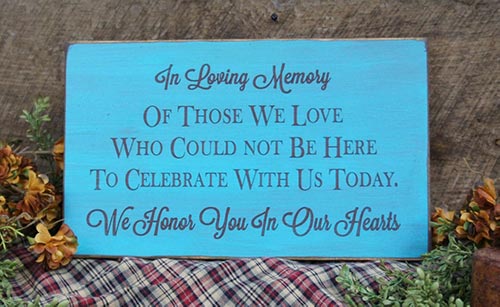 This sign is a unique way to honor the loved ones that couldn't attend or the ones that are no longer with you. The bride and groom are sure to appreciate this hand-crafted, wooden sign.
Choose from multiple colors-you are sure to find that one that fits your color scheme. This laser engraved sign measures approximately 7.25 x 12 inches and is on 3/4 inch thick wood.
5. "Wish You Were Here"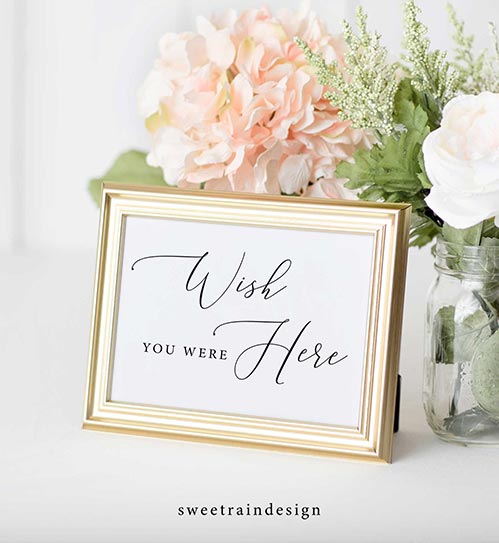 This is a simple yet elegant sign for your memory table. These sentiments are heartfelt, and everyone can relate to them.
This is a digital download, so you'll purchase, download, and then print. Frame it to match your décor.
6. "In loving memory of those who cannot be here today, but are forever present in our hearts today and always"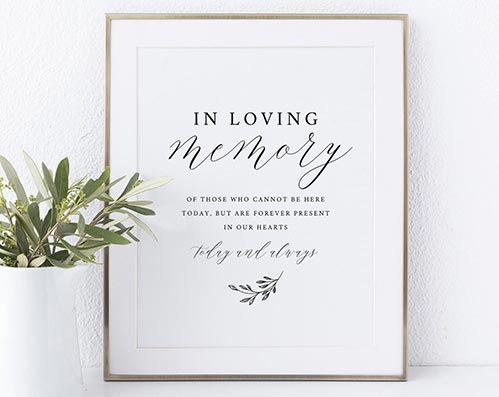 Elegant and classy is the perfect description for this instant digital download—a sweet reminder to every one of your lost loved ones.
Download, print, frame, and display. It's as simple as that!
Measures 8X10 inches.
7. DIY- Make Your Own Wooden Sign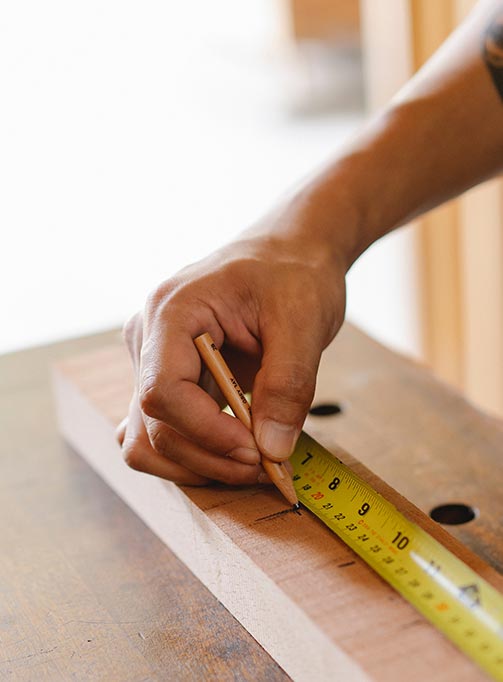 A DIY project is always fun. The bride and groom can make these signs together or ask family members to help. Customize and personalize any way they want to. Add names, dates, and personal notes.
Here's a great tutorial on how to make your own wooden wedding memorial sign.
8. DIY- Make Your Own Glass Sign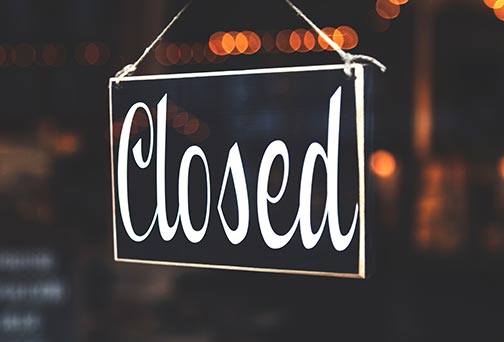 Design your own glass sign. This is an exquisite way to demonstrate your love. Your loved ones can't be there physically, but you can hold them close in your heart and thoughts.
Follow the instructions and have your custom-made signs ready for your memory table.
9. "Always on my Mind, Forever in my Heart."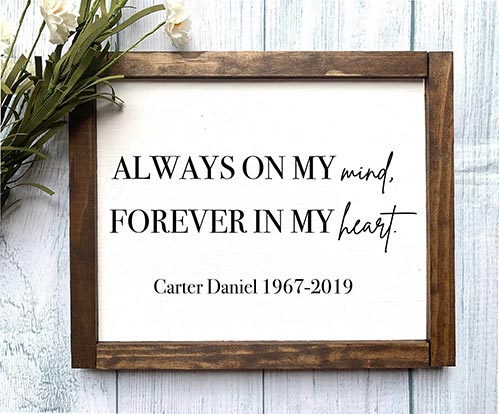 This hand-made memorial sign is an ideal addition to your wedding memorial table. The words are heartfelt and true. "Always on my mind. Forever in my heart." Personalize with your loved one's name and dates.
This custom-made sign measures 11.5" x 9.5". It is on a white painted background with black vinyl letters framed with dark walnut-stained trim.
10. "When tomorrow starts without me, we're not so far apart, for every time you think of me, I'm right here in your heart. In Loving Memory."
This sweet memorial plaque with a photo is just the right touch to add to your wedding table. Keep your loved one close on this extra special day.
It's an 8″x10″ wooden plaque frame that holds your favorite 4″x6″ photo.
11. Reserved for Those Celebrating in Heaven Wedding Memorial Sign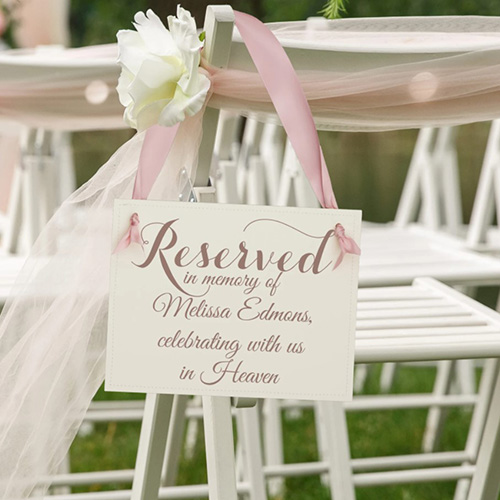 Reserve a seat for that special someone that is missing from your wedding with this memorial sign printed on 100lb linen texture cardstock.
Choose from a variety of ink and ribbon colors to honor your departed loved one on your special day. The sign boasts multiple layers of premium quality papers stitched together to provide rigid durability and impressive elegance. Options for any relationship (parent, grandparent, etc) or even personalized with the individual's name."
12. "Because Someone We Love is In Heaven…"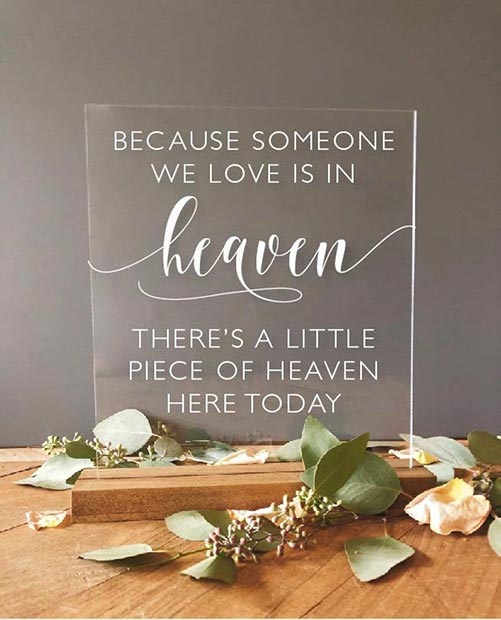 Remember your loved ones on your special day with this wedding memory sign– painted on clear acrylic. You can display this sign on your memory table along with photos of your loved one.
This sign can be ordered in three sizes and four stand options.
13. "In Loving Memory- Although we cannot see you, your hands we cannot touch. Your smile never forgotten, you are loved so very much. With your presence in our hearts, today we say "I do." We proudly say our vows, being watched over by you."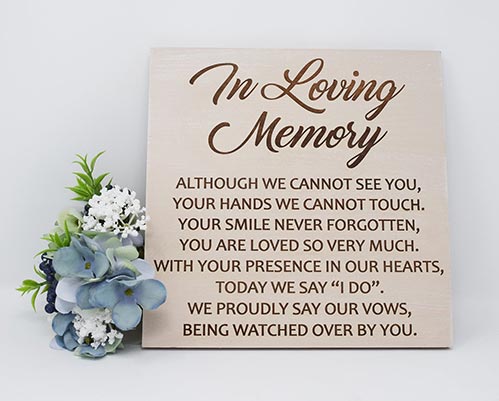 With 19 colors and eight styles to choose from, you are sure to find something that matches your color scheme and style!
The sentiments from this sign are so heartfelt and dear. It's almost like having them at your wedding! It's a beautiful invitation to your "guardian angel."
14. "We Know You'd Be Here Today If Heaven Weren't So Far Away."
You can set this sign on any table at your wedding reception. Honor your loved one with this sweet saying. You'll be grateful for this sign and some photos set up to remind everyone of your lost loved one.
15. "If Loved Could Have Saved You…" Personalized Wedding Memorial Plaque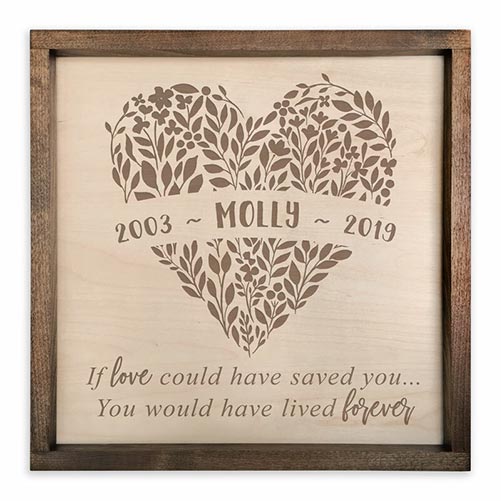 This attractive sign is a terrific way to memorialize your loved one. The heart shape holds your loved one's name and dates, just like you hold them in your heart.
This plaque is laser etched with your loved one's name and dates. We hand-craft this memorial plaque in our Oregon woodshop, and it arrives ready to hang.
Wedding Memorial Lanterns
Lanterns don't need a lot besides their beauty and the light. They are a powerful symbol that shows us that even though our beloved is not here with us, their light is still burning bright in our hearts.
16. "Their Light Remains" Wedding Sign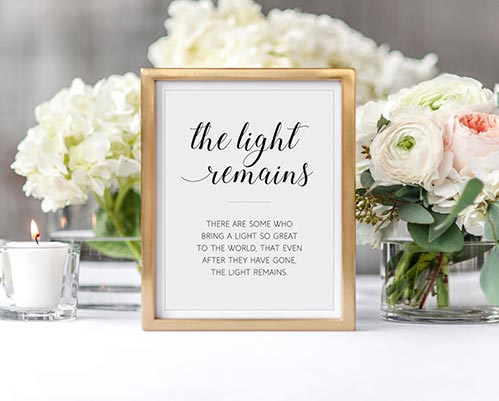 What a pretty memorial sign- a classic for your wedding table. This printable sign is a beautiful way to remember those friends and family who have passed. It is an emotional tribute to display.
This is a digital download and can be printed out in five different sizes. Your files will be available to download once your payment is confirmed.
17. DIY Photo Memorial Lantern
This DIY Photo Memorial Lantern is an excellent idea for any occasion. Fill this lantern with family photos to display at your wedding. Make one for each table, or make a single one for your "memory table."
18. "You Left Me Beautiful Memories…" Personalized Lantern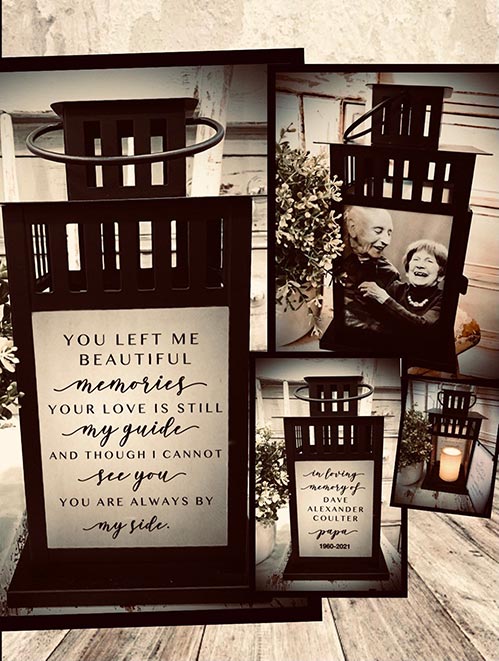 This great metal and glass lantern can be personalized with photos and sayings—your choice of any combination of pictures and custom lettering on all four sides
The lantern comes in two different sizes and five designs and ready for display. Choose the perfect one for your wedding.
Memory Candles for Wedding
Just as the lanterns, candles can help signify the importance of how someone is still burning bright in your heart, even though they are not with you. Add a special touch to the candles by picking out colors or scents that your loved one favored.
19. "This Candle Burns…" Glass Wedding Candle Sign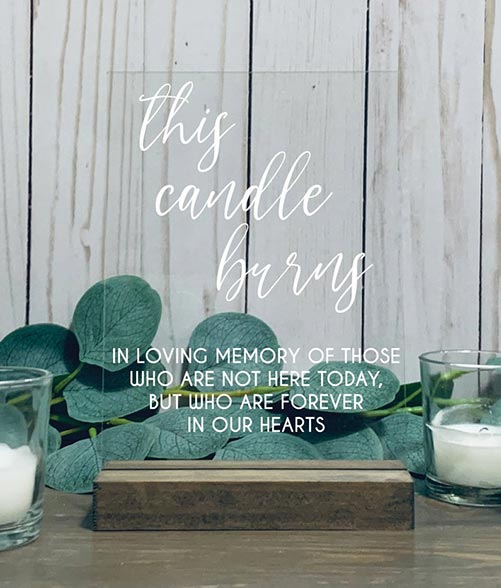 You can set this stunning sign on a table or chair in honor of your lost loved ones. Choose from six vinyl colors to be placed on the transparent acrylic background, and pick from two sizes, 5×7 or 8×10. Each sign comes with a wooden stand for display.
20. DIY Custom Memorial Candle
Making a custom candle is reasonably easy, and few supplies are needed. Most importantly, include a "happy" photo. Add your loved one's name and dates. This is a fantastic souvenir.
Make one for the memorial table or one for every table.
21. Personalized Floating Memorial Candle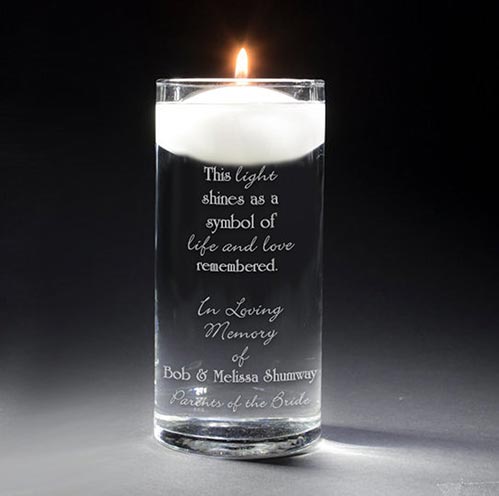 This is an elegant floating candle that will look great with any display. For those you keep in your heart, this floating memorial candle is the ideal way to commemorate the memory of your loved ones at your wedding. It's an amazing reminder that all the ones you love are always with you.
Choose from two sizes, with or without candles.
Reserved Memorial Chair
Reserving a chair is a common and always touching way to show we are missing someone today. This practice can be used in both the ceremony and during the reception.
22. Their Favorite Chair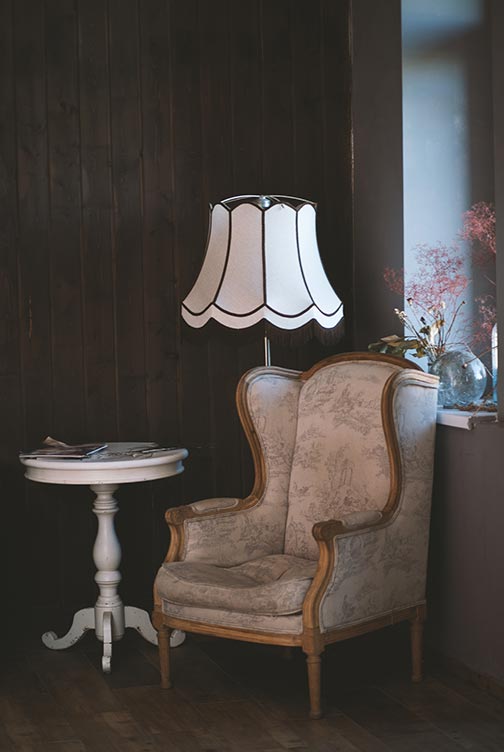 Use a chair that was their favorite chair from their home or use a chair representing them (aka- bar stool, sports chair, blue chair, etc…)
Set this special chair up anywhere you want to at your reception.
23. "Reserved in Loving Memory of…" Wood Sign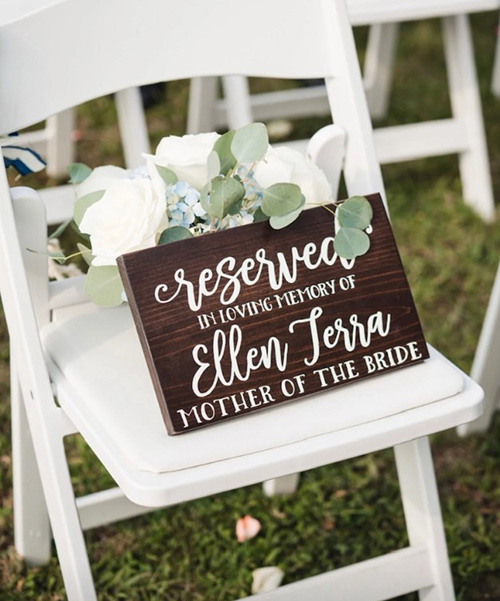 Reserved for someone you love. Hang from the back of a chair with optional rope or ribbon to let everyone know a special memory occupies this seat.
This hand-made wooden memorial sign measures approximately 8″ H x 12″ W. Choose from over ten color finishes, hand-painted or vinyl lettering, and of course the personalization of your loved one's name."
24. This chair is "Reserved for Someone In Heaven."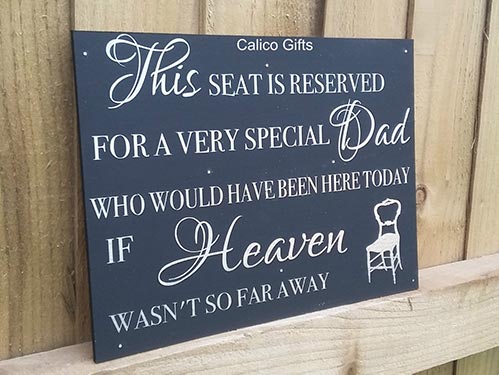 This sweet sentiment is sure to bring a smile to everyone's face.
This wooden sign is a cute way to reserve a place for your loved one who can't be there. Choose from two sizes—this product ships from Great Britain. Therefore be sure to allow enough time before your event for your sign to arrive.
Decorate with Photos
Photos are a delightful, comforting way to display missing loved ones. Not only do they have their special place at your wedding but you also get to see their lovely faces there.
25. Bouquet and Boutonniere Photos
Their photo can be a part of the bride's bouquet or the groom's boutonniere.
This kit includes everything you need to make these "you are always in my heart" remembrance pins. This is a sweet addition to your special day and allows you to include your lost loved ones.
26. Reserve a Table In Their Memory Using Their Photos
Reserve a table to their memory with photos and a sign that says, "We Know You Would Be Here Today if Heaven Wasn't so Far Away."
Place photos and other memorabilia in remembrance of that special someone.
27. DIY Memorial Photo Quilt
Hang a DIY quilt full of their photos and your memories with them
After the big event, it is the perfect memento to snuggle up in.
28. DIY Photo Memorial Wall
This is such a thoughtful way to include any loved ones that may no longer be with you. Ask friends and family to bring their pictures too. It's a terrific way to include everyone in making memories for your wedding day.
29. Walked Down the Aisle
Have the Maid/Man of Honor hold your loved one's photo as they walk down the aisle.
I love this idea! This is such a unique way to include your loved one. For instance, when Dad, Mom, Grandpa, or Grandma can't be there, you can still surround yourself with their love.
Honor Them More Than One Way
Some weddings are short and sweet, with no need for tables or a reception. If that is you, don't fret. Below are some comforting ways to help include your missing loved ones on your wedding day.
Read a Wedding Memorial Poem
Poems speak directly to the heart. They show even those who did not know the loved one just how much of an amazing person they were and what they meant to you.
30. Include a note in the program
Let everyone know how you feel about your lost loved one. Include a sweet sentiment in the wedding program.
31. Never More Will the Wind…
Never more will the wind cherish you again, never more will the rain. Never more shall we find you bright in the snow and wind. The snow is melted, the snow is gone, and you are flown: Like a bird out of our hand, like a light out of our heart, you are gone.

Hilda Doolittle
32. Ecclesiastes 3:1-4
There is a time for everything, and a season for every activity under the heavens: a time to be born and a time to die, a time to plant and a time to uproot, a time to kill and a time to heal, a time to tear down and a time to build, a time to weep and a time to laugh, a time to mourn and a time to dance…

Ecclesiastes 3:1-4
33. Although We Can Not See You…
Although we can not see you We know you are here Smiling down Watching over us As we say "I Do." Forever in our hearts Forever in our lives Is where you'll always stay. We will think of you in silence As we say our vows today In loving memory of _______

Anonymous
34. There Are No Goodbyes…
"There are No Goodbyes. Where Ever You'll Be, You'll Be in My Heart"

Ghandi
35. At the Rising Sun…
At the rising sun and at its going down; We remember them. At the blowing of the wind and in the chill of winter; We remember them. At the opening of the buds and in the rebirth of spring; We remember them. At the blueness of the skies and in the warmth of summer; We remember them. At the rustling of the leaves and in the beauty of the autumn; We remember them. At the beginning of the year and when it ends; We remember them. As long as we live, they too will live, for they are now a part of us as We remember them. When we are weary and in need of strength; We remember them. When we are lost and sick at heart; We remember them. When we have decisions that are difficult to make; We remember them. When we have joy we crave to share; We remember them. When we have achievements that are based on theirs; We remember them. For as long as we live, they too will live, for they are now a part of us as, We remember them.

Sylvan Kamens & Rabbi Jack Riemer
36. Wedding Favors
Add a poem to your wedding favors as a simple reminder
37. Thank You for Loving and Sharing…
Thank you for loving and sharing, For giving and for caring. God bless you and keep you, Until we meet again.

Anonymous
38. Reserved Chairs
Hang the poem on the back of the reserved chair for your loved one.
39. Right Now I'm in a Different Place…
Right now I'm in a different place And though we seem apart I'm closer than I ever was… I'm there inside your heart I'm with you when you greet each day And while the sun shines bright I'm there to share the sunsets, too… I'm with you every night I'm with you when the times are good To share a laugh or two, And if a tear should start to fall… I'll still be there for you And when that day arrives That we no longer are apart, I'll smile and hold you close to me… Forever in my heart

Anonymous
Raise a Glass In Memory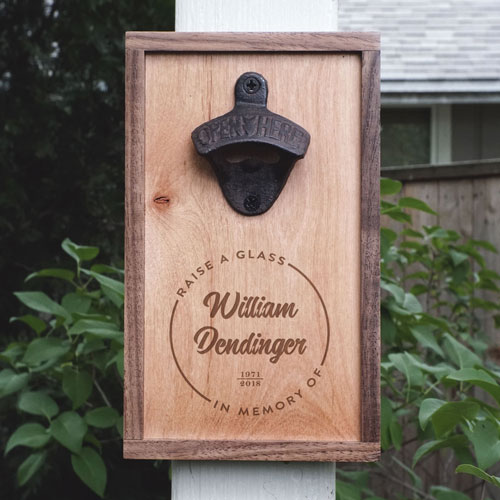 While it's a small gesture, raising a glass leaves a significant impact. It truly does honor your beloved by giving a special moment to those you are missing.
40. Sharing Memories
Share a personal memory or incorporate a quote.
You can even ask other people to share their happy memories. Share a laugh or even a tear.
41. Toast Examples and Tips
A toast to the bride and groom! Some are heartfelt, and some are funny.
"May your love be modern enough to survive the times and old-fashioned enough to last forever."
"May all your hopes and dreams come true, and may the memory of this day become dearer with each passing year."
"[BRIDE] and [GROOM], before I finish, I'd like you to turn to face each other. You're now looking into the eyes of the person who is statistically most likely to murder you. To the bride and groom!"
I have one piece of advice for you two lovebirds: never stop laughing, even when the jokes are lame.
"Deep love is stronger than life."
"May your love be as endless as your wedding rings."
"Let's drink to love, which is nothing—unless it's divided by two."
"All love should be simply stepping-stones to the love of God…Blessed be His name for His great goodness and mercy."
Let us toast to the exhilarating road that lies ahead of (Bride) and (Groom.)
To be able to find your soul mate is a true blessing. Let us raise a glass to the bride and groom. Thank you for sharing your blessing of happiness with all of us.
Here are additional funeral toast examples!
42. Personalized Glasses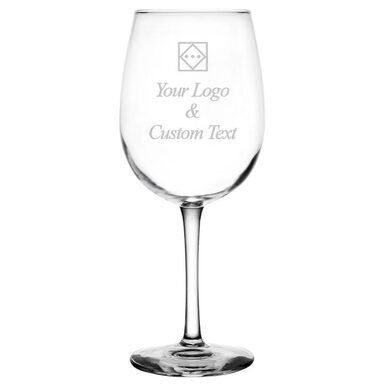 These classic stemware pieces are custom etched for you. Raise a glass in the memory of your loved one—a fantastic gift idea for the wedding party.
Cheers!
Incorporate Them Into the Wedding
Sometimes photos or candles are not enough to truly feel the embrace of those celebrating from Heaven. Incorporating a piece of those who they were can help make their presence stronger at your wedding.
43. Favorite Colors
Add their favorite color to your wedding theme or bouquet.
A single flower of their favorite color will stand out in your bouquet.
44. Something Blue…
Wear their garter belt or tie.
45. Special Dance
Slow dance to their favorite song and you can hold or wear a special memorial of Mom or Dad during your memorable dance.
Project your loved one's photo during the song. Wear her favorite necklace or have his prized Mickey Mantle baseball card in your pocket. You know best what would be most meaningful in memory of your loved one.
46. Favorite Recipes
Have their famous recipe as part of your entrée—a great way to honor them and satisfy your taste buds.
Use Your Favors as a Memorial
Wedding memorials can happen anywhere at any time. Using your wedding favors as memorial tokens is a sweet way for your family to bring home the memory of your loved one with them.
47. Personalized Cigar Bands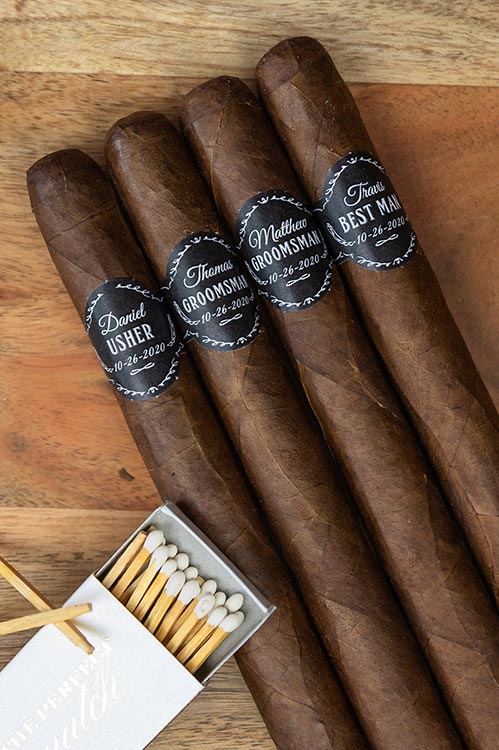 Cigar bands with their name on the label or a special text.
Use this novel idea and enjoy your cigar in your loved one's memory.
This is a set of 16 personalized cigar bands designed to fit cigar sizes ranging from 42-60 gauge.
48. Seeds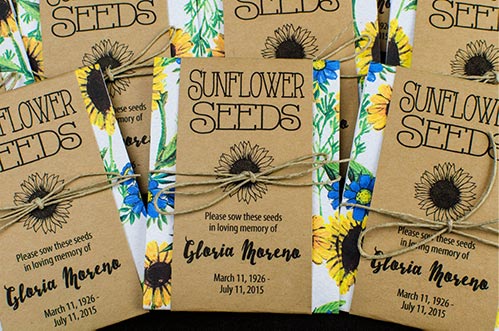 Plant some sunflower seeds in honor of your loved one. Each packet comes with a prayer card too. Add your loved one's name and dates.
Your guests will plant these seeds in memory of your loved one. As they watch these plants grow, it will bring to mind your wedding day and the shared love.
49. Photograph Candles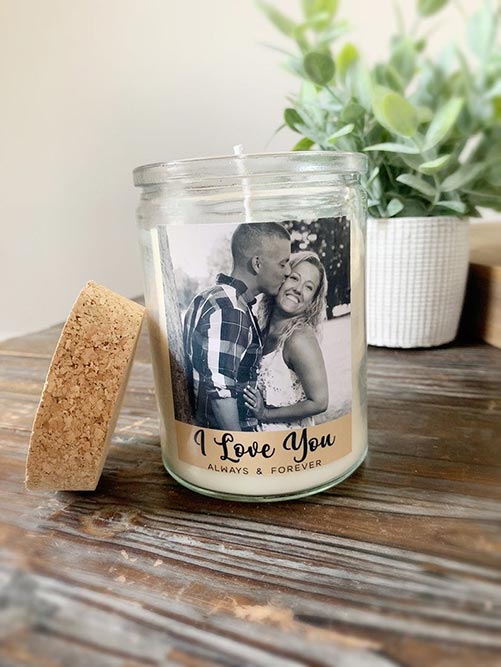 Customize this soy candle with a photo and text. You can choose from eleven scents and two jar options.
These candles are dye-free and hand-poured in small batches – perfect for your tribute. You will get 50-60 hours of burn time with this 12 oz. candle.
50. Puzzle Pieces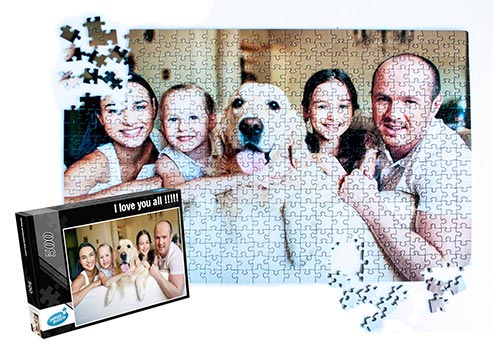 Have a giant puzzle made so each guest to take a piece home. Each piece represents someone you would like to be remembered
This custom puzzle is 500 pieces-plenty of pieces for everyone to be able to take one home. Set this puzzle up on a memory table along with other memorabilia. Your guests are sure to love this idea.
Read Next: Best Urn Display Ideas
Pin It