Memorials are a wonderful way to keep those we've lost close to our hearts, and stir up warm recollections each time we see them. There are so many options available for remembrance items: jewelry, wall collages, albums, paintings, plaques, vases and candles — the list is almost endless.
Today, we're going to be taking a look at the 40 best photo memorials and remembrance ideas.
When it comes to remembrance ideas, we want to choose something that captures the spirit of that special person. But finding just the right memorial can be difficult and even exhausting when you're trying to pull from your own resources.
Enter this helpful list. We've collected what we believe to be the best of the best in memorial ideas to help ease the pressure a bit. We're certain there will be something here that is just right for keeping your loved one close.
10 Best Photo Memorial Ideas
Our website is supported by our users. We sometimes earn a commission when you click through the affiliate links on our website. See our privacy policy & disclosures for more information.
1. Tailored Canvas Photo Memorial Portrait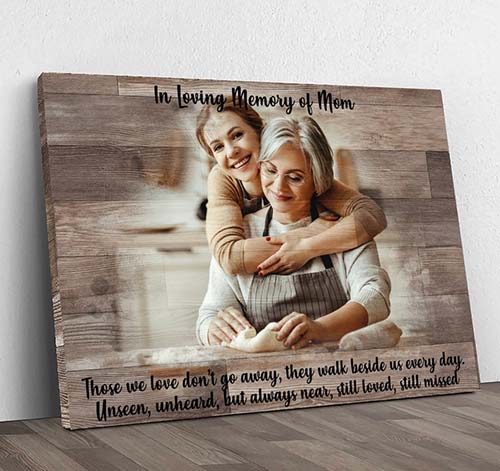 These beautiful, fully customizable canvas memorials are available in so many different varieties to suit your home. Add your loved one's photo (or a photo of both of you together) as well as a favorite quote, poem, or scripture to make it truly unique.
2. Projection Photo Memorial Jewelry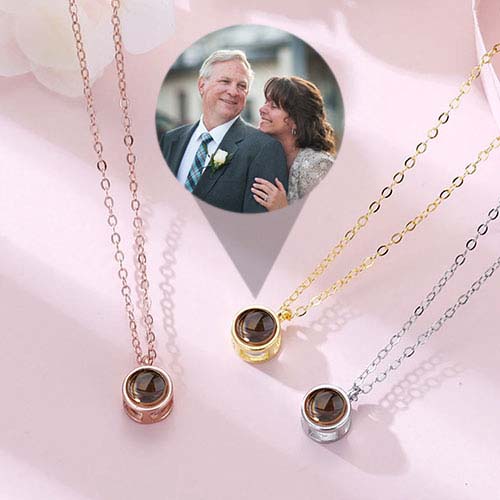 What an amazing way to keep them close to your heart. These pendants are lovely enough as it is, but they hold a special secret — or rather — a special someone!
All you have to do is shine a light through the gem, and whichever photo you select will be projected from it. So very sweet.
3. Personalized Photo Memorial Heart Ornament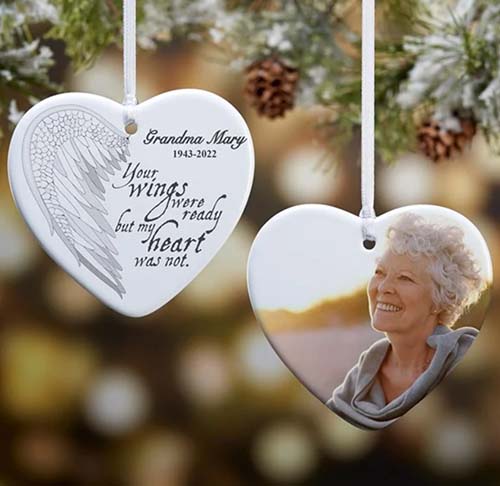 Such a stunning keepsake! Definitely not just for hanging on the Christmas tree (although it does deserve a place of honor there, too), this memorial ornament has your loved one's photo printed on one side, with "Your wings were ready, but my heart was not " engraved on the reverse.
Certainly something to be treasured for generations.
4. Illuminated Memorial Photo Lamp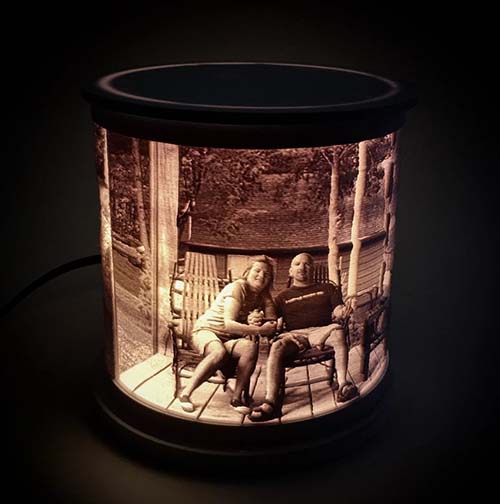 These photo lanterns are just too special! Add up to six of your favorite photos to this innovative memorial idea, and you have a gentle, warm reminder in constant view in your home.
Its subtle design lends itself to most any interior, and the soft glow it provides is so comforting.
5. Create a Free Memorial Website with Online Photo Gallery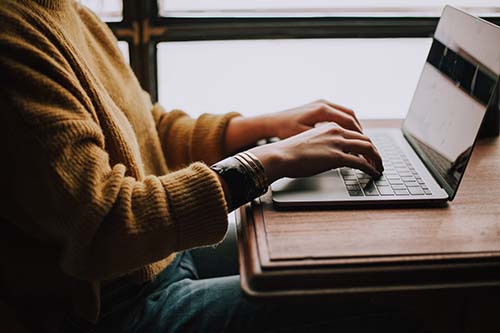 A memorial website is a neat, modern way to keep your loved one's memories alive. Similar in concept to a memorial blog, you can share photos, memories, writings and so much more. It also includes funeral details, the obituary, family needs, etc. to keep everyone updated and in the loop.
Memorial sites can be contributed to by friends and family alike, so not all of the responsibility falls on one person. A truly wonderful idea.
6. Forever in Our Hearts Personalized Photo Cross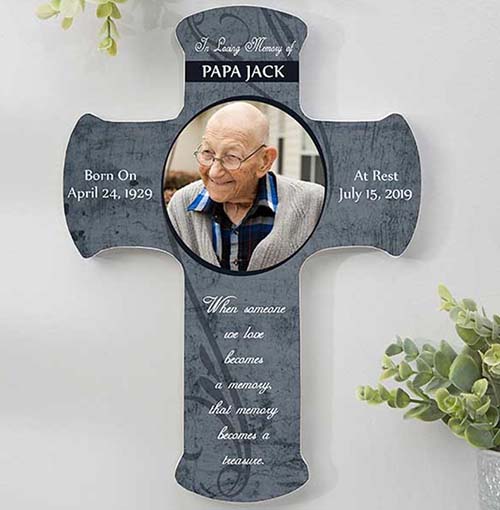 This personalized photo memorial cross is so lovely, and will suit most any home. You can choose from several different verses for the inscriptions, or you can write your own personal tribute. Add your favorite picture of that beloved someone and you have the perfect focal piece to bring them to memory each time you see it.
7. Engraved Crystal Photo Remembrance Gift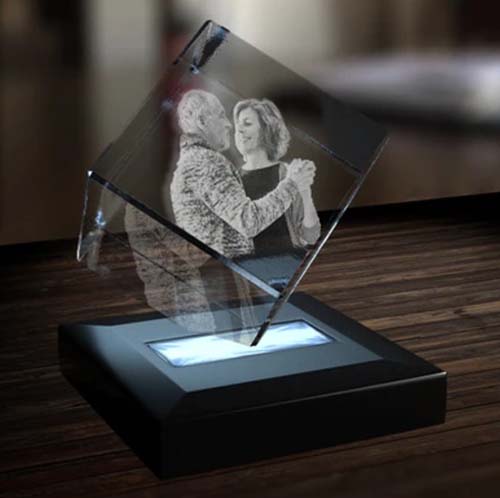 We can't get over how beautiful these crystal engravings are. Send the folks at The 3D Gift one of your most precious pictures, and they will create a stunning, one-of-a-kind piece of art for your family to treasure for generations.
These memorials take a special moment and make it seem frozen in time.
8. Memorial Picture Frame
This sweet memorial frame makes a wonderful keepsake as well as a great memorial gift for someone who has just suffered a loss. Its versatile design allows it to be hung on the wall, or displayed free-standing on a table or in a bookcase. The quote is such a loving reminder, too, that those we've lost are always close by.
9. Personalized Memorial Candle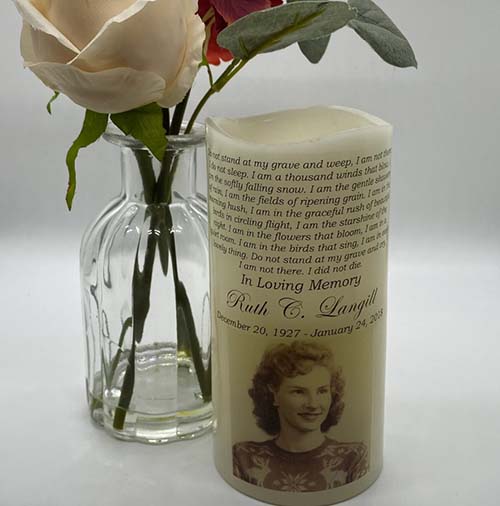 These memorial pillar candles are so pretty and elegant. Fully customizable, each one displays your loved one's photo and a tribute of your choosing. They are also battery powered, so you never have to worry about this special remembrance melting away.
10. Memorial Photo Bookmarks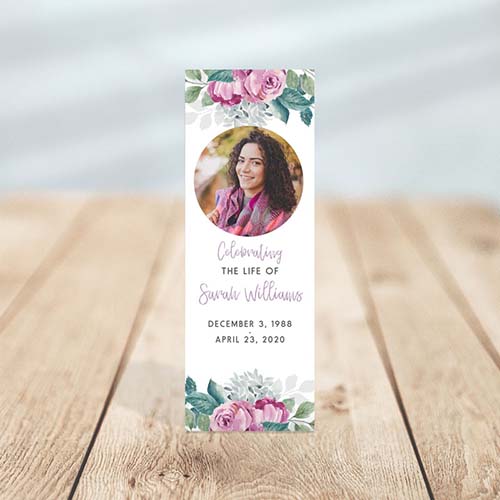 Memorial bookmarks are a beautiful way to keep their memory close, especially if you and your family are big readers. Customize them with a favorite picture and their details, and you have a lovely, portable keepsake to carry with you. You can also have them printed in large quantities to pass out at the remembrance service as well.
For more memorial bookmark designs, check out these!
Memorial Photo Frames
11. Memorial Sign Candle Holder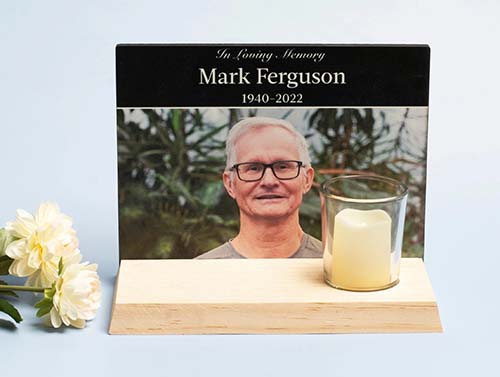 These sweet tealight memorial signs are perfect for the desk or bookshelf. Add a photo if you would like, or enjoy the designed motif on its own.
Thoughtfully handcrafted, there are several wood finishes and design options available to best suit your home interior.
12. Memorial Photo Frame with Custom Handwriting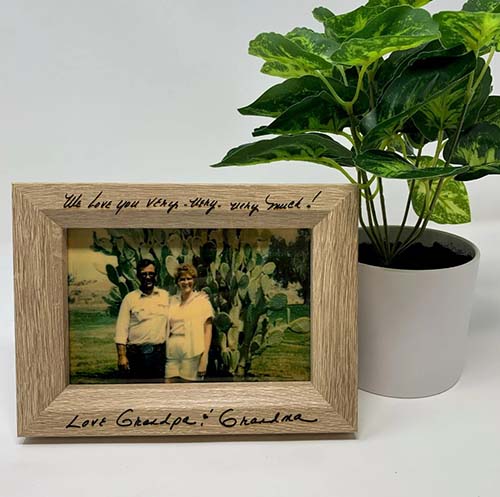 Make their memorial photo frame just a bit more special by adding a note engraved in your loved one's own handwriting. Handwriting is something so unique to the individual, that it carries all the warmth and wonderful qualities of their personality with it. And now you can keep it on display for all to see.
13. DIY Resin Memorial Picture Frame
How neat to be able to create your own resin memorial frame! This easy DIY will guide you through the entire process to make a piece that is uniquely yours. Choose your own shapes and colors to suit your tastes and try your hand with this wonderful tutorial.
14. In Loving Memory Photo Frame
This lovely photo frame is so charming with its farmhouse feel. Simple but sweet, it has a small wooden "In Loving Memory" tag and a rustic wood border. Small enough to keep on the desk in your office or displayed proudly in the bookshelf of your home.
15. Digital Picture Frame for Memorial Photo Gallery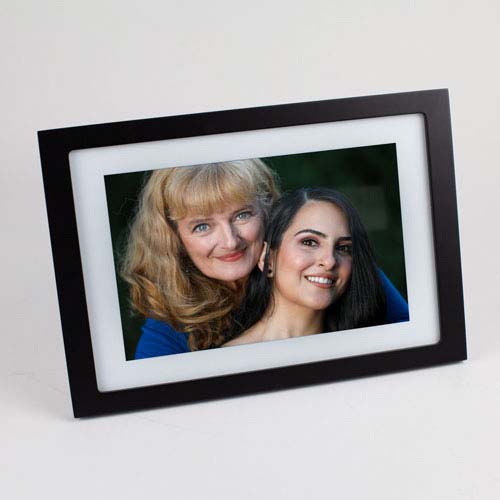 Digital frames are perfect for keeping all of your best memories in one spot. You can upload dozens and even hundreds of your favorite photos to create a seemingly endless "playlist" of photographs. Just right for home or the office, you will never feel too far from your loved one with this wonderful piece of tech on hand.
Memorial Portraits
16. Fine Art Memorial Portraits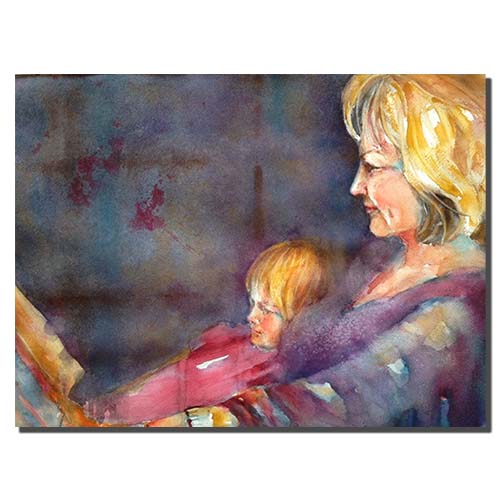 Commision a beautiful, custom portrait as a memorial for your loved one. These stunning watercolor portraits capture the essence of that certain someone in a timeless piece of fine art. Artist MaryAnn does such an incredible job portraying her subjects in such a tender and meaningful way.
A precious keepsake that will surely be cherished for generations.
17. Customized Memorial Family Painting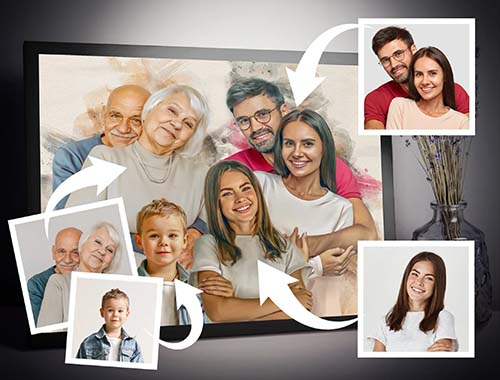 Compile all of your favorite photos of your loved ones into a single memorial art piece. Sometimes it's just not possible to have pictures of all our family members in one photo, especially if some of them have already passed. But this unique remembrance art is the perfect remedy.
18. Classical Portrait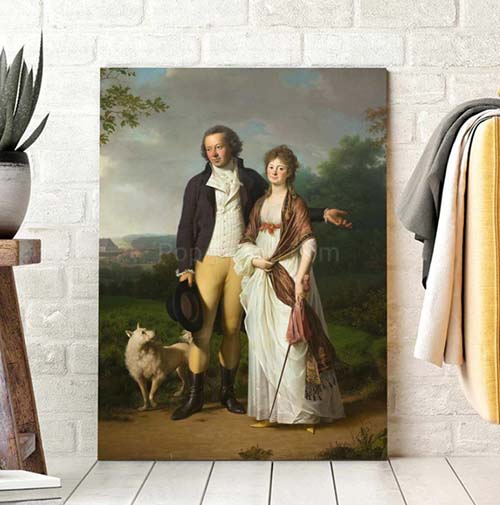 Memorialize your loved one in a historic portrait. Maybe they loved history or were into fun costumes and reenactments? Maybe you just want a regal looking picture to match their regal personality? Whatever the case is, these neat portraits won't disappoint.
19. Add Loved Ones to Personal Photos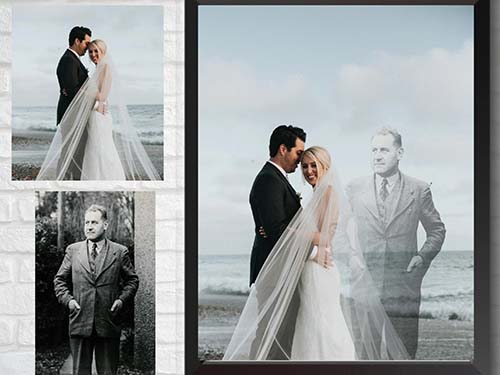 Have you ever wished the one you've lost could be there for special occasions? Maybe a wedding or graduation, or the birth of a child? You know they are with you in spirit, but make their presence visible with these photo edits. It will feel like they really were there to celebrate with you.
20. Engraved Memorial Portrait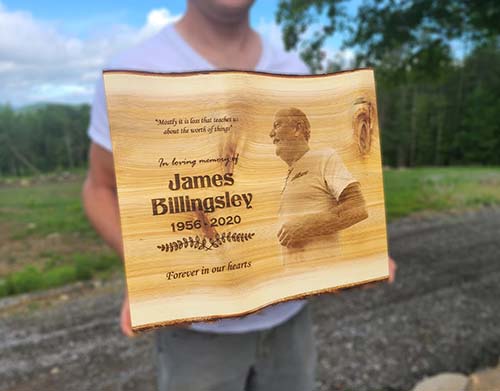 These engraved wooden memorial portraits are so neat. Capture their personality in a timeless engraving and make it the focal point of your home or cabin. Wonderfully rustic, you can completely customize the piece to suit your tastes and your loved one's memory.
Handcrafted with love in the USA.
Related: Best Memorial Plaques
Memorial Picture Boards for Funerals
21. Personalized Photo Memorial Picture Board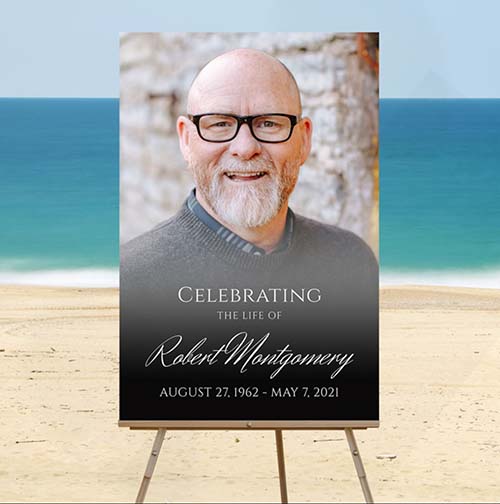 These memorial boards are perfect to place at the entrance of the service or in the reception hall. Placing emphasis on your loved one's photograph, you can easily customize the text through a simple editing service.
22. Butterflies & Gold Clear Funeral Board
These are so much more than just a sign. Beautiful and definitely keepsake worthy, these memorial boards are designed with flower motifs, butterflies, memorial flags, and more.
Available in either clear acrylic or solid colors to accommodate many different themes and styles.
23. Lavender Memorial Picture Board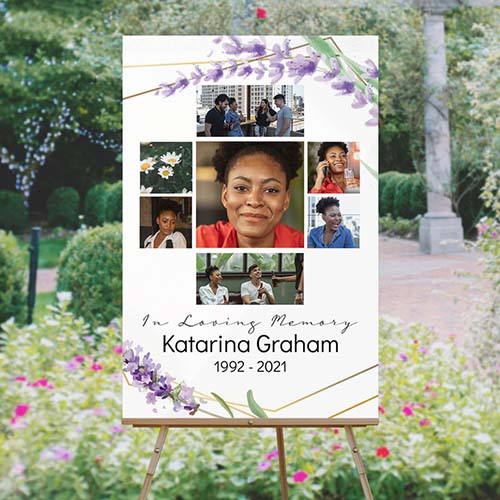 This particular funeral board is a collage to highlight several memorable moments in your loved one's life. Beautifully embellished with lavender and script, it will look wonderful at the service entrance.
24. Those We Love Funeral Poster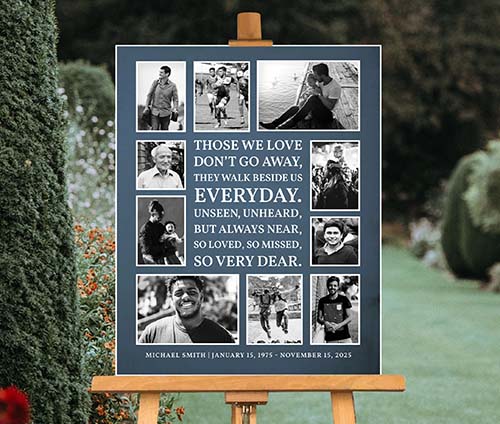 A wonderful option if you would like to frame and keep the memorial board after the service.
This funeral poster is so thoughtfully designed with the "those we love" quote nestled in among all of your favorite photographs. It's also available in multiple formats and sizes to suit your needs.
25. Personalized Funeral Picture Boards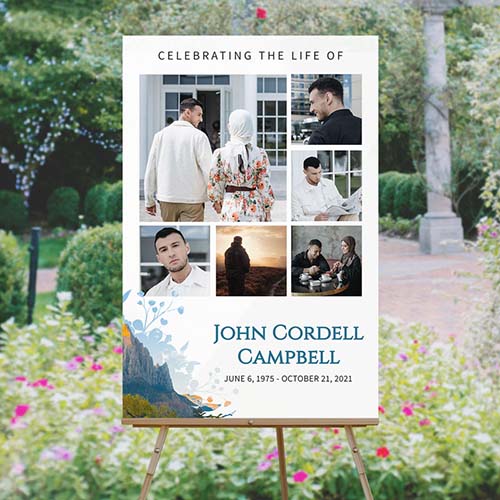 Another great choice for a collage board, bring out their personality and best memories with this lovely funeral poster. The mountain border makes it simple and versatile, yet elegant. As a digital file, you would have these printed to your specified size.
Click Here for more memorial memory board options.
Best Photo Cremation Urns
26. Maple Wood Cremation Urn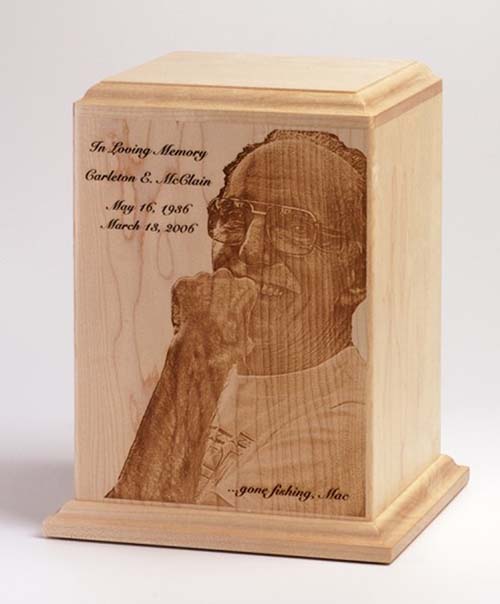 How wonderful are these custom engraved maple wood urns? A beautiful and timeless memorial, the photo engraving isn't limited to a portrait, but can be any special image that you wish to remember your loved one by.
Made of genuine Maple in the US, this custom urn can also include up to three lines of text.
27. Rotating Photo Cremation Urn
This unique photo urn is so neat. It has such a classy appeal and would look lovely as a centerpiece on the mantle or bookcase. Holding up to six cherished photos of your dear one with an optional engraved memorial plate, this urn rotates a full 360 degrees. That way you can equally enjoy all of the memories placed around it.
28. Engraved Photo Granite Urn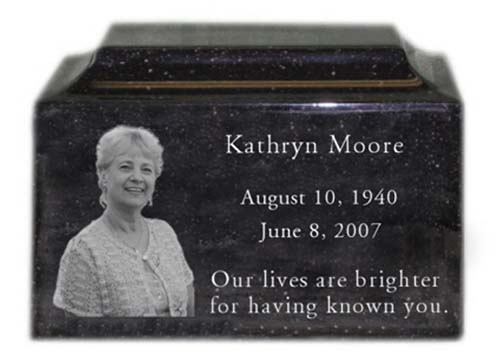 Extremely elegant and classy, this cultured black granite urn for ashes has a laser engraved photo of your loved one as well as the custom inscription. The detail of these laser engravings is incredible, capturing the essence of the one who has passed. The construction of the urn itself is wonderfully high quality, and designed for easy, secure storage.
Learn More: How to Get a Photo Engraved Onto a Cremation Urn
29. Photo Engraved Crystal Urn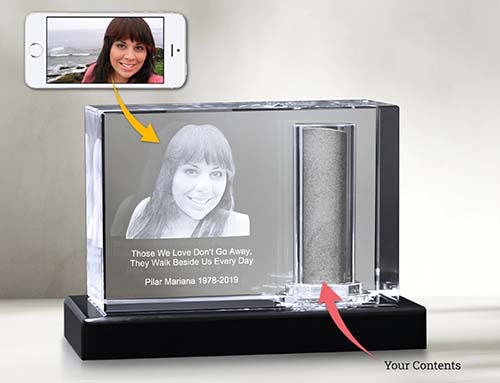 A beautiful, modern and completely unique option. These custom, crystal engraved urns are a lovely new alternative to a traditional style urn.
Just send a photo of your loved one to the folks at Crystal Impressions Co, and they will engrave a lifelike image in the crystal to create a timeless memorial. You can fill the cylinder with ashes, or place other special items inside.
30. Biodegradable Memorial Picture Frame Urn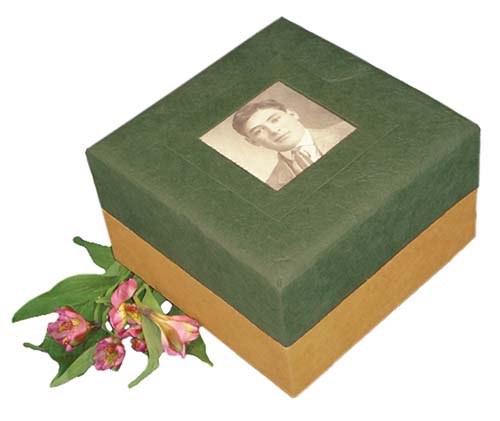 Known as "Earthurns", these are a fantastic choice if you plan to bury or scatter your loved one's remains. These simple, biodegradable photo urns are constructed by hand using natural, sustainable materials.
The containment bag inside is also water soluble, so after a time the ashes will simply be returned to the dust. A wonderful, eco-conscious option.
Memorial Photo Jewelry
31. I Will Hold You in My Heart Remembrance Photo Necklace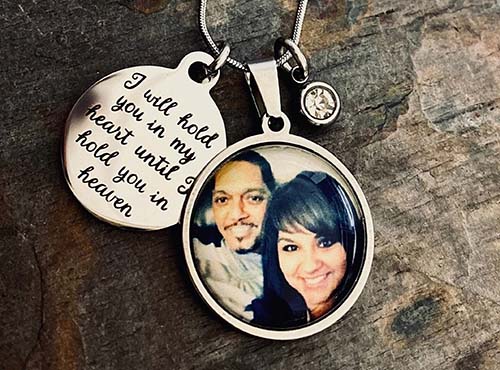 This pretty necklace will keep them close to you always. The sweet sentiment is a reminder that we will only be apart for a short time until we meet them again.
Made of durable stainless steel and decorated with your choice of charms, their photo will remain safe and secure and right next to your heart.
32. Projection Photo Memorial Bracelet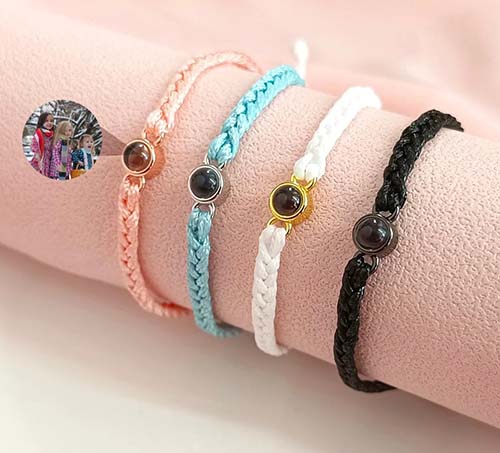 It may look like just a normal bracelet at a glance, but this sweet piece holds so much more. The little focal bead actually has a picture of your loved one inside, and once light shines through it, the image is projected onto any solid surface. So neat.
33. Engraved Photo Memorial Necklace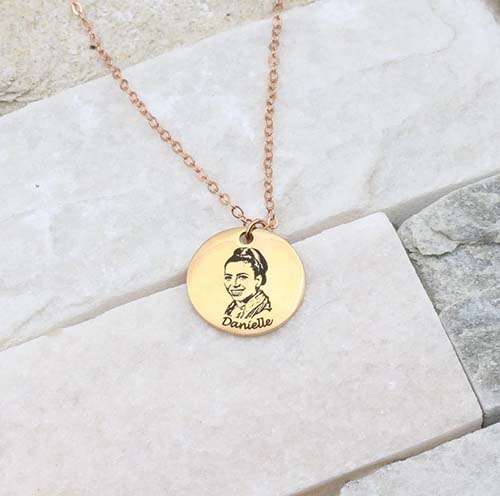 So lovely and sentimental! These custom photo engraved medallions are just beautiful. The pretty, minimalist design means that you can wear this necklace all day, every day and with anything. You never have to worry about taking it off, either, because the stainless-steel construction is sturdy and rust resistant.
34. Memorial Photo Bracelet with Angel Wing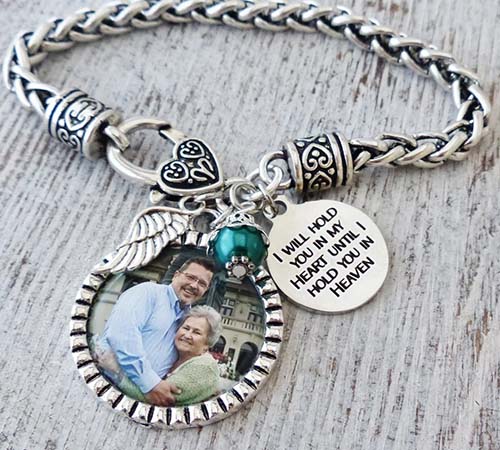 This charming memorial bracelet is a wonderful way to keep them close. Such a pretty design with its charms and remembrance quote, the image of your loved one is sealed away in a water-resistant protector. You can either choose the bead color you prefer, or the artist will choose one for you.
35. Engraved Remembrance Photo Ring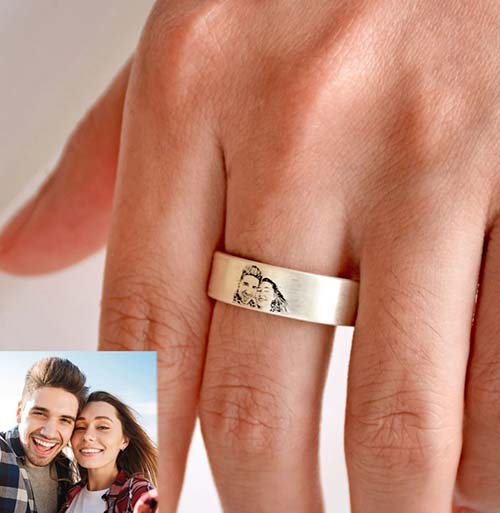 These rings are so gorgeous. Custom engraved with an image of your loved one, you can also add a personal inscription on the inside of the band as well. The detail in these tiny portraits is truly incredible, and will be a constant reminder of those you love. These are available in either sterling silver or titanium.
Related: Mourning Jewelry – What Is It?
More Photo Memorial & Remembrance Ideas
36. Memorial Photo Album Picture Book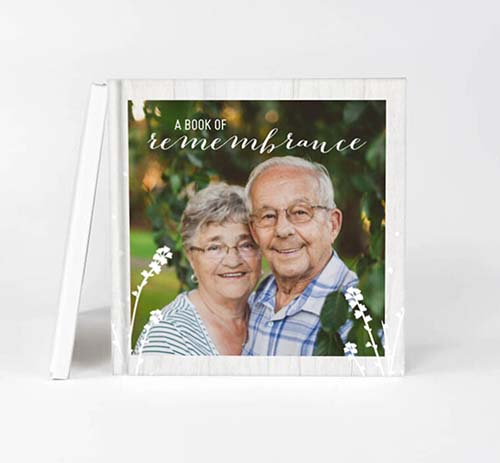 Create an incredible, custom photo book to keep all of your best memories of your loved one in one place. Mixbook Co. does a wonderful job providing countless options so you'll have a truly unique memorial that will be cherished by the family for generations.
Related: Engraved Wooden Photo Albums
37. DIY Resin Photo Memorial Pyramid
Such a unique, hands-on approach to a photo memorial. Create your own resin remembrance pyramid with the detailed instructions from this DIY tutorial. There is just something so special about creating a memorial with your own hands. Pour all of your love and devotion into one of these neat pieces.
38. Memorial Mini Photo Heart Keepsakes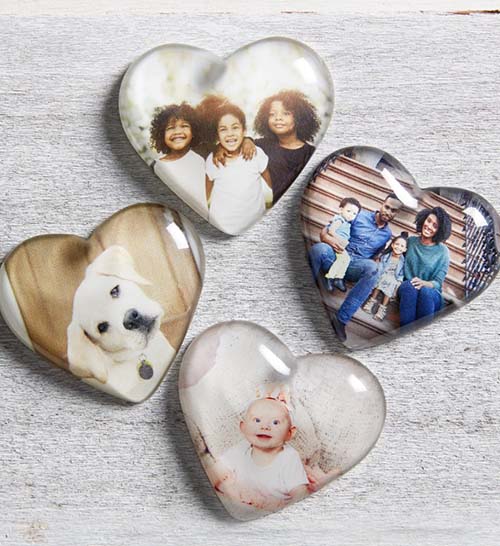 These little heart memorials are so sweet. Add one of your favorite photographs and you have a charming keepsake to be treasured. Small enough to fit in the palm of your hand, these make wonderful gifts for the family.
Related: Best Memorial Keepsakes
39. Rest in Peace Memorial Photo Canvas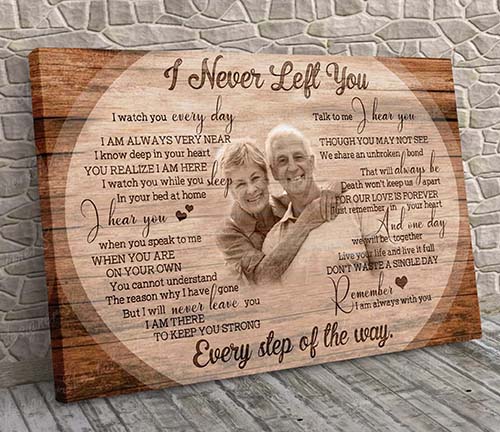 Remind yourself and the whole family that they never truly left. Beautifully designed with memorial quotes, you can add a picture of your loved one to personalize these pretty canvases. Available framed or unframed, you can choose whichever size best suits your space.
40. Always on Our Mind Photo Keychain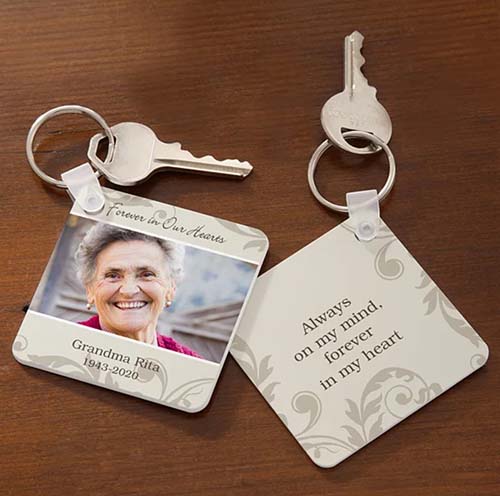 Carry them with you every day with one of these sweet memorial keychains. Personalize the front with their name and photograph, while "Always on my mind, forever in my heart" is lovingly printed on the reverse. Perfect for your house keys, it also could be attached to a purse, lanyard, and more.
Read Next: Creative "In Memory Of" Gifts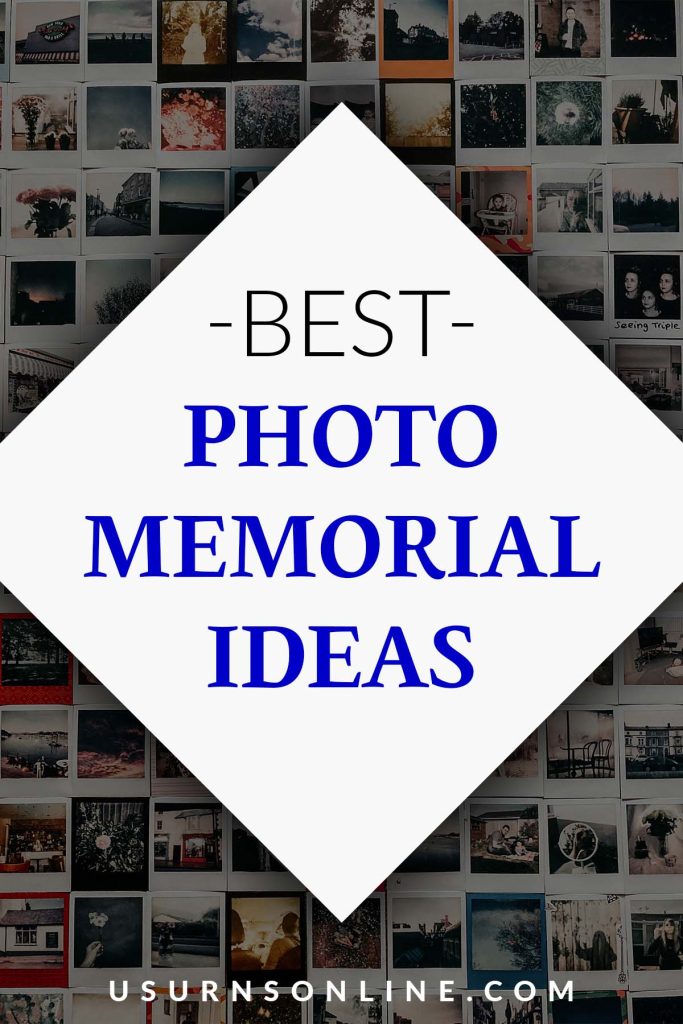 With a heart full of empathy and a desire for supporting those in mourning, McKenna is someone who understands the profound impact of loss and the myriad of emotions that accompany it.
With the attention to detail gained through an M.A. in Fine Arts (Pensacola Christian College), McKenna strives to address the questions that often accompany grief: How do you navigate the intricate emotions that arise when you lose a loved one? What resources are available to assist you in your journey towards healing? How can you find the strength to move forward while cherishing the memories of your loved ones?
With a unique blend of skills in writing, graphic design, SEO, and editing, she is dedicated to crafting meaningful and visually captivating content that resonates with you during times of grief.
McKenna has been writing for US Urns Online since 2022, where she serves as an author and content editor.