Memorial bookmarks are ideal to give out at the funeral, celebration of life, or memorial service. They're simple to make, affordable, and easy for attendees to slip into a book and be reminded of the sweet memories of your loved one.
Below we have examples, tips on what to include, beautiful templates you can use to create the perfect bookmark, and inspiration for quotes, poems, sayings, prayers, and more.
What Are Memorial Bookmarks?
Exactly as it sounds, memorial bookmarks are long and narrow printed cards given out at funerals or memorial services in honor of a loved one.
They are often printed with the decedent's name and dates, a photo, and a meaningful or inspiring quote, verse, poem, or prayer.
Why Are Memorial Bookmarks Given at Funerals?
Families often choose to give out a small token or keepsake (known as "funeral favors") for two reasons.
First, it is a way to pay tribute to your loved one by encouraging others to "keep their memory alive" every time they look at the bookmark or keepsake. It's a reminder to think about them, treasure the memories, and keep the family in prayer.
Second, the favor can be a way to thank those who attended by not allowing them to leave empty-handed. That's why some families choose food, a charm, a wearable bracelet or button, something functional like a bottle opener or keychain, or "forget-me-not" seed packets.
For the memory of those who enjoyed reading, loved books, or treasured the Scriptures, a bookmark makes perfect sense. Bookmarks are also relatively affordable, since printing doesn't cost nearly as much as many other physical items.
What Should We Include in a Memorial Bookmark?
Thankfully, memorial bookmarks are very simple. You will want to include your loved one's personal details along with a meaningful quote.
1. Personal Details
Start with the decedent's name, dates of birth and death, their photo (if desired), and a brief memorial inscription such as "In Loving Memory" or "Celebrating the Life of" across the top.
You can add as much personal information as you like, but these life details are often covered in the funeral program.
2. Meaningful Quotes
The centerpiece for most memorial bookmarks will be the quote. This could be anything you want; for instance a:
Favorite saying
Description of their interests or personality
See each link above for many options, and continue reading below for examples of each type specifically curated for funeral bookmarks.
Memorial Bookmark Examples & Templates
Here are some sample memorial bookmarks. Some are fully pre-set designs to which you simply add your loved one's name and dates, and sometimes photo. Others are fully customizable templates that you can alter as you see fit.
Additionally, depending on the vendor, you can have them print it for you and ship it to you, or you can simply download the print-ready file and take it to a local print shop. See each memorial bookmark product page for specifics.
1. Blue & Gold Branches Funeral Bookmark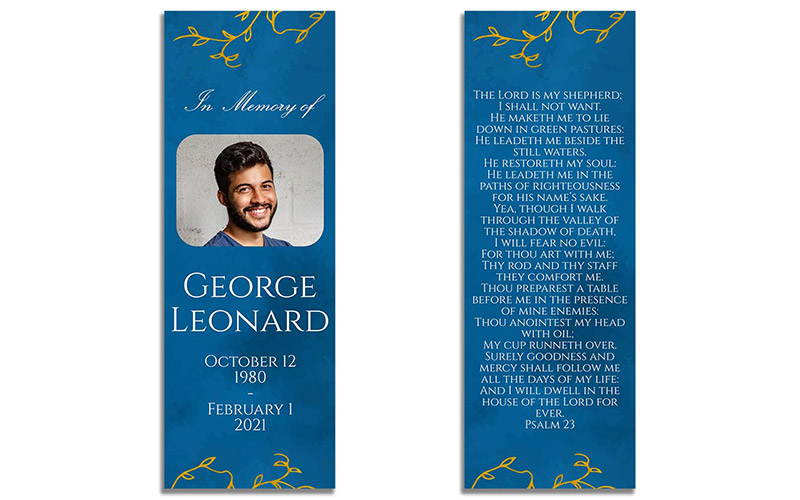 This bookmark is designed to have a timeless, classy feel that makes it suitable for men and women alike. The text on the back is preset with Psalm 23, and you can keep that or change it to anything you like.
As with all of our memorial bookmarks, all you'll need to do after purchase is upload a photo of your loved one, enter their name and dates, then edit the quote on the back side (if desired).
Make sure all the spelling and details are correct, then instantly download your print-ready file and you're good to go.
2. Blush Funeral Bookmark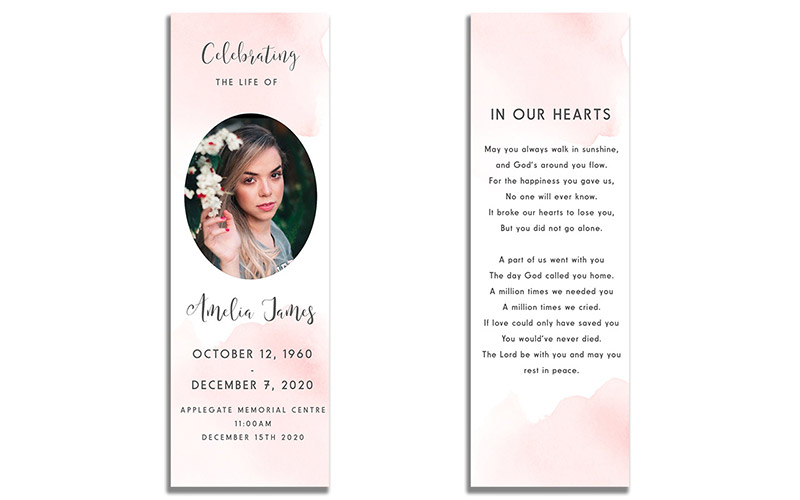 Our personalized "Blush" memorial bookmark is a gorgeous design that features soft, gentle pink-hued watercolors.
Keep the prayer/poem as it is, or add your own. If you need inspiration, here are some resources:
3. Celtic Cross Funeral Bookmark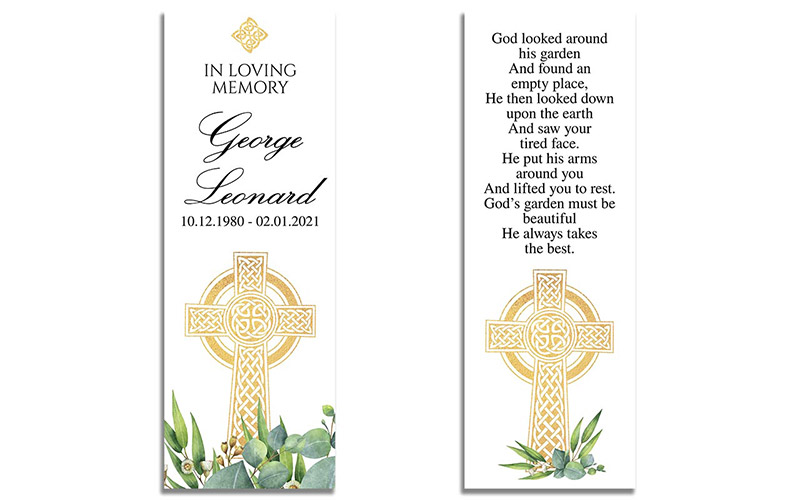 The Celtic Cross Bookmark was created with the faithful Christian in mind. Honor your loved one's faith with this gorgeous keepsake printable.
4. Cross & Leaves Funeral Bookmark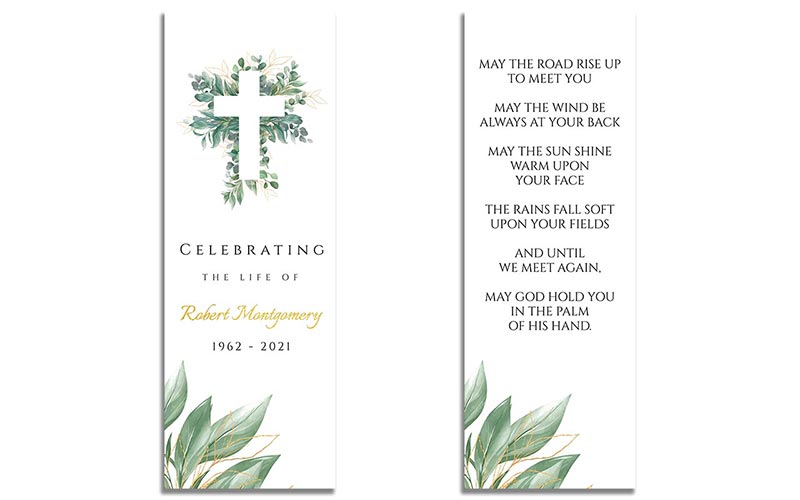 The empty white space surrounded by leaves fully enhances the imagery of the Cross of Christ. This elegant and timeless memorial bookmark will be the perfect tribute to your loved one's faith.
Includes space for a prayer, quote, or Scripture verse on the back side, which you can edit as needed to create the perfect bookmark keepsake.
5. Evergreen Trees Funeral Bookmark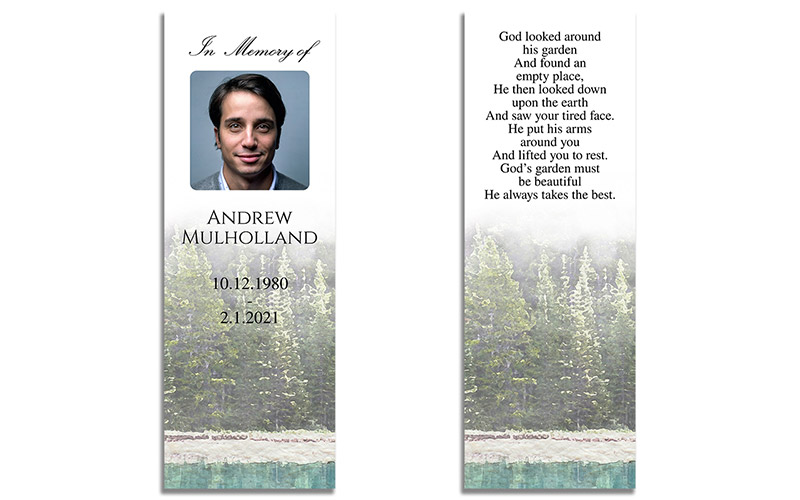 Watercolor-style evergreen trees set the background for this earthy bookmark. You're welcome to change the memorial poem, but the template already has this popular one set up for you:
God looked around his garden
And found an empty place,
He then looked down upon the earth
And saw your tired face.
He put his arms around you
And lifted you to rest.
God's garden must be beautiful –
He always takes the best.
6. Flora Funeral Bookmark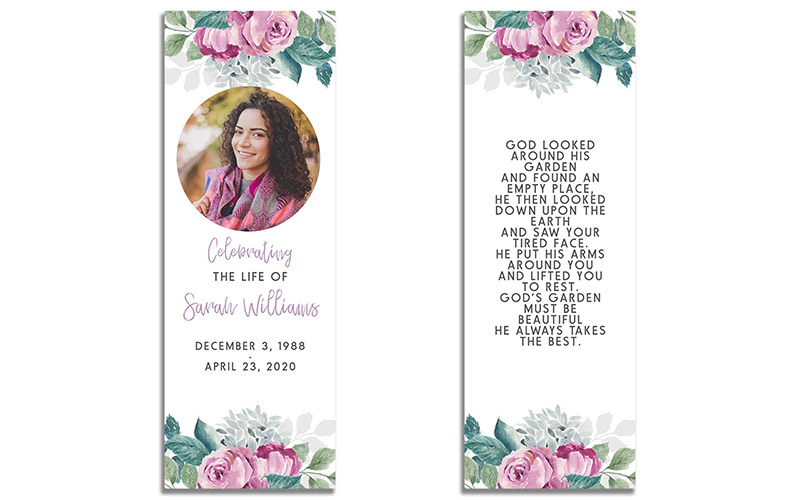 The Flora Memorial Bookmark Template has a charming purple flower theme offset by deep, bluish greens and grays.
7. Gentle Florals Life Celebration Funeral Bookmark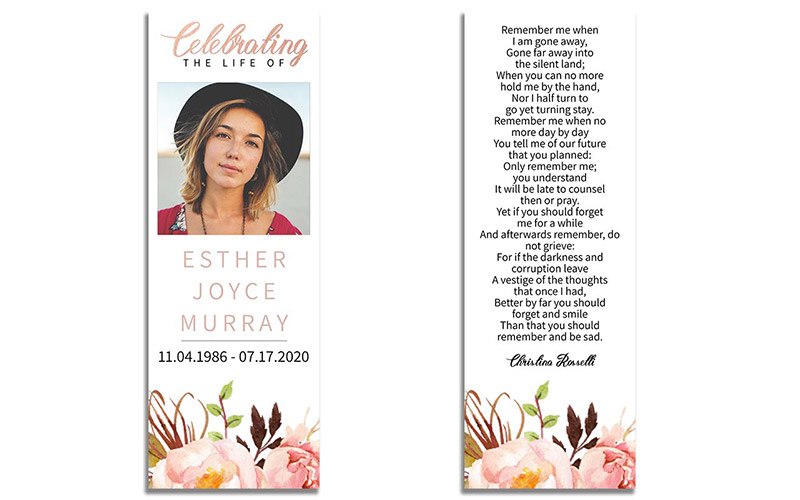 The Celebration of Life Gentle Florals Bookmark is a popular design, featuring a minimalist square picture frame and light pink hues.
8. Navy & Gold Funeral Bookmark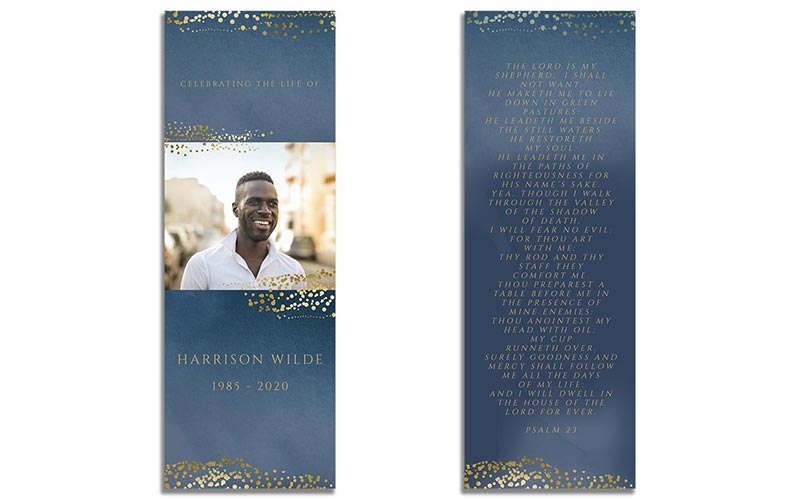 Perfect for a bright picture of your loved one, we love the way the rich blue watercolor background contrasts with pops of gold throughout.
The Navy & Gold Funeral Bookmark is a dignified and elegant tribute to your loved one.
9. Soft Light Funeral Bookmark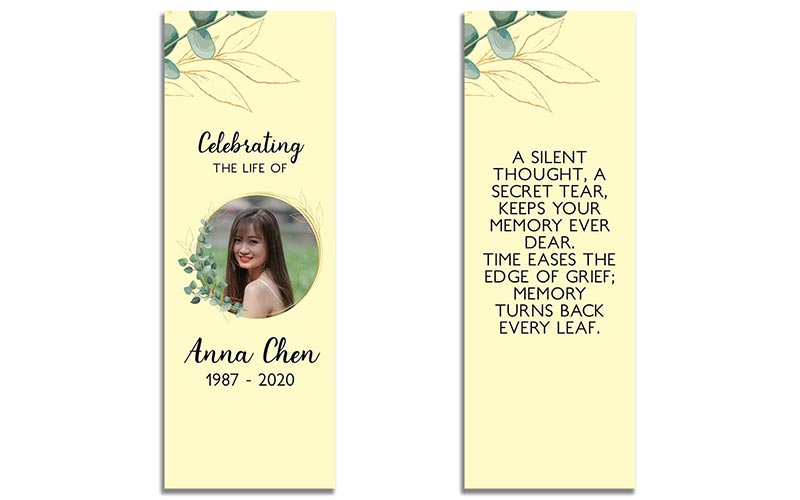 Sometimes yellow is the perfect color to celebrate your loved one's life. We think this shade finds that ideal tone between soft and gentle on the one hand, and bright and cheery on the other hand.
Create a meaningful keepsake to give out at the service with the Soft Light Personalized Memorial Bookmark Template.
10. Vintage Floral Frame Bookmark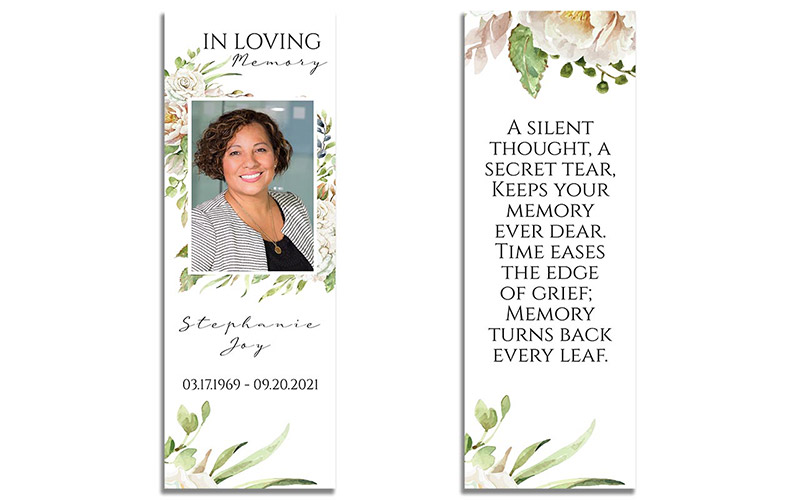 The Vintage Floral Frame Bookmark is the ideal companion keepsake to complement our most popular funeral program design.
It boasts a gorgeously framed photo area, eye-catching fonts, and a beautiful memorial poem which you can keep or change to any prayer, quote, poem, or tribute you like.
Memorial Bookmark Quotes
If you're wondering what you should write on the bookmark, look no further. Here are some inspiring quotes, verses, and ideas to guide you.
Book Lover Quotes
You probably thought of memorial bookmarks because your loved one was a reader and bookaholic. Here are some quotes to consider using.
She read books as one would breathe air, to fill up and live.

Annie Dillard
Today I'd like to sit and read
Forget I have a job I need
Ignore the things I have to do
And just enjoy a book or two
I do believe something very magical can happen when you read a good book.

J.K. Rowling
A library is a hospital for the mind.
Maybe this is why we read, and why in moments of darkness we return to books: to find words for what we already know.

Alberto Manguel
Keep reading. It's one of the most marvelous adventures that anyone can have.

Lloyd Alexander
Just one more chapter.
Favorite Sayings
This can be anything, from famous quotes to something quirky that they always said.
Life is what happens when you're busy making other plans.

Allen Saunders

(not John Lennon, as the internet often misattributes)
Fear is a reaction. Courage is a decision.

Winston Churchill
Try to be a rainbow in someone's cloud.

Maya Angelou
Whoever is happy will make others happy too.

Anne Frank
Never let the fear of striking out keep you from playing the game.

Babe Ruth
Dad Truisms:
Measure twice, cut once.
Falling down is life. Getting back up is living.
I'm not laughing at you, I'm laughing with you.
Hi hungry, I'm Dad.
You can afford almost anything you want, but you can't afford everything you want.
A little hard work never hurt anybody.
I'm not sleeping, I'm resting my eyes.
Don't wish for it – work for it.
Pull my finger.
Mom's Wisdom:
Do all things with love.
The early bird gets the worm.
It's a good day to have a good day.
Always say yes to new adventures.
Either you run the day, or the day runs you.
I'm not asking. I'm telling.
Always wear clean underwear in case you get in an accident.
Never stop being a good person because of bad people.
There's always time for friends.
Scripture Verses
These Bible verses will help comfort mourners and stir up faith as the Word of God is set before people's eyes.
Matthew 25:21
Well done, good and faithful servant… Enter into the joy of your master.
John 3:16
For God so loved the world, that he gave his only Son, that whoever believes in him should not perish but have eternal life.
Psalm 23
The Lord is my shepherd; I shall not want.
He maketh me to lie down in green pastures:
He leadeth me beside the still waters.
He restoreth my soul:
He leadeth me in the paths of righteousness for his name's sake.
Yea, though I walk through the valley of the shadow of death,
I will fear no evil:
For thou art with me;
Thy rod and thy staff they comfort me.
Thou preparest a table before me in the presence of mine enemies:
Thou anointest my head with oil;
My cup runneth over.
Surely goodness and mercy shall follow me all the days of my life:
And I will dwell in the house of the Lord for ever.
John 11:25
I am the resurrection and the life. Whoever believes in me, though he die, yet shall he live.
Find many more Bible verses for inscriptions, epitaphs, and memorial tributes here.
Description of Their Interests and Personality
Sometimes there's an existing quote that perfectly sums up the person. For instance, "She loved life and it loved her right back."
But if you can't find that quote, you can build your own by simply describing who they were, what they enjoyed, what it was like to be around them, and how they made others feel.
You might include:
Hobbies
Education
Work and professional accomplishments
Family
Friends
What made them laugh, get excited, tell stories
How they served others, showed love, stayed strong
Trials they overcame, struggles they endured
Loves, hopes, and dreams
Their life story
For more, read our eulogy examples and also these eulogy quotes. Just remember, space on a memorial bookmark is limited so you'll want to keep it brief.
Life Celebration Quotes
The best is yet to come.
Life is what you celebrate. All of it. Even its end.

Joanne Harris
Be so happy that when others look at you they become happy too.
Come with me where dreams are born and time is never planned.

J.M. Barrie (from Peter Pan)
May you touch
Dragonflies and stars,
Dance with fairies,
And talk to the moon.
Everything around us is beautiful. Let's take some time to enjoy it today in memory of [name].
Now at last they were beginning Chapter One of the Great Story which no one on earth has read: which goes on for ever: in which every chapter is better than the one before.

C.S. Lewis (from The Last Battle)
More: 33 Inspiring Life Celebration Quotes
Prayers
I am the resurrection and the life, says the Lord; he that believes in me, though he were dead, yet shall he live; and whosoever lives and believes in me shall never die.

I know that my Redeemer lives, and that he shall stand at the latter day upon the earth; and though this body be destroyed, yet shall I see God; whom I shall see for myself and mine eyes shall behold, and not as a stranger.

For none of us lives to himself, and none of us dies to himself. For if we live, we live unto the Lord. and if we die, we die unto the Lord. Whether we live, therefore, or die, we are the Lord's.

Blessed are the dead who die in the Lord; even so says the Spirit, for they rest from their labors.

The Resurrection Prayer (excerpts from various Scriptures)
Father, your ways are not our ways, and your thoughts are not our thoughts. We do not understand why you took [name] home, but we humbly submit to your will. Just as the death of Jesus was not the end, so we know that – by faith – we shall be raised together with him and that one day we will be reunited with our loved one in your presence. For this comfort, we thank you.
This saying is trustworthy:
If we have died with him we shall also live with him;
If we persevere we shall also reign with him.
But if we deny him he will deny us.
If we are unfaithful he remains faithful,
For he cannot deny himself.

II Timothy 2:11-13
O God, whose mercies cannot be numbered: Accept our prayers on behalf of thy servant [name], and grant [him/her] an entrance into the land of light and joy, in the fellowship of thy saints; through Jesus Christ thy Son our Lord, who liveth and reigneth with thee and the Holy Spirit, one God, now and for ever. Amen.

Book of Common Prayer
I lift up my eyes to the hills;
Where does my help come from?
My help comes from the Lord,
The Maker of heaven and earth.

He will not let your foot slip;
He who watches over you will not slumber;
Indeed, He who watches over Israel
Will neither slumber nor sleep.

The Lord watches over you.
The Lord is your shade at your right hand;
The sun will not harm you by day,
Nor the moon by night.

The Lord will keep you from all harm.
He will watch over your life;
The Lord will watch over your coming and going
Both now and forever more.

Psalm 121
May the road rise up to meet you.
May the wind be always at your back.
May the sun shine warm upon your face.
May the rains fall soft upon your fields and until we meet again,
may God hold you in the palm of His hand.

Traditional Irish blessing
More: Biblical Funeral Prayers for a Christian Funeral Service
Poems
Those we love don't go away;
They walk beside us every day.
Unseen, unheard, but always near;
So loved, so missed, and very dear.
All that is gold does not glitter,
Not all those who wander are lost;
The old that is strong does not wither,
Deep roots are not reached by the frost.

From the ashes a fire shall be woken,
A light from the shadows shall spring;
Renewed shall be blade that was broken,
The crownless again shall be king.

J.R.R. Tolkien, The Lord of the Rings
Though her smile is gone forever
and her hand we cannot touch,
We still have beloved memories
Of the one we loved so much.

Her memory is now our keepsake
With which we'll never part.
God has her in her keeping;
We have her in our heart.
Remember me with smiles not tears,
For all the joy through all the years.
Recall the closeness that was ours,
A love as sweet as fragrant flowers.

Don't dwell on thoughts that cause you pain,
We'll see each other once again.
I am at peace – try to believe
It was my time; I had to leave.

But what a view I have from here!
I see your face, I feel you near.
I follow you throughout the day,
You're not alone along the way.

And when God calls you, you will be
Right by my side, right here with me.
Till then, I'll wait by heaven's door.
We'll be united… evermore!
You are not forgotten, loved one
Nor will you ever be
As long as life and memory last
We will remember thee
More: 101 Funeral Poems
Pin It