Facing your first Christmas without a loved one can be daunting. The thought of entertaining, going to family gatherings, and celebrating anything may be very disheartening and quite overwhelming.
Read on, and we will discuss some information that might give you some relief and peace of mind as you navigate this new territory.
Grief and the Holidays
It's time to start preparing for the holidays – a thought that usually fills you with joy and hopeful expectations.
But this year is different.
The traditions feel overwhelming, even alarming; upholding them is just too much to deal with. Memories can come and go with the sight of the festive decorations or the smell of the Christmas goodies baking.
And what about the celebratory music? Music can trigger strong emotions at any time, and even more so when you are grieving.
Grief during the holidays can be harder than any other time of the year. Families are gathering, and that certain loved one that has always been there suddenly isn't. That chair is empty. That special laughter and sense of humor are missing.
Accepting that this season will be different may help you with that first step of coping with your loss. Learning to celebrate differently might be a challenge, but you can get through it.
The First Christmas Without a Loved One
There might be new traditions being made, old traditions still being implemented, attending the same family meals, or being excluded.
These are just a few decisions and situations that you may encounter this first Christmas without your special loved one.
What will the first Christmas without a loved one be like?
Your first Christmas without your loved one is going to feel completely different. You may feel isolated. Situations may arise where your spouse's side of the family may not include you like they used to. Friends may not invite you to holiday parties as they have always done, or if they do, treat you awkwardly.
Not only has your life changed, but the lives of your friends and family members have also changed. They may not know how to handle the holidays or know what to say to you.
Perhaps it might help to read the experience of someone who has gone through it; here is Sandra's story of celebrating Christmas in the wake of her father's death.
How do people celebrate Christmas after losing a loved one?
It might seem impossible to even think of celebrating, but often keeping up with some old traditions and creating some new ones will help you through the tough times.
There are many ways of honoring your loved one during the holidays. Even though they are not physically here, you are still carrying them in your heart.
Here are a few ideas to help you celebrate and honor the memory of the one you have loved and lost.
Remembrance Service. Quite often, the funeral home that served you during your loss will hold a community celebration in honor of all the families they have served for the year. You should receive an invitation, but call the funeral home and ask about their Christmas Remembrance Service if no invitation is received. Make sure to attend. You will be with other families that are going through the same season as you.
Light a Candle. Go to your church, light a candle, or have a special prayer said in your loved one's memory.
Create a Memorial Space. Set up a special tribute in your home. Decorate it in memory of your loved one. Perhaps a picture surrounded by special decorations and other holiday tributes.
Treasure & Share Memories. Share holiday memories with your friends and family. Everyone can take turns in sharing that special memory or memories. What fun to remember the joys of the season! Laughter is truly the best medicine. One great way to do this is to create a memory jar filled written notes and stories. Here's how.
What can you say at Christmas to someone who has lost a loved one?
It can be hard trying to wish someone Happy Holidays or a Merry Christmas when they are going through the process of grieving. Read on for a few tips and some information that may help.
A simple and heartfelt "I am thinking of you" can mean so much. A hug or holding their hand can be exactly what they may have needed at the time. Follow their lead when it comes to any physical contact.
"I am here for you. Even if you need a shoulder to cry on." There are times when all your friend or family member may need is a sounding board. Just listen, you don't even have to offer any advice.
You may want to offer to help them shop for the holidays, wrap presents, address holiday cards, or help them bake or decorate their tree or home.
"I would like to spend some time with you." Let them know that you don't care how they choose to celebrate or not celebrate the holiday season; you would still like to spend some quality time. Enjoy some coffee and conversation.
Read more: 10 Things to Say (& 10 Things NOT to Say) When Someone Dies
Ideas for the first Christmas without a loved one
So here you are; you may have been dreading the approaching holidays for months. The memories of past Christmas gatherings can be hard to face.
By scanning this list, maybe you can find some new ideas to help you to make new memories or traditions!
Enjoy your loved one's favorite book, movie, or album. It could be Christmas themed (It's a Wonderful Life, Elf), barely holiday-related (Die Hard), or completely unrelated (Singin' in the Rain, Dumb & Dumber).
Go shopping for yourself. Treat yourself and wrap them up for Christmas morning.
Instead of taking the day off from work, volunteer to take an extra shift for that co-worker who would be at work instead of home for Christmas. Give of yourself to brighten someone else's day.
Go out for the "big" holiday meal instead of cooking.
Volunteer at your local soup kitchen. Keep yourself busy by "doing" for others.
Binge that movie trilogy you've wanted to see. It would even be OK to indulge in a few snacks while enjoying the show.
If you have children, now might be the best time to create new traditions. Instead of waiting until Christmas morning for the celebration to start, open some gifts on Christmas Eve while saving "Santa's" gifts for the morning.
Take a drive around your neighborhood and see all of the lights and decorations that are on display.
Make your loved one's favorite holiday goodies, plus extra to share with your neighbors or deliver to the nearest homeless shelter.
Spend time alone for self-reflection, start a journal to write down the importance of what you are feeling, enjoy a glass of wine, and relax. Don't feel guilty.
Write a special "Merry Christmas" message to your loved one. This could be a brief note of love and remembrance, or a full "annual family letter" keeping them updated on your life. Writing is a good way to process your thoughts.
If you don't want to celebrate at all, don't. Take the day and unplug from life. There is nothing wrong with declining an invitation for dinner or any other celebration.
There is no wrong way for you to grieve, and the holidays can be stressful at the best of times. Grieve, but grieve in a healthy way.
Christmas Memorials for Loved One
Even if the loss was a few months ago, it is still appropriate to remember a friend or a family member during the holiday season. Check out our suggestions for a sweet tribute to that special loved one.
Memorial Bird Feeder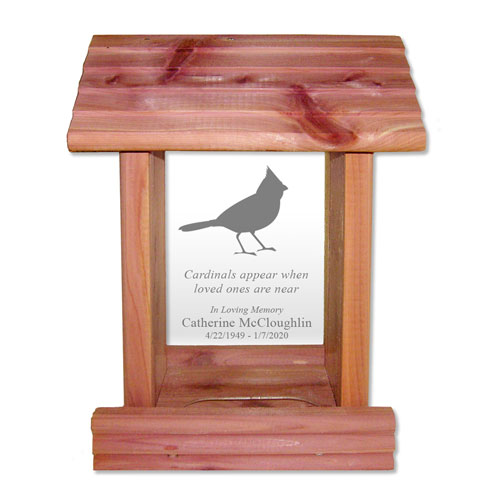 It is a long-standing tradition that when a cardinal pays a visit, it is actually a departed loved one dropping by. Personalize this tribute by adding your loved one's name and dates.
Encourage a cardinal visitation by supplying crushed peanuts, cracked corn, berries, black oil sunflower seeds, white milo, and safflower seeds.
Related: Christmas Memorial Gift Ideas
Photo Memorial Ornament
Memorialize your loved one with a favorite photo in a beautiful ornament. A photo of the two of you together to show your special relationship is a tribute to last a lifetime.
Surrounded by angel's wings, you are assured to keep them in your heart always.
Angel Wings Christmas Memorial Ornament
A piece of your heart gently and securely wrapped in the wings of an angel is a beautiful way to memorialize your loved one. Every time you look at this adornment, you are reminded of the special place your loved one holds in your heart.
More: 35 Best Christmas Memorial Ornaments
Christmas Chair Memorial Sign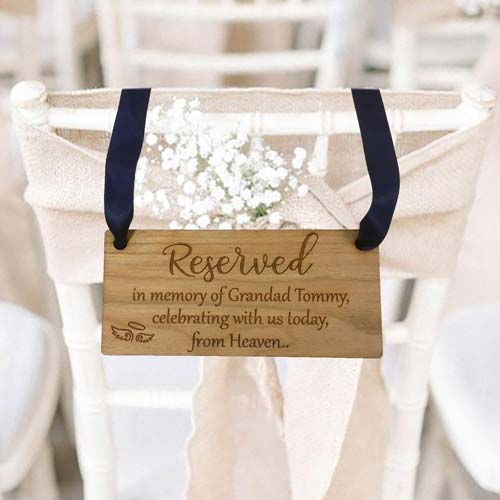 This idea is adapted from the common wedding practice, where the family reserves a chair for their loved one who is in heaven. Choose from one of many options here, and place it on a chair during your Christmas gatherings to honor your dearly departed one.
Related: Christmas in Heaven Poems, Ornaments, & Memorial Ideas