When your loved one gives his or her all to keep us safe and protect their beloved country's freedom, it won't do to create just any old memorial, or give the standard sympathy gift.
You want something that will last. Something personal, which reflects their individuality, temperament, and charisma. The best military memorial gift will bring their memory to mind each time that loved ones see it.
It should be reminiscent of the person, honor their service to the country, and it must be well-made, beautiful, and meaningful.
With the high standard of those requirements in mind, we've found 35 amazing gifts and memorials to honor your fallen soldier.
10 Best Military Memorial Gifts
Our website is supported by our users. We sometimes earn a commission when you click through the affiliate links on our website. See our privacy policy & disclosures for more information.
1. Military Memorial Bird Feeder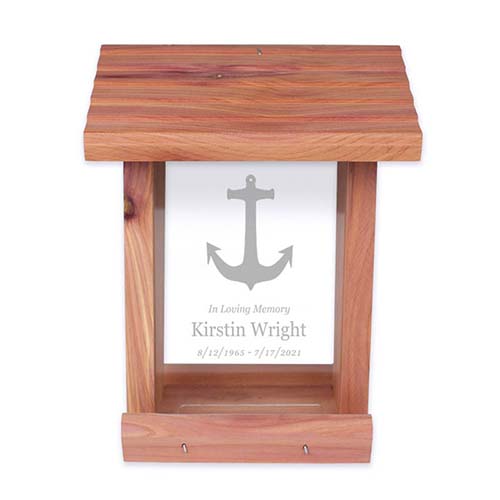 This gorgeous bird feeder – made in the USA, of deliciously scented cedar wood – will brighten up even your darkest days as you watch the birds eat their dinner on your back porch.
The generous portion size means you won't be filling it constantly, but instead can relax and enjoy some bird watching.
It's personalized however you like: choose the design (military branch emblems are available, along with many more themes), then add in your soldier's name and dates or a sweet sentiment.
2. Military Footlocker Keepsake Box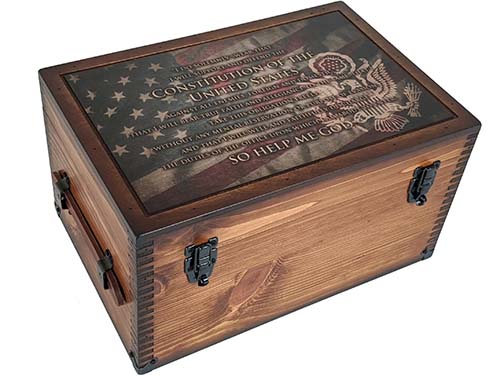 Made in the USA using wood, black felt, and cork, this beautiful footlocker keepsake box is perfect for storing all kinds of memorabilia, from paperwork to photos to medals. It has the military oath etched right on top, leaving no doubt where your loyalty lies!
Keep all of your priceless items safe, secure, dust-free, and ready to view at any time with this premium memorial. A wonderful gift for someone grieving a loss, or for yourself to remember a fallen and much-loved soldier.
3. Personalized "In Loving Memory" Throw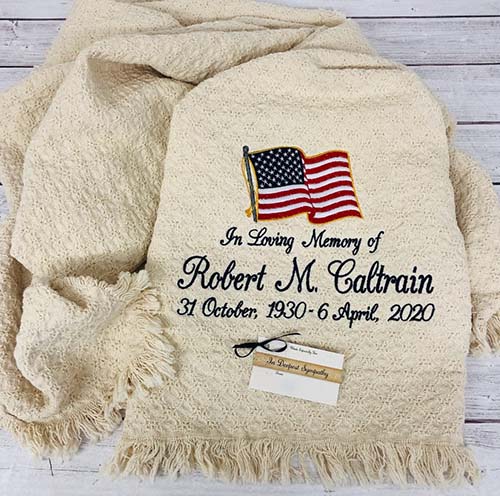 This good-looking 100% cotton throw is perfect for wrapping yourself inside when you are especially feeling the loss of your loved one.
It's oversized and cozy, making it perfect for snuggling, napping, or just lovingly thrown across the couch for all to appreciate. The personalization takes it over the top, as well. Made in the USA, naturally.
4. Customizable Memorial Military Bookmark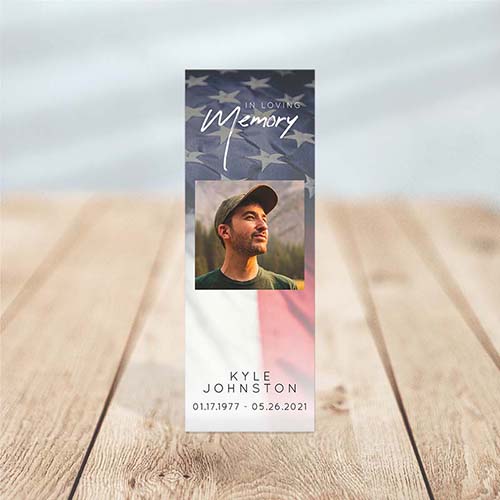 Military personalized bookmarks are absolutely perfect for handing out at the memorial/funeral service, and you can be sure no guest will leave their new treasure behind.
Customized with a photo and name and date, these will be used often – whether to hold a spot in their Bibles, in their TBR pile, or displayed on the wall or fridge. A sweet little token of remembrance.
5. Engraved Photo & Thumbprint Keychain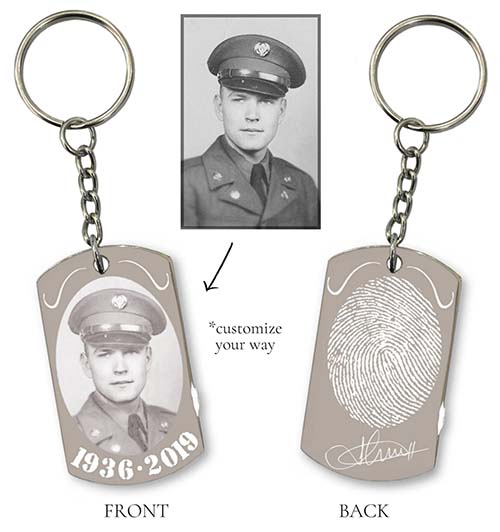 This silver keychain is handmade to your specifications, making it truly one-of-a-kind in a world of processed, instant gratification gifts.
One side is beautifully etched with your favorite photo of your military service member, and the other can be personalized with name and date, a favorite expression, their mantra, a fingerprint, and so on.
6. Raise a Glass in Memory Bottle Opener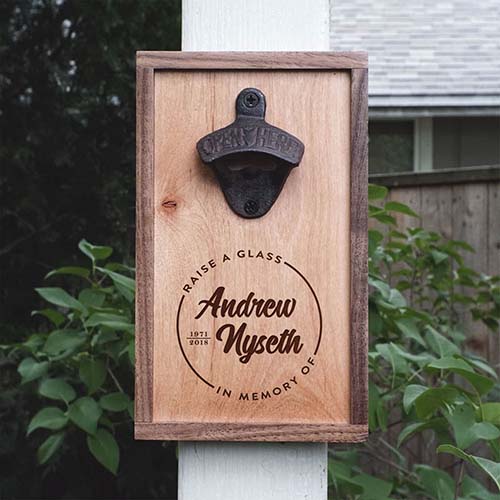 Crafted in the USA, this solid-wood mounted bottle opener will be around a long time – it's that well-made! It will hold a spot of honor in your den, living room, kitchen, or hung on the porch near the grill.
Each time you or your guests go to use it (which will be quite often), they'll be met with a loving tribute to a wonderful man/woman who served their country with their life. Custom laser engraved with their name and date(s).
7. Heaven Needed Another Hero Ornament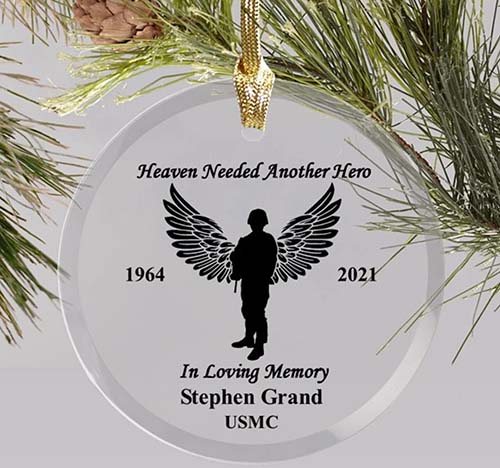 This pretty glass ornament will make your Christmas tree sparkle and shine! Or hang it year 'round from your window or car dashboard (it's too sweet to hide away, after all).
Personalized with a stunning silhouette of a soldier, and your loved one's name and date(s), this makes a lovely present to hand out to the family as well. Just make sure you keep one for yourself, naturally.
8. Tree Planted in Their Honor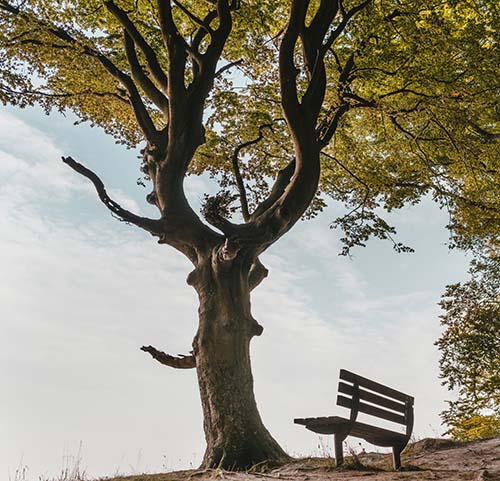 Planting in a tree in their honor means their legacy will bloom and prosper long after we're all gone. For the soldier who loved the outdoors and nature, this really is the gift that keeps on giving.
Imagine that little tree growing up into a strong and steady one that will still be blooming when your great-grandchildren's children are around!
9. Military Burial Flag Display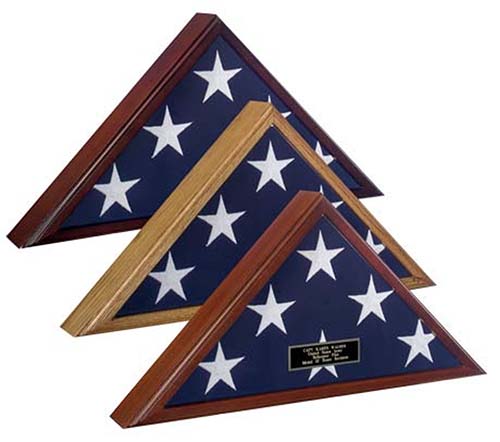 A beautiful and well-made military burial flag case provides the perfect way to display your loved one's burial flag. Proudly made in the USA of solid wood in your choice of either cherry or oak.
Of course you can personalize it, and you can also choose some other options, like a medal display or a pedestal base. It can be wall-mounted, or propped up on a bookshelf for all to appreciate.
Your premium flag display will look wonderful next to the urn for your soldier's ashes, or simply kept in their bedroom as a tribute and memorial.
Related: Here's what to do with a military funeral flag
10. A True Hero Memorial Slate Plaque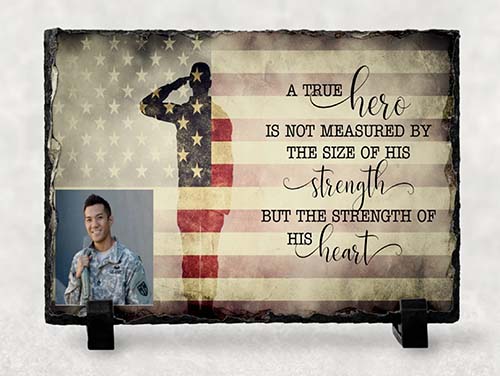 This handmade slate plaque is one-of-a-kind and is sure to bring grateful tears to the eyes of everyone who sees it.
Your soldier's name is included, as well as a photo of them, set against the background of Old Glory and a tried-and-true sentiment.
Related: Memorial Plaques for Indoors & Outdoors
Army Sympathy Gifts
11. Custom Memorial Shirt Pillows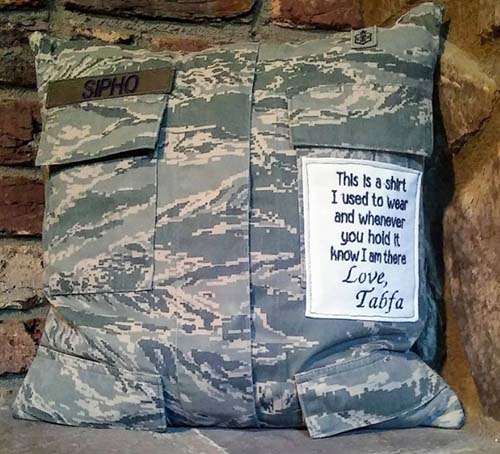 There's no gift better for anyone who wants to hug their soldier close. These custom memorial shirt pillows will be your go-to comfort item.
Made from their military uniform and customized with their name and patch, these pillows are sure to delight and bring a sense of calm and peace to the recipient's heart, especially in these tumultuous times.
12. Personalized Armed Forces Solar Light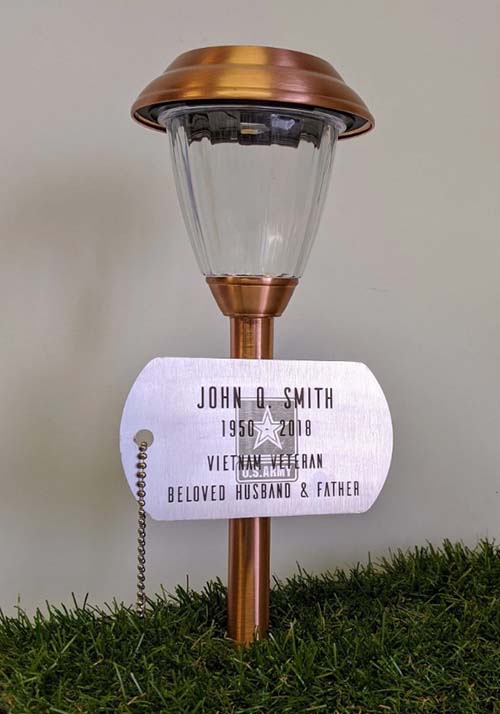 This personalized armed forces solar light is handmade of steel and will instantly light up your garden path or cemetery plot.
Shiny and sturdy, it will withstand weather and bring joy and light for years to come, all while memorializing your fallen soldier. The copper really stands out against the beautiful customized plaque and glasswork.
13. Forever in My Heart – Photo Bracelet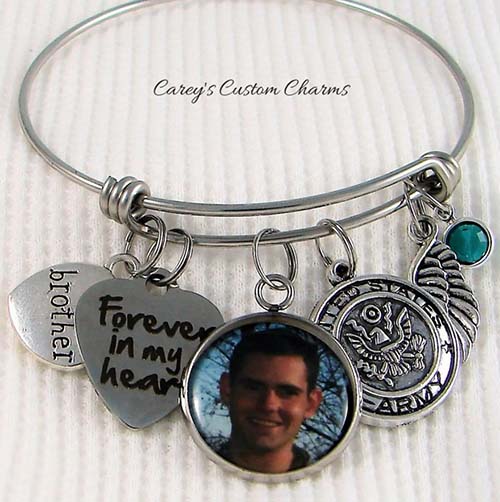 This charm bracelet makes a lovely gift for a grieving daughter or widow, or to give to each female member of the family. The charms perfectly depict your thoughts and heartfelt sentiments, and the photo of your soldier makes it all the more personal.
The bangle is hypoallergenic and expands to fit any size. The bracelet comes with angel wings, a birthstone, a photograph, and a US Army pendant.
14. Freedom Isn't Free Garden Stake
This stunning silhouette of a kneeling soldier will transform your front yard into a patriotic place in memory of your beloved. Remind everyone who sees it that our freedom – while so often taken for granted – really isn't free at all.
This sturdy garden stake will weather all of the storms that life throws it way, and do so with both style and sophistication. It's handmade of steel, and you can choose a female or male soldier to be pictured.
15. U.S. Army Angel Wings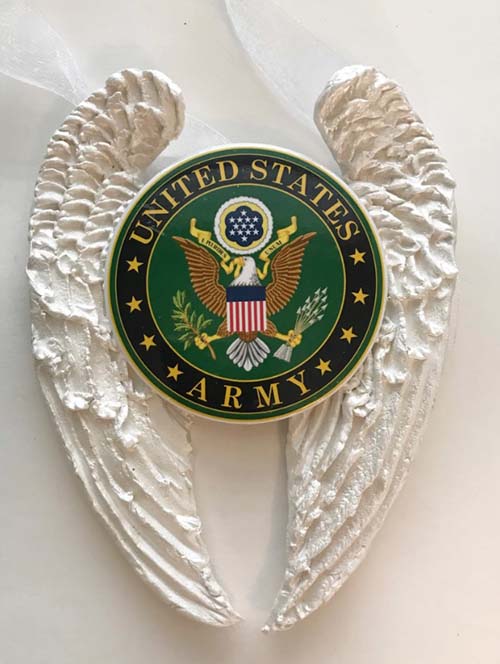 Honor your country and your departed soldier with a personalized pair of Army angel wings!
Each one is done completely by hand (no mold used), so your's is absolutely guaranteed to be one-of-a-kind and will stand out in a crowd. The pearl finish makes this medallion/ornament even more special, and it comes with a ribbon for hanging.
Navy Memorial Gifts
16. Navy Footlocker Memorial Gift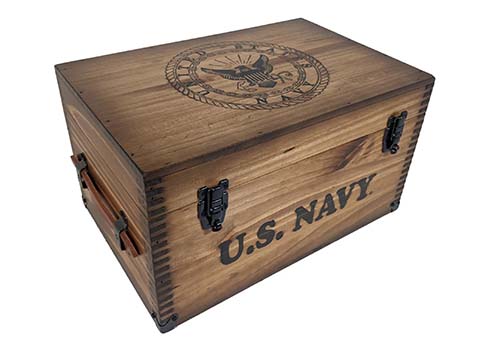 Here's a beautiful footlocker box that has a rustic vibe to it. The old-fashioned design looks timeless and tough, and does so while keeping your special keepsakes safe from the elements, dust, and the danger of just getting misplaced.
You can keep medals, paperwork, photographs, and anything else you like in this stunning piece of art that is handcrafted and made in the USA.
17. Memorial Photo Windchime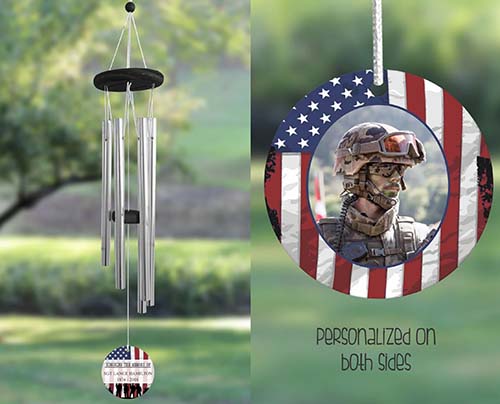 This windchime is stunning enough on its own, but once you add in the personalized touches (on both sides) you have a truly unique and special piece of art.
Each time the breeze wafts by you'll be reminded of your Navy soldier – almost as though he or she were right there next to you. We think that's pretty special.
18. Personalized Navy & Cross Yard Sign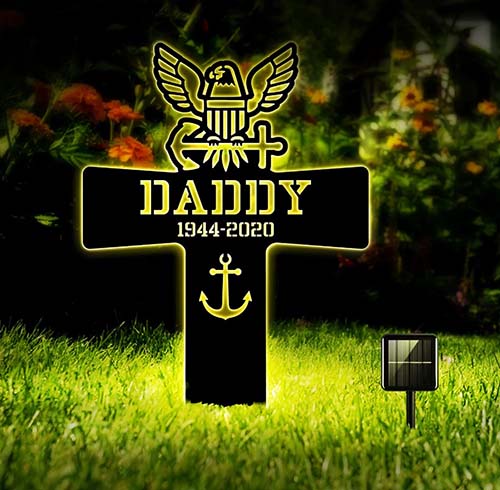 This custom Navy and cross yard sign is solar powered and weather resistant, making it perfect for the front yard.
You can customize it however you like, tailored just how you want it to celebrate their memory. Available in a wide variety of sizes so you can order others for family members as well.
19. Engraved Memorial Docking Station
This docking station is engraved with your soldier's information and will instantly transform your office desk. It holds everything all in one convenient place: from your phone to your keys, wristwatch, office supplies, pens, and wallets.
It's a memorial idea that will be in your day-to-day life that is functional and practical while also being sentimental and sweet.
20. In Loving Memory Metal Sympathy Sign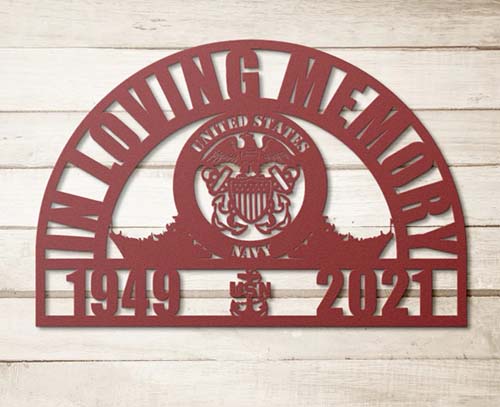 This beautiful powder-coated metal sign is just the thing to add to your memorial service, bookshelf, or family photo wall. You'll think of your Navy soldier each time you see it, and it is available in five different color options (black, red, white, copper, silver).
Air Force Bereavement Gifts
21. Custom Memorial Air Force Bracelet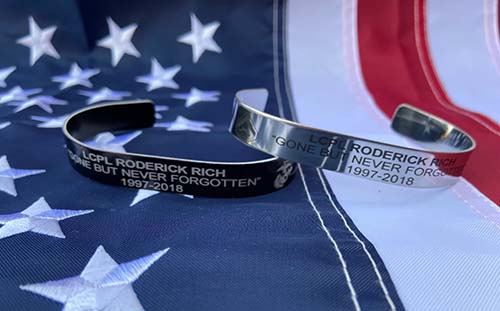 This custom memorial Air Force bracelet is unisex yet will stand out in a crowd. The perfect accessory for any outfit, each time you find yourself glancing down at your wrist you'll think of your soldier and the joy they brought into your life in their short time here on earth.
The bracelets come in seven different colors, and they're inexpensive enough that you could purchase one for each sibling.
22. Military Memory Bear
A custom handcrafted bear is a one-of-a-kind memorial that will be treasured by adults and children alike.
Dressed to serve his country, Mr. Bear is strong, cuddly, soft, and made to withstand hugs and squeezes – just like your Air Force soldier was in life. He is customized with your soldier's name and rank (for no extra charge).
23. Air Force Memorial Urn Necklace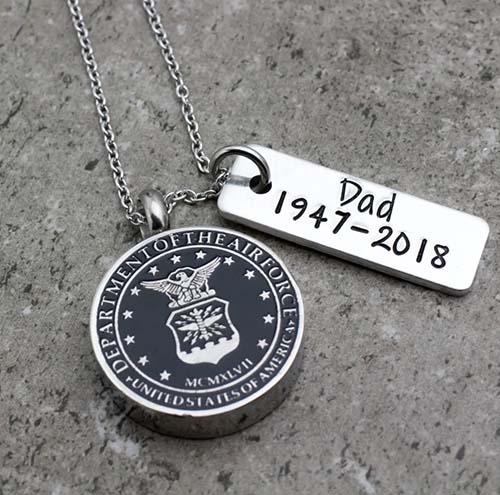 This handmade pendant is gorgeous all on its own, but once you realize you can add a bit of your soldier's ashes inside to keep him/her near always, you will treasure this necklace forever.
Made of stainless steel, it has your loved one's information stamped right on it – just the way their memory is stamped on your heart for life.
24. Custom Air Force Angel Caller Hanger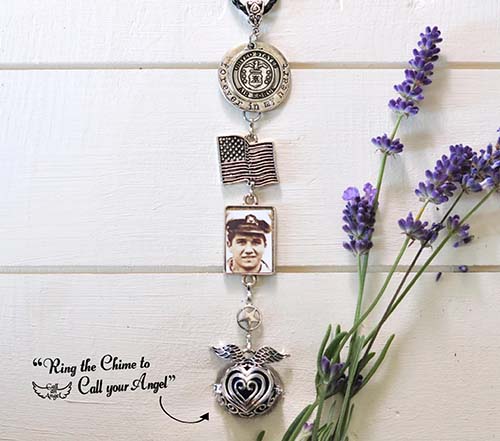 For a real standout, choose this little hanging charm set. Customized with your Air Force soldier's information (including their photograph), it will look pretty dangling from your car rearview mirror, a window at home, or dangling from your Christmas tree.
Legend has it that when the chime sounds, it's "calling" an angel to you. We all know who that angel will be!
25. Custom Name Tape Ornament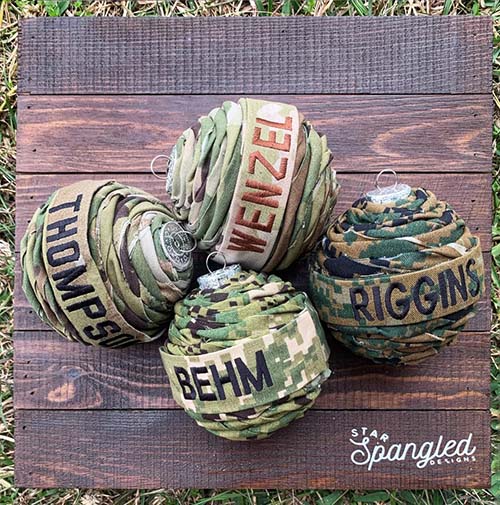 Show your military support and remember your loved one all at once, with this custom name tape ornament.
Christmas and other holidays can be so difficult when you've lost someone, but these ornaments will make you smile each time you unwrap them in December.
More: 35 Beautiful Christmas Memorial Ornaments
Marines Memorial Gifts
26. Marine Corps "In Loving Memory" Candle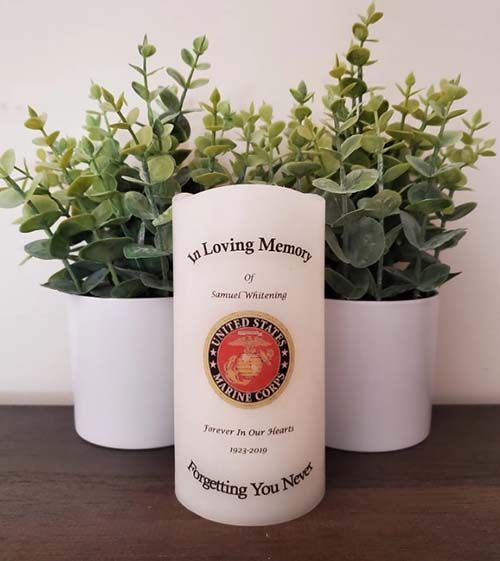 This uniquely custom "In Loving Memory" candle might be too good looking to light. It will blend in perfectly with all of your other Marine Corp decorations and memorabilia, making it a flawless addition to your living room, or the lobby where you hold the service.
27. Personalized Memorial Bracelet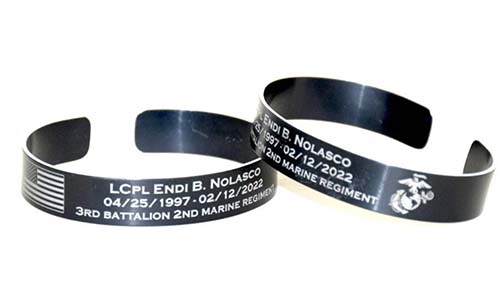 This aluminum laser engraved memorial bracelet really catches the eye. Not only is it smooth and shiny, but it has all the right words after you customize it with your loved one's name and date(s).
Unisex in style, these are perfect for passing out to family and friends after the loss of a military service member.
28. Custom Garden Marines Memorial Stone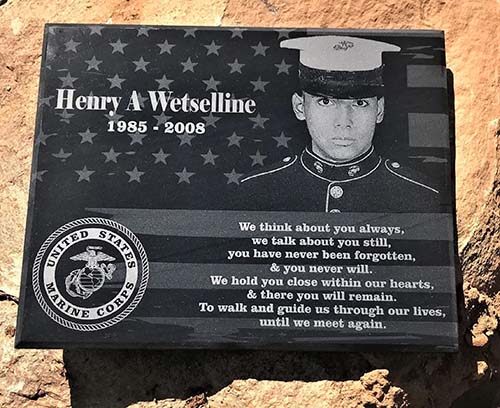 Handmade of marble, the custom garden memorial stone is one memorial gift that will last a lifetime. Sure to awe everyone who sees it, it's fully customized with your Marine soldier's name, date, and photograph.
This will make a stunning addition to your garden path, walkway, or porch. Available in a wide variety of sizes, and you can even add in a personalized quote, expression, or mantra.
29. Military Memorial Garden Flag
This garden flag is an easy way to show your patriotism and love for your country. Flying high (hopefully right near Old Glory), this flag will wave proudly. Unique and durable for years to come, even in the harshest climates!
30. Engraved 3D Photo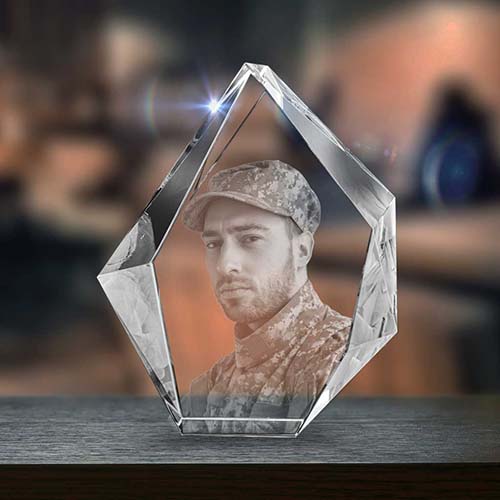 This 3D photo "frame" is engraved with your favorite photograph and is a real stunner. It will surely hold the place of honor on your shelf or desk, and will get many compliments.
The artists work with you to choose the best size and shape, until your final product is just right and you're fully satisfied. You can pick the font as well, and even add an LED light!
Coast Guard Memorial Gifts
31. Personalized Coast Guard Shadow Box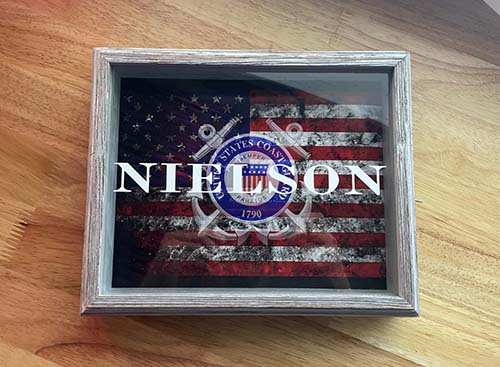 This shadow box can be wall-mounted or simply placed on your nightstand. Wherever you decide to put it, get ready for lots of compliments and queries on where you found such a treasure. It's personalized with your soldier's last name and is the perfect spot to keep safe their treasure memories.
32. Coast Guard Keepsake Footlocker Box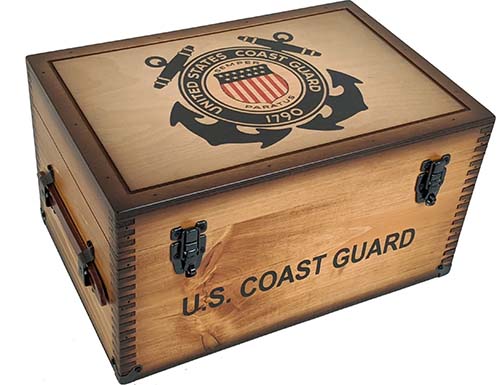 This Coast Guard keepsake footlocker box is rustic, yet sturdy and strong. It will hold all of your soldier's photos, paperwork, memorabilia, and the like, all in a safe place, free of dust and other damage from the elements.
There's nothing worse than forgetting where you placed his or her medals, letters, or treasures, so keep them safe and secure with this special box.
33. U.S. Coast Guard Memorial Photo Plaque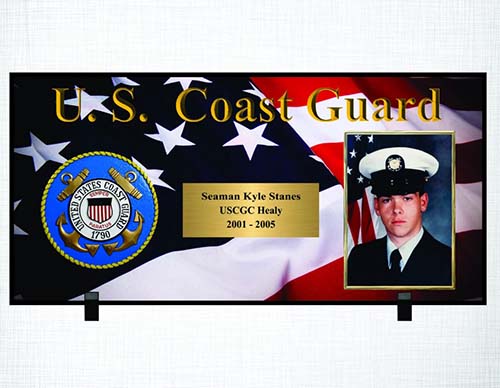 This US Coast Guard memorial photo plaque is vibrant in glossy color. Larger than life with its bright hues, it will memorialize your soldier in every way, making you smile each time you pass by it.
Each plaque has its own built-in hanger for easy wall mounting, or you can set it on a bookshelf or desk.
34. Nautical Memorial Painting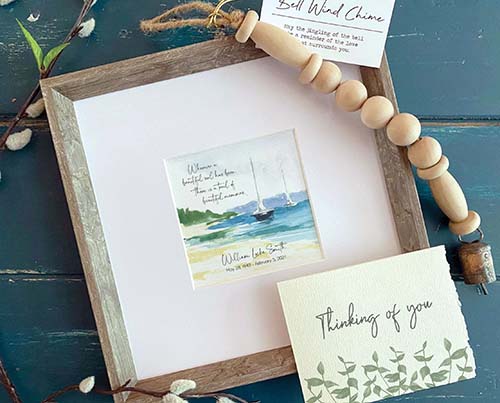 This beautiful painting is so soothing and calming to the troubled soul. It will bring a sense of closure and peace each time you look at it.
When your Coast Guard loved one was near the water, they were at home, and we love this gentle reminder of the goodness of earth and all it holds.
35. Memorial Photo Yard Flag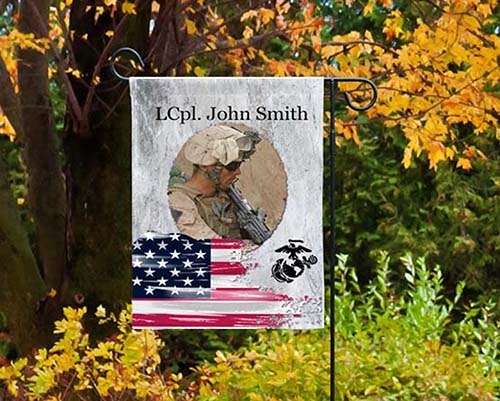 This isn't just any yard flag – no, this one is customized and personalized, a tribute to your one and only.
As the perfect addition to an outdoor funeral service, or even just flying proudly in your garden, this flag tells all who sees it the price of freedom and what your special someone did to pay it.
Related: How to Plan a Military Veteran Funeral Service
Pin It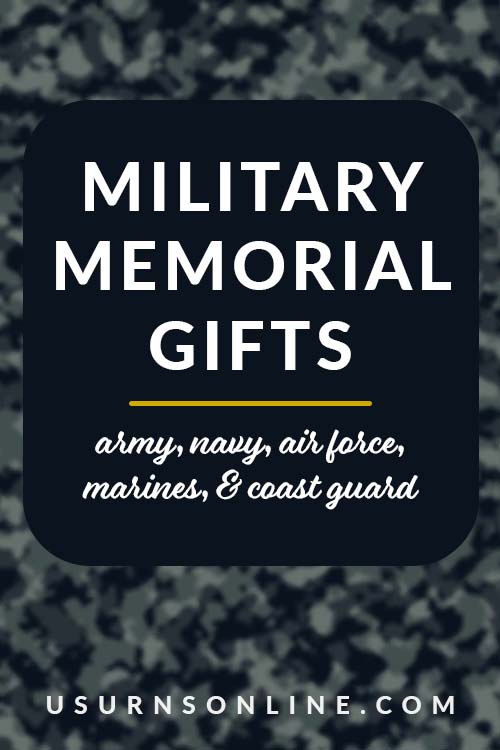 Melyssa Williams is the author of four novels and a collection of short stories.
An accomplished professional writer, having been on staff for magazines and online publications such as Mary Jane's Farm, Home Educating Family, and All Gifts Considered, Melyssa is known for being able to write about even the most traumatic and serious topics with sensitive humor and wit.
Melyssa resides in Southern Oregon with her husband, kids, and her noble sausage dog, Tripp. Learn more (and read more of her work) at MelyssaWilliams.com.