It's hard to come up with gift ideas at the best of times.* It's even harder to come up with gift ideas at the darkest times.
We have put together a list of memorial gifts to help you comfort a friend in need.
You will find something in here to suit your purpose. We'll start with ten of our favorites, then move into specific memorial gifts for loss of mother, father, and other important relationships.
*Truth. That's actually why this site exists.
Best 10 Memorial Gifts
Our website is supported by our users. We sometimes earn a commission when you click through the affiliate links on our website. Learn more here.
1. In Loving Memory Portrait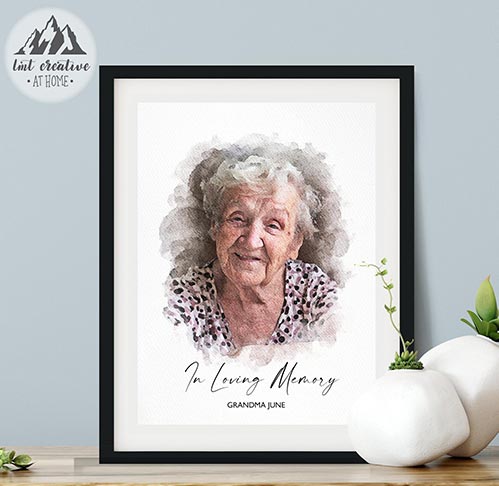 This handmade memorial portrait is a wonderful way to immortalize your loved one! You can add your loved one's name and dates.
The artist takes the photo you want memorialized and converts it into an elegant and timeless watercolor style. You can have this portrait delivered through a digital download or as the actual printed portrait. Choose from six sizes, framed or unframed.
2. On Angels Wings Memorial Gift Garden Stone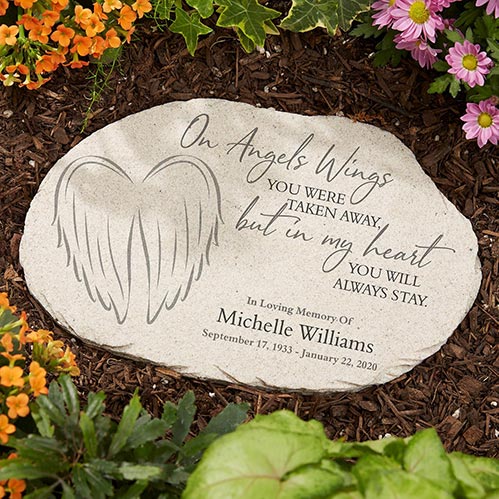 Remember your loved one on this handmade polyresin garden stone. This personalized stone is an excellent addition to a walkway, flowerbed, or garden.
The stone lays flat on the ground and measures 7.5″ L x 12″ W x 0.5″ H.
3. When God Sends a Cardinal Memorial Bird Feeder
This precious message reminds us that our loved ones are never really gone! They visit us from time to time.
This bird feeder is crafted using aromatic cedar wood. A great gift for anyone who loves nature and enjoys bird watching.
Add your loved one's name and dates. Individually handmade in Oregon, this bird feeder memorial measures 7″ L x 4.75″ W x 10.5″ H and holds plenty of bird seed.
Read about the phrase here: "When a Cardinal Appears" Quote History, Meaning, & Variations
4. Sympathy Flowers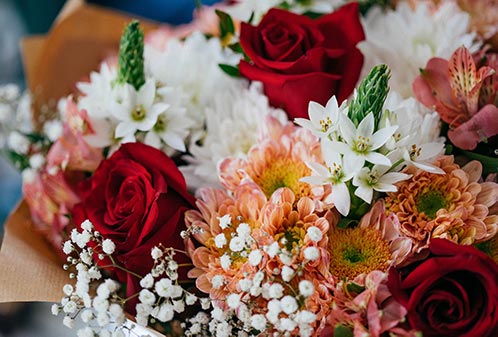 Flowers are a traditional way to memorialize a loved one. Flowers and their associated colors can convey your heartfelt feelings.
Let your friends and family know you are thinking of them by sending a beautiful arrangement to the funeral or the family's home. Here's what each type of flower means.
More: Funeral Flower Etiquette, Messages, and When to Send
5. Sympathy Cookie Bouquet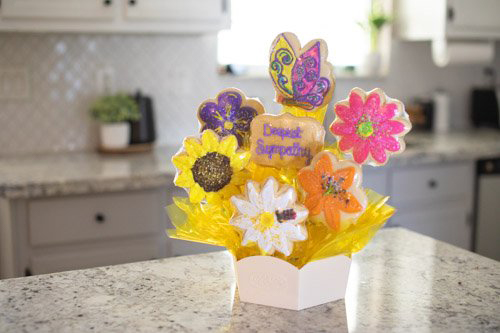 This is an edible "floral arrangement" of hand-decorated sympathy cookies. These cookies are a sweet treat that is designed as a delightful tribute to a special life.
Let the family know you are keeping them in your thoughts through this difficult time.
Related: Here's what to send (instead of funeral flowers) when someone dies
6. Memorial Gift Candle Votive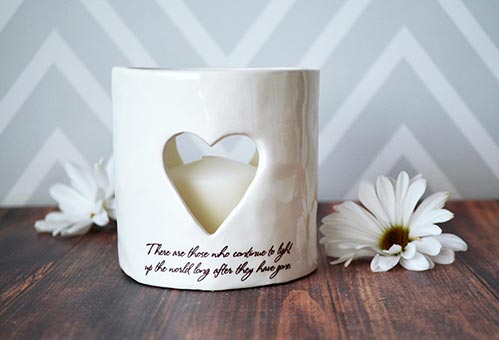 This is a lovely, white ceramic votive holder. Keep your loved one's light shining with this memorial gift.
Add your loved one's name and dates to make it an exceptional gift. The holder measures 3¾" in diameter by 4″ tall.
7. Thinking of You Care Package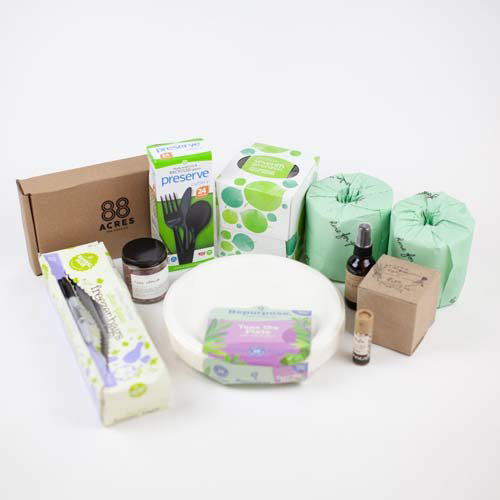 What a practical idea! Send your friends or family this care package to help them with all of the unexpected company at this time.
Anyone would appreciate this thoughtful gift, which was designed and curated by someone who has been through this and knows exactly what a grieving family needs.
Read our review and unboxing here.
8. You Left Paw Prints in Our Hearts Pet Memorial Gift
Our pets are a significant part of our family and our lives. Let's not forget to honor these special angels.
This sweet keepsake frame is a sentimental way to let someone know you are thinking of them as they grieve the loss of their furbaby.
Related: What to Do When Someone Loses a Pet
9. Prayer Jars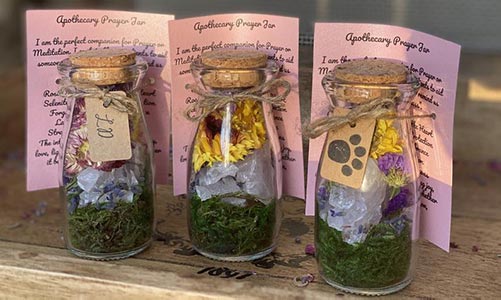 These Apothecary Jars can be the perfect gift for someone who is grieving. They are a comfort to hold when you are sad.
The creator of these jars uses Rose Quartz to heal the heart, Selenite for purification and protection, Forget Me Not for remembrance, Lavender representing love and devotion, and Strawflower for the changing seasons.
It's medicine for the soul.
10. In Loving Memory Personalized Tumbler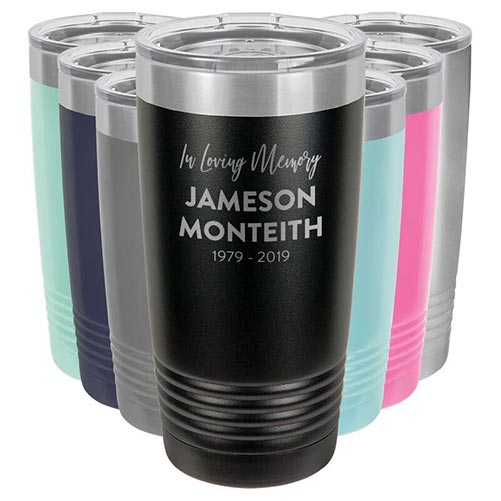 This is a custom engraved memorial tumbler. It is a beautiful tribute to honor the memory of a loved one.
Add your loved one's name and dates to this Polar Camel tumbler.
Keep your drinks piping hot or icy cold. You can pick from stainless steel along with six vinyl-wrapped colors: black, gray, dark blue, light blue, pink, or teal; and four sizes.
More Creative Ideas: 5 Ways You Can Plant a Tree in Memory of a Loved One
Memorial Gifts for Loss of Father
this man
shall be remembered.

Frederick Douglass // See more memorial quotes for fathers
1. Raise a Glass in Memory Bottle Opener
You will personalize your home bar and honor a loved one at the same time. This memorial gift is hand-crafted from solid walnut and maple wood in the USA.
Add Dad's name and dates and "raise a glass" in his name!
Wooden decorative plaque measures 8-3/4″ b 5-1/4″ and 1″ deep.
2. Penny from Heaven Keychain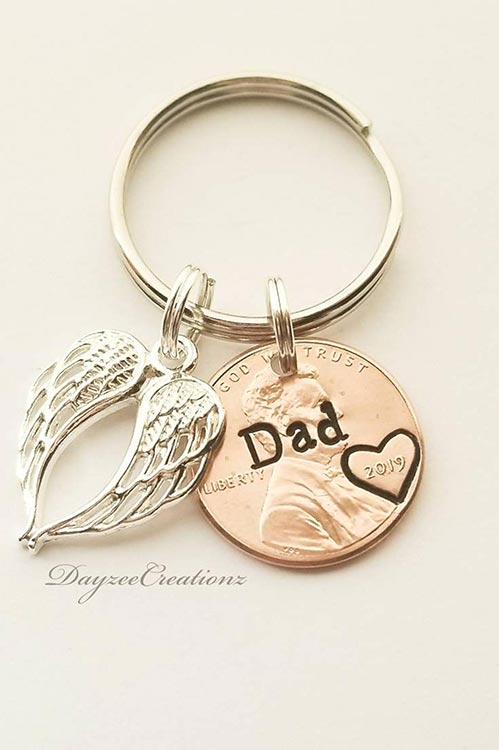 Here's a unique tribute to Dad. This is a custom lucky penny from heaven keychain with a pair of angel wings. You can personalize by choosing the year of death, which will be the date of the penny's production.
It's a lovely way to "treasure" your loved one and keep their memory with you at all times.
3. "Those We Love Don't Go Away" Memorial Ornament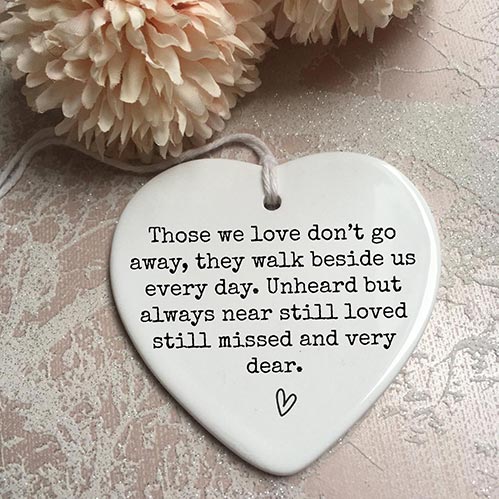 This handmade memorial heart is a sweet way to commemorate your loved one.
Great to hang on your Christmas tree, in a window, or on a mirror. The heart measures 2.75 inches.
Do you like the idea of memorial ornaments? Here are 35 beautiful Christmas memorial ornaments that you will love. These can be put on the tree during the holiday season, then placed in other special locations throughout the rest of the year.
4. Fisherman Bird Feeder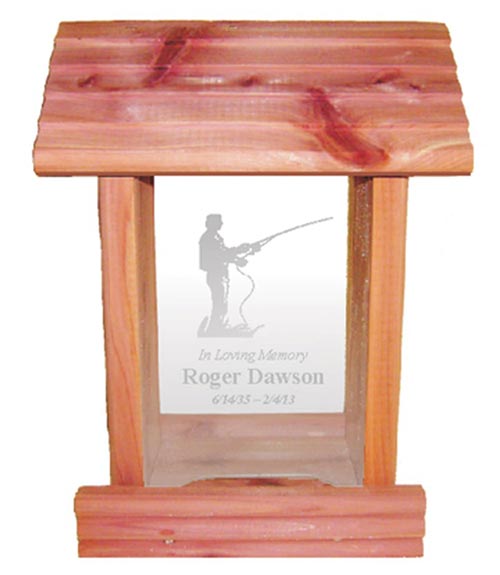 This custom engraved bird feeder is a great way to honor that outdoorsman! It's a memorial gift will give hours of peaceful pleasure and bring back some wonderful memories. Includes a personalized inscription of your Dad's name and dates.
Made from solid cedar and measuring 7″ x 4-3/4″ x 10-1/2″, this bird feeder will last for years and years. See the Fisherman design along with many more themes here.
5. Memorial Photo Frame
A beautiful and comforting gift for someone that is missing someone dear.
The left frame holds a sentimental poem in a red rose design; the right frame will hold a 4″ X 6″ photo. This brushed silver metal frame measures 7″ x 10″ and is a perfect complement to any decor.
6. Finger Print Necklace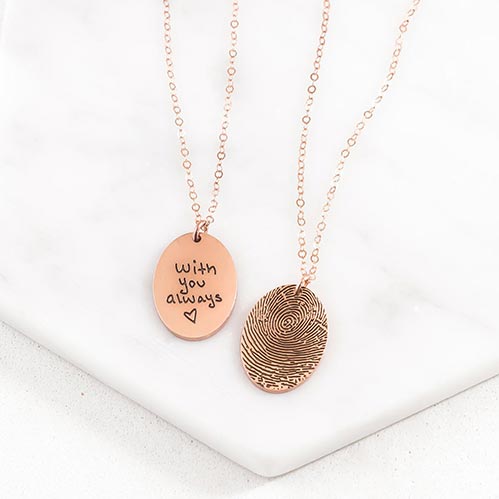 This fingerprint necklace is a fantastic way to keep your loved one close to your heart.
Have a fingerprint on one side and a message on the other side; you can choose from gold, rose gold, silver, or white gold. The pendant measures 1″. All items are custom-made at the time you place your order.
7. You Are My Today & All of My Tomorrows Memorial Plaque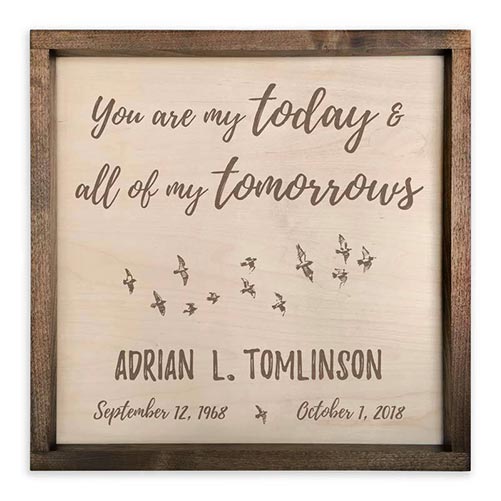 This plaque is the perfect way to express the love that you shared. Our memorial plaque is custom-made in Oregon using premium wood and personalized with your loved one's name and dates.
This is a great way to commemorate your loved one and is a nice addition to any room.
8. In Loving Memory Personalized Memorial Clock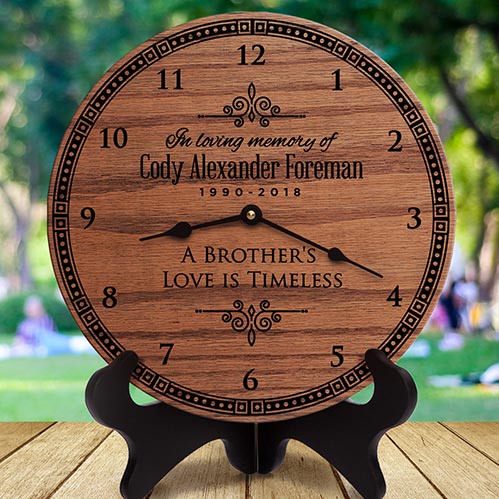 This handmade memorial clock is a wonderful way to pay tribute to your loved one.
You can have your loved one's names and dates engraved on this solid oak timepiece. This would be a handsome addition to your office or den!
Choose from three sizes and personalize to honor your dad.
9. Through the Strongest Storms… Wind Chime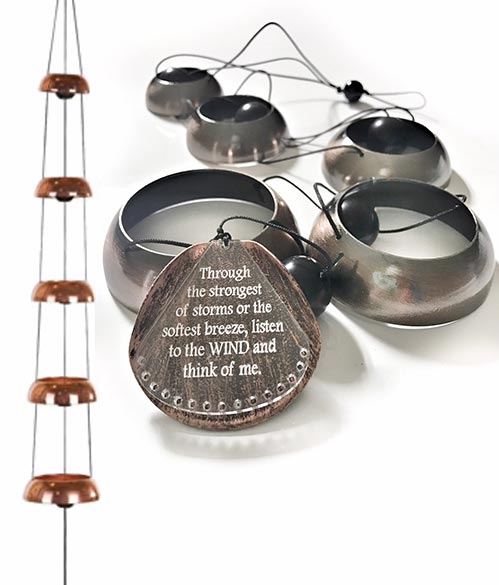 These wind chimes offer a calming tone to soothe your soul. Every time the wind blows, and you hear the chime, you will think of your loved one.
Hand-made from wood and copper, these chimes come in two sizes and will sing out in memory for years to come.
10. Family Memorial Photo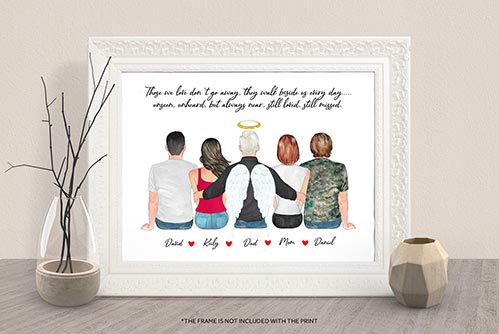 You can have a family portrait made with your angelic loved one included. This portrait will bring comfort, reminding you that someone is waiting.
This print is highly customizable and comes in eight sizes.
You can choose from a digital download or a fine art paper print.
Related: Creative Memorial Gift Ideas
Memorial Gifts for Loss of Mother
A mother's love is unlike any other: It lasts forever.

Anonymous // See more memorial quotes for mothers
1. Remembrance Angel Mother Memorial Gift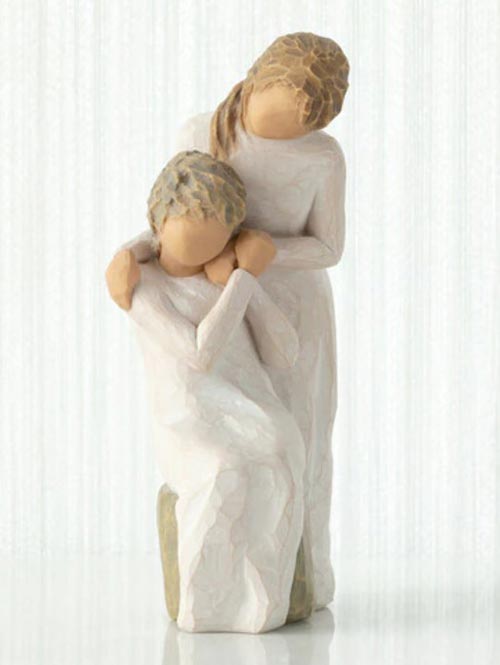 This touching resin statue represents a mother and her adult daughter—such a comforting way to memorialize this beautiful relationship.
The 6.5″ tall figure is modeled from an original work by Susan Lordi and is hand-painted.
Related: The Very Best Willow Tree Sympathy Gifts
2. Angel Wing Bracelet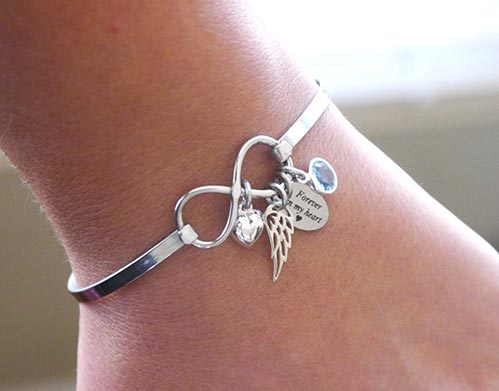 This stylish infinity bracelet is a sweet way to keep your loved one near.
You can add your loved one's birthstone to the other charms on this 7″ stainless steel bangle.
With six inscriptions to pick from, you are sure to find one that is perfect for you.
3. In Loving Memory of… Cutting Board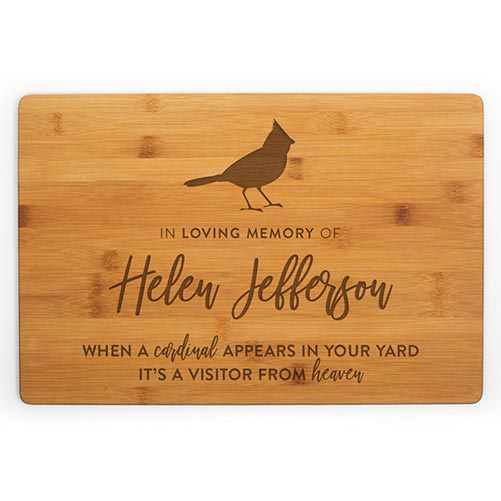 Our cutting board is designed with a cardinal, a reminder of your loved one. Add your beloved's name, and make this is a genuinely heartwarming gift. It is sure to be used for years to come.
If you would like a cutting board with a more personal touch, this personalized handwritten recipe cutting board is a precious way to memorialize a beloved's handwriting and famous recipe. Simply scan, or take a high-quality photo, of a handwritten recipe and professionals will etch it onto the bamboo cutting board.
Both of these cutting boards is made from solid bamboo and measures 18″ x 12″.
4. Those We Love Don't Go Away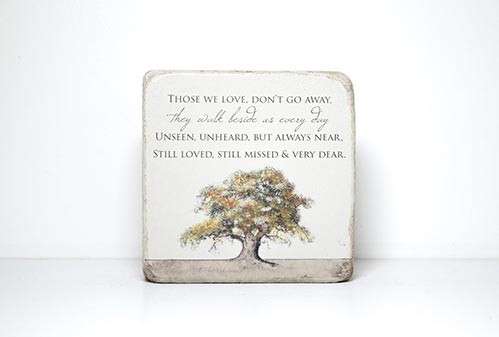 This beautifully handcrafted memorial stone can be placed indoors or outdoors. This is a gift that will always be cherished and will last a lifetime.
This 6″x6″ tumbled concrete stone is 2″ thick and weighs approximately 6 pounds.
5. Cardinal Pillow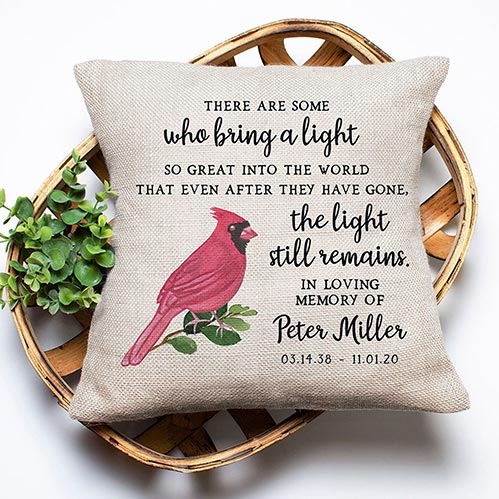 This delightful cardinal pillow cover is hand-made from linen. You can add your loved one's name and dates to this cover, and they will never be too far away.
The pillow cover measures 14″ X 14″.
6. Engraved Bamboo Coasters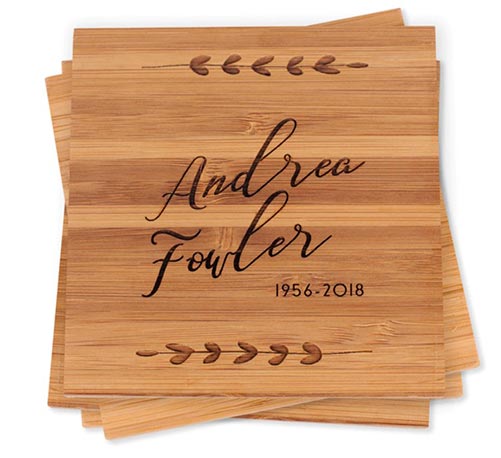 Our bamboo coaster set is a nice way to memorialize your loved one. This set makes a thoughtful sympathy gift with the addition of your loved one's name and dates.
This set of coasters measures approximately 3-3/4″ square by 3/8″ thick.
7. Sympathy Bracelet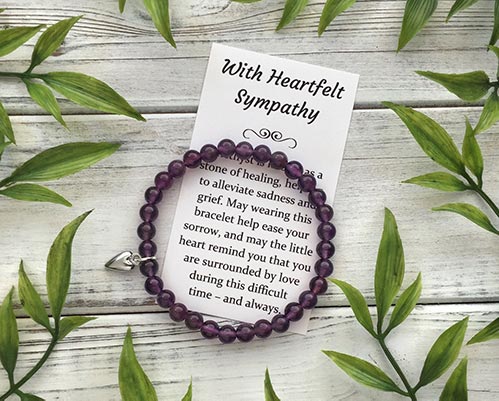 This simple but elegant bracelet is the perfect sympathy gift. The amethyst gemstone is known for healing, also helping to alleviate sadness and grief.
This is a hand-made 7" bracelet with 6mm purple amethyst beads.
8. Feather Sympathy Ornament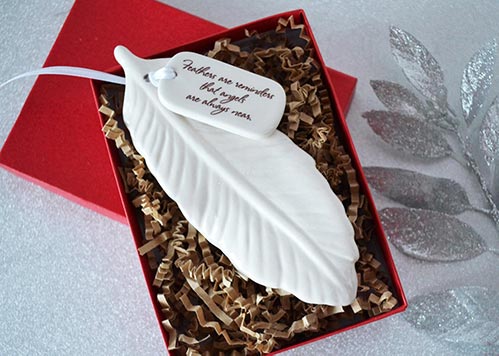 This pretty feather ornament is an ideal sympathy gift. You can display it on a Christmas tree, in your window, or on a mirror.
This hand-made ceramic feather is a beautiful reminder of your loved one.
The feather's measurements are 5 ¾" L X 2¼" W X ½" H.
9. Loving Memory of Mom Necklace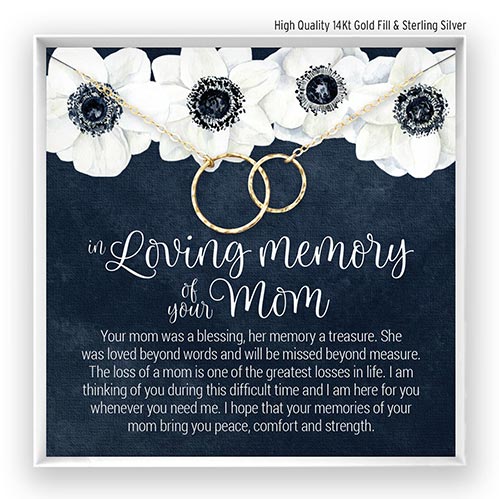 This is an elegant memorial to Mom and a gift that will be treasured for years to come. It is a piece that can be passed down through the family.
The linked infinity circle pendant represents an unbreakable bond between you and your mom. A special relationship that never ends.
10. Maple Heart Keepsake Box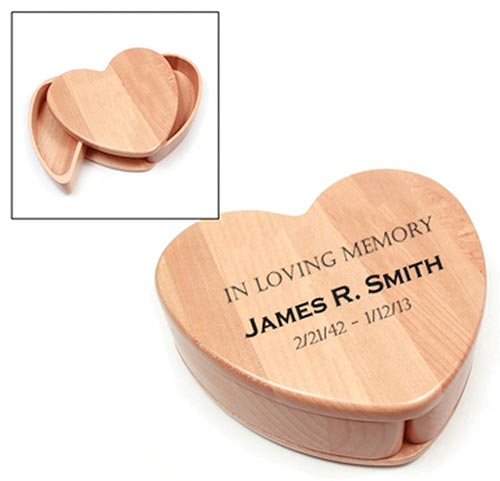 Our personalized heart keepsake box is made from solid maple. This box has two side trays for tiny treasures.
To make this gift extra special, have your loved one's name and dates laser engraved on the lid.
The dimensions are 6-1/4″ x 5-3/4″ x 2″.
More Ideas: 10 Beautiful Sympathy Gifts for Loss of Mother
Memorial Gifts for Loss of Spouse
If ever two were one, then surely we.
If ever man were loved by wife, then thee.
If every wife was happy with a man,
Compare with me ye women if you can.

Anne Bradstreet // See more memorial quotes for couples
1. Memory Box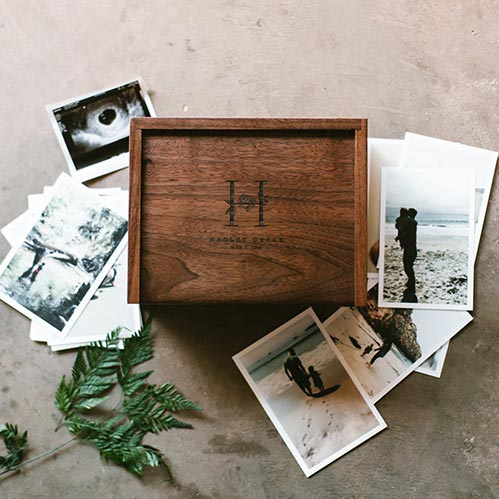 This is a hand-made black walnut memory box. Finally, a perfect place to keep those treasures safe! Never misplace another memory.
Three sizes to choose from, along with the personalized text.
2. Diamonds from Ashes

Beauty for ashes. Take your loved one's cremated remains and have them made into a spectacular gem. Diamonds represent love and eternity, just like your love for each other.
Turning your loved one's cremated remains into a diamond is a meaningful way to honor and celebrate your special relationship.
3. Angel Candle Holder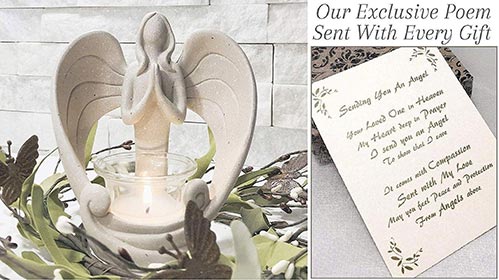 Express your condolences with this handmade angel statue. This is a sympathy gift that will be treasured for years.
Made of polyresin material with an ivory-colored finish, it comes with an LED candle.
The angel measures 5″ tall.
4. Robin in Your Pocket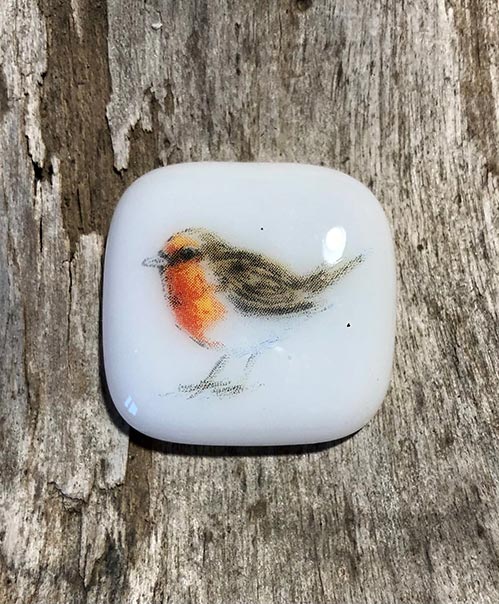 This handmade pocket charm is adorable. "Robins appear when angels are near" – so keep this token close.
The glass token measures approximately 1″ square.
5. Personalized Celtic Cross Memorial Bird Feeder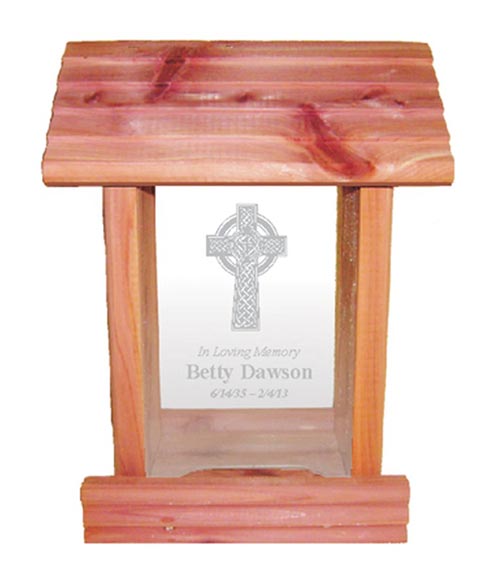 Our attractive bird feeder is a great memorial for your bird lover. This feeder is made from aromatic cedarwood and will last for seasons to come. You will enjoy hours of bird watching.
The acrylic front panel is laser engraved with a Celtic Cross; you will add your loved one's name and dates.
More ideas for couples:
Loss of Sibling Sympathy Gifts
There are some who bring a light so great to the world that even after they have gone the light remains.

Anonymous // See more sibling memorial quotes
1. Hug in a Box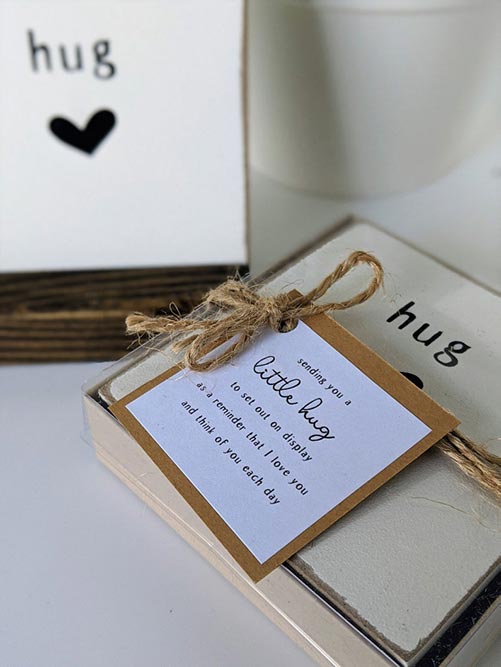 This is a cute sympathy gift offering a "Hug" when it is most needed. Let them know you are thinking of them and loving them even if you can't be there.
The "Little Hug" is handmade from wood and measures 3.75″ H X 3.5″ W.
2. Garden Stone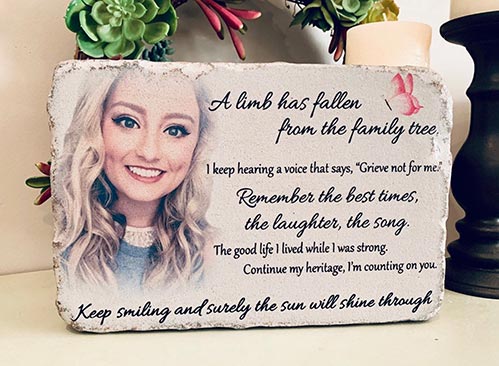 A garden stone is a wonderful way to commemorate a loved one. This hand-made memorial can be displayed indoors or outdoors. You can set this in a walkway, a garden, flower bed, or even at the gravesite.
This is a heavy concrete stone that has been weatherproofed. It is sure to last a lifetime.
3. Memorial Keychain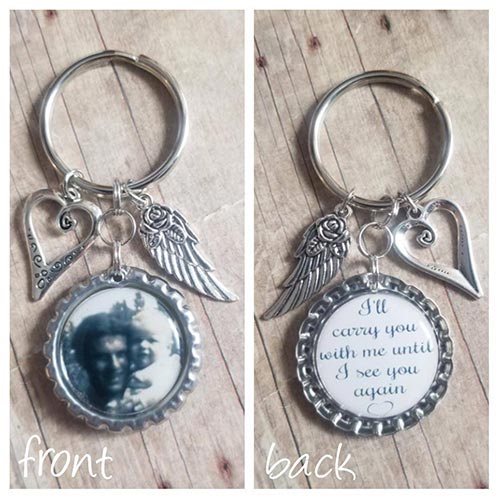 This hand-made memorial keychain is the perfect size to slip in your pocket or purse.
Custom made from the photo you provide. A beautiful way to keep your loved one with you.
The key chain measures about 3″ in length.
4. 3D Photo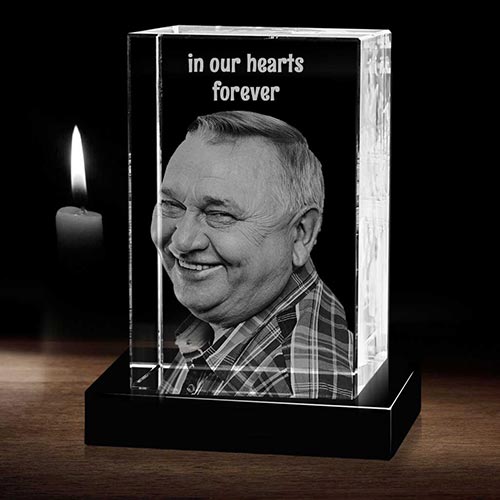 This is a 3D photo sculpture that will be treasured forever. A 3D photo will bring a smile to the recipient's face. This is a beautiful reminder of a love that was shared between siblings.
There are so many styles to choose from; you are sure to find something perfect.
5. Picture Hanging Board
Keep the photos of your loved ones within easy reach. Display your memories in any room, on any wall. This photo board will suit just about any décor.
It's unique because you can "personalize" it as much as you like with photos, cards, notes, and more. Consider printing smaller cards with the letters of the person's name to clip above each photo, spelling their name or putting together a sentence as you read across the clips. I'm sure you'll come up with some clever and creative ways to use this in memory of your beloved!
The hand-made photo hanging board comes ready to hang and measures 15.7″ wide by 6″ tall.
More memorial gifts for sibling loss:
Unique Memorial Gifts for Loss of Pets
You have left paw prints on our hearts
that will last a lifetime

Anonymous // See more pet memorial quotes here
1. Fur Blanket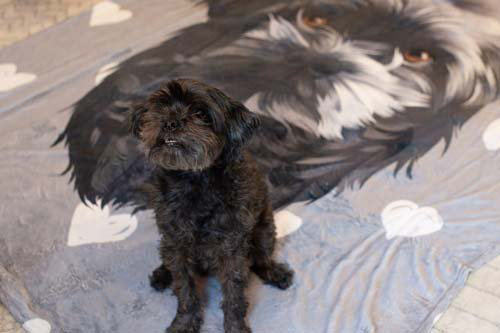 This is a precious way to remember that special pet. Wrap your loved one in a hug from their fur-baby.
A nice way to give your loved one some comfort and honor their best friend at the same time.
2. Hug in a Mug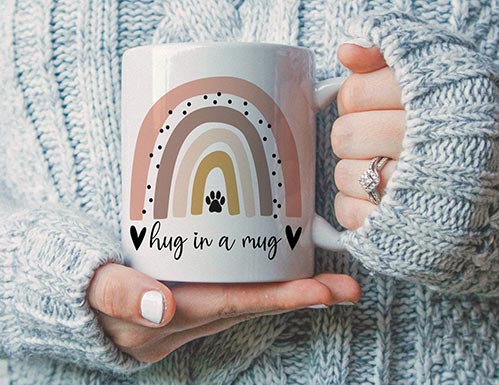 Send someone "A Hug In A Mug." A sweet sympathy gift for those days when nothing but a hug will do! You can add their fur-baby's name, and it is a perfect memorial.
This mug is sure to touch your loved one's heart.
3. Custom Engraved Pet Memorial Bottle Opener
Raise a glass in memory of your sweet furry companion.
This personalized bottle opener is a nice addition to the kitchen, den, or game room.
The bottle opener is hand-crafted from solid maple and walnut woods and measures 8-3/4″ H x 5-1/4″ W x 1″ Thick.
4. Trees for Pets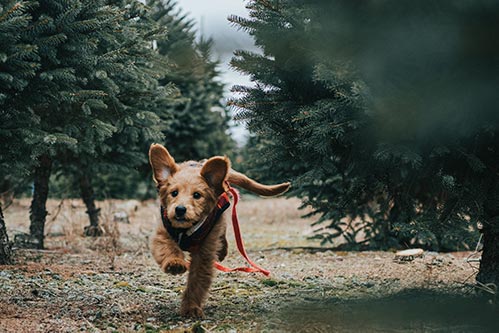 Plant a tree in memory of your beloved pet. Or plant a tree to comfort someone who has recently lost a pet.
By planting a tree, you will honor your pet's memory in a way that keeps giving year after year.
Your pet's tree will help to replenish America's forests. You will receive a card in honor of your pet to let you know where their tree has been planted.
To learn more about planting memorial trees, click here.
5. Always in Our Hearts Tray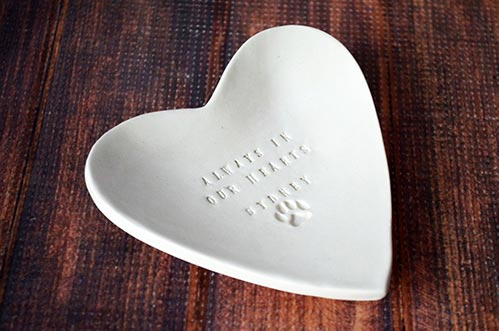 A meaningful pet sympathy gift. The text on the bowl reads, "Always in Our Hearts. Then it is personalized with your pet's name above a pawprint.
As an elegant place to set your rings and other treasures, you'll be reminded constantly of the love you shared. The bowl measures approximately 4 x 5 inches and, of course, is shaped like a heart.
Click here for more heartwarming pet memorial gifts.
Best Personalized Memorial Gifts
The best gifts are personalized. Here are some of our favorites.
1. Fingerprint Memorial Pocket Knife

This personalized fingerprint pocket knife is a premium stainless steel memorial gift. This is a good way to keep the memory of your loved one close by – always.
Your loved one's name and dates, along with their fingerprint, are engraved onto the folding buck knife.
Our pocket knife measures 3.75″L (closed) with a 2-5/8″ drop point blade.
2. Sending a Hug Candle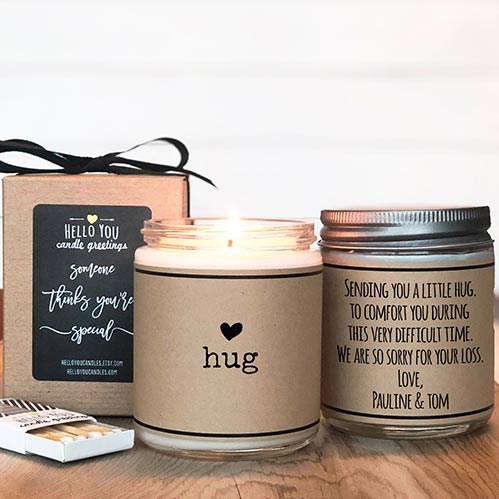 These soy candles make a very thoughtful sympathy gift! Let them know they are in your thoughts and prayers. Send them a hug.
Choose from two sizes; 40 to 70 hours of burn time.
3. Photo Cube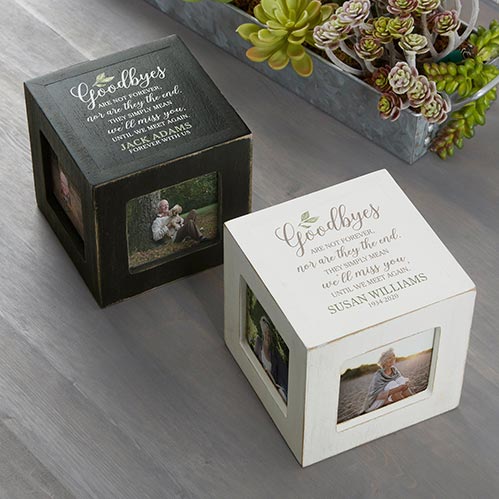 The Goodbye Memorial Personalized Photo Cube features a heartfelt poem and for photo openings. It's easy to display photos of your missed love one.
The photo cube measures 4.5″ square and holds four 3″ x 3″ photos.
4. Stained Glass Heart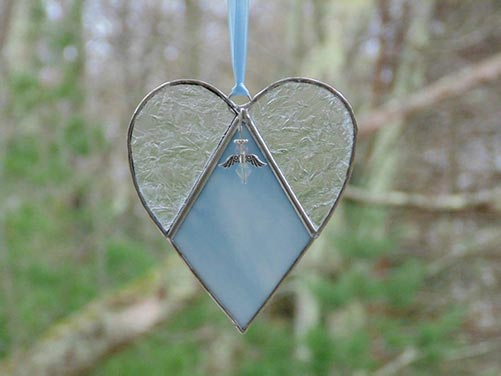 This is an elegant sympathy gift to memorialize a loved one. Hang this stained glass, heart suncatcher in a window, and be reminded of the love you shared.
Choose from three colors to represent your loved one.
This hand-made ornament measures 4 3/4″ H x 4 1/4″ W.
5. Photo Lantern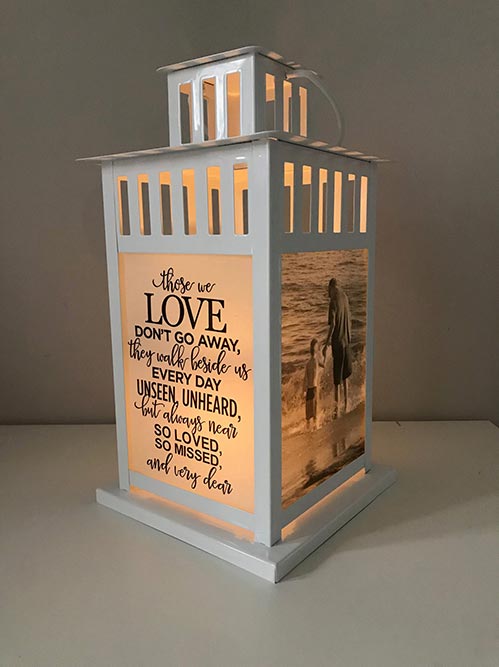 This photo memorial lantern is a lasting way to honor your lost loved one. It looks lovely on a table or hung on a hook.
This lantern is hand-made from metal and glass: two sizes and two colors to choose from.
I feel confident that you will be able to find the perfect sympathy gift from our extensive list.
Read Next: 50+ Creative Ways to Memorialize a Loved One
Pin It