Personalizing your loved one's gravesite is a wonderful way to celebrate their life. Although you are saddened by their passing, keeping their grave looking beautiful is one way to help work through your grief.
You may wonder how to decorate, what to set on the gravesite, when to change out décor, or why the cemetery may have policy is on decorating.
In this article, we will discuss all this and more. You'll learn how to decorate a grave in a way that lasts, plus you'll be inspired by all the creative ideas that are out there. You will also learn some tips for keeping your loved one's grave looking fresh and beautiful.
How to Decorate a Grave
Our website is supported by our users. We sometimes earn a commission when you click through the affiliate links on our website. See our privacy policy & disclosures for more information.
Step 1: Ask for the Cemetery's Policies
It's best to know the cemetery's policies before you invest any money into decorations. Some cemeteries prohibit all decorations. Some allow fresh flowers only.
Other cemeteries only allow decorations to be on the grave for a certain period of time, after which the maintenance crew will clean up and throw everything out. Still others allow just about anything reasonable.
Contact the cemetery sexton to find out their specific guidelines for graveside decorations. Be sure to ask why regarding any policies you don't understand – this will help you choose accents that endure and are appropriate for the look that the cemetery wants to cultivate.
Step 2: Research Memorial Ideas
You can look online and find some great grave decoration ideas. That's probably what brought you here – keep scrolling, we have lots of inspiration to come!
You can also visit cemeteries and see what other families are doing to decorate.
Step 3: Consider Real vs Artificial Flowers
Artificial flowers obviously last longer. You certainly get more bang for the buck. There's a reason why this is one of the most popular graveside decorations – they're affordable, last a very long time, and look elegant.
But, as always, check with the cemetery to find out if artificial flowers are allowed.
Step 4: Add Personalized Tributes
You can make your tribute very personalized. Let everyone know those "special" things about your loved one. Place handwritten notes, photographs, or even wind chimes and flags. We've included many personalized ideas below.
Step 5: Add Other Accents
You might want to add ribbons, a heart wreath, their favorite flowers, or maybe some beautiful coins or stones. Often, families like to leave something meaningful – a military challenge coin, a handful of sand from a beloved beach.
Step 6: Visit the Grave & Maintain Regularly
You can make sure the grave is kept up and looking its best by regular visits. Yes, the cemetery will keep it mowed and edged too. But it is up to you to keep the decorations well maintained.
You can also provide that extra, personal care that no grounds crew can. Pull weeds by hand and bring a pair of scissors to trim the grass extra-carefully around the headstone. Polish the plaque or clean out dirt from between the engraved letters on the headstone.
Be sure to bring a lightweight camping stool or travel chair to sit on.
Cemetery Grave Decoration Ideas
Now let's take a look at some fun and uplifting ideas to decorate your loved one's resting place.
What Can I Leave at a Grave?
We'll go through each of these in turn.
Cemetery Flowers
Flowers are always a good choice for cemetery décor. They look natural, are almost always permitted, and never go out of style.
1. Floral cemetery saddle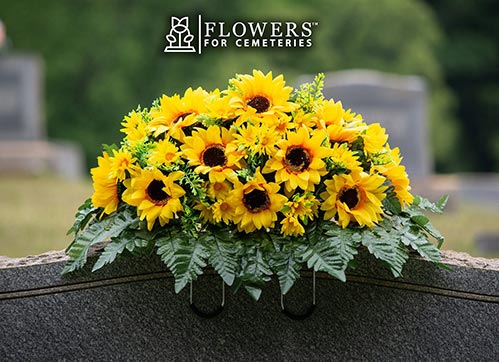 A cemetery saddle is a flower arrangement affixed to a metal "saddle," which has metal legs designed to stabilize it and keep it in place on top of the headstone.
This saddle flower arrangement decorates both the grave and the headstone. The sunflowers are silk and will last a long, long time.
Find more lovely cemetery saddles here.
2. Solar flowers that are visible all day and night
You can place solar flowers on a grave and switch them "on." They will light up every single night at dusk, having been powered by the sun during the daylight hours. This type of flower is beautiful during the day and even more lovely at night.
3. Personalized cemetery flower vase
Add a personal touch to your flower display with a customized graveside vase. It will include your loved one's name, "In loving memory" inscription, or any other text you like.
You can fill these simple, functional vases with fresh flowers or an artificial bouquet. They are designed with a spike on the end so you can place it anywhere near the grave.
4. Fresh flowers are classic and make great keepsakes
Fresh flowers always brighten up anything. Make a weekly visit to the gravesite with a fresh bouquet each time. It's a beautiful way to say, "I love you, and I am thinking of you."
You can also preserve old funeral and cemetery flowers in a wide variety of ways, using them in memorial scrapbooks and other keepsakes.
Related: The Complete Guide to Funeral Flowers
Solar Grave Decorations
Solar lights ensure that the gravesite is always bathed in light, from the sun by day and serenely glowing at night.
5. Solar flower lights
This set of floral garden lights is perfect for the grave because they serve as both artificial flowers and a nighttime light display.
6. Glowing, unique, and personalized tributes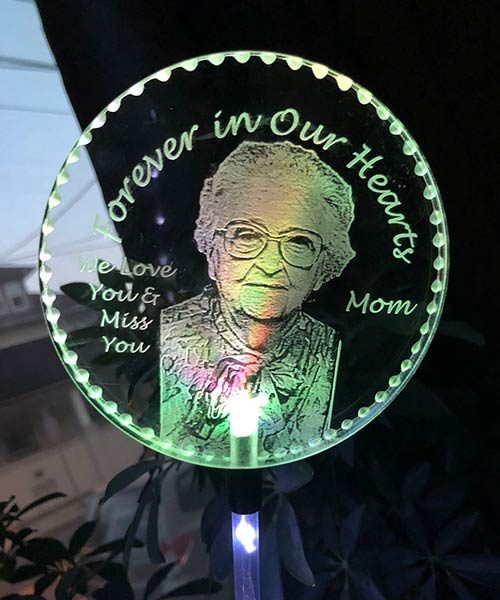 Display your loved one's portrait on a personalized solar-lit garden stake. It can easily be seen at any hour. An etched photo is an ideal memorial.
Other creative solar options:
7. Traditional solar lights
Of course, the most timeless and elegant option will be traditional solar garden lights. These come in many varieties, including flat lights that are flush against the ground, all types and styles of stake lighting, and spotlights to illuminate the headstone.
Memorial Candles
Use flameless candles or solar-powered ones in place of traditional candles.
8. Star angel tea light figurine
This star angel tea light figurine is a sweet symbol to place on a loved one's grave. Place a flameless tea light candle inside the figurine, and use real candles when you come to visit.
9. Memorial candle with a comforting message
Many candles can be personalized or feature a comforting "In Memory" quote. Here is one memorial candle with saying that can be seen day and night:
"Perhaps they are not stars in the sky, but rather openings where our loved ones shine down to let us know they are happy."
Place a flameless tea light inside the holder, and light it in honor of your beloved.
Related: 50 Best "In Loving Memory" Quotes
10. Personalized photo lantern with candle
Customize a lantern like this one with your loved one's photo, and place a flameless candle inside. You can hang the lantern on a garden hook, or simply place it on the headstone or monument.
Memories of our loved ones are cherished all the more once they are gone. Set this lantern on their grave to remind everyone of the memories you have shared.
Special Keepsakes
Personal mementos can add rich, deep meaning to the gravesite. Use your own keepsakes or be inspired by some of these ideas.
11. Personalized flower vase that will fit on both the gravesite and your home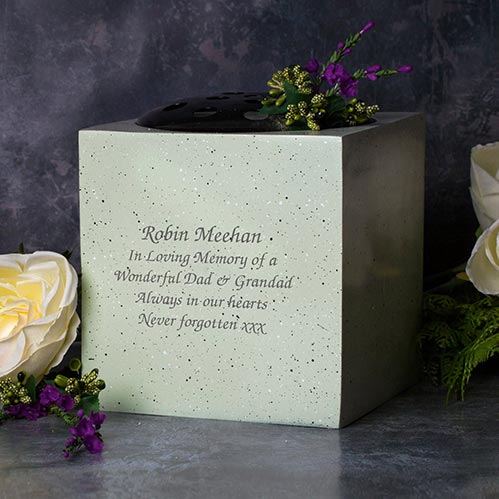 This stately personalized grave vase is a wonderful way to display fresh or artificial flowers. Made from resin, it will last through any weather and look great for years.
12. Mason jar lanterns with fairy lights
These unique solar-powered grave lanterns will fit your loved one's personality to a T. Fitted with a hanging metal handle, the solar cell lid collects the sun's rays during the day to keep the lantern aglow all through the night.
These creative lanterns make a nice addition to any decorations you place at the gravesite. Plus, you can get them personalized in a wide variety of themes.
13. Preserved funeral flowers in a decorative paperweight orb
Your loved one will always have fresh flowers at their gravesite with this beautifully preserved funeral flower keepsake. As heavy as a paperweight, the orb won't be blown away anytime soon.
Cemetery Flags
Small garden-style flags are another popular cemetery décor choice. Here are some lovely options to consider.
14. Personalized photo garden flag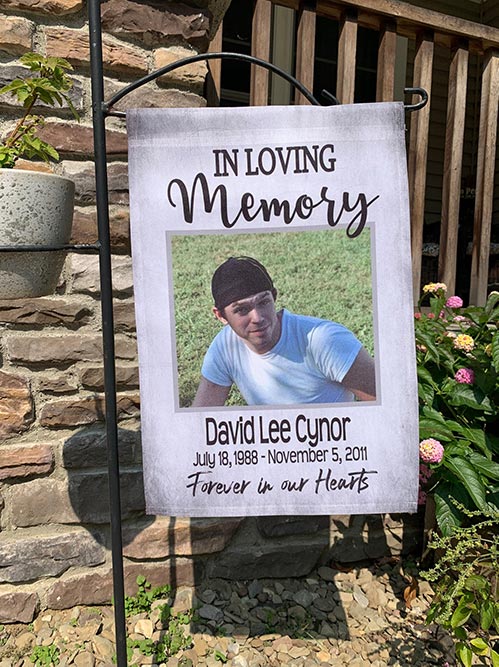 This memorial flag is a delightful way to commemorate your loved one. You can place this flag at the foot or the head of your loved one's grave. Add a picture and dates to make it all the more personal.
15. Garden flags
Garden flags can be a durable memorial in your loved one's honor. This is a great way to decorate a gravesite as there are so many options. You can affordably get different flags for each season, and each will last for quite some time.
16. Small American flags for a patriot
For the military veteran or patriotic citizen, line their grave with small American flags. You know the type – 4×6 inches, attached to a little wooden stick, these USA flags often appear in yards and walkways around July 4th and Memorial Day.
Memorial Art Decorations
Think outside the box with some artistic creations to honor your loved one.
17. Mark your pet's gravesite with a metal silhouette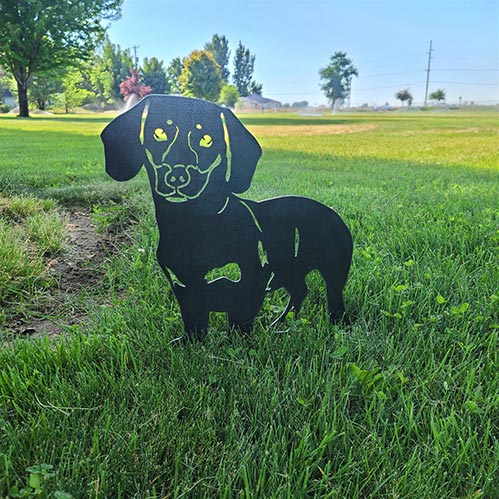 A metal cutout like this one is an extraordinary way to mark your beloved pet's grave.
As the corten steel sign weathers, it will develop its own rust patina pattern. The sign will last for years to come.
18. Professionally painted portrait display
You can show a whole different side to your loved one with a professionally painted portrait. Have it painted on a smooth, flat rock or a durable, thick ceramic tile.
19. Custom grave blankets with photo
We recommend "grave blankets" below, which are technically foliage décor to use during the winter months when it's too cold for flowers.
But we discovered a truly unique twist on the concept. This artist creates flashy, colorful blankets that feature your loved one's portrait on a waterproof and UV-resistant material that you can drape over the grave site. Check it out, it's an interesting idea.
20. Add lawn gnomes, fairy houses, pink flamingoes, and more
Again, this will completely depend on the cemetery's policies. Lawn gnomes and that type of décor is ideal for is a grave site on private property, perhaps for a pet or a loved one buried at home.
Here are some favorites in this category:
Handwritten Notes & Handmade Tributes
Writing to or about your loved one can be very therapeutic. If you loved to write letters to one another, if you're into poetry, or if you simply want to express your love and how much you miss them, here are some decorative ideas for notes and letters and more.
21. Permanently leave your message with these engraved wooden signs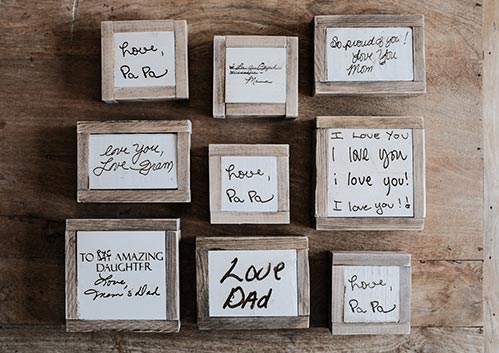 These handwritten wooden lasered signs make a sweet ornament to remind people of your beloved.
22. Plantable seed paper notes
Write a heartfelt message on seed paper and plant it at the gravesite. This is perfect way to leave your message with your loved one, and grows into a wonderful tribute!
23. Add a personal stone layout
Place stones and flowers into a shape (like a heart or cross) over the gravesite. Each of you writes a loving message to your beloved on the stones. Use these paint pens, or a Sharpie-style marker.
Memorial Stones
Memorial stones are perhaps the oldest human memorial tradition. Along with other ancient sources, memorial stones are mentioned in the Bible as early as the time of Jacob (Genesis 28:10-22) and at the entry into the Promised Land (Joshua 4:1-8).
Here are some meaningful ways to incorporate memorial stones with the grave décor.
24. Hand-painted memorial stepping stones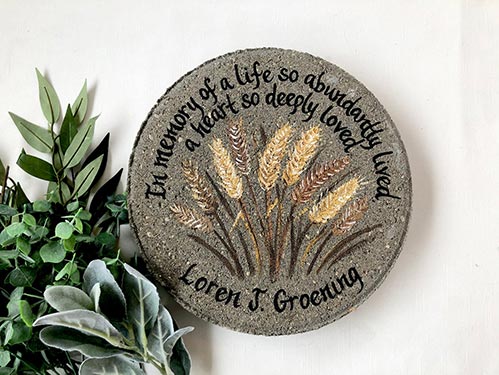 You can place a hand-painted stepping stone like this one directly on top of the grave. It's a wonderful memorial to your loved one, which will last for ages and won't interfere with the landscaping crew.
25. Memorial stone bench
Add a stone bench so that you can sit, rest, and contemplate as you visit your loved one. You can often have the bench carved with an inscription, quote, or special message.
For a more affordable alternative, this tiny decorative stone bench has a touching inscription that reads, "Unseen, unheard, but always near. Sadly missed and always dear." This bench is very small, so you can't sit on it. It's accented with greenery and butterflies and will automatically shine with solar-powered light at night.
26. Personalized standing cardinal stone
Here is an elegant, timeless stone featuring a bright red cardinal, a memorial poem, and your loved one's name.
You can use this as a memorial stone at your loved one's grave, or place it at home in your garden or backyard as a tribute. This memorial cardinal stone will stay beautiful for years to come.
Signs & Plaques
Create a memorial plaque, sign, or other memento that can be displayed near your loved one's grave.
27. Cast Brass Memorial Picture Plaque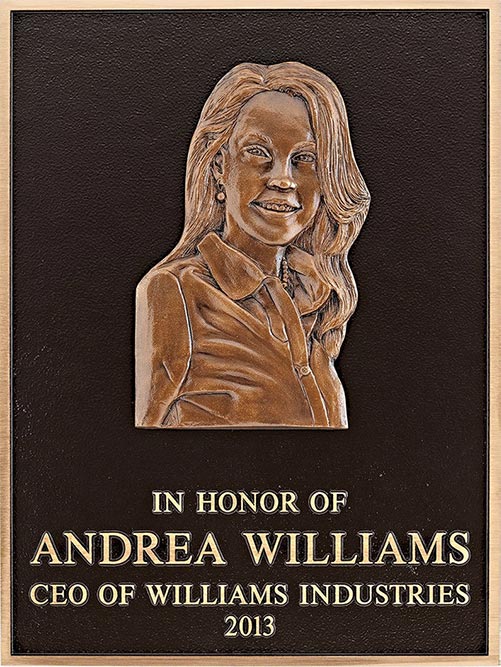 This cast brass memorial plaque is a terrific way to decorate the back of a headstone. The headstone will thus be personalized on the front and the back making it easier to locate.
Related: 12 Headstone Inscription Tips To Get It Just Right
28. Personalized memorial bird feeder
Hanging a personalized memorial bird feeder in the nearest tree is sure to attract birds and more. This helps make the gravesite a cheerful atmosphere.
29. Personalized metal sign stake
A memorial plaque on a yard stake (like this one) is a nice way to add a sentimental message to your loved one. You are letting everyone know that your beloved is still thought of and loved every day.
Grave Decorations for Special Days
There are special days throughout the year that you will want to acknowledge. This includes:
Here are some great ideas for you!
Memorial Day & Veteran's Day
30. Fresh flowers in military/American color theme
Red, white and blue themed flowers
Place a small flag banner at the grave
Standing easel of flowers shaped into a flag
31. Add photograph copies to their grave from their time in the military or memories with you
Photos with their military buddies.
Photographs of their homecoming.
Pictures of them and our American Flag.
Make sure to laminate the photos so they will last.
32. Leave coins on their grave
Let the family know you visited their loved one by leaving a coin. This can be done for anyone, but has special significance for military service members:
Nickel – Means that you and the deceased trained at boot camp together.
Dime – Says you served with him in some capacity.
Quarter – You are letting the family know that you were with the soldier when he died.
Related: Leaving Coins on Graves (Meaning & History)
Mother's Day
33. Leave a photo engraved pendant
Turn a favorite photo into a permanent tribute to hang on the headstone. Here's a beautiful one.
34. Add new flowers and cross decoration just for mom
On Mom's special day, make sure it's all about her. A beautiful flower & cross tribute is simply perfect.
35. Memorial candle lantern for Mom
Place a solar-powered candle in a lantern like this. It will keep Mom's headstone always in the light.
Father's Day
36. Add a personalized photo garden flag
You can make your father's grave more special by adding a custom photo garden flag – add his picture, dates, and a personal message.
37. Add new flowers and cross decoration just for him
Make it all about Dad on his special day. Honor him with your love and a gorgeous cross, flower, and ribbon display.
38. Leave handmade bird seed ornaments for your father's favorite birds
If Dad was a bird lover, pay tribute to him with some cute DIY bird seed ornaments. You'll be honoring your father and taking care of God's creatures. Here's how.
Birthday
Birthdays are still meaningful, even after your loved one has passed away. Pay a visit to their grave, and consider these "happy birthday in heaven" messages.
39. Leave a small happy birthday sign
You can still celebrate your loved one's birthday with a small remembrance. Consider a happy birthday block sign, or paint a birthday message on a memorial stone that you can reuse each year.
40. Add biodegradable birthday balloons
Throw a small graveside party with biodegradable balloons. Invite close family or friends to share cake and celebrate the life of your loved one.
41. Leave a small trinket that represents a part of who they were or what they loved
Decorate with meaningful baubles. Make it personal – even if you are the only one that understands the meaning behind your offering.
This might be something like a miniature fishing boat, small angels, soccer ball, Hot Wheels cars, animal figurines, stones from their favorite beach/lake, stuffed animals, superhero capes. You get the idea!
Wedding Anniversary
42. Set down a picnic set and eat breakfast/lunch while visiting their grave on your anniversary
Find some shade and take along a good book for your picnic. Enjoy some quiet time and precious memories with your loved one.
43. Add a stone to their grave site with a special message such as a memory, quote, or your anniversary year
You can paint your own tribute stone or have one made. Add dates and a loving message to commemorate the love you share.
44. Leave flowers that are the same as the ones used in your wedding
Remembering your special day will bring back some happy memories. Let those memories decorate your loved one's grave.
Death Anniversary
The day of your loved one's death is often a difficult one. Many people choose to put a positive spin on it, by making it a day to mourn and remember their life and legacy. Here are some ideas to decorate the grave at this time.
45. Leave handwritten seed paper notes that express how much you miss them, what they meant to you, or a meaningful quote
Write a sweet message on flower seed paper. You can say it and continue saying it each time your flowers grow and bloom.
46. Remake the decorations or clean their gravesite each year
Make sure to freshen up the gravesite with new flowers or decorations. Please don't wait for the cemetery sexton to let you know that's it's time to clean up the gravesite.
47. Gather together at their final resting place and release butterflies in their honor
According to legend, by making a wish and giving a butterfly its freedom, the wish will be taken to the heavens and be granted.
More: How to Observe & Celebrate a Death Anniversary
Christmas
You can keep Christmas memories alive and continue to celebrate with your loved one.
48. Add a small, outdoor Christmas tree or wreath to the gravesite
These trees come on tripod stakes with battery powered lights. You could also use your Christmas tree trimmings to create a wreath. Add some solar-powered Christmas lights to beautify your loved one's resting place day and night.
49. Decorate with a botanical grave blanket
You can make your own grave blanket or order one from a professional. Either way, it is a gorgeous way to celebrate the season.
50. Place down solar light flowers so you don't need to worry about them freezing in the cold weather
Solar lights can be left out year-round. Put some Christmas cheer out for your loved one's gravesite with holiday-colored solar light flowers like these ones.
You can also use just about any outdoor Christmas decorations that don't need a power source. Wreaths, lawn gnome-style Santas, a manger scene, gift-wrapped boxes weighted down with stones to keep them in place (wrap them in cellophane to make them weatherproof).
Related: Celebrate Christmas When Your Loved One Is in Heaven
5 Gravesite Decoration Tips
By now, you should have a pretty good idea of what works best, what your options are, what is permitted. As you consider what you want, remember these important tips.
1. Make it permanent – or at least durable
Don't leave anything that will become tattered or dirty. Choose materials that don't tend to rust or tarnish, and that are sturdy enough to hold up to the elements.
2. Consider the weather and time of year
Don't leave something that will get spoiled by the hot sun or break in the cold weather. You also want the decorations to reflect the season – springtime colors for spring, fall colors for autumn. A bright flag with a smiling sun will look out of place in the winter, and Christmas décor should be taken down soon after the holiday.
3. Make sure it is well lit & easily visible
Many small items can be destroyed or run over by the lawnmowers used at the cemetery. Try to keep your decorations visible and out of their way.
4. Consider the decedent's faith and culture
Honor their faith and heritage with your gravesite tributes. And don't place anything that would be offensive to the family – for example, you don't want to leave a Christian cross at a Jewish grave.
5. Check the grave
Visit the gravesite regularly and replace any worn or torn decorations. You don't want your loved one's resting place to become an eyesore.
Related: 10 Things NOT to Do When Visiting a Cemetery
Things You Should NEVER Leave at a Grave
Here are five things you should never use to decorate a burial site.
1. Glass
If a glass item breaks, it can leave pieces of sharp material that could injure anyone.
2. Lightweight and/or unsecured decorations
Your decorations may not stay put and end up all over the cemetery. This causes extra work for the employees, and makes the rest of the cemetery look poor in the meantime. Plus you lose your decorations!
3. Latex or Mylar balloons
Latex and mylar balloons are dangerous to animals. Instead, you can blow bubbles at the graveside, leave a garden spinner, or use biodegradable tissue paper pompoms.
4. Fencing
Most cemeteries won't allow fences because they create obstacles for groundskeepers to go around.
5. Anything that violates the cemetery's policies
If you leave anything not approved by the cemetery, it will be removed and thrown away.
More resources: