Let's take a look at 21 of the most beautiful cremation urns for dad.
If you are searching for a memorial for your father, you may be feeling overwhelmed at the moment. While it may be a good thing that cremation urns are easy to find, with so many options at your disposal, you may feel like you are coming up short in finding that one special urn that could even come close to honoring your father and the life he led.
Finding the perfect urn for your dad is an emotional experience. When you're faced with this litany of online options (and you know that not all cremation urns are made equal), these emotions can be amplified.
So we've taken the liberty of doing the searching for you, and come up with this list of the 21 most beautiful, high-quality urns for your dad that we could find.
The goal was to find the best; not too many, and not too few. We hope this helps!
21 Stunning Cremation Urns for Dad
Our website is supported by our users. We sometimes earn a commission when you click through the affiliate links on our website. Learn more here.
You'll find that many of this urns are from our parent site, Urns Northwest (we really believe in our products), but we've also included several others that we feel are worthy of your consideration. Shop there and feel free to contact us to discover all the options and styles available.
Let's begin.
1. Bible Urn with Cross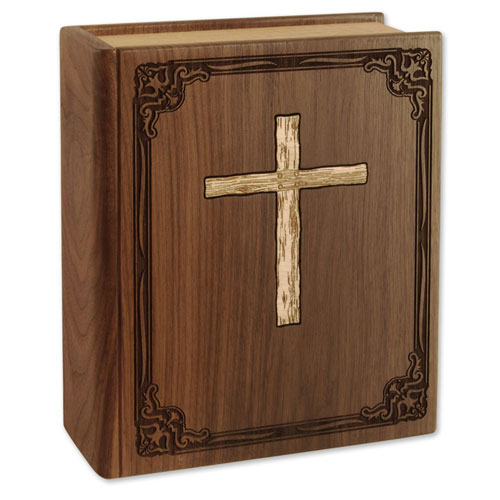 First on our list of urns for dad is this stunning Bible Wood Inlay Cremation Urn with Cross. Made in the USA, it's designed to look like the Holy Bible standing upright.
This urn would make a wonderful choice for the Dad who led his life in pursuit of the Lord. Completed with a wood cross inlay, this urn will make a beautiful display as well as a lasting legacy to the memory of your father.
Constructed of solid walnut wood, the the exception of the "pages" and cross inlay which are both maple wood. Personalization on the front, back, or binding is available. Measures 8.5″ x 3.75″ x 11.75″ and holds up to 210 cubic inches.
2. Cowboy Boots Memorial Plaque Cremation Urn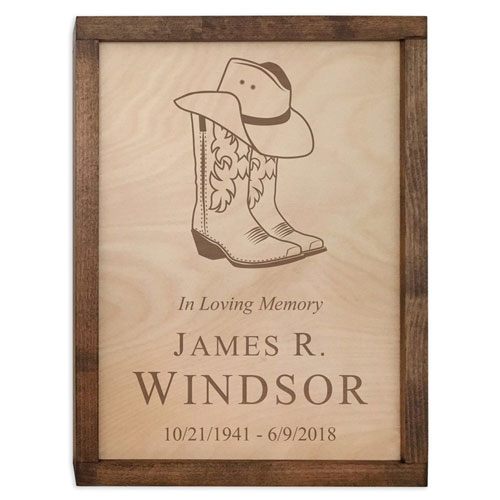 Our memorial plaque urns are one-of-a-kind. These urns differ from traditional urns in that you can hang them on your wall, and they still have plenty of space for all of the cremated remains.
The Cowboy Boots Wall Mounted Urn Plaque is just one of many themes. It is engraved with a cowboy hat and a pair of boots… does seeing it already remind you of your dad?
Personalization of name and dates is included. D-ring hangers will come with your order, for easy wall mounting. Measures 16″ x 12″ x 3″ and holds up to 237 cubic inches of cremated remains.
See our many other Western-style selections here.
3. Blessing Brass Cremation Urn in Midnight Black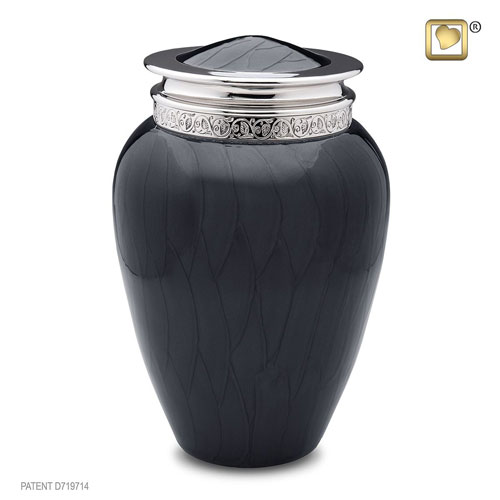 If you're wanting something a bit more timeless for your dad, take a close look at this urn. The Blessing Brass Cremation Urn in Midnight Black blends both classic urn style with a smooth modern aesthetic, making for a highly sophisticated look.
This brass urn has been carefully finished with hand-applied pearlescence. The ornamentation you see on the lid band has been hand-engraved. Stands 11″ high with a capacity of 225 cubic inches.
See more similar colors and designs in our Love Urns Collection.
4. Celebration of Life Classic Red Urn
We spotted this sand-cast metal urn and just had to share it with you. The stunning crimson hues and band adornment come together beautifully for an aesthetic fitting of any loving father.
Made of quality aluminum alloy, this urn is bargain-priced, stands 10″ tall, and holds up to 200 cubic inches of remains.
5. Golf Cremation Urn with Inlay Art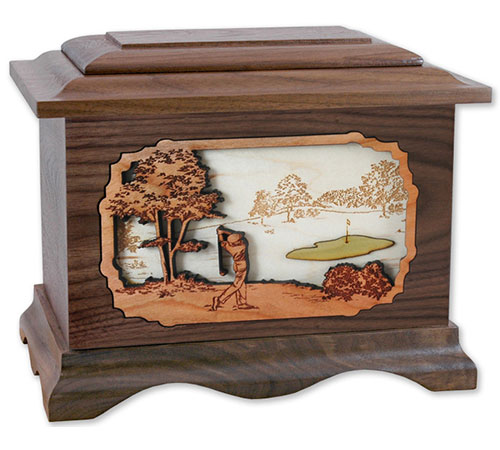 This one is especially perfect for the dad who loved to golf. Choose this urn and every time you pass by it, you'll be reminded of your dad and all the happy hours he spent out on the course.
The Golf Urn with Inlay Art includes the 3D scenic inlay you see above, and is constructed in your choice of wood (walnut as shown here, oak, maple or mahogany). Laser-engraved personalization is available.
This urn measures 11″ x 7.5″ x 9″ with an inner capacity of 230 cubic inches.
6. Personalized Wood Urn with Tree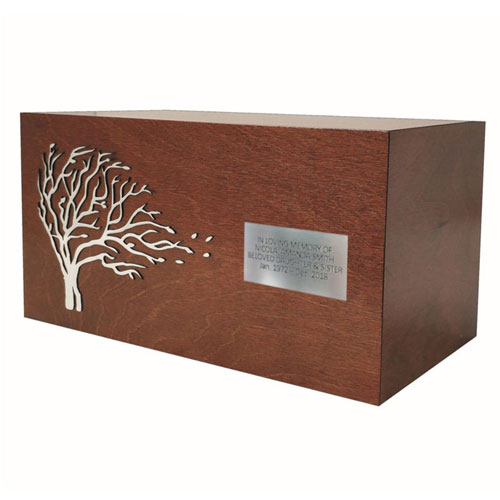 If you know where to look, Etsy can be a wonderful resource for high-grade, hand-made cremation urns. This Personalized Wood Urn from the shop Artist Cremation Urns is no exception.
Made from the wood finish of your choice, and complete with a mirror-effect acrylic tree, this urn will prove to be a wonderful tribute to the patriarch of your own family tree.
Plaque personalization is available. Measures 6.3″ x 11.8″ x 6.3″ with a capacity of up to 244 cubic inches.
7. Freedom Solid Wood Military Cremation Urn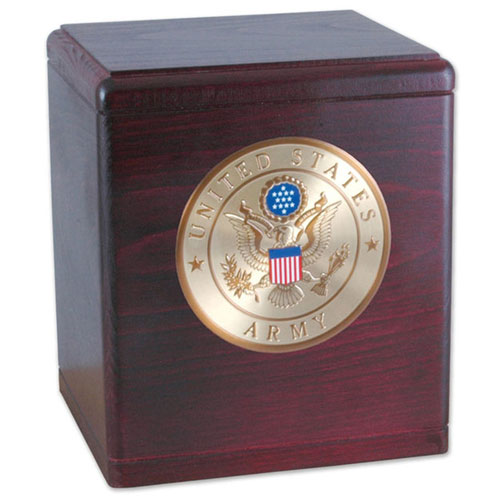 For the father who served not only his family but also his country with valor and honor. Our Freedom Solid Wood Military Cremation Urn is handmade in the USA from your choice of Walnut, Cherry, Rosewood, or Oak. You also select the appropriate medallion to be displayed on your father's urn.
Measures 7″ x 6.5″ x 8.24″ with a standard inner capacity of 200 cubic inches. Suitable for most columbarium niches and military cemeteries.
We also have a similar military urn designed specifically so that husband and wife can be interred together at Arlington National Cemetery, in two matching urns or in one companion urn.
8. Marble Urn in Black and White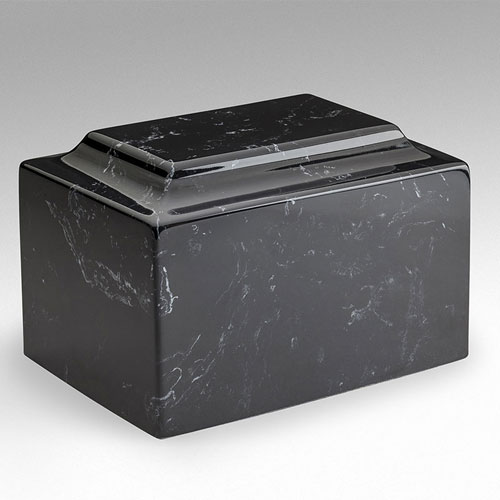 Looking for a handsome urn for your father, but one that is not too ornamental or embellished? If your dad wasn't one for fancy dress or too much fuss over him, but you still want to honor him and his legacy, this urn might be the one.
Our Marble Urn in Black and White has been made from beautifully cultured marble and polished to perfection. Laser-engraved personalization, with your choice of color fill, is available. This style is available in several different sizes and dimensions.
See all of our stunning stone urns here.
9. Forest Blue Cremation Urn
Here's another great find we just had to share with you. If blue is more the color you associate with your dad (or maybe it was even his favorite color), you probably already find yourself considering this gorgeous metal urn.
Hand-finished with the blue lacquer coat you see above, this urn stands 11″ tall and holds up to 200 cubic inches of remains.
Check out more of our favorite blue urns here.
10. Horse Riding Home Wood Cremation Urn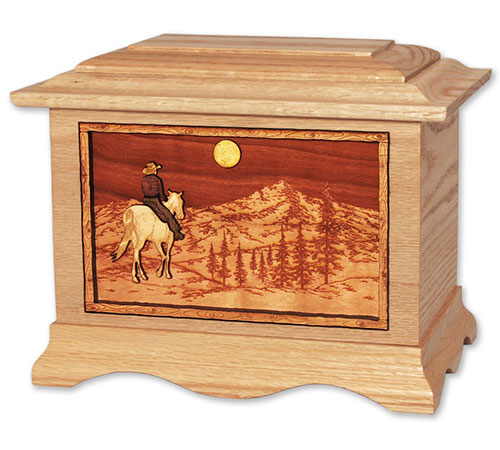 Another great option for the dad who was also a cowboy (or maybe just the cowboy lifestyle). Implementing 3-dimensional wood inlay art, the Horse Riding Home Wood Cremation Urn depicts a man on a horse riding serenely toward the horizon.
The urn is made in Oregon using solid wood, with your choice of cross or moon in the sky scene. You also choose the wood type: oak, walnut, mahogany, or maple.
Engraved personalization is available. The urn box measures 11″ x 7.5″ x 9″ and can hold approximately 230 cubic inches of remains.
11. Hand Blown Glass Cremation Urn in Deco Sky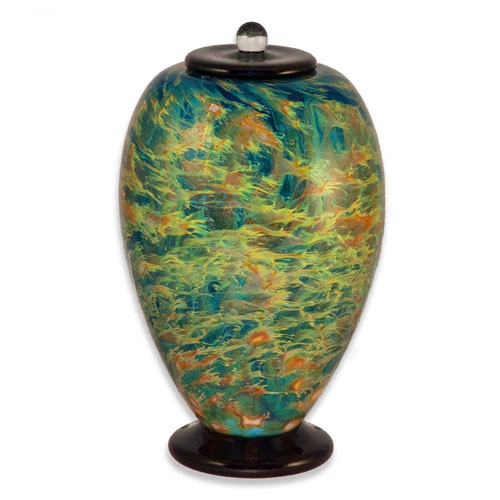 As you can see, urns for dad come in all shapes and forms. They don't all have to be dark and stately… they can also be colorful and cheerful, like this glass art memorial from Urns Northwest.
The Glass Cremation Urn in Deco Sky is perfect for the dad who was fun-loving in life, or maybe just an all-around happy guy who instilled in you a positive outlook on life that you will always carry with you.
An art piece as well as an urn, this elegant receptacle contains pretty swirls of blues, yellows, and greens – reminiscent of a dreamy midday sky. Stands at roughly 12″ high and holds approximately 220 cubic inches of remains.
Please note: Because it is 12″ and handcrafted items like this can vary a little, there is a possibility that this urn will be too tall for some cremation niches. Double-check with your cemetery to ensure that this cremation urn will be compatible, and contact us if we need to ensure that it fits into a specific sized niche.
12. Soaring Eagle Wooden Cremation Urn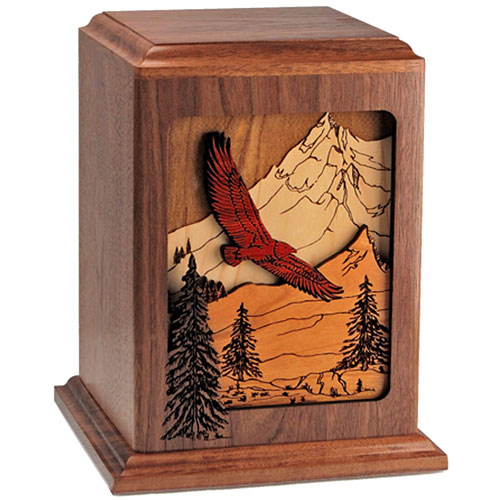 The Soaring Eagle Cremation Urn, featuring a scenic inlay of an eagle in flight, reminds you that your dad is now flying high. Free from pain, free from the worries and heartaches of this world, and flying in the great beyond.
This "soaring eagle" urn is also an excellent choice for the dad who was in the military, enjoyed camping or being outdoors, or who loved studying nature and wildlife.
Made in the USA, the urn is available in your choice of walnut wood (shown) or honey-yellow-toned oak. Measures just under 10″ tall and 7.75″ wide. Holds 230 cubic inches of remains.
If your dad really liked this eagles, you may also want to take a look at this one.
13. Lighthouse Mahogany Wood Cremation Urn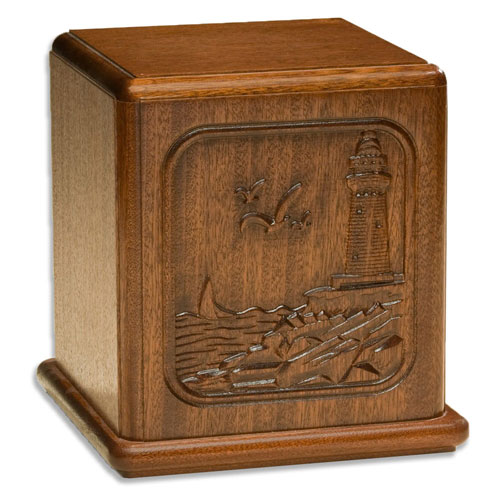 Great dads are like lighthouses in that they guide their families and show them the way when it seems like there is no way to be found. If you were blessed to have a father like that, this Lighthouse Mahogany Wood Cremation Urn may be the urn you choose to honor his legacy with. Also see more from our lighthouse urn collection here.
Made of solid, sturdy mahogany wood, this urn includes laser-engraved as well as woodcut details. Measures just over 8″ high and 7.75″ wide. 210 cubic inch capacity. Personalization is available.
14. Geometric Cremation Urn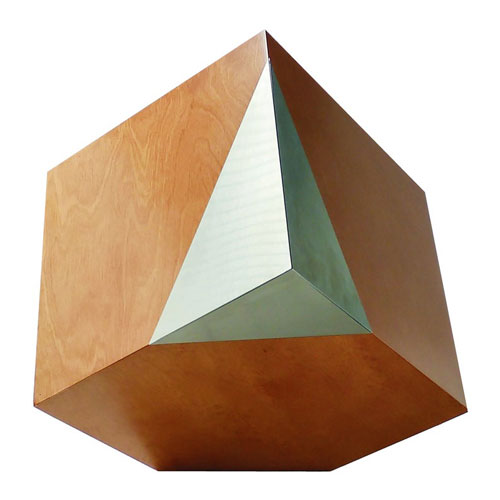 Here's a really idiosyncratic cremation urn that also has more of an artistic flair.
A unique geometric urn for the creative or inventive dad (or maybe he was a geometry teacher?), this modern structure will prove to be a touching memorial to your late father as well as a lovely art piece for your home.
Measures 8.2″ x 8.4″ x 8.4″ with a large inner capacity of 439 cubic inches.
A similar idea (but with slightly more natural-looking angles) can be found here.
15. Himalayan Rock Salt Urn for Water Burial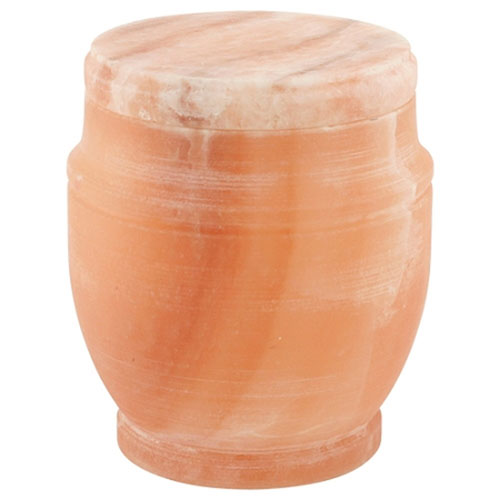 Maybe you are planning a water burial for your father. Maybe he was a lover of the ocean and it was his wish for his remains to be scattered at sea. If so, you're going to need a biodegradable urn suitable for salt water.
Our Himalayan Rock Salt Urn is great choice for water burial. It is made to disintegrate within four hours, and includes holes in the bottom to allow for a brief period on the water's surface, before gracefully going under the waves.
Stands 9.5″ high and holds roughly 220 cubic inches. Your order will include a biodegradable bag for securing the remains within the urn. Also available in a mini size.
16. Biodegradable Photo Urn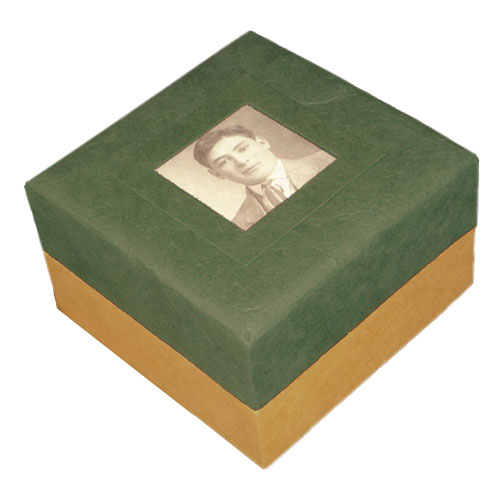 Here is another great biodegradable option for your to consider. Our Embrace Earthurn Biodegradable Photo Urn in Green is made from mulberry tree bark (no trees were cut down to produce these urns), and is the perfect urn for either scattering or Earth-friendly ground burial.
This memorial can hold a 3.5″ x 3.5″ photo of your dad, and comes with a water-soluble bag in which to place the remains. The urn itself measures 8.25″ x 8.25″ x 5″ and holds approximately 220 cubic inches of cremated remains.
17. Biodegradable Memorial Tree Urn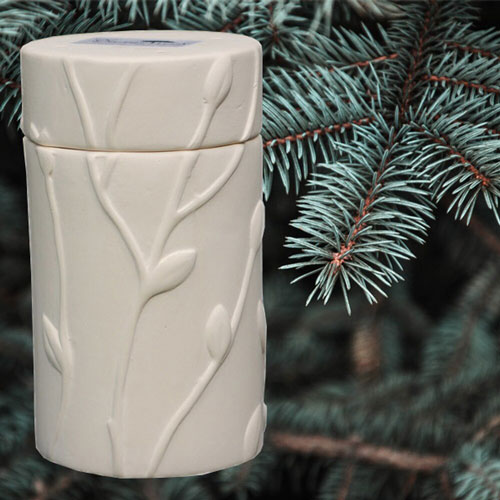 Alternatively, if your family is planning a scattering ceremony in memory of your dad, our memorial tree urns are an ideal option.
When "planted" with your dad's ashes, the nutritious plant blend contained therein will over time sprout and nurture a blue spruce tree – a wonderful, everlasting tribute to the man your father was. Your biodegradable tree urn will come nestled within a keepsake tin.
Besides Blue Spruce, pictured above, we have many other tree urns for you to choose from.
Please note: Our memorial tree scattering urns each hold only about 35 cubic inches of cremated remains. So if your loved one weighed 175 pounds pre-cremation, there will be about 175 cubic inches of cremated remains following. So you would need about five of these memorial tree urns to accommodate. See below for more helpful information on urn sizing.
18. Fishing Cremation Urn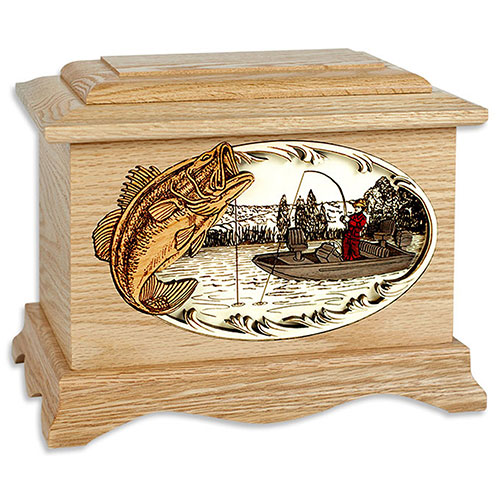 Was your father a fisherman? Did he enjoy spending his days out in the boat on the water just angling for the catch? This Fishing Cremation Urn may be just what he would have wanted.
This particular urn, our Ambassador Salmon Fishing Cremation Urn, also includes that mesmerizing 3D inlay art that adorns many of our most popular urns. This is also just one of the many fishing-themed urns we offer.
Choose the type of wood you'd like your dad's urn to come in (oak, walnut, mahogany or maple). Custom engraving is also available. Measures 11″ x 7.5″ x 9″ with a 230 cubic inch capacity.
19. Personalized Solid Wood Casket Urn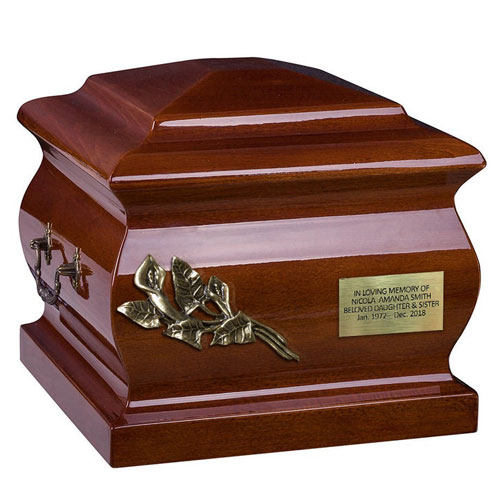 Here is an interesting concept: a cremation urn made to look like a casket, complete with decorative handles.
Measuring 7.8″ each way around, this solid wood urn is of course much smaller than a casket, but provides the same austere look. A metal personalization plaque is optional. Can contain up to 244 cubic inches of remains.
20. Celtic Cross Ceramic Cremation Urn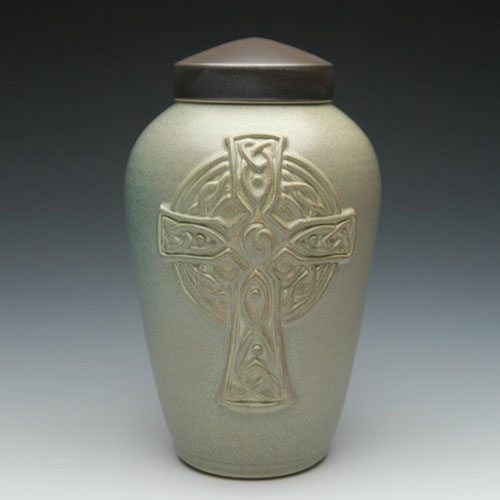 This one is for the dad who was extremely proud of his Irish heritage. The Celtic Cross Ceramic Cremation Urn displays a Celtic cross carefully handcrafted, and is softly jade-colored in traditional Irish fashion.
Please note that your father's urn will be made to order, so may appear only slightly different than what you see in the photo above.
Personalization on the back of the urn is available. Available in several different sizes.
21. Passage Sculpture Art Memorial Candle Urn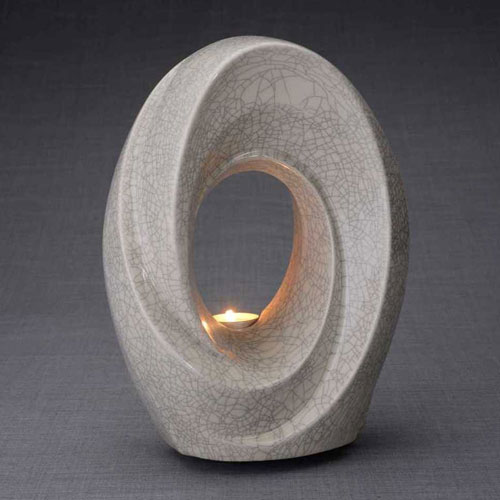 The final urn for dad to be featured on our list today is our Passage Sculpture Art Memorial Candle Urn. A truly original work of art, this urn was designed and crafted by a sculptor in Bulgaria. It works as a sort of "eternal flame" in memory of your dad's spirit, which shines on and on in your treasured memories.
Complete with a crackle finish that provides this modern urn with a whisper of vintage, this beautiful receptacle will serve as both final resting place for your father and a centerpiece for your home. Measures 11.6″ x 8.6″ x 5.7″ with a capacity of 195 cubic inches; slightly smaller than the standard adult size urn.
Also available in black gloss and other shades.
Related | 19 Tealight Cremation Urns to Light a Candle in Memory
More Urns for Dad
Here are some more urn guides to help you find the perfect memorial for your dad. Depending on his hobbies, interests, or personal style, you may want to consider any of these:
Super Quick Guide for Cremation Urn Sizing
The Cremation Association of North America (CANA) identifies 200 cubic inches as the ideal measurement for a standard, adult-sized cremation urn. 200 cubic inches is the typical standard size for cremation urns, and is plenty sufficient to hold an adult's remains almost every time.
That said, here is a good rule of thumb for determining on your own what size urn you will need to get for your father's remains: for every one pound of body weight, there will be approximately one cubic inch of cremated remains.
This means that a standard, 200 cubic inch urn will be an appropriate selection for most adults. If you are still concerned about sizing, remember that you can take advantage of our convenient Cremation Urn Calculator, a tool we've created to help you know for sure that you're getting Dad's urn in the correct size.
Please also feel free to contact Urns Northwest with any questions or concerns you may have. If you can't already tell, cremation urns are our passion and we are here for you.
If you would like to browse our entire cremation urn collection – which we've carefully organized by theme, material, and style – see here.
Read Next: Loss of Father Quotes
Pin It