Planning your own funeral is not something most people like to think about. All too often, we don't want to talk about the subject of death, much less actually plan it out.
Today, I will explain to you why it is a good idea to plan your own funeral ahead of time. Then we'll talk about how to do it.
Taking care of it in advance is smart. It's easier to do than you might think. Plus, I guarantee it is not as scary as you may have imagined it to be.
Why You Should Plan Your Own Funeral
Death is a certainty for all of us. Being prepared is always the best way to go…. No pun intended.
Planning for your funeral is a positive idea and one you should really consider. Just remember to let someone know where (and maybe what) your plans are!
1. Planning takes the burden off of others.
Take the time to plan out your own funeral service. Whether you're young or old, this is smart because it will remove the burden from your loved ones, and will give both them and you peace of mind.
Always include a signed funeral planning declaration with your plans. This will ensure that no one can change the plans you have painstakingly made. The funeral planning declaration states that you are of legal age and a sound mind.
Printing a form from the internet is fine. Here's one from the state of Kentucky. Just make sure it is compatible with the state in which you are planning your funeral.
If you are making plans with a funeral home, they will have the proper form for you to sign. Keep in mind; some states do not have a law in place concerning the funeral planning declaration.
2. If you don't plan your own funeral, someone else will.
Without making your own plans, this responsibility will fall to someone else. Someone that may not agree with what you wanted for yourself. Don't leave it up to someone else's wishes. There are many people, religions and cultures that do not believe in cremation. But, what if cremation was your wish?
What if a casketed burial is what you had wanted and the person left planning your funeral can't afford it? Your next-of-kin may decide to place you in a less desirable casket or that cremation is right for you.
Avoid this by planning your funeral arrangements ahead of time.
3. Pre-planning and pre-paying your funeral keeps it within budget.
When you are pre-planning, you will probably want to start paying for your funeral as well. You can pay it out over time and lock in today's prices.
Some people advocate for paying at the time of death, which could be years later. Being a funeral director, I'm afraid I have to disagree with this. Why not pay today's prices for the casket you want instead of the price twenty years from now? Pay for that cremation at today's prices, not the inflated price it will be years down the road.
Even if a funeral home goes out of business, usually another funeral home will step in to honor your contract. The money you have invested ideally goes into a trust and can be transferred to another funeral home. One good option is a prepaid funeral plan – here's how they work.
4. You can choose your own cemetery and final resting place.
You can also pre-plan with most cemeteries. Purchasing a burial plot with payments ahead of time makes sense. Buying real estate is expensive, and it is no different in a cemetery: you will be buying land to be buried in.
Each cemetery plot can easily go for $1500 and up depending on where you live. Wouldn't it be nicer not to have to pay out of pocket for everything at the same time? Or, won't it be easier on your loved ones to not have to bear that burden?
Remember to ask the cemetery if you will need a vault for burial. It is likely they can sell you the required vault along with the contract for the plot.
Related: Questions to Ask When Choosing a Cemetery
5. Planning your own funeral means you only buy what you want.
Many people wonder if they have to buy a complete packaged deal. The answer to that is "No." Only buy what you want. There are some purchases that you must have due to the laws. Some things are an option to buy. Find out which is which.
Talk to at least two local funeral homes. It is so important to educate yourself on what you need – and what you don't. The funeral home should be very upfront with all of the costs and all of the options. Decide whether the options are "wants" or "needs."
Any reputable funeral home will let you know the laws of the cemetery you are dealing with. The funeral home should help you make the arrangements with the cemetery. You will still have to sign paperwork at the cemetery. But you should already have your questions answered by the time you go to the cemetery.
How to Plan Your Own Funeral
With that in mind, let's talk about how to arrange your own funeral ahead of time.
Choose your funeral home.
Call ahead of time to make an appointment to talk to a "Pre-need Counselor." (He/she is the expert you will be dealing with.)
Decide on burial or cremation.
Be honest with your pre-need salesperson. Let them know your budget. Normally there will be a small down payment (usually 10%) and monthly installment fees.
Think through the different types of services, and what you want to happen during the funeral.
Your pre-need counselor will talk you through everything you need to know. Ask questions!
Make your choices. Only buy what you want and what you have to per state or cemetery law.
Let your loved ones know your plan. Your arrangements don't do any good if no one knows about it! Here's how to make sure your plans actually get followed.
As you can see, it's not as difficult as you may have feared. Let's take a closer look at a few of these points.
Choose the Funeral Home
Choosing a funeral home you can trust is important. You want to be comfortable with the surroundings and the staff. You will want to know that you will be treated with all of the dignity and respect you deserve. Read on for some pointers!
Discuss the funeral homes in your vicinity with family and friends. What has been their dealings with any of them?
Call at least two local funeral homes. Speak with a funeral director and ask the important questions. Example: How long does it take you to come and pick up a body? Do you have a storage facility on-site? Is your crematory on-site? Is your prep room on-site? These are all valid questions and ones you will want to know the answers to.
Get price lists from at least two different funeral homes. Compare prices. Please don't feel shy about calling a funeral home and asking them to explain their prices.
After doing your research, you should have a good feeling about the choice of funeral homes. Call and make an appointment to discuss your pre-need funeral plan.
Read more: How to Choose a (Great) Funeral Home
Choose Burial or Cremation
Choosing burial or cremation is a very personal determination. Don't let anyone else's opinions dissuade you from what you really want to happen.
Some people are staunchly against cremation due to personal, religious, or cultural reasons. This is just another reason why it is important to plan your own funeral service.
There are also financial reasons to choose cremation over burial. A funeral service with a burial can cost well over $10,000, and that won't even include your cemetery plot. A "direct" cremation can cost as little as $2000. Pricing ranges vary and need to be considered if finances are limited.
Learn more:
Plan the Service the Way YOU Want
Funeral services are changing with the times. Not everyone feels the doom and gloom of a funeral. Playing funeral dirges doesn't happen very often these days.
As a funeral director, I will often refer to a funeral as a Celebration of Life. Truly, a funeral is to commemorate your life. So why not plan it with your own personal flair?
Are you a motorcycle buff? A fisherman? A crafty kind of gal? Incorporating almost anything and everything is perfectly acceptable. Here are some more creative ideas on how to do this sort of thing at your memorial service.
Discuss all of your options with your funeral director. After all, they are there to help you.
Spending your hard-earned money on a service you have planned will give you a sense of accomplishment. You can know that you have done the best for your family and yourself. You've taken the burden off of your shoulders and put it where it belongs, with the funeral home.
Paying for Your Funeral in Advance
There are several ways to plan for your funeral expenses ahead of time.
Read more about planning for your final expenses here.
Arranging Your Own Funeral, Step By Step
Find a good funeral home. This should be a place you feel comfortable about, who treat you well and offer good help.
Choose the service type(s). Will the funeral include graveside/committal service? Or will it be a memorial or "celebration of life"?
Arrange the funeral events. These might include a wake/viewing, visitation, reception, and/or formal mourning period.
Plan the service. Think about the décor, musicians, pallbearers, the minister, someone to give the eulogy, prayers, funeral song selection, readings, special tributes, and so on.
Choose the final disposition. Burial, cremation, "green" burial, other alternative disposition methods.
Choose a final resting place. Cemetery burial, a mausoleum or crypt, eco-friendly options, cremation with scattering or inurnment, placement in a columbarium niche, a beautiful urn for display, etc.
Plan on how to pay for everything. You can set aside funds, pay in advance, get an insurance policy, and so on.
Ready, Set, Plan
Ready to plan your funeral? We'll walk through each aspect in detail with you in our Funeral Planning Guide.
Read Next: Writing Letters to Loved Ones After Death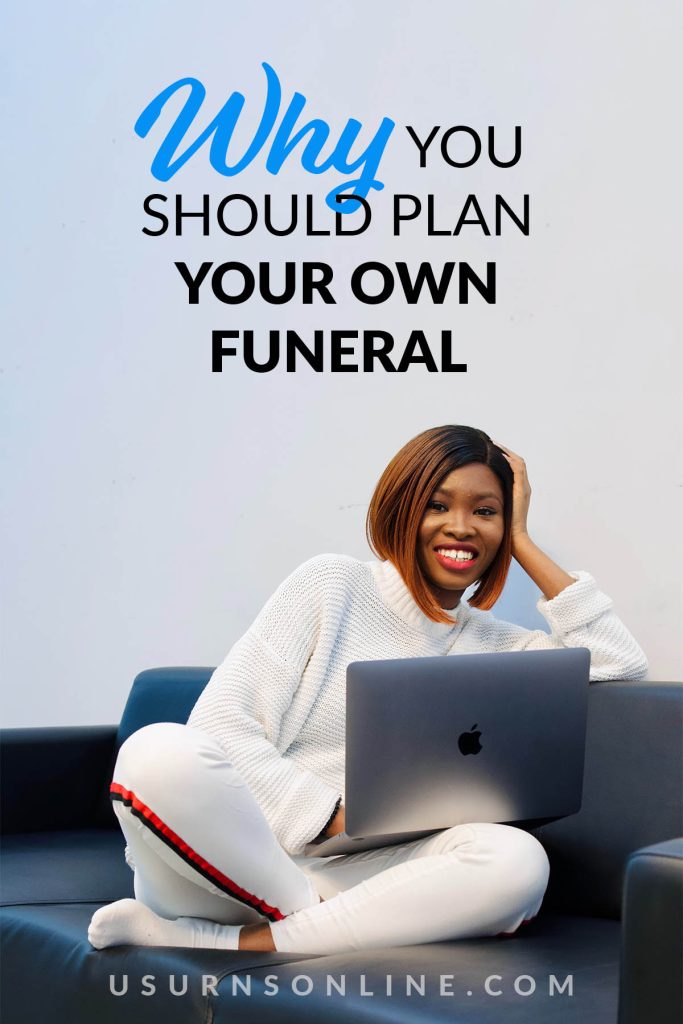 Karen Roldan has been in the funeral industry since 2006, and a licensed funeral director and embalmer since 2008. She is currently licensed in the states of Indiana and Pennsylvania.
She attended Worsham College of Mortuary Science in Wheeling, IL, and graduated with an associate degree in Mortuary Science.
Karen enjoys wring about the funeral industry because her passion is helping families in their deepest time of need. She feels being a funeral director is a calling and she is proud to fulfill this role.
Karen is a wife and the mother of four sons. She, her husband and their youngest son call Pennsylvania home.