Last Updated on August 26, 2021
When you open your heart to love a special pet, their death leaves a gaping emptiness that yearns be filled. While nothing can replace your departed friend, you can honor their life with a variety of creative and personal pet memorials.
As you create a pet memorial or keepsake in honor of your pet's life, it can be a healthy way to express your grief and experience some measure of peace, relief, and healing. Many of the options below help with this.
We list temporary experiences, such as memorial services and ceremonies, but most of these memorial ideas are permanent keepsakes. These are things that help you express your grief and love yet also endure to help keep your pet's memory alive for years to come.
21 Pet Memorial Ideas
Our website is supported by our users. We sometimes earn a commission when you click through the affiliate links on our website. Learn more here.
1. Pet Funeral or Celebration of Life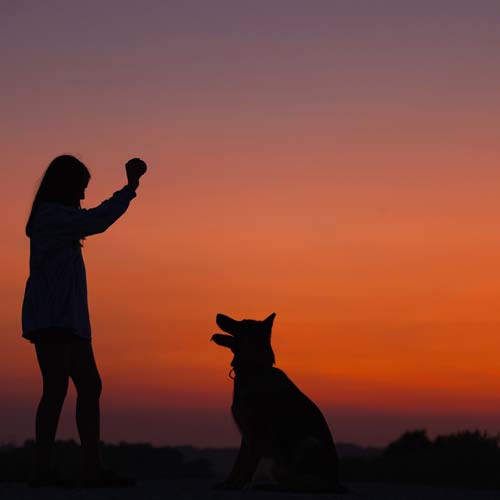 There are many pet cemeteries that will assist you in having a funeral service for your pet. To find if you have one near you, just do an internet search for "pet cemetery in [your location]".
You can also plan and carry out your own pet funeral at home. This can involve reading poems or Scripture verses, doing a memorial craft with the whole family, and creating a beautiful memorial at the burial site with flowers, a pet grave marker, and more. Read our DIY Pet Funeral Guide for more tips and ideas for a pet funeral at home.
2. Bury (or Cremate) Your Pet with Dignity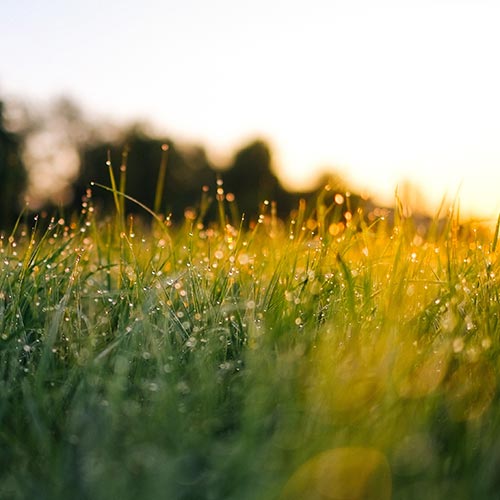 You can bury your pet at a local pet cemetery, or in your own property (here's how). Again, to find pet cemeteries and funeral homes, simply do a search for "pet cemetery in [your area]." Not all areas have the option, so you might also consider contacting your local traditional funeral home to see what options they have for pets.
Burial at home is also a popular option because it is much more affordable and it keeps your pet close. You can gather your family, neighbors, and close friends and have a small funeral to honor your pet, then bury or scatter their ashes at a special spot in the yard. Mark it with a memorial stone or create your own headstone from wood. If you have children, make sure to involve them in the process. Kids take the death of a pet to heart, and being involved in the burial and funeral process with help them grieve.
The same thing goes with pet ashes after cremation; you can bury them in a cemetery or at home. What's more, and part of what makes pet cremation so popular, is that you can keep the remains in a beautiful pet cremation urn. This can be a truly special way to honor your pet's life.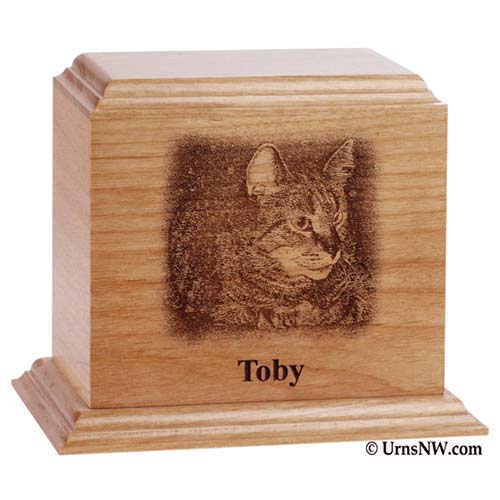 Here are some great resources for pet urns:
3. Pet Memorial Jewelry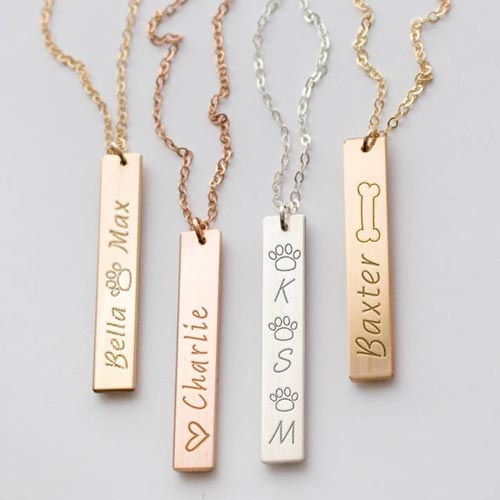 Pictured above is a contemporary classic in pet memorial jewelry. This personalized pet necklace is available in silver, gold, or rose gold finishes and include custom engraving of your pet's name and a cute symbol.
There are many other types and styles of pet memorial jewelry. Just about anything you can think of – pendants large and small, bracelets, rings, earrings, and more. Many of them can be personalized with your pet's name and dates.
Probably the biggest selection of pet memorial jewelry at a great price will be found on Etsy. For premium jewelry designed to hold a small amount of your pet's ashes, see our collection at Urns Northwest.
4. Plant Trees in Memory of Your Pet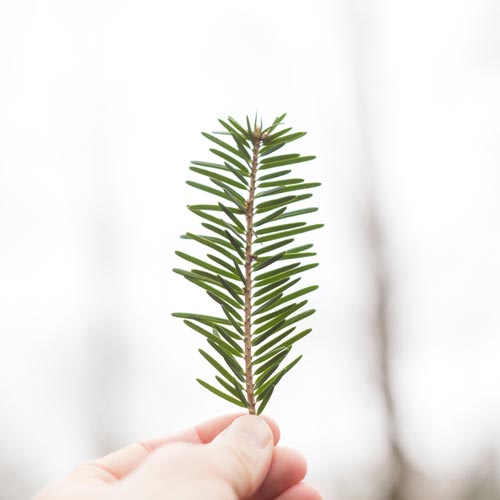 There are several ways to plant a tree in memory of your pet. You can plant a memorial tree in your own backyard, at local parks or other public lands (with permission, of course), or have a memorial tree planted in a national forest in your pet's memory.
This last option is great because it helps restore areas of our national forests that have been devastated by forest fires, and you get a certificate and the actual GPS location and photos of where your pet's tree has been planted. Read more about it here, or order the tree planting here.
5. Grow a Tree from Your Pet's Ashes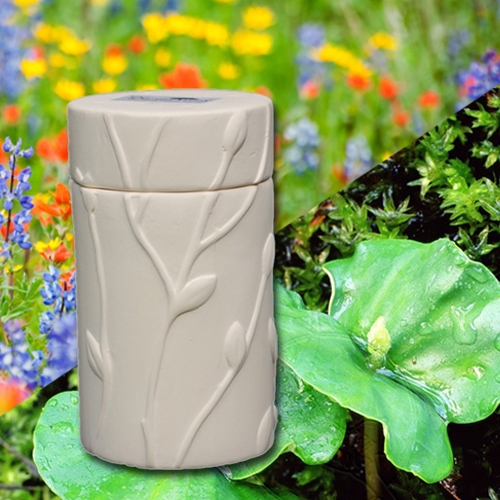 As noted above, there are several ways to plant a tree in memory of your pet. Pictured above is the Memorial Tree Urn, which incorporates your pet's cremated ashes to help nourish and grow a memorial tree. That's a pretty neat way that they can "live on" in your memory.
The urns come with many different options for trees including dogwood, cherry, maple, palm, oak, and more. There is even an option to add your own seeds, which you can use with any plant or flower of your choice.
6. Pet Memorial Stones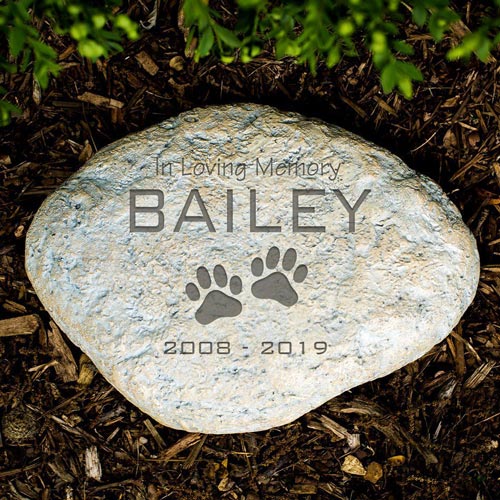 Pet memorial stones are small-to-medium sized rocks or granite slabs that you place in the ground. You can use one to mark the pet's burial spot or simply as an outdoor memorial tribute.
Many families place a memorial stone in a garden, flower bed, somewhere the pet enjoyed resting, or in a location easily visible from the porch or window.
The adorable pet memorial stone pictured above includes personalization of your pet's name and dates, an "In Loving Memory" inscription, and puppy (or kitty) paw prints. It's made from resin, ships quickly, and is very affordably priced as well.
Here are a few more popular choices, all of them priced for any budget: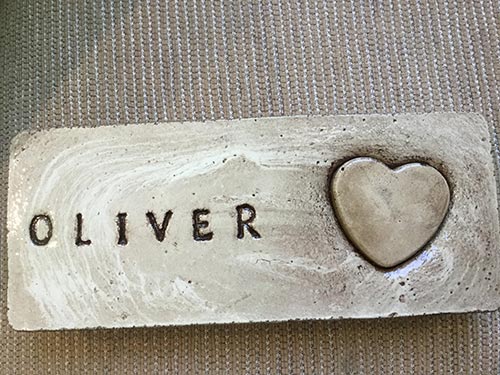 Each of these stones include personalization, are very affordable, and durable enough for the outdoors. You can display them inside or out, and if you ever move they are easy enough to transport with you.
7. Personalized Pet Memorial Bird Feeder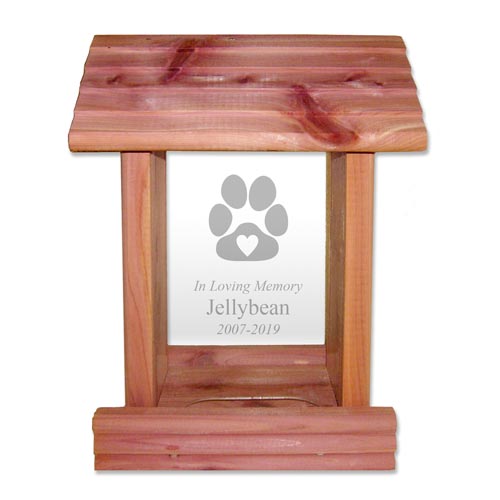 There's something uniquely life-affirming about a memorial bird feeder. As the birds flutter about, finding nourishment and singing and looking beautiful, your mind will be drawn to all the wonderful memories you shared with your beloved pet.
The feeder is made from real cedar wood right here in the USA, and includes personalization of your pet's name and more. This is one of our favorite pet memorials.
8. Pet Memorial Photo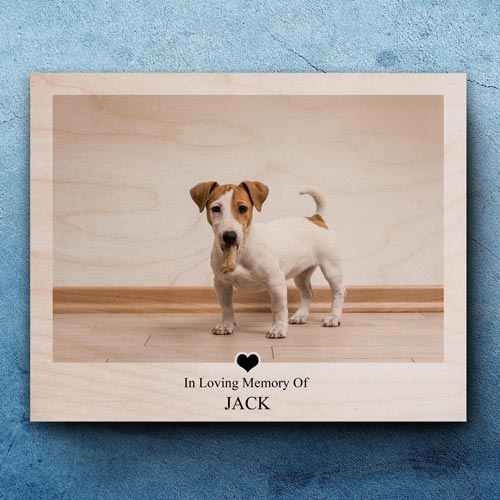 Frame or custom print your pet's photo to create beautiful memorial. Pictured above we have a Baltic birch panel with HD digital photo print and personalization included. This one is available for you to personalize here.
9. Pet Memorial Wind Chimes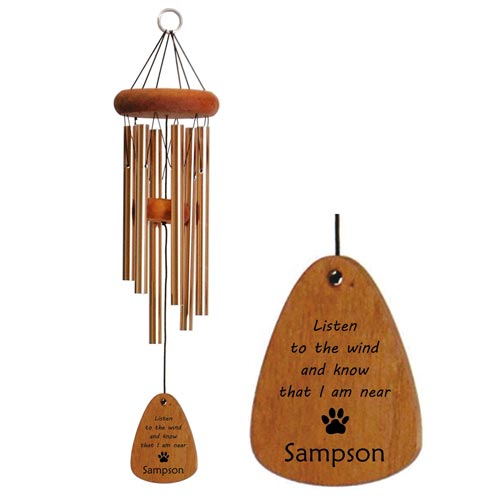 Every time the wind blows, you will hear the charming sound of wind chimes and think of your pet. These made-in-the-USA pet memorials boast beautiful redwood and weather-resistant and tempered anodized aluminum tubes. Includes personalization of your pet's name below the quote.
10. Pet Memorial Portraits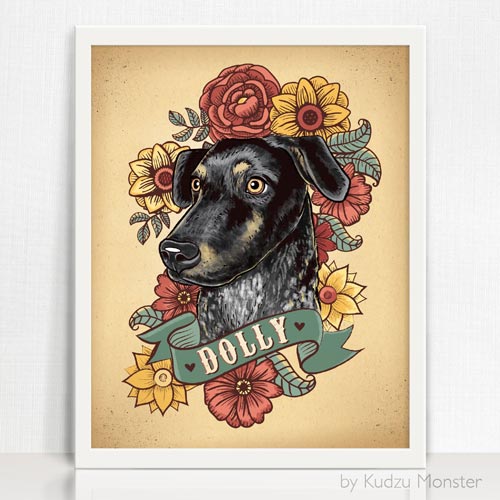 There is a massive gulf which separates a good pet memorial portrait from a photo of your pet. Photos are great, and capture a moment in time in a special way. Portraits are another form of art that express not just a moment, but rather a collection of moments distilled into one image. If you have a yearning to capture your pet's personality in a single memorial, you might want to commission a pet memorial portrait.
Pictured above is one fun and attractive option. Created by Etsy artist Kudzu Monster, these portraits recreate your pet's likeness surrounded by splashes of colorful flowers and other patterns. There are many more wonderful and talented pet portrait artists on Etsy who can create an attractive and affordable memorial portrait for you to honor your pet.
If you want something more high-end that goes beyond simple portraiture and into artistry with great depth, consider commissioning a portrait artist to paint your pet. I personally recommend my artist friend Mary Ann, whose work is truly priceless.
11. Turn Their Collar or Leash Into a Memorial Bracelet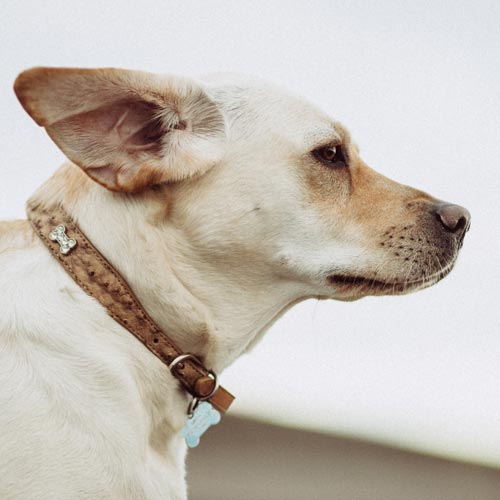 Depending on the size of the collar and your own creativity, it won't be too hard to transform their collar into a memorial bracelet. A leash will take a bit more doing but it's the same idea. You'll feel a constant connection to their memory every time you put on your DIY pet memorial bracelet.
12. Custom Pet Memorial Figurine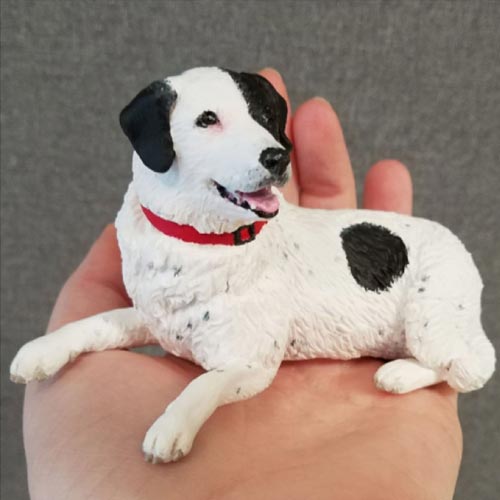 What could be better than having a lifelike, realistic figurine of your pet custom made to look just like him or her! The artist sculpts each piece by hand from photos that you provide, and the result is simply stunning. Get yours here.
Custom Pet Memorial Plush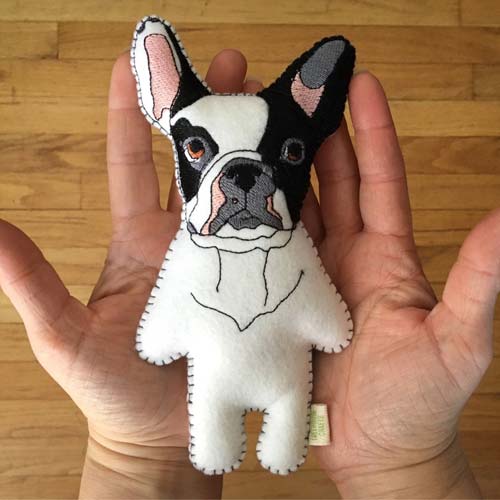 What a cute idea! Send in a photo of your dog and this artist will make a personalized plush based on your pet.
Another one, crochet-style: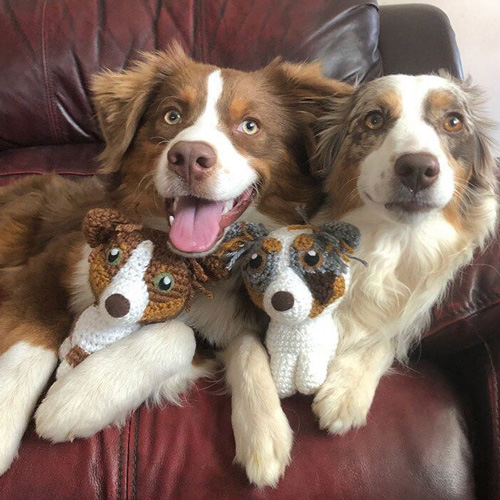 This might be a great pet memorial gift for your kids, who dearly loved and miss your pet. A plush toy that they can play with and take to bed can help in some small way as they grieve.
14. Get a Pet Memorial Tattoo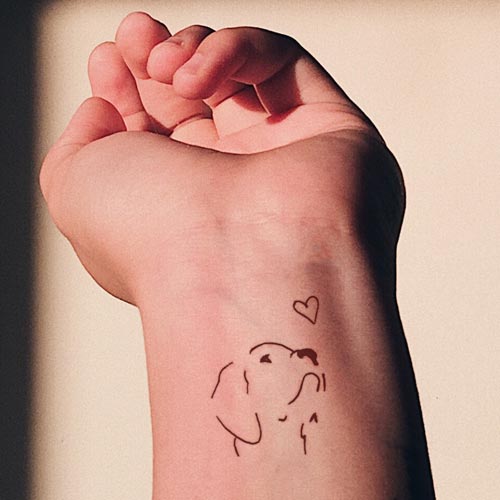 Create a tattoo design to honor your pet. This can be a simple, small script of the pet's name on your shoulder, or a huge and detailed illustration of your favorite moments with them covering your entire… well, anywhere. There are tons of creative ideas out there, check out some popular memorial tattoo ideas here.
If that's too big of a step, or if you don't like needles, you can also get temporary tattoos made. Hand them out to family and friends to show their support while your family mourns the loss of your pet. Your kids will definitely appreciate this pet memorial idea.
15. Create a Window Decal for Your Car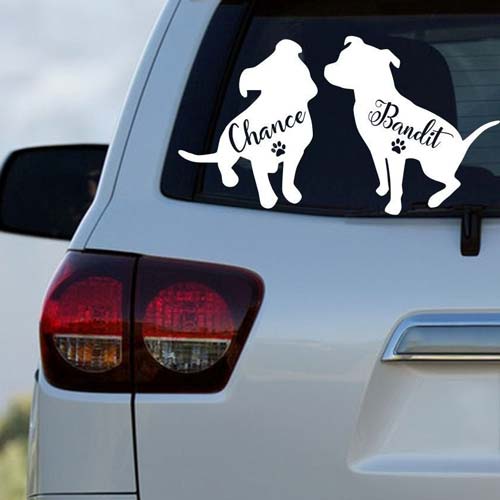 Window decals provide a public way for you to honor the loss of someone you care about. Get this one, which is an outline of your pet's breed and includes personalization of their name.
16. Personalized Pet Photo Blanket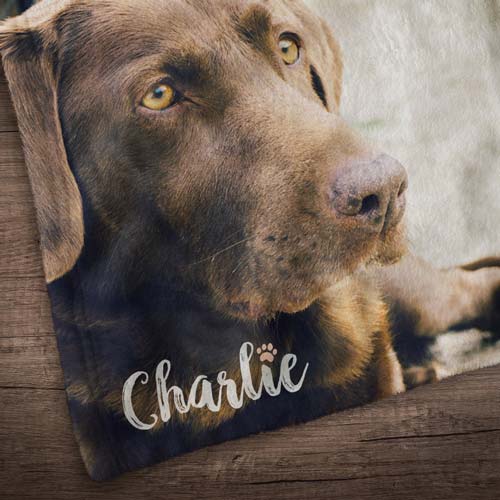 Here's a pet memorial that is soft, cozy, and snuggly while paying tribute to your devoted friend. They'll print a gorgeous photo of your pet (and their name, too) onto a super-soft and durable fleece or sherpa blanket, each of which comes in a variety of sizes. Personalize yours here.
17. Pet Memorial Photo Album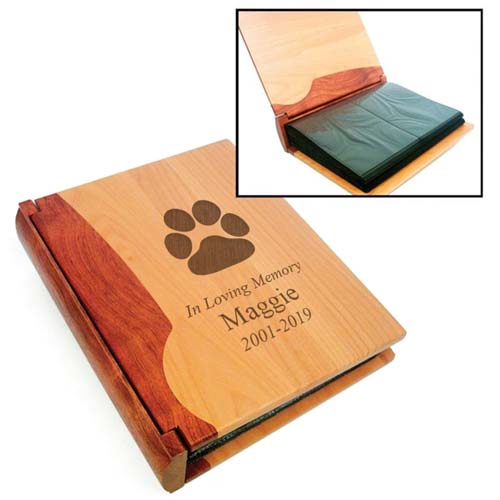 You probably have a thousand photos of your pet. Playing, sleeping, snuggling, and getting into all the mischief a pet is prone to get into. Print out the best photographs and put them into a gorgeous custom engraved wooden photo album as an heirloom tribute to your pet's memory.
18. Memorialize with Taxidermy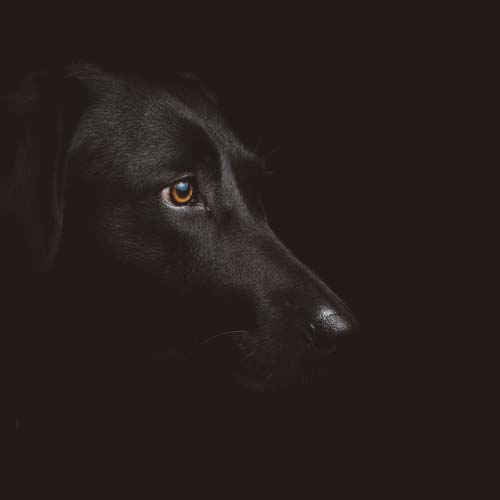 This probably isn't everyone's cup of tea, but taxidermy has a long history as a meaningful way to memorialize a beloved pet. There are plenty of famous animals who have been preserved through taxidermy, including Hachiko, the dog who waited every day at the Shibuya train station in Tokyo for his master who had unexpectedly died. (The story was made into a great tear-jerker film, Hatchi: A Dog's Tale.)
It's becoming more and more common for people to preserve their beloved pets by the art of taxidermy. Many pet owners feel that it is a way to keep the pet close and keep their memory alive in a special way.
19. Light a Memorial Candle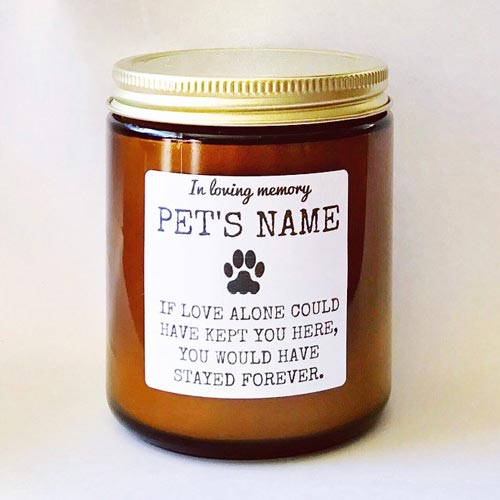 This aromatic memorial candle includes personalization of your pet's name, a paw print, and the quote, "If love alone could have kept you here, you would have stayed forever." Light a candle in memory of a beloved friend!
20. Raise a Glass to Your Pet's Memory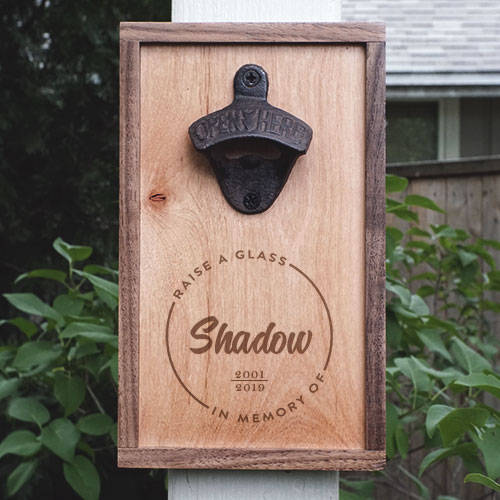 Made in the USA, we'll engrave this solid wood wall-mounted bottle opener with a special "raise a glass" memorial inscription to honor the memory of your departed pet. Includes personalized engraving of your pet's name and dates.
This is a tribute for when you want something meaningful that will be used regularly but also doesn't have that cheesy sentimentality of a lot of other pet memorials.
21. Commit to Love Again: Adopt a Pet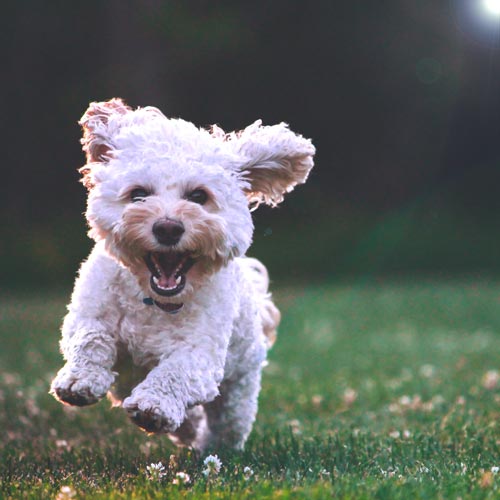 Right now it may be hard to even think about loving again. But when you are ready, you may want to honor your special friend's memory by renewing once again the love you shared, this time with a new friend.
What better way can you honor your pet's memory than by rescuing or adopting a pet in need? You can never replace your departed pet, but you can invite a new bundle of joy into your home. This will help the animal while opening up your heart to new relationships and experiences.
More Creative Pet Memorials
Make a pet memorial wall or shelf
Create memorial jewelry infused with your pet's ashes
Have your pet's remains infused into a glass sculpture
Plant flowers near where your pet is buried
Make a donation to an animal rescue shelter in memory of your pet
Volunteer at an animal shelter as a way to honor your pet's memory
Compose a song or poem as a tribute
Make a memorial video or slideshow
Write or journal your pet's life story
Pin It