An email came in with this question about cremation urns: "Is there a regulation as to how large or small a urn can be?" from inquiring reader Michael K. Here's our answer.
Hi Michael,
No, there is no regulation about the size of an urn. An urn is simply any container that holds cremated ashes. The key, generally speaking, is to figure out the volume of the cremated remains and then get an urn to fit.
The typical adult cremation urn holds 200 cubic inches, and that capacity is roughly equivalent to the remains of an adult who weighed up to 200 lbs. As long as the remains fit into the urn, there are no regulations or requirements concerning how large or small the urn should be.
Here's how to figure What Amount of Ashes Will There Be After Cremation.
Below you can see a typically-sized rectangular wooden urn, the Wood Urn with Sculpture Art Carving. Most urns of this shape have exterior dimensions of about 10-12″ wide by 8-9″ deep and about 6-8″ high.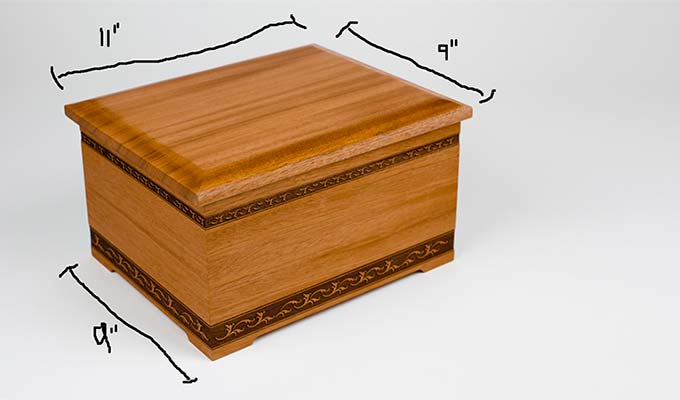 A vertically oriented urn might have similar dimensions but with the height and width swapped. Other types, like our ceramic cremation urns, will measure about 10-12″ high by 6-9″ wide. Companion urns, which hold the remains of two individuals, are a couple inches larger.
Looking for a larger urn? You can read our guide to companion urns here.
The only thing you need to figure out is if the "final resting place" has any requirements. If you're keeping the urn at home, it's completely up to you. If you're burying the urn at a cemetery, the cemetery might require an urn vault and then your urn will have to fit inside the vault. Same thing if you are placing the urn inside a columbarium niche – it will need to be able to fit inside the niche.
Want to learn more about burial vaults? Read this.
But if you're not burying the urn at a cemetery or placing it inside a niche, then the only issue is making sure the remains fit into the urn. Here is a guide to help you figure out what size urn to get.
Let me know if this answers your question, or if you have any more specific details you'd like to know about.
Thank you,
Daniel Szczesniak