Last Updated on January 23, 2021
In our years of blogging about cremation urns and other relevant issues, we've discovered and created a wealth of funeral resources. Here we've gathered them together on one page in order to provide you with the best possible resources to help guide you through everything relating to the death of a loved one, from pre-planning to coping with grief after the funeral is over, and everything in between. Some of these are our own articles and blog posts, while many others are examples of the best content we've found on a given topic.
We hope that this compendium of links, articles, and funeral resources will be beneficial to you as you navigate these unfamiliar and difficult subjects.
Scroll down and read on for links on a wide variety of topics.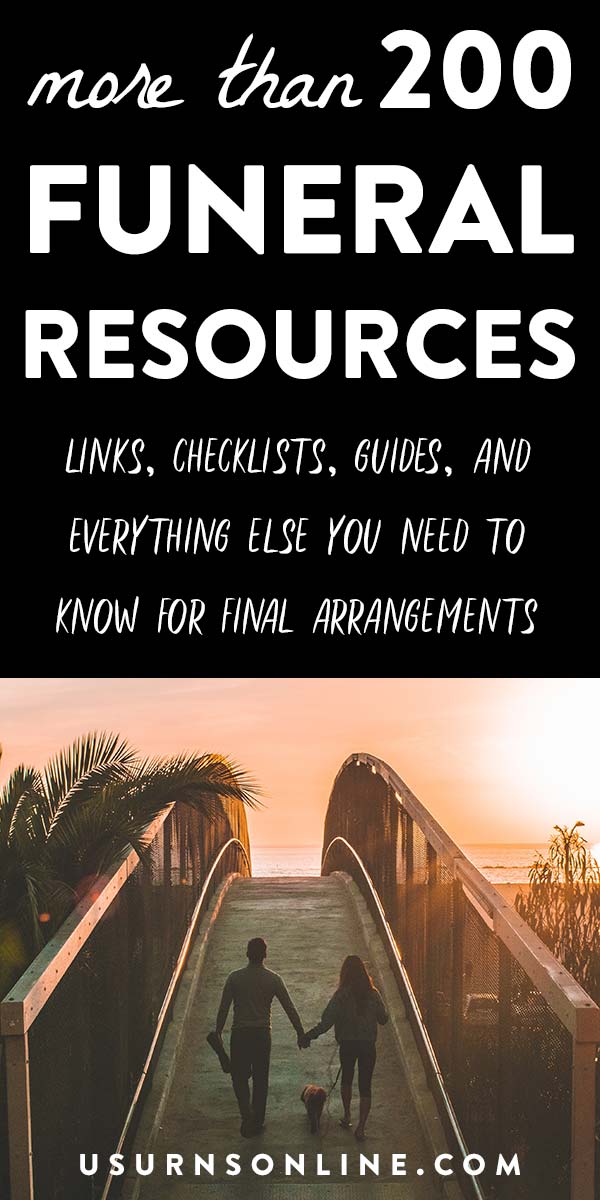 Updated 4/11/18 – What started as a resource for over 150 articles and resources has grown to over 200. Thank you for your submissions and ideas! Let us know what you find helpful.
Start Here
Resources for Planning Ahead
First Steps After a Death
Final Arrangements
Funeral Homes & Cemeteries
Cremation
Final Disposition Options and Ideas
Resources for Funeral Products
Funeral Resources for Saving Money
Resources for Funerals & Memorial Services
Eco-Friendly Funeral Resources
Creative Memorials
DIY Funeral and Memorial Ideas
Funeral Program Resources
Resources for Religious Funeral Services
Resources for Eulogies, Obituaries, Epitaphs, and Inscriptions
Attending a Funeral: Etiquette, Attire, Etc.
Resources for After the Funeral
Resources for Grief & Loss
Children & Grief
Expressing Sympathy
Social Media and Memorial Websites
Military Funeral Resources
Resources for Funeral Directors & Funeral Homes
Miscellaneous Funeral Resources